Looking for the best things to do in Costa Rica? From the beach to the jungle, we have a round-up of Karen's favorite things that Costa Rica has to offer.
Costa Rica is such a dream! With a remarkable ecosystem of rainforests, jungles, and beaches, there is so much to see in just one country.
Karen ventured on the ultimate girls trip to Costa Rica for her bachelorette party last month.
Here are the highlights of what to do in Costa Rica.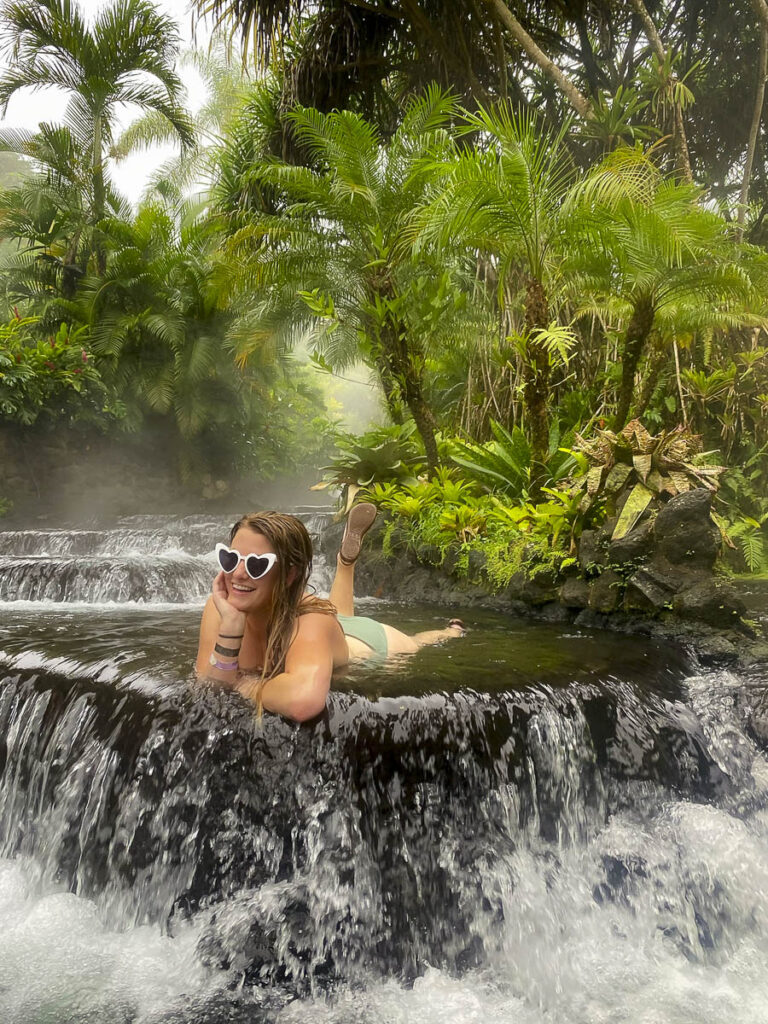 Soak in the Costa Rica Thermal Hot Springs
Without question, Karen's favorite experience while in Costa Rica was inside the majestic pools at Tabacon Resort.
There are many, many hot spring resorts near the Arenal volcano.
We heavily researched every hot spring spa and decided that Tabacon was supreme, and it far exceeded expectations.
In fact, Travel and Leisure magazine just named Tabacon the #5 international destination spa in the world.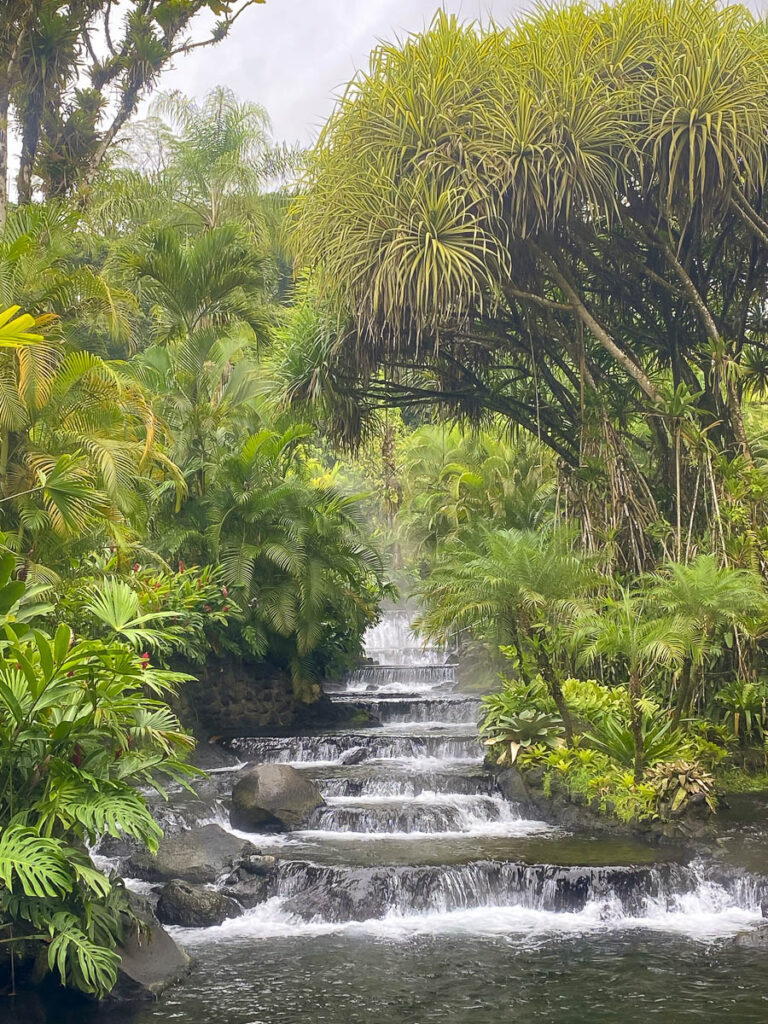 When you stay at Tabacon you take a quick shuttle across the street to reach the hot springs.
The heat of the volcano warms the 30+ hot spring pools at the resort.
Start by having a meal at the swim up bar then grab a specialty cocktail and start to sip and stroll through the tranquil grounds of Tabacon.
You'll pass natural waterfalls, walk on bridges over cascading waters, then find the perfect hot spring pool to pop in!
It's even open until 10pm at night, which made it a perfect place to party.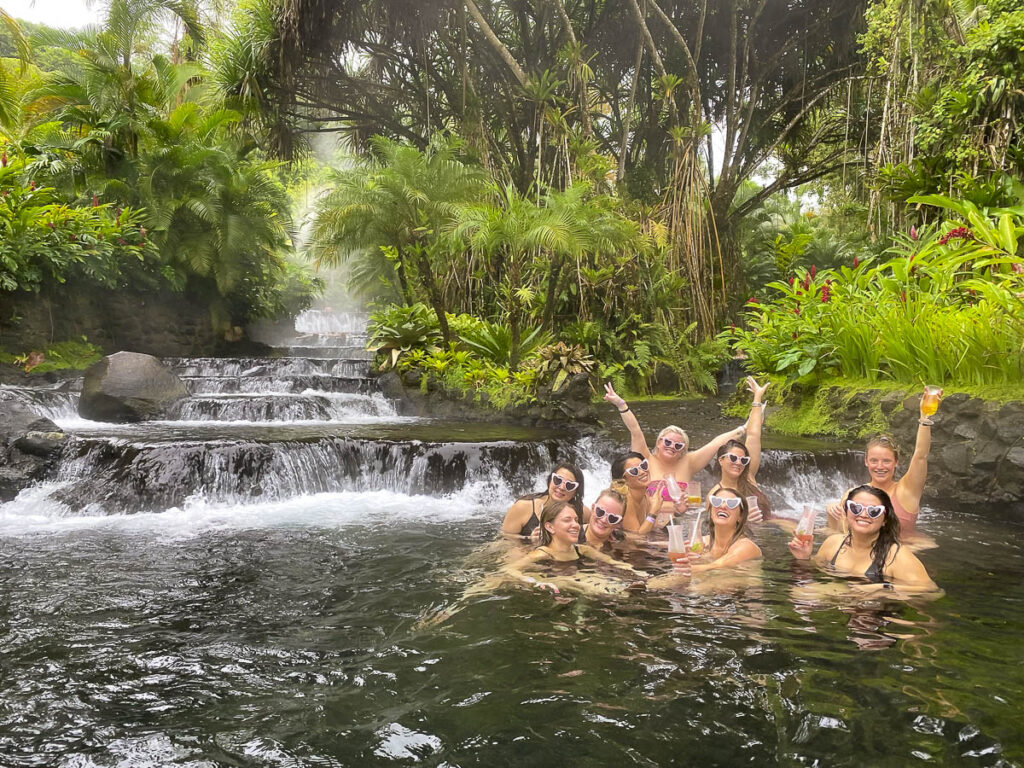 If you can't get a room at the resort, look into a day pass.
Karen spent her time with nine friends for her bachelorette party and no one wanted to leave! It was for sure the best thing to do in Costa Rica.
https://www.tabacon.com/ Noreste de Centro de la Fortuna de San Carlos 13 Km, Provincia de Alajuela, Nuevo Arenal, Costa Rica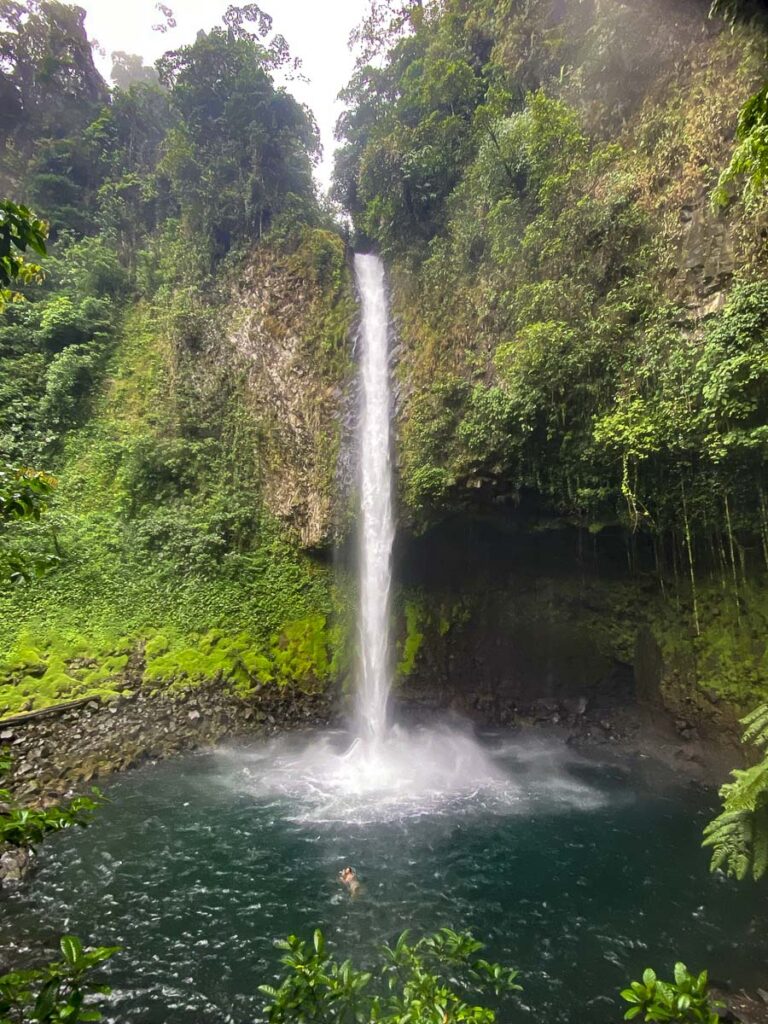 Swim in the La Fortuna Waterfall
Costa Rica is so remarkable due its environment's biodiversity.
The waterfalls in Costa Rica are just magical. One of the most famous waterfalls in Costa Rica is the La Fortuna Waterfall.
This enormous waterfall is on the base of the dormant Chago volcano and drops over 200 feet to the pool below.
After paying $18 for the park entrance, meander down the 500+ steps while taking in the view until you reach the bottom of the waterfall.
You can hang out on the viewing deck or even walk down the rocks to take a dip in the pool at the base of the waterfall.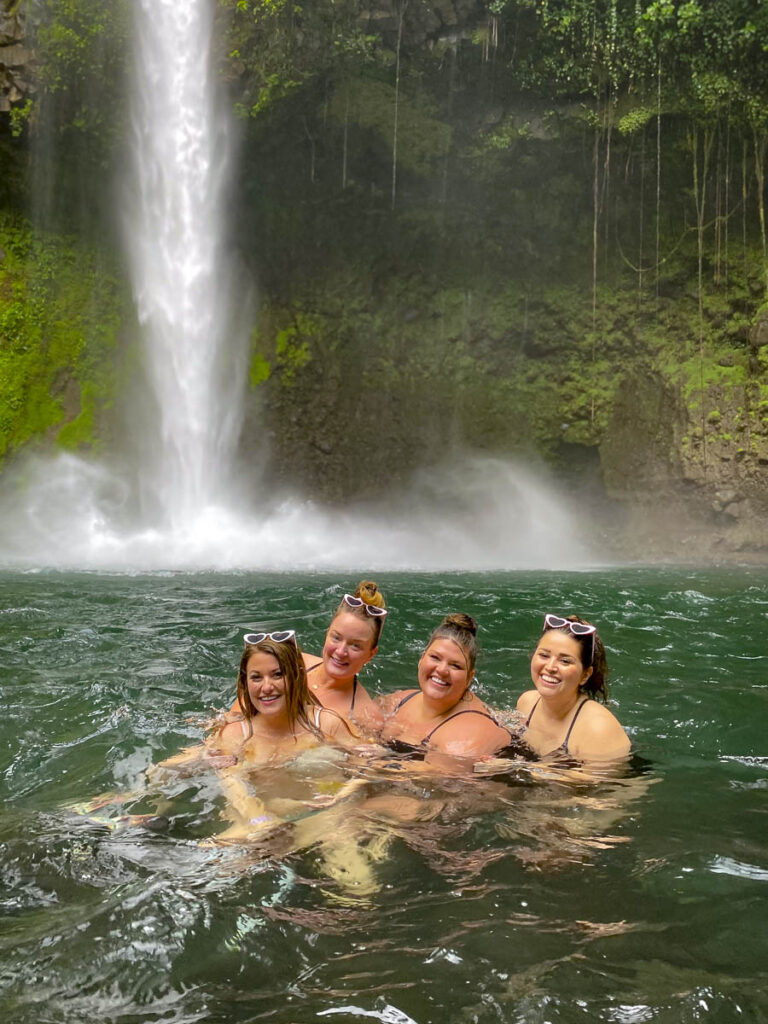 It's a smart idea to wear or pack water shoes to change into if you decide to swim in the waterfall. The large rocks are jagged and very slippery.
These lightweight water shoes look like gym sneakers and will protect your tootsies. Plus they are so light you don't have to worry about them bogging down your checked luggage.
The La Fortuna Waterfall also offers a restaurant for post-hike dining where whole chickens are being roasted rotisserie-style over an open fire.
Be sure to keep your eyes peeled for wildlife, we spotted a tree full of howler monkeys and a group of toucans near the registration desk.
https://www.cataratalafortuna.com/ Open Daily 7-5pm. 21007, Provincia de Alajuela, La Fortuna, 21007, Costa Rica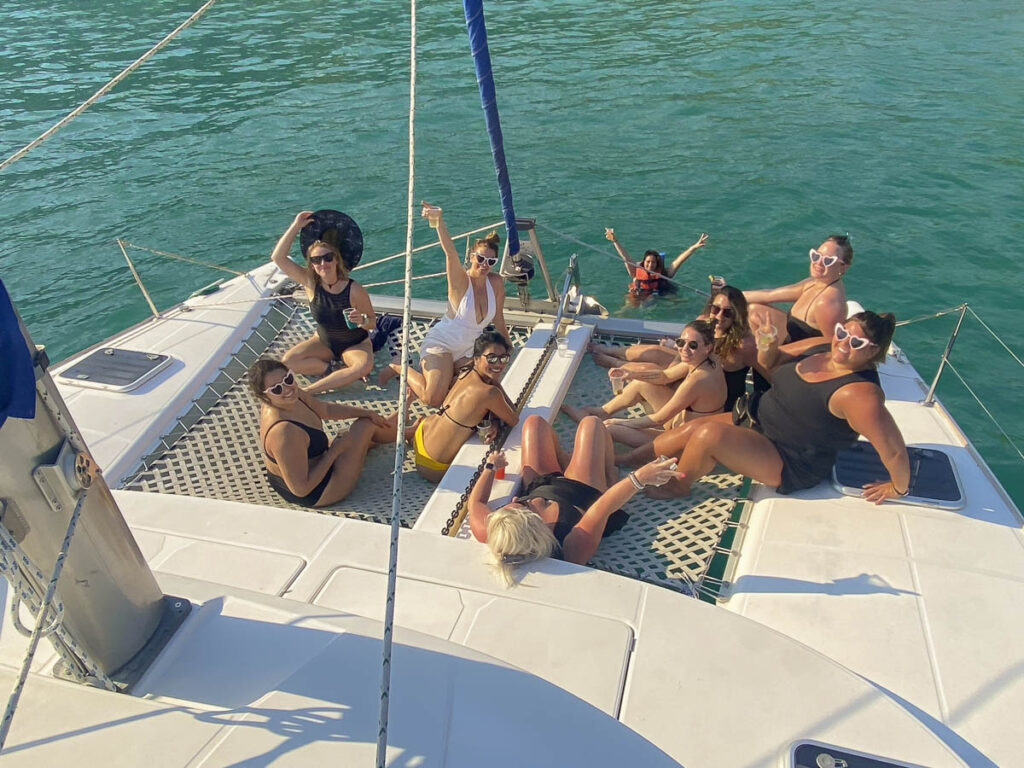 Sail on a Catamaran
We've taken catamaran trips in Greece and Mexico, but no catamaran trip has been as fun as the Lazy Lizard boat cruise.
This day trip included an open bar, a tasty lunch spread, snorkeling, swimming, and sailing.
The lunch was elegantly displayed and was really delicious.
What made this trip so memorable was the incredible staff!
Captains Rene and Jo knew it was Karen's bachelorette party and they made the party extra special with a great playlist and dancing!
The catamaran cruise ended with a breathtaking show of a Costa Rican sunset on the water.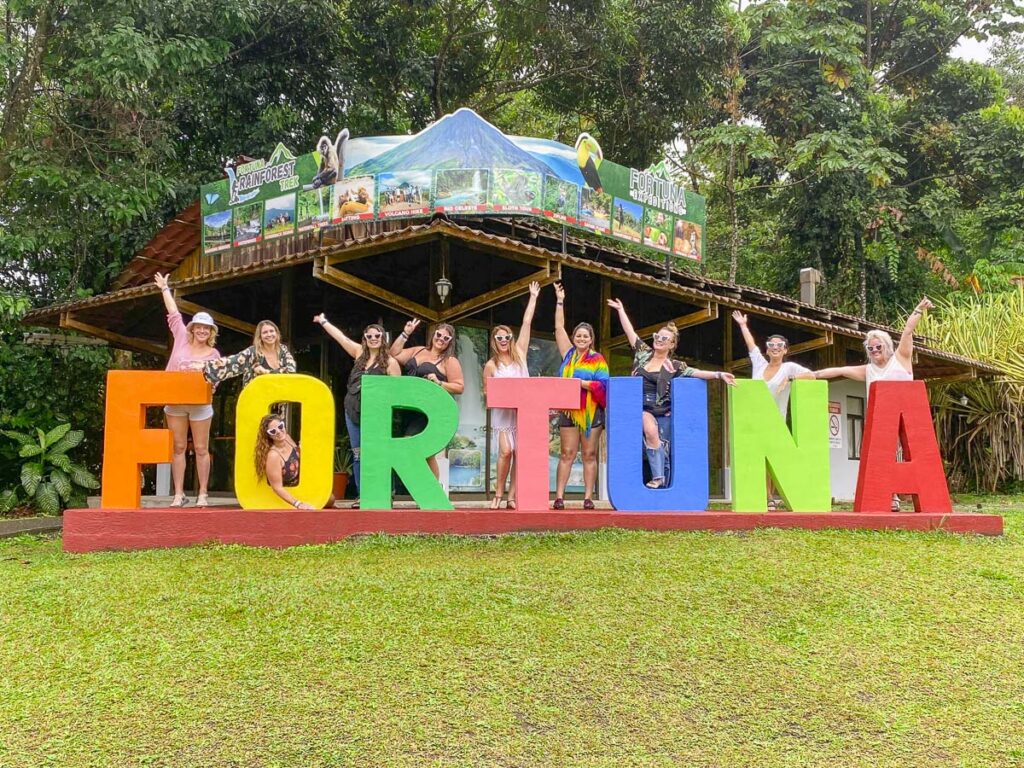 Enjoy the Costa Rican Wildlife: Monkeys, Toucans, and Sloths!
Costa Rica has some incredible, rare wildlife which you won't find in other countries.
Consider booking a wildlife tour or head to a wildlife sanctuary to immerse yourself with these unique animals.
Our group was lucky enough to spot monkeys (including a baby monkey!) in the trees right next to the La Fortuna waterfall registration desk.
Then to the right, we spotted a group of six toucans right behind this La Fortuna sign at the waterfall.
We also got really up close and personal with howler monkeys while horseback riding.
Being on horseback meant we were able to ride in right under the trees where the monkeys were feeding. They were hovering just 10 feet overhead!
If you want to guarantee seeing some Costa Rican animals, you can take a tour dedicated to wildlife.
Sadly we were not visiting during the Costa Rica baby sea turtle hatchery, or that would have been on the top of our list!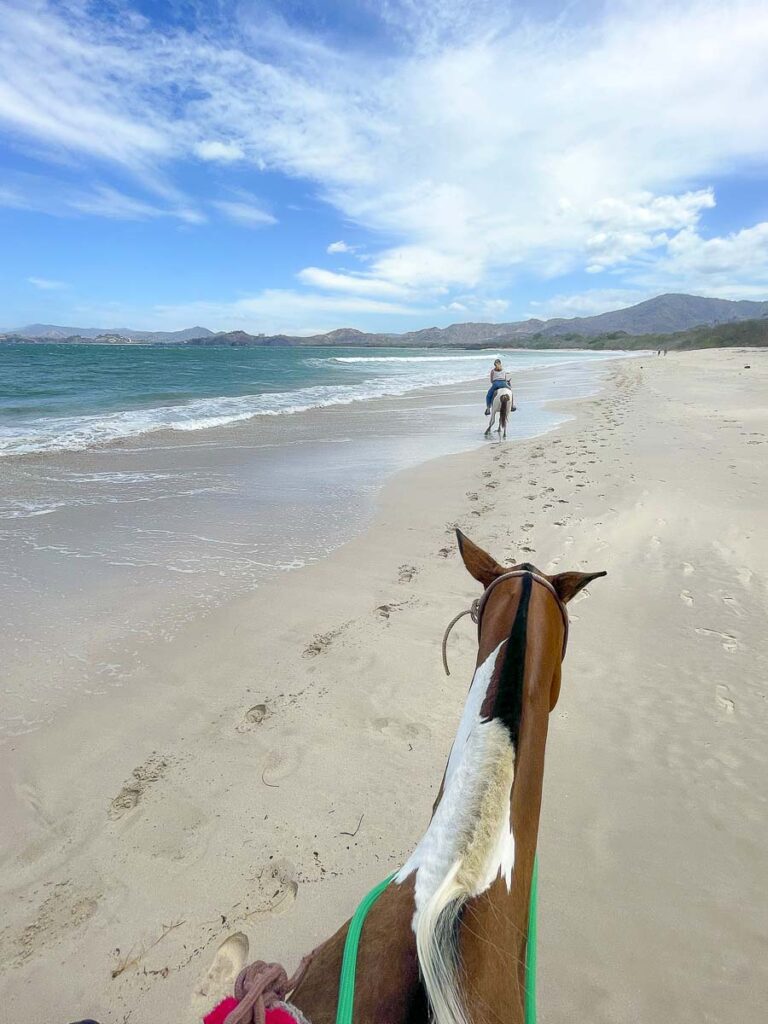 Go Horseback Riding on the Beach
The beauty of horseback riding in Costa Rica is that you are fully immersed in the country's beauty.
For this horseback riding excursion, we took a ride on the breathtaking beach through the beachside jungle.
Throughout the ride we saw iguanas on the path and rode under a large tree of howler monkeys.
The halfway point of the journey was climbing a steep hill to overlook a beautiful vista below, which was a great picturesque moment with our fleet of horses.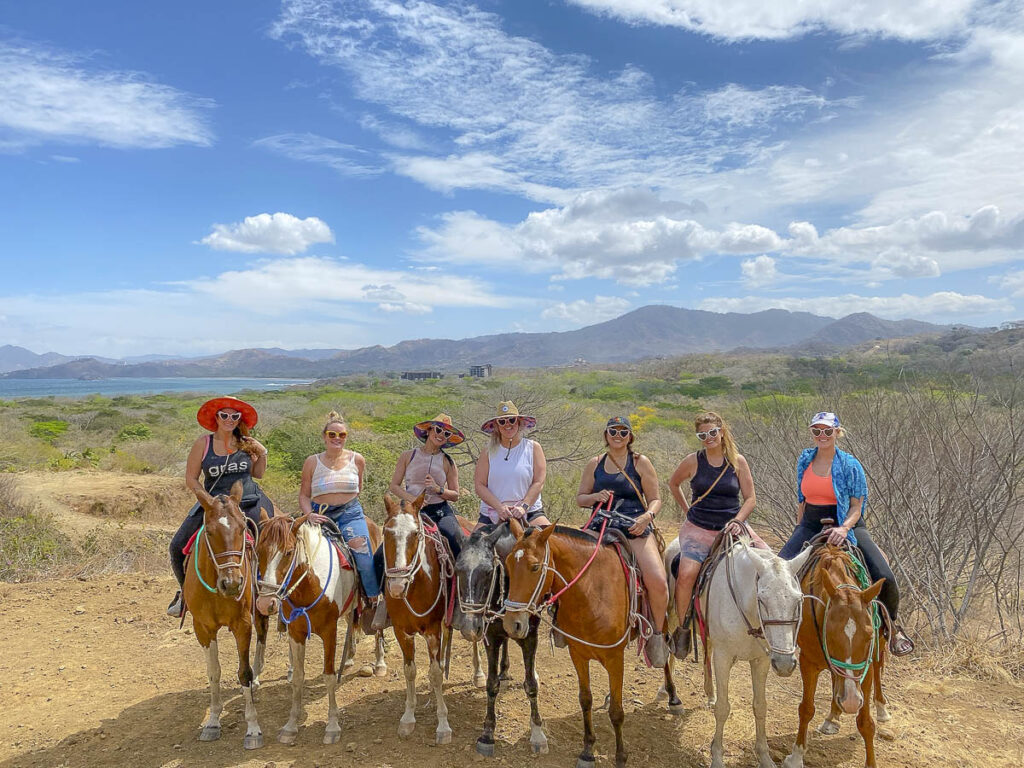 Did Karen's horse get lazy and refuse to walk the second half? Yes.
Did she have to have her and her horse towed back from the tour guide on horseback? Yes.
Was it still an amazing activity? Yes!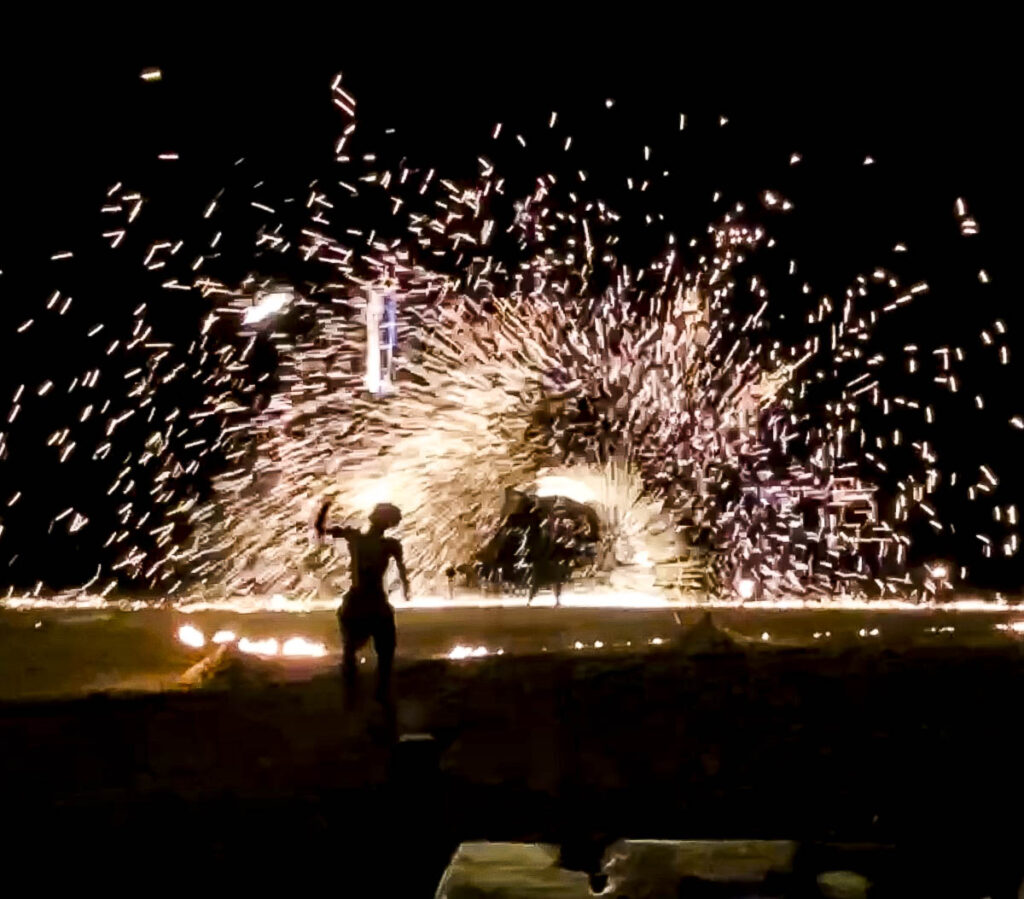 Watch a Fire Show
If you're looking for a fun party, head to Tamarindo for some nightlife.
A few restaurants offer a fire show on the beach with your meal. What could be a more fun start to a night out in Costa Rica?!
We watched the fireshow at Tama Onda Beachfront Restaurant.
Hot Tip: be sure to make a reservation and ask for a front row table. Our large table of 10 did not have the best view of the show so we simply watched at the edge of the restaurant for the 20 minute show prior to placing our dinner order.
After dinner, we caught a drag show at Kinky and then ended up at the most fun, rave-style club called The Alley.
Tama Onda Beachfront Restaurant, C. Central, Provincia de Guanacaste, Tamarindo, Costa Rica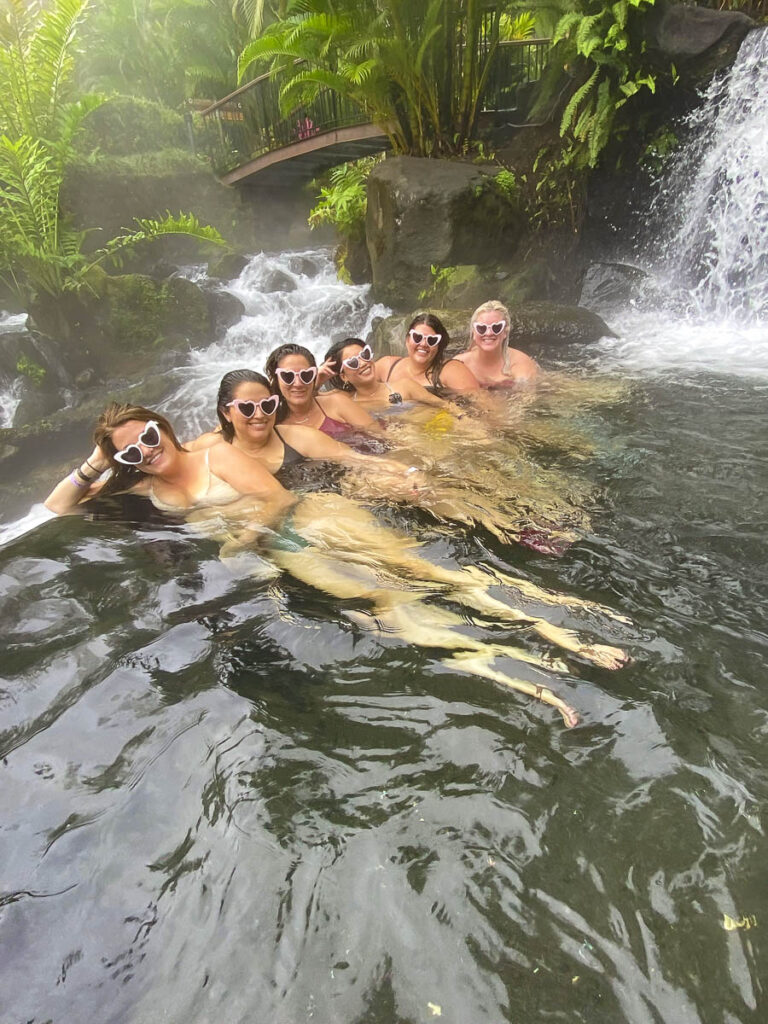 Other Amazing Things to do in Costa Rica:
Go Surfing – While sadly, after a broken ankle in Italy a few years ago, going surfing was likely not in the cards, this list isn't complete without recommending surfing as one of the best things to do in Costa Rica.
Hike or Zipline through the Cloud Forest – We got a taste of a cloud forest while hiking down to La Fortuna, but the Monteverde Rainforest is also supposed to be a great spot to check out.
Take a Coffee Tour – Costa Rican coffee is famous for a reason, if you enjoy a good cup of joe, tour a coffee plantation or see if your resort offers a coffee tasting.
You can't go wrong by visiting the places on this list of the best things to do in Costa Rica.
This trip to Costa Rica was, by far, the best girls trip Karen has ever been on and one of the best countries she's visited. Learn about the other 30+ countries by checking out all of our travel guides, organized by continent.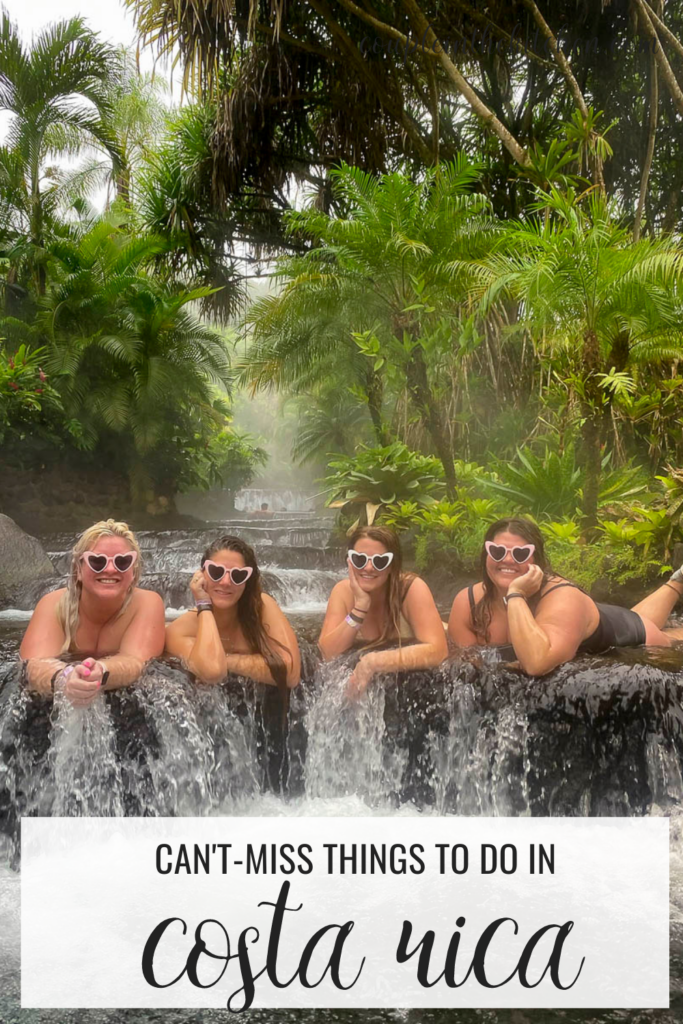 Click this link to pin this guide on the best things to do in Costa Rica on pinterest.
Also, don't forget to follow us on instagram and facebook for more recipes and romantic travel recommendations, we love to see when you visit our favorite spots!
Looking for more travel recommendations? Read all of our travel guides.
If you'd like to automatically receive our posts in your email, register here.