Looking for the most delectable things to eat in Barcelona? Don't miss our guide to Catalan food and more in this amazing city!
Barcelona, the vibrant capital of Catalonia, is renowned for its stunning architecture, beautiful beaches, and a rich cultural heritage.
From tapas to seafood delights, this beautiful city has something to offer every palate.
Among the many aspects that make Barcelona a must-visit destination, its culinary scene is undoubtedly a highlight.
With its rich history and diverse culture, the city boasts a diverse and mouthwatering culinary scene.
Let's delve into the gastronomic gems that you simply cannot miss when visiting this captivating city.
We learned all about Spanish and Catalonian Cuisine on our Barcelona Food Lovers Tour. We always recommend taking a food tour the first day or two upon entering a new country to learn more about the local cuisine, local culture, and traditional food from the region.
Not only will you get a great foundation in foods from the region, you'll take a walking tour with a great contact who can give you more recommendations for attractions and all the best restaurants.
We had an amazing afternoon with Susana, and couldn't recommend the food tour enough, it was honestly the best food tour we've done in the entire world.
Let's explore some of the must-try dishes in this food lover's paradise.
Patatas Bravas: The Spicy Tapa Sensation
No culinary journey in Barcelona is complete without indulging in patatas bravas.
This popular Spanish tapa consists of crispy fried potatoes topped with a spicy and smoky bravas sauce and a creamy garlic aioli.
The combination of textures and flavors in this dish is a true taste explosion – the crispy exterior of the potatoes contrasts beautifully with the bold and smoky sauce, while the aioli adds a creamy richness that ties it all together.
Whether enjoyed as an appetizer or a snack, Patatas Bravas is a delicious food that's a smoky and flavorful delight.
Spanish Omelet: The Classic Potato and Egg Dish
Known locally as "Tortilla Española," the Spanish Omelet is a beloved dish that has found its way into the hearts and stomachs of people worldwide.
This simple yet satisfying dish consists of thinly sliced potatoes and onions (sometimes) sautéed in olive oil, mixed with beaten eggs, and cooked until it forms a thick, golden omelet.
The result is one of our favorite hearty and comforting traditional dishes.
This omelet isn't like the American breakfast dish, the transitional Spanish dish is served all day throughout tapas spots!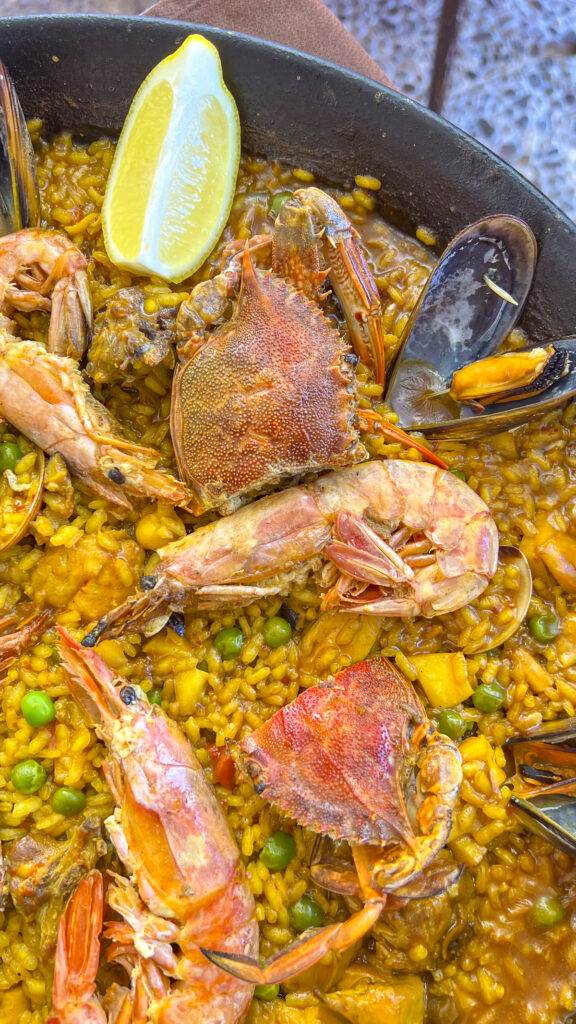 Seafood Paella: A Taste of the Mediterranean
When it comes to iconic Spanish dishes, Paella is undoubtedly a star and one of the top foods that comes to mind.
Originating from the Valencia region but widely enjoyed throughout Spain, Barcelona serves up some terrific versions of this delectable rice dish.
Seafood Paella is a true celebration of the Mediterranean, featuring a flavorful combination of rice, saffron, and a combination of fresh seafood, such as shrimp, mussels, baby squid, and calamari.
The dish is cooked to perfection in a large, shallow pan, allowing the rice to develop a crispy layer at the bottom, known as "socarrat."
There are many places that offer a cooking class to teach you how to cook paella like a true Spaniard.
One important thing to keep in mind is that Paella is typically eaten for lunch, not for dinner. Plan on scoping out a great place for paella at lunchtime. If you find paella being served for dinner, you might be dining at a tourist trap.
With its vibrant rich flavors, Seafood Paella embodies the essence of Barcelona's coastal cuisine.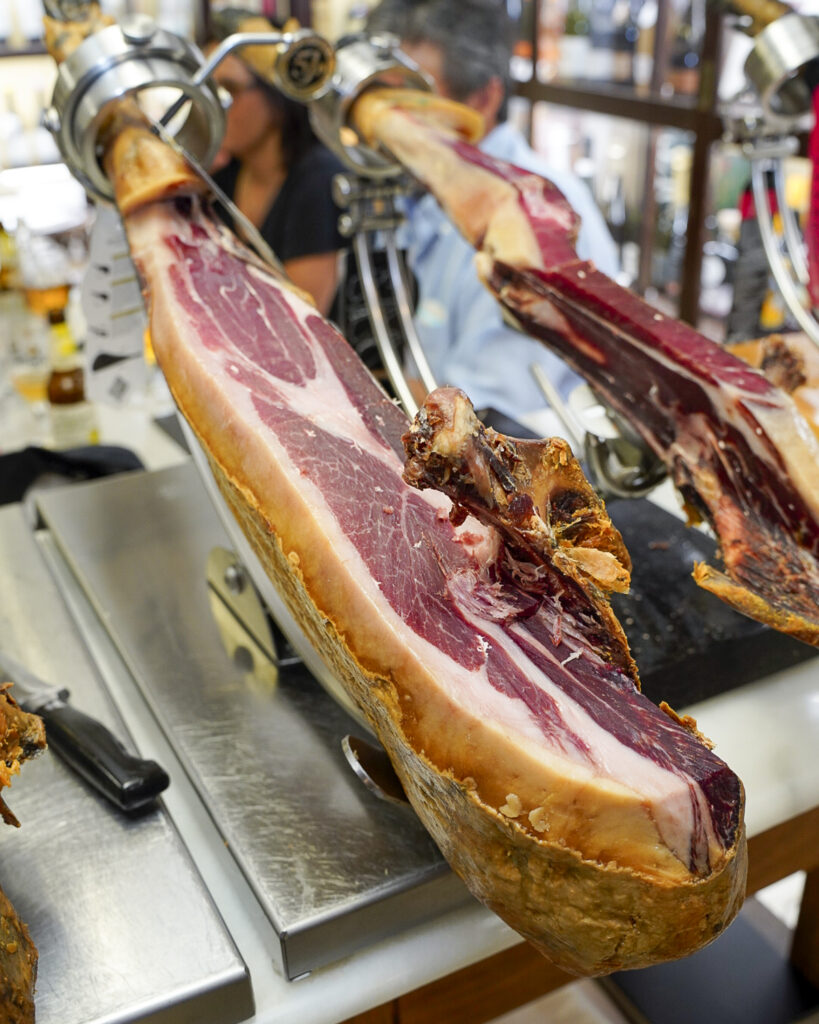 Iberian Ham: A Spanish Culinary Jewel
Iberian Ham, often referred to as "Jamón Ibérico," is one of Spain's most iconic and cherished culinary treasures, no wonder it's our favorite Spanish food!
Carved off the hind legs of Iberian pigs, this ham is aged for an extended period, resulting in a complex and intense flavor profile.
The marbling of fat within the meat gives it a luxurious, melt-in-your-mouth quality that sets it apart from any other hams. It's a must-try food!
In Barcelona, you can find Iberian Ham varying in age and quality.
It can be thinly sliced and presented on its own or served over Pan Con Tomate.
Every bite of this savory delicacy is charcuterie excellence.
Pan Con Tomate: The Simplicity of Perfection
Pan Con Tomate, also known as "Pa amb Tomàquet" in Catalan, is a humble yet delicious Spanish staple that embodies the essence of Barcelona's cuisine.
This simple creation consists of rustic bread rubbed with ripe fresh tomatoes and garlic, drizzled with olive oil, and sprinkled with sea salt.
The result is a perfect blend of flavors and textures that can be enjoyed as a snack, appetizer, or accompaniment to other dishes.
What makes Pan Con Tomate truly special is its focus on quality ingredients.
The use of ripe, locally sourced tomatoes and high-quality Spanish olive oil is essential.
The crispy bread provides the perfect canvas for the tomato's juicy sweetness, and the touch of garlic adds a subtle, aromatic kiss.
It's a dish that celebrates simplicity and the beauty of fresh produce.
Manchego Cheese: A Spanish Classic with a Twist
Manchego cheese originates from the La Mancha region of Spain.
It's a beloved Spanish cheese known for its distinctive flavor and firm texture.
While it may not be native to Barcelona, this cheese has found its way into the hearts and menus of many eateries in the city.
When enjoying this cheese in Barcelona, you'll often find it served as part of a cheese platter, paired with other Spanish cheeses and cured meats.
What makes the Barcelona experience unique is the opportunity to savor Manchego alongside local wines and accompaniments.
You can find variations of Manchego all across Catalonia. It's a delightful tasting experience that will leave you craving more.
Olives and Olive Oil: The Mediterranean Elixir
No culinary journey through Barcelona is complete without talking about the Mediterranean's liquid gold – olive oil.
Spain is one of the world's largest producers of olive oil, and the Catalan region, with its favorable climate and fertile land, is known for producing some of the finest varieties.
Olive oil is not just an ingredient; it's a way of life in Barcelona.
When dining in Barcelona, you'll often find a bowl of plump, briny olives brought to your table as a prelude to your meal.
These olives, marinated in herbs and spices, are a delectable introduction to the rich flavors you're about to experience.
Furthermore, olive oil is an integral part of Catalan cuisine, used generously in dishes like Paella, infusing them with a fruity and earthy depth of flavor.
The best way to taste your way through all of the different types of olives is to visit one of the local markets, such as the famous Mercado de La Boqueria in La Rambla. You'll find a wide variety of all types of olives to taste.
Croquettes and La Bomba: A Flavorful Culinary Explosion
If you're looking for a culinary explosion in Barcelona, look no further than croquettes.
This delicious dish is the perfect combination of flavors and textures. It is found all across tapas bars being served on small plates, which is a great way to taste all of the croquette flavors without getting too stuffed.
From ham, to potato, to seafood, you'll find a number of varieties of these deep fried treasures. Our personal favorite was a squid ink one we got on our food tour, it was perfection in a fried bite.
La Bomba is a type of croquette, typically filled with a mixture of ground meat and mashed potatoes.
It's then deep-fried to golden perfection, just like a traditional croquette. What's different is that a Bomba is much rounder and larger and it is served with two distinctive sauces – aioli and a spicy sauce.
The contrast between the crispy exterior and the creamy interior of croquettes and La Bomba is a true delight for the senses.
Each bite is a burst of flavors!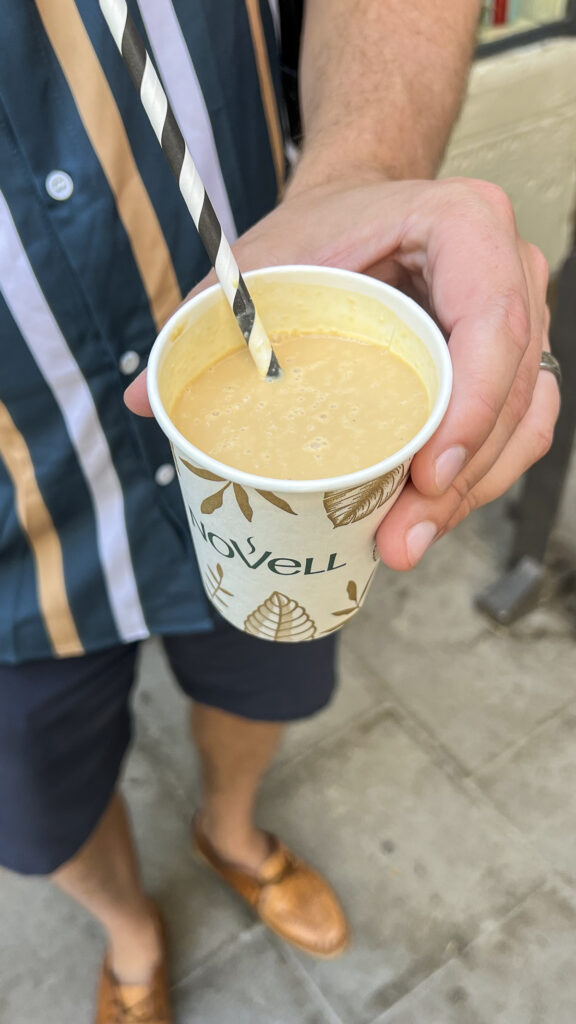 Crema Catalana: The Sweet Symphony of Catalonia
Our foodie adventure begins on a sweet note with Crema Catalana.
Often compared to the famous French dessert, Crème Brûlée, Crema Catalana is a creamy custard dessert.
Traditionally, It's made from a velvety custard base infused with citrus zest and cinnamon, and then it's caramelized to perfection on top.
We actually tasted Crema Catalana in liquid form at a famous cafe called Escriba.
It was like a hot chocolate drink but in crème brulee form!
Spanish Wine: Raise Your Glass to Tradition
A journey through Barcelona's culinary landscape would not be complete without raising a glass of Spanish wine.
Spain is one of the world's top wine producers, and its wines are celebrated globally for their quality.
Barcelona, being a major hub, offers an excellent opportunity to explore the vast world of Spanish wines, the food tour we joined also offers a winery experience.
When in Barcelona, make it a point to try the local Catalan wines, these wines are often produced in small, family-owned vineyards and a lot of them are natural.
You'll find white wine, rose, red, and even sparkling wine in the region.
Wine in Spain is SO affordable so be sure to pair local tapas with a glass of local wine for a memorable gastronomic experience. Wine was so cheap it was actually cheaper than water bottles at some restaurant.
Vermouth: The Iconic Catalan Aperitif
When you think of Barcelona's food culture, you might picture tapas and paella, but one element that's quintessentially Catalan is Vermouth.
This fortified wine, infused with botanicals, herbs, and spices, has been a beloved aperitif in Barcelona for many generations.
Vermouth is often served on tap, creating a communal atmosphere filled with laughter and camaraderie. It is commonly served over ice with a slice of orange and some spanish olives as a garnish. We love the unique flavor the touch of olive adds.
Torrijas: The Spanish Answer to French Toast
Torrijas, a delectable dessert that closely resembles a cross between French toast and bread pudding, is a sweet treat that captures the essence of Spanish comfort food.
To make Torrijas, slices of bread are soaked in a mixture of milk or cream, sometimes sweet wine, and eggs, then pan-fried until perfectly golden brown.
Once cooked, they are dusted with sugar and cinnamon. The result is a warm, sweet, and slightly crispy delicacy.
Gazpacho: A Refreshing Andalusian Classic
Gazpacho, a chilled tomato-based soup, might have its roots in the southern region of Andalusia, but it's a refreshing dish enjoyed throughout Spain, including Barcelona.
Especially during the hot summer months, Gazpacho is a popular choice to cool down.
This cold soup is typically a flavorful blend of ripe tomatoes, cucumbers, bell peppers, onions, garlic, olive oil, vinegar, and bread. You can also find variations with cantaloupe and watermelon added in.
That mixture is pureed until smooth and then chilled.
The result is a delicious, refreshing soup bursting with the flavors of the Mediterranean.
Gazpacho is often served with a drizzle of olive oil and garnished with diced vegetables and croutons.
Cheesecake in Barcelona: A Sweet Slice of Heaven
Cheesecake in Spain is a unique mix of savory and sweet.
While cheesecake might not be the first thing that comes to mind when you think of Spanish desserts, you'll be pleasantly surprised by the decadent creations you'll find in the city.
You'll find cheesecakes made with local cheeses including less traditional options like gorgonzola, brie and blue cheese.
Be sure to stop by JonCake for the tastiest cheesecake creations in Barcelona and maybe the whole world.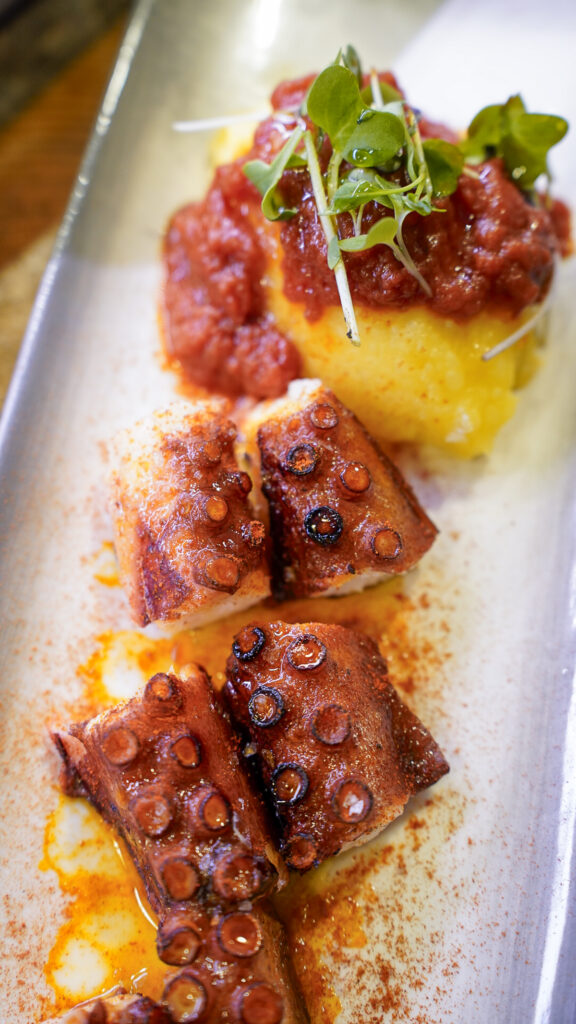 Pulpo: Tender Octopus Perfection
Barcelona's location on the Mediterranean coast makes it a seafood lover's paradise.
Pulpo, or octopus, is a beloved ingredient in Catalan cuisine.
The dish typically features tender slices of octopus, or a whole tentacle, that has been lightly grilled or boiled until they reach the perfect level of tenderness.
The octopus is then drizzled with olive oil, paprika, and sea salt. The result is a melt-in-your-mouth dish that showcases the delicious flavor and delicate texture of the octopus.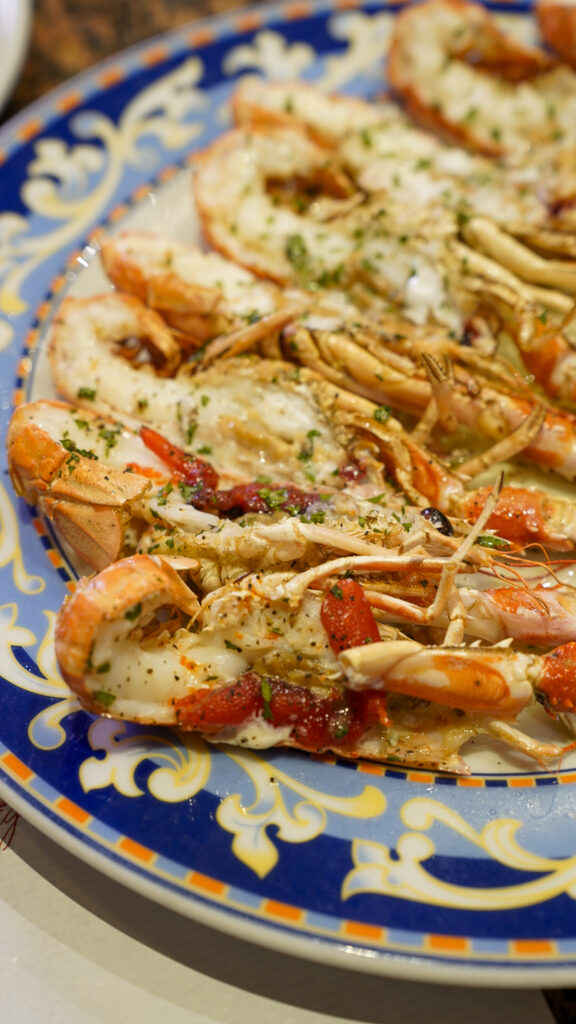 Gambas al Ajillo: Garlic Shrimp Goodness
Gambas al Ajillo, or garlic shrimp, is another seafood sensation you must try in Barcelona.
This simple yet incredibly flavorful dish features plump shrimp sautéed in olive oil with lots of garlic.
The combination of these ingredients creates a sauce that is a perfect blend of aromatic garlic and the sweetness of the shrimp.
Gambas al Ajillo is often served with a side of crusty bread, which is ideal for sopping up every drop of the delectable garlic-infused sauce.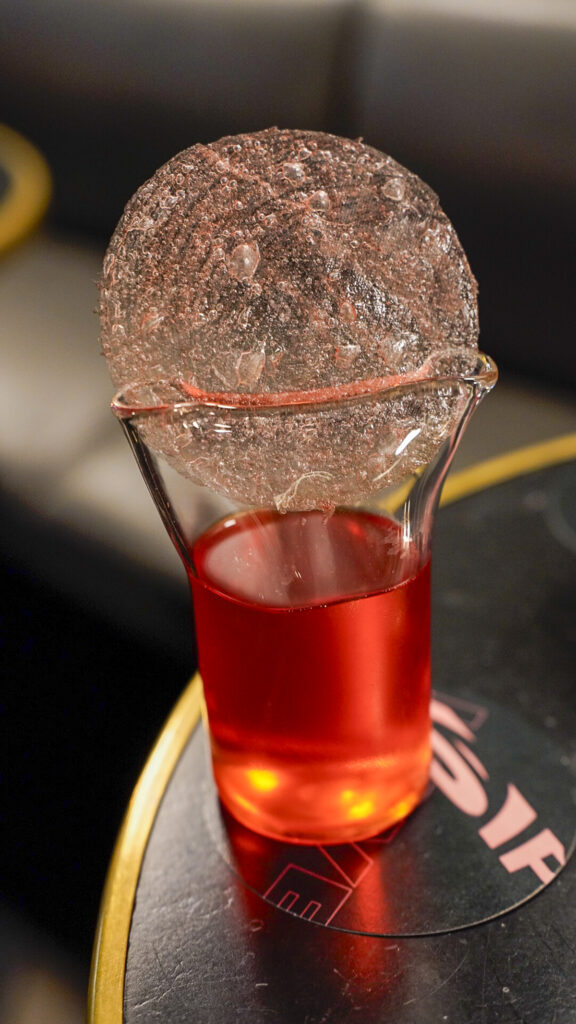 Craft Cocktails: Barcelona's Reign of Top Bars
Not only does Barcelona feature amazing wines, but they also host many of the top cocktail bars in the world.
Here are some of the top cocktail bars in Barcelona that we visited:
Barcelona's culinary scene is a true testament to the city's rich history and cultural diversity.
When you find yourself in Barcelona, be sure to embark on a gastronomic adventure that celebrates the country's culinary traditions and showcases the magic of its fresh, local ingredients.
Your taste buds will thank you for it!
Traveling through Europe? Don't Miss these Other Guides:
Click this link to pin this guide on the Top Things to Eat in Barcelona on pinterest.
Also, don't forget to follow us on instagram and facebook for more recipes and romantic travel recommendations, we love to see when you visit our favorite spots!
Looking for more European travel recommendations? Read all of our Europe travel guides.
If you'd like to automatically receive our posts in your email, register here.