From Virgin Voyages formal dining restaurants, to the Galley, to their room service, check out our full guide to Virgin Voyages food and restaurants.
For everyone that avoids cruises because you heard that cruise food is horrible, Virgin Voyages is here to change your mind with their incredible food and hospitality.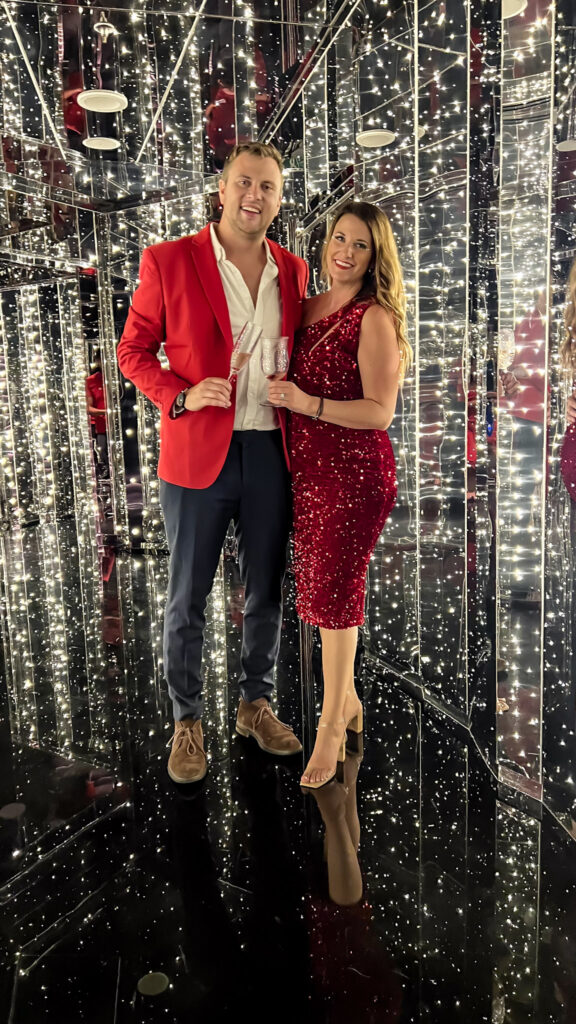 Whether you're on the Scarlet Lady, Valiant Lady, Resilient Lady, Brilliant Lady, or any future Virgin cruise ship, our guide will provide you with all of our favorite bites from each restaurant, so you go into your voyage ready to fill your stomach with the best bites.
Virgin Voyages Food: Formal Dining
Formal dining on Virgin Voyages is incredible!
Dinner reservations can be made in the Virgin Voyages app, but they aren't always needed. If you are like us though, you can make reservations 45 days before departure.
What's also fantastic about all of the specialty restaurants is that there's no additional cost like practically every other cruise line. This is a major plus, because this extra cost is usually an added $100+ per person for specialty restaurants on other cruises.
Although the following restaurants are their "fine dining restaurants", there's no formal dress code like on other cruise lines, but we don't recommend going in swimwear.
The Wake
Virgin Voyage's answer for people looking for a classic, but elevated, steak house is the Wake.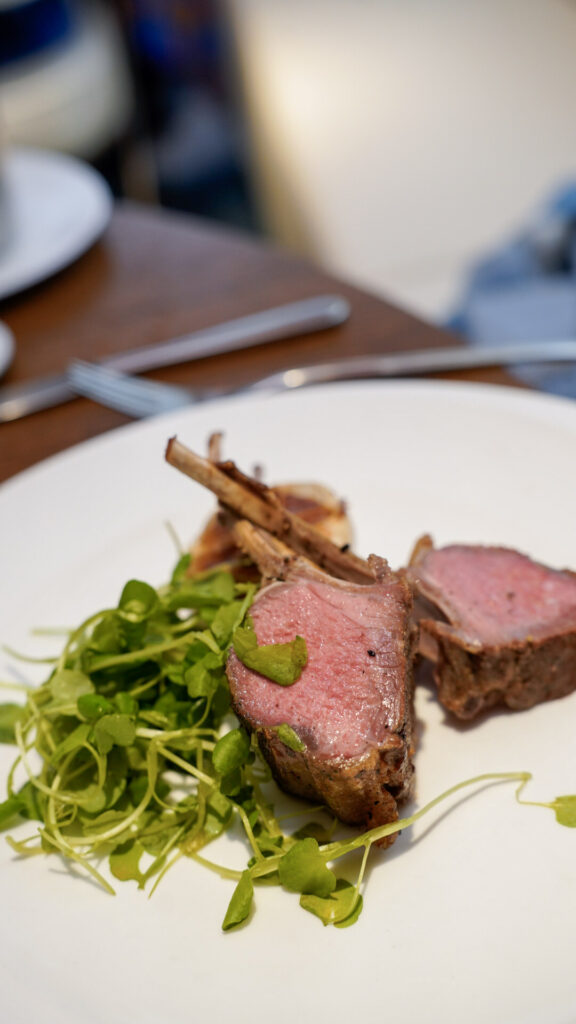 The Wake is open for both brunch and dinner, so for all those steak lovers out there you can get your fill.
The best starter which is featured on both the brunch and dinner menu is easily their clam chowder. We're both not even the biggest clam chowder fans, and this soup was so good it was the best clam chowder we've ever had.
It's not like your traditional clam chowder, it's given a fried touch to some of the clams for a cool textural element, and it was so good we had to ask for seconds.
There isn't a formal seafood restaurant on the ship, but at the Wake they have a raw bar where you can get full shellfish platters.
This is one of the few extra optional charges that you will find on virgin cruises.
The most surprising part of our experiences at the Wake was the main section.
Although we did enjoy their steaks, the two mains that were the stars to us were their perfectly cooked rack of lamb, and our favorite main dish was their salt-baked dorade fish.
We won't ruin the full show of the salt baked dorade, but it's a must-order for your table and comes with a delicious lemon-based sauce.
Save room for dessert, the Wake featured two of our favorite desserts on the whole ship.
The baked alaska with pistachio gelato was mind blowing, and the gastronomic lemon cheesecake was also a winner.
The Test Kitchen
Dinner at a Michelin Star restaurant is never cheap, but on Virgin Voyages you can experience their gastronomy restaurant on your voyage for FREE.
This is definitely a restaurant you have to try at least once.
At the beginning of the week it's a set menu that's red meat forward. The second half of the week it's a set menu that's more seafood focused.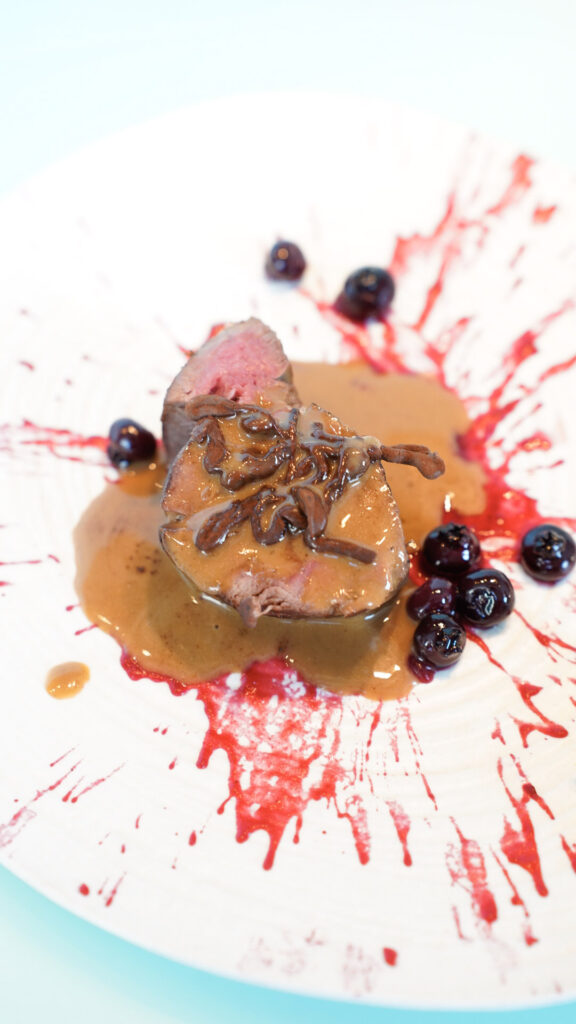 Overall both of the menus were unique. If you enjoy a gastronomy experience you're probably going to want to try both menus.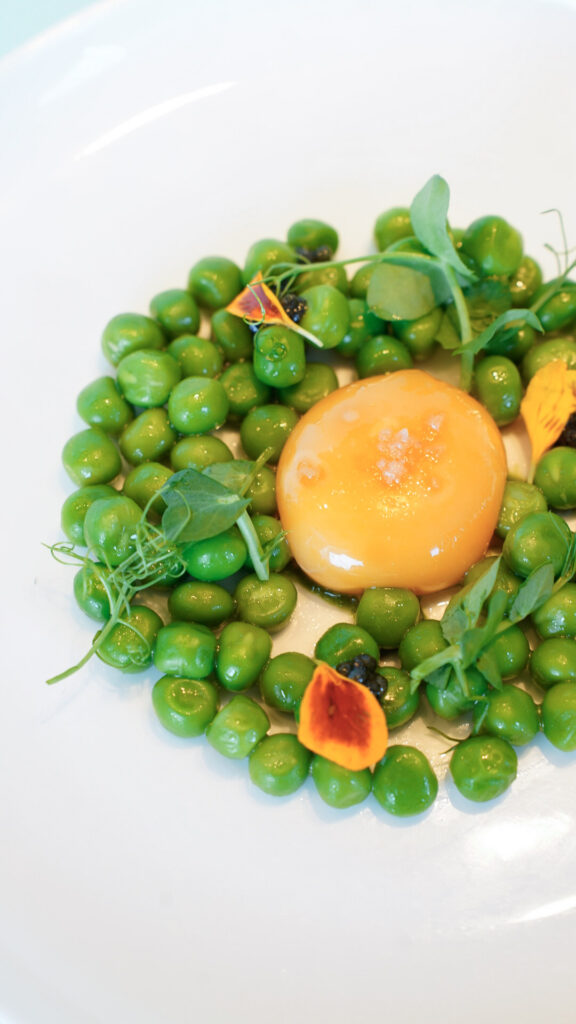 Without giving the "magic" away, we absolutely loved their modern takes on dishes and overall dining experience.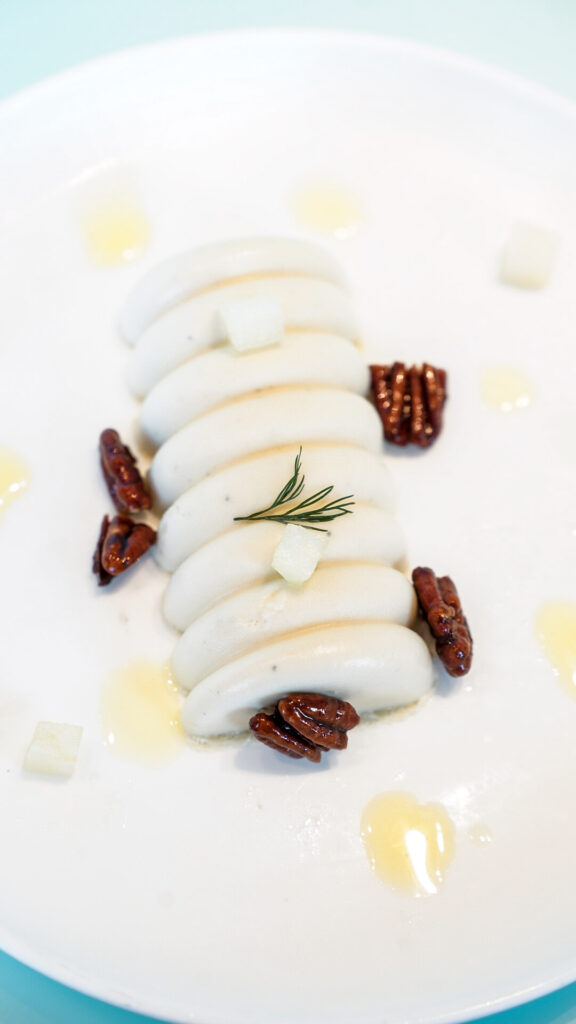 Our favorite overall plate was the mushroom from the first menu. We also enjoyed the surprising sweet treats on the second menu.
Pink Agave
We were honestly the most skeptical of Pink Agave going into the cruise because we get so much great Mexican food in Texas. But, we were surprised how great most of the dishes were at their Mexican restaurant.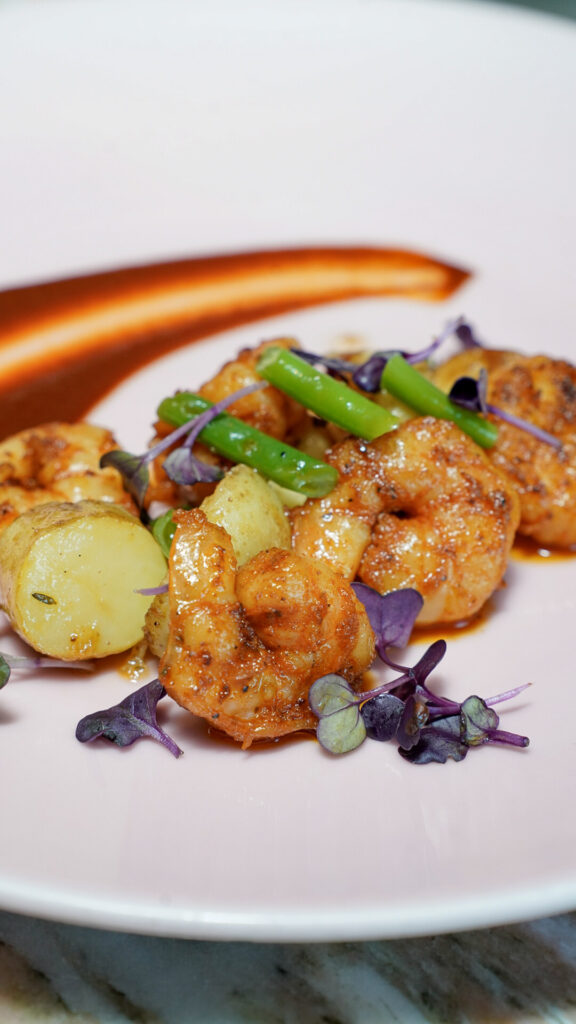 This restaurant definitely has a menu with more of a Mexico City style of food over Tex-Mex, which was very welcomed.
Our favorite dishes were the duck breast with mole, the elotes (aka corn), and the chicken enchiladas.
Gunbae
Korean BBQ meets a party dinner!
Gunbae which means "empty glass" is a way to say cheers when drinking in Korean, and don't worry you will learn this word quickly when dining here.
Gunbae is a unique restaurant that we recommend hitting early in the cruise. This is because if you don't come in with a group of six, they sit you with other people from the cruise at their circular cooking tables.
The environment is super lively, and it's a great way to meet fellow cruisers over some soju and drinking games.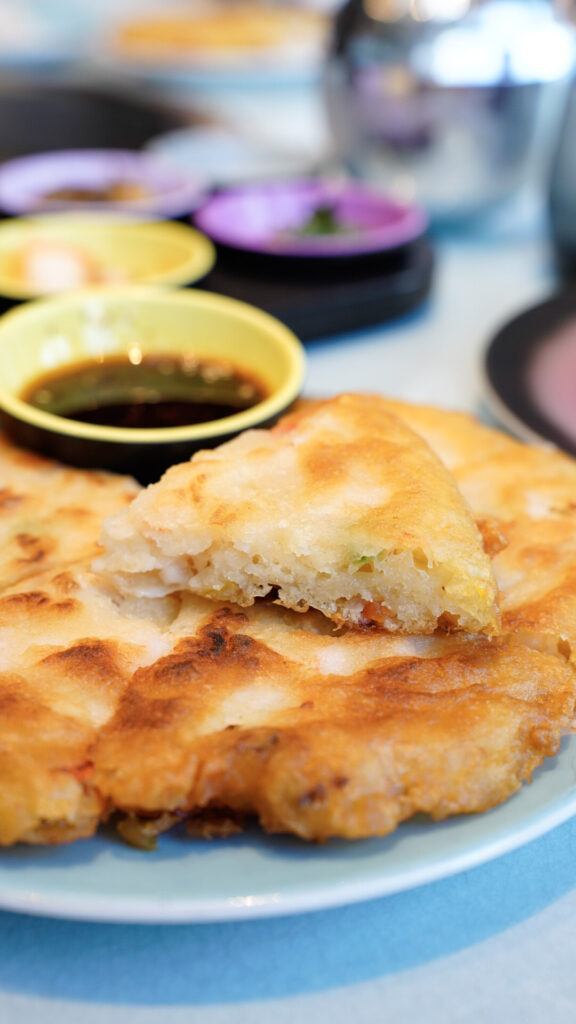 We enjoyed Gunbae so much we dined here twice.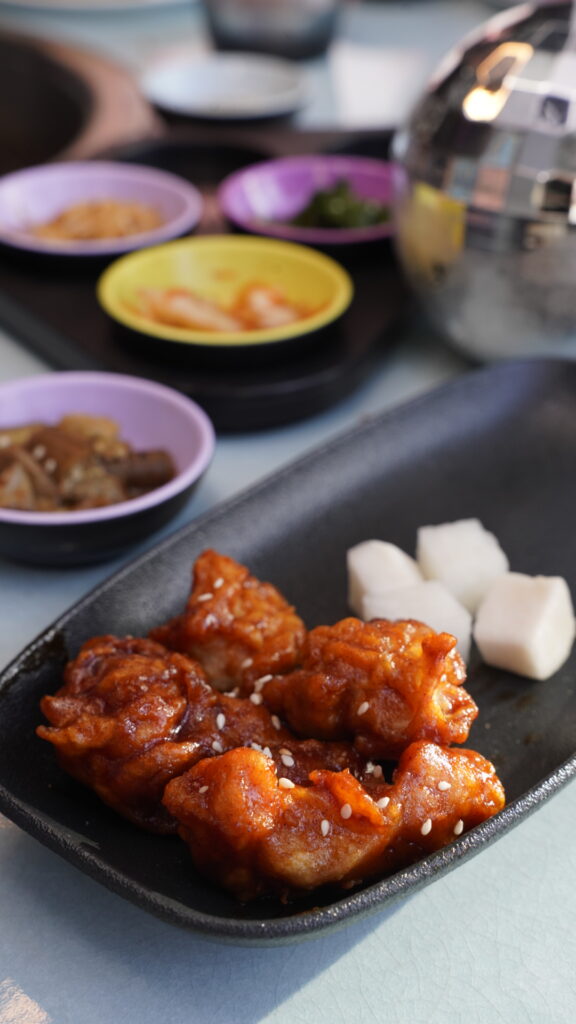 Our favorite dishes were the sweet potato noodles (our favorite vegetarian option on the ship), the seafood scallion pancake, and all of the grilled Korean proteins like beef bulgogi.
Razzle Dazzle
Designed to resemble the zig zag designs of war ships during World War 1, the restaurant Razzle Dazzle is not to be missed.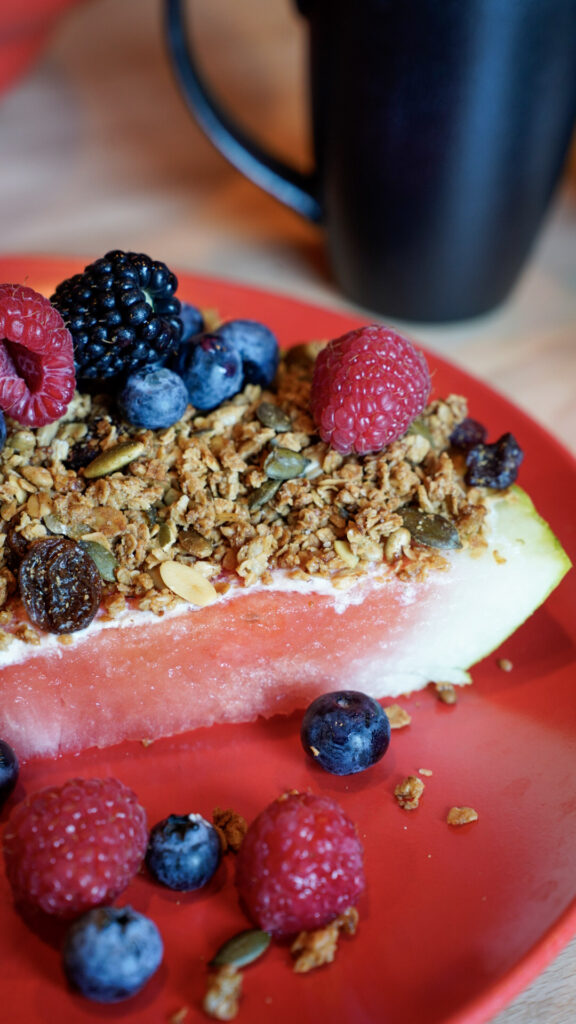 This restaurant is a veggie and health-forward restaurant that's open for breakfast and dinner.
All of the ship has plenty of vegan options and vegetarian options. But, this restaurant offers a modern twist on classics but in the form of vegetarian and vegan dishes.
This restaurant and the ship don't stop there, this restaurant and others offer options for gluten and lactose-intolerant sailors.
Although it is veggie forward, it does have meat options during both brunch and dinner like their fried chicken sandwich and candied bacon.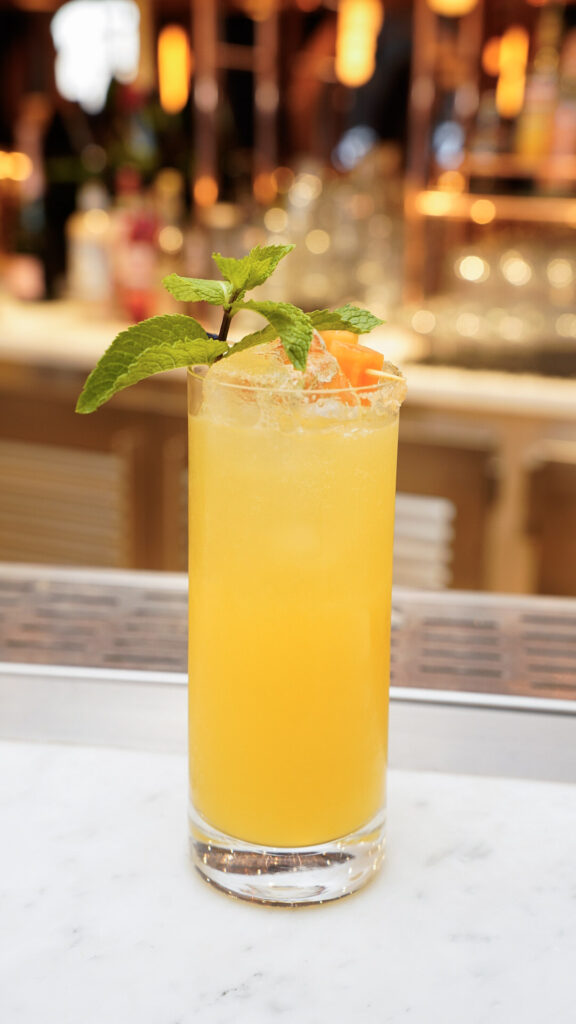 Razzle Dazzle was our breakfast spot of choice because we loved starting our day on a healthy note with their delicious gazpacho, avocado toast, acai bowl, and watermelon granola slice.
You can also choose to get your party started early. They offer a bottomless mimosa option if your group is looking for a party at brunch. You can also kick those drinks up with their rainbow churros for dessert.
Insiders tip: If dining with them for dinner be sure to ask for their "secret" menu.
Extra Virgin
Last but definitely not least, our favorite formal dining restaurant on Virgin Voyages is their Italian restaurant Extra Virgin with a ton of handmade pasta.
They start your dining with an incredible charcuterie board, and all of their starters should be ordered.
Their fried artichoke (order two), the beef carpaccio, and the meatballs are a chef's kiss.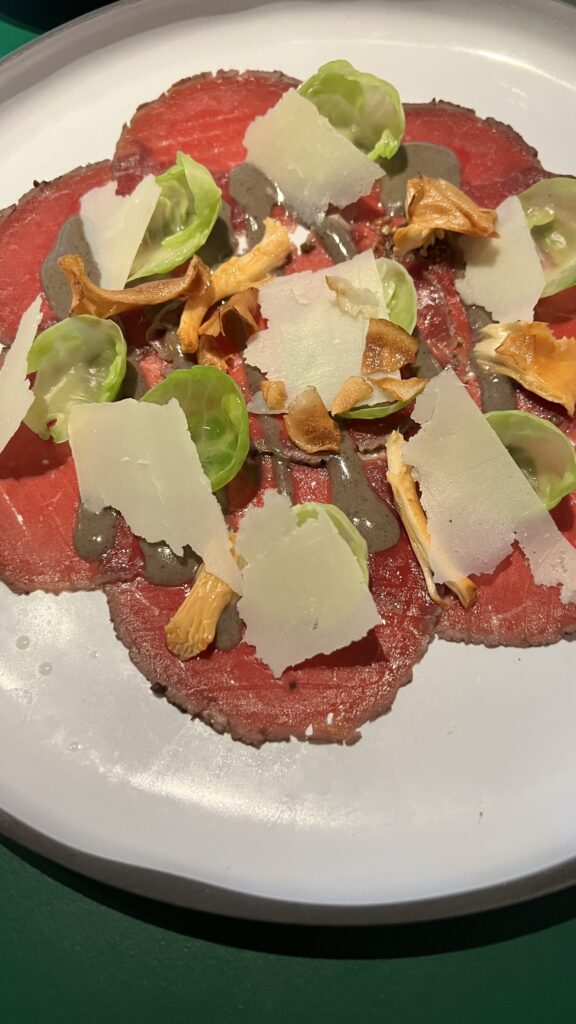 For pasta, Gavin could not get enough of their spaghetti with clams (pasta alle vongole), and we also enjoyed their carbonara.
For the carbonara we actually substituted the pasta that came with it, for their delicious homemade spaghetti. We loved the texture of their homemade spaghetti.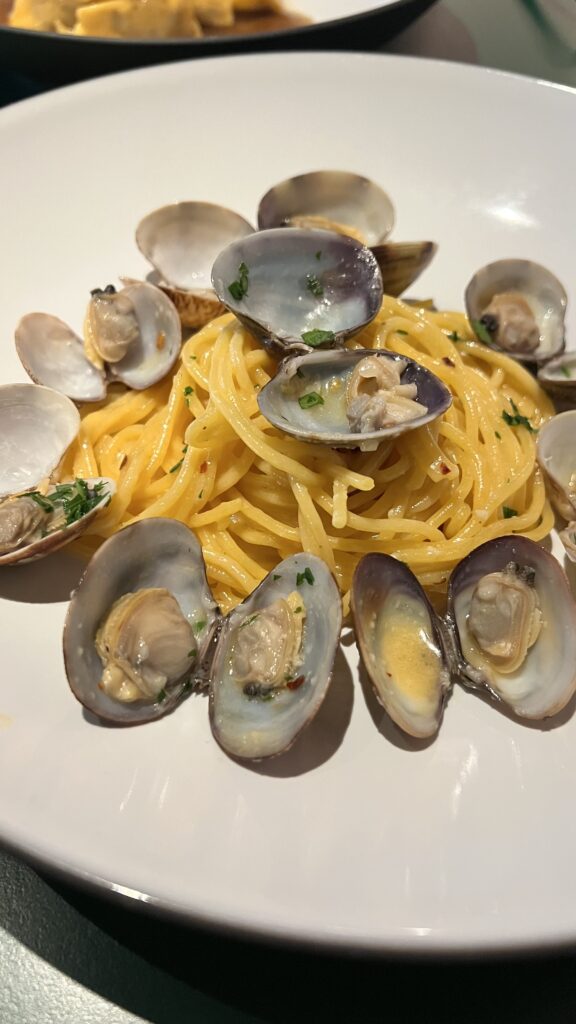 The extra charge items, outside of drinks, at Extra Virgin are:
a porchetta main course
the option to top anything with shaved truffle.
For dessert they have a traveling affogato cart. What is an affogato you may ask? It's a scoop of gelato and you top it with freshly made espresso.
If gelato isn't your thing, skip the calories and have them whip you up their espresso martini for a nightcap. Also, if you love espresso martinis, you'll love our tequila espresso martini.
Extra Virgin was a major hit, it was so good we could honestly eat there everyday!
Virgin Voyages Food: Casual Dining
On a normal cruise the dining halls are usually buffet style and we avoid them, but Virgin Voyages isn't your average cruise and their casual dining restaurants are high quality and most offer a wide range of menu items that are made to order.
The Dock
The Dock House may be the ship's best kept secret. It's a chill, Mediterranean lounge with both indoor and outdoor seating and light bites.
We say the Dock is the best kept secret because the outdoor lounge overlooking the back of the boat has amazing sunbed loungers, a view, and an incredible Mediterranean inspired mezze cart that will come to you at the raise of a flag.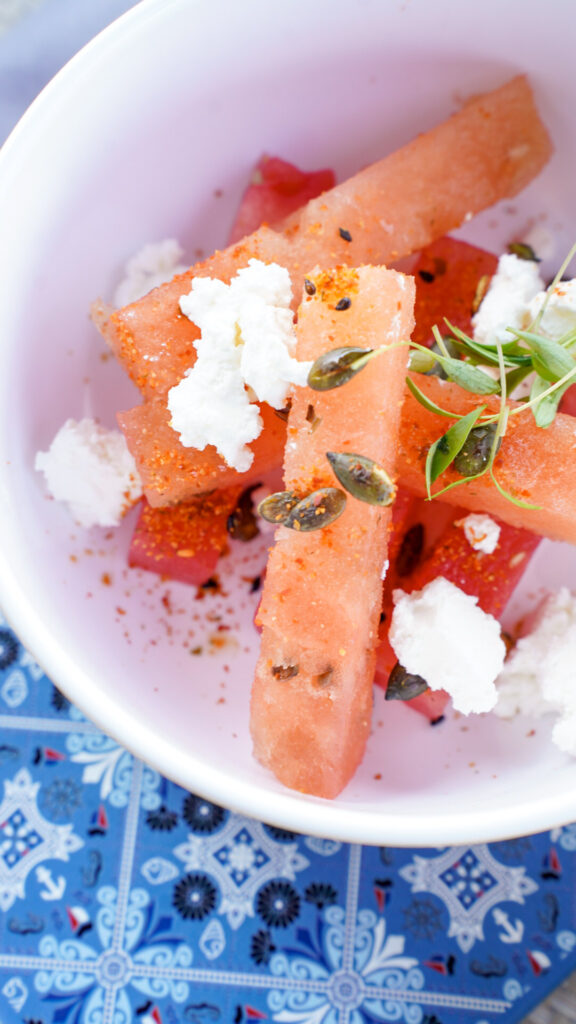 These small bites are healthy, but packed with flavor. We couldn't get enough of the watermelon feta salad, all of the dips, and the back of the ship lounge.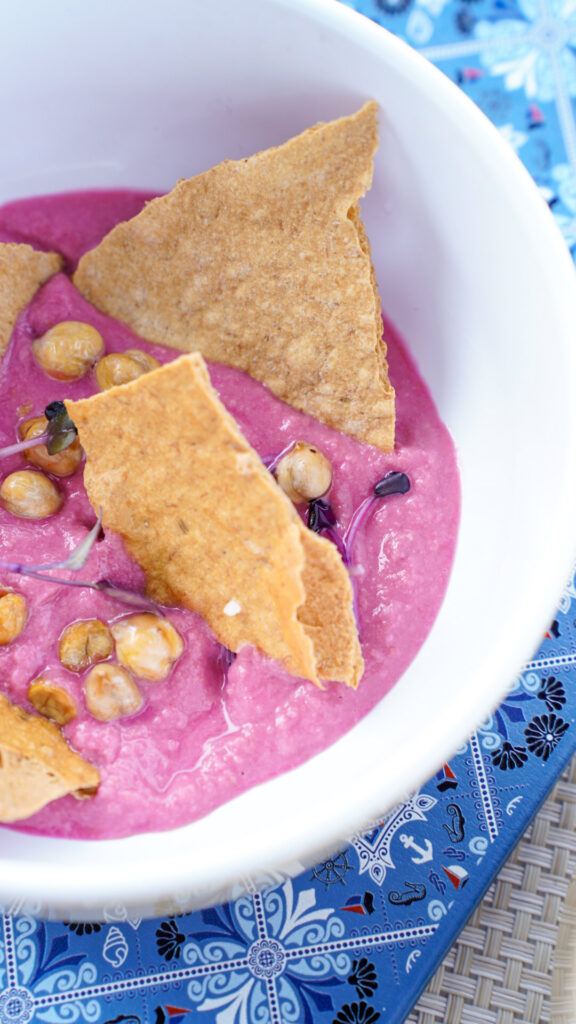 The Galley (aka the main dining room)
From sushi, to incredible pastries, to soft drinks, to ramen, to a 24/7 diner breakfast, the Galley food hall has something for everyone.
I don't know if there's a day on the ship that passed without us getting a spicy tuna roll, or one of the incredible pastries from the pastry bar.
Our absolute favorite item from the pastry bar was their fresh pistachio macaron with fresh raspberries.
Also, if you're lucky enough to be on a Virgin Voyage during their annual Eat & Drink Fest season, this is where you want to be on sea days for all of the unique bites at each station.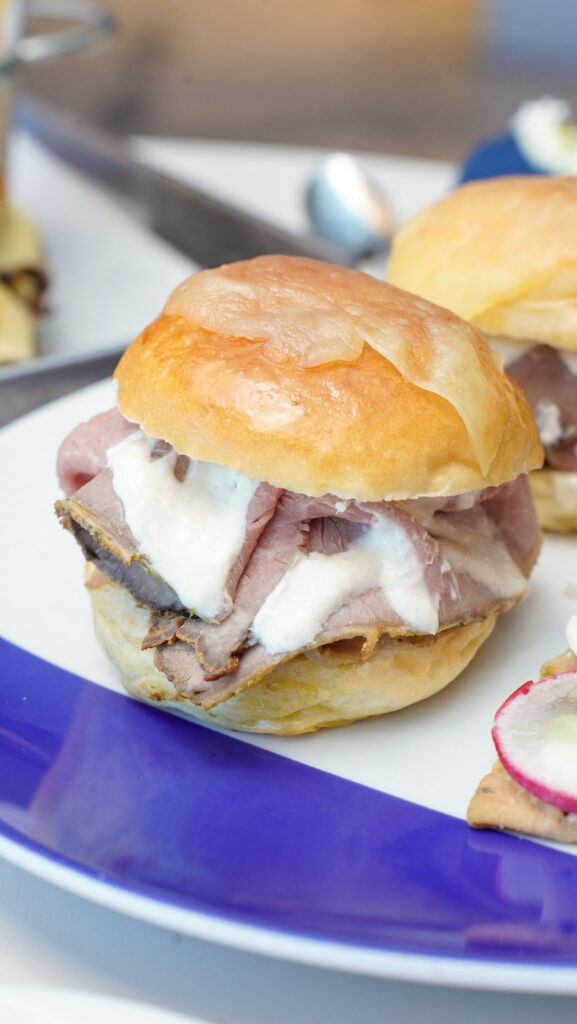 During our voyage they had a ton of dishes, and our favorites were a famous smash burger from a celebrity chef, crispy rice with spicy tuna, and Indian pani puri bites.
Lick Me 'Til Ice Cream
This gelato stand officially has the best name of all time for an ice cream shop.
This gelato bar offers all the scoops your heart could desire of their homemade gelato and fruit sorbet.
They have a few flavors that are there daily like hazelnut and vanilla, and they also have special flavors that change every day on the boat.
They also have three premium ice cream cones to pick from like the red velvet flavor.
The Pizza Place
Freshly made personal-sized pizza in minutes, the pizza place is your spot to go whenever that pizza craving hits you.
From classic pepperoni to truffle egg pizza, you can choose your level of fancy when it comes to pizza.
Or if nothing on the menu is calling your name, you can customize your own pizza to your liking. Our favorite was a double cheese and double pepperoni because #beachbod #bodybypizza.
Grounds Club (Coffee Shop)
The main specialty coffee and tea bar on the ship.
The pastries are free, but the specialty lattes and teas are actually a small charge.
Outside of the specialty coffee they offer premium tea, juice shots, and espresso martinis on draft.
The Social
Games from board games to a free classic arcade room where you can enjoy hot dogs and ice cream floats from the Social.
You can get a classic hot dog, or specialty versions like a reuben dog.
Our favorite item from The Social was their candy bar where you can get giant scoops of gummies and taffy.
The Sun Club Cafe (poke bowls next to Richard's Rooftop)
Poke bowls and bao buns overlooking the main pool is the perfect snack while sunbathing around the sun club café.
When building a poke bowl you can choose between tuna or salmon.
If you're looking for a lighter lunch you can substitute the forbidden rice for a healthier option like cauliflower rice.
Virgin Voyages Food: Other Dining on Virgin Voyages
Ship Eats (AKA In-Room Dining)
From past experience room service on other cruises is not worth the calories, and are typically lower quality food.
But, on Virgin Voyages ShipEats they have some of the best menu items from their restaurants on the in-room dining menu. One favorite is their absolutely delicious pork and cheese meatballs that you can also find at the Extra Virgin restaurant.
Gavin also loved that he could order gummy bears whenever his craving hit.
To order all you have to do is head to the virgin voyages sailor app.
Insiders tip: There's technically a delivery fee. But, if you pay for an alcoholic beverage, or a specialty coffee or tea, the delivery fee will be waived.
We specifically would order a canned cocktail that we could save for the following day if we made a late night food order and it saved us the delivery fee!
Richard's Rooftop
Richard's Rooftop is the semi-private area reserved for guests that are staying in rockstar and mega rockstar suites.
This area has a chill vibe with a few jacuzzis, its own bar, and a special food menu.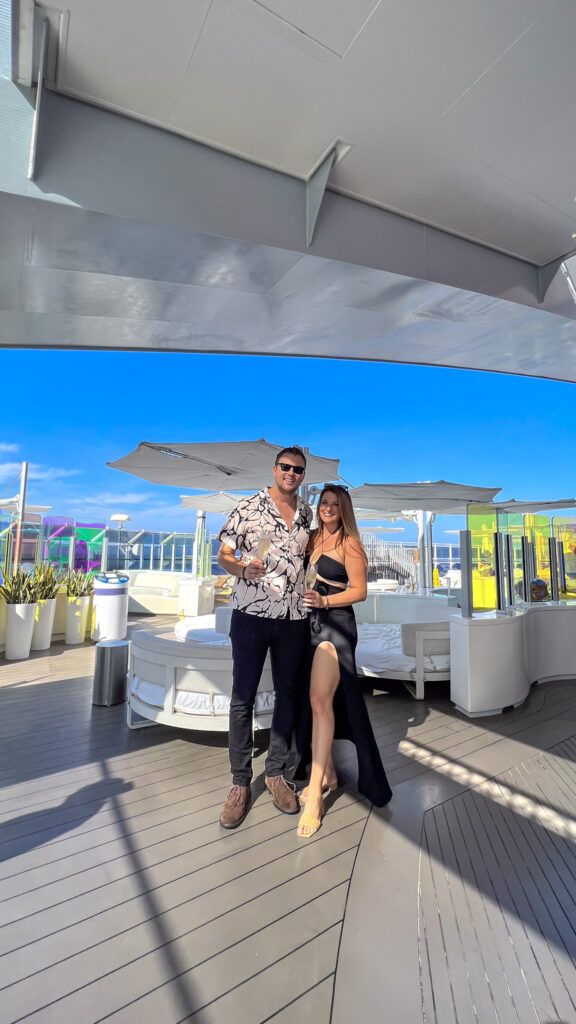 The two major benefits of Richard's Rooftop are:
The champagne hour where guests get to drink FREE Moët & Chandon for one hour every day from 5-6pm.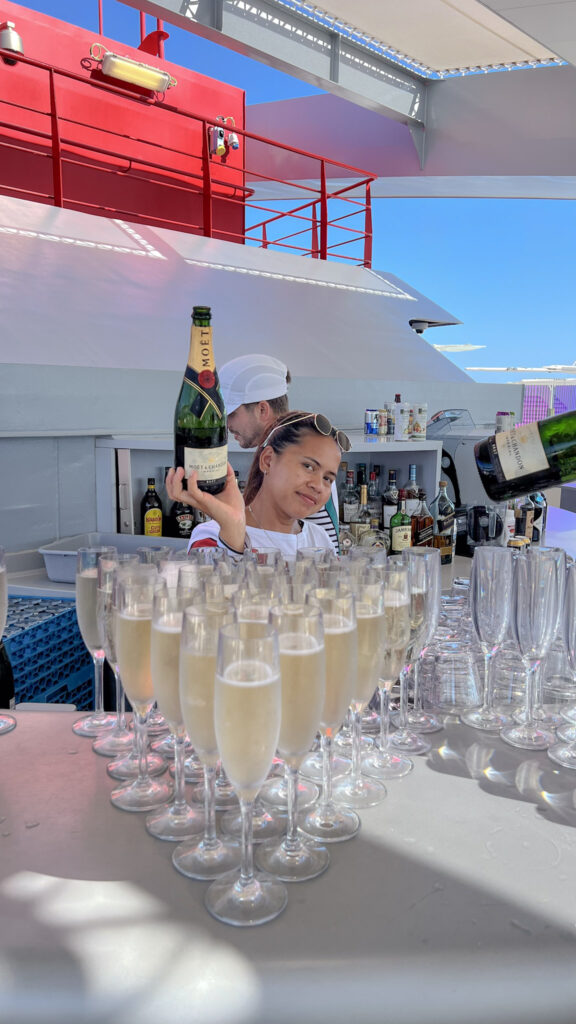 If you have access to Richard's Rooftop, we highly recommend having this hour blocked on your calendar.
The other awesome benefit is the food menu. Half of the menu is the same poke and bao menu that you can get from the Sun Club Cafe. But, there's also a "For Richard's Eyes Only" menu where you can order a vegan or fish omakase sushi.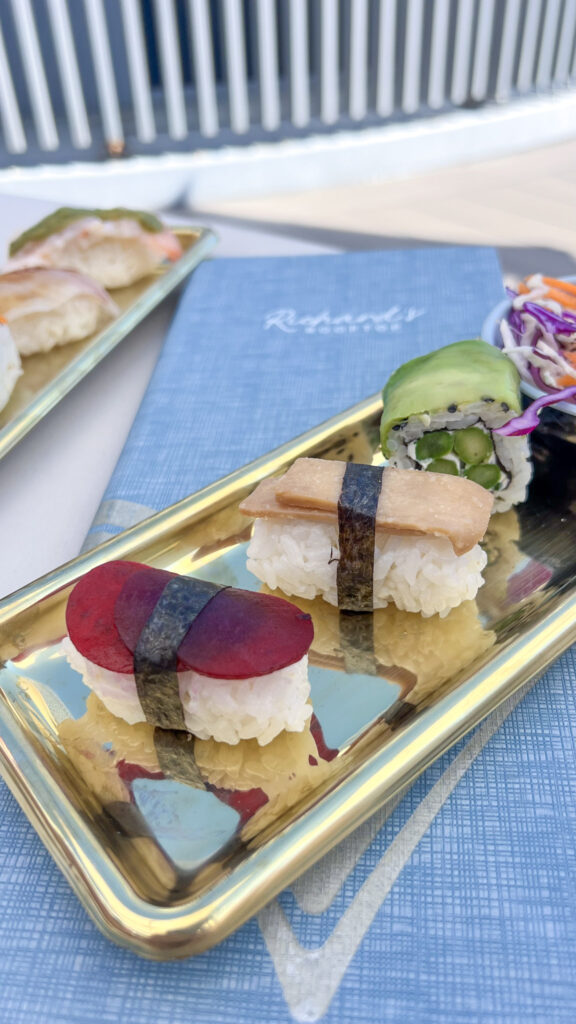 We thoroughly enjoyed both options, but our favorite bite from those plates was the sea bass sushi piece.
We cannot stress enough how much us as foodies truly loved this cruise for the Virgin Voyages food alone.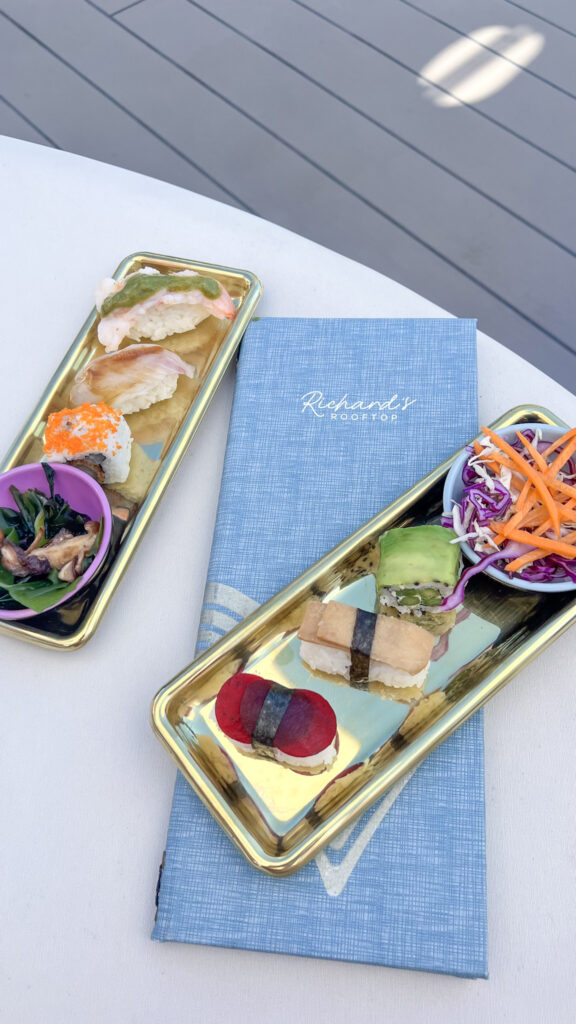 If you're about to board a Virgin Cruise please DM us, or email us your favorites from the ship. We don't want to miss your favorites the next time we're on board.
Traveling through Europe like we did for this cruise? Don't Miss these other guides:
Click this link to pin this Full Guide to Virgin Voyages Food and Restaurants on pinterest.
Also, don't forget to follow us on instagram and facebook for more food and romantic travel recommendations. We love to see when you visit our favorite spots!
Looking for more European travel recommendations? Read all of our Europe travel guides.
If you'd like to automatically receive our posts in your email, register here.