While most people get excited to see the Austin City Limits music lineup, we're most psyched for the release of the ACL Lineup for food!
As one of the hottest summers in history nears an end, it's time for Austin City Limits, and we're gearing up for festival season once again!
Austin City Limits' two weekend music festival is showcasing headliners like The Lumineers, Mumford and Sons, Foo Fighters, and Shania Twain.
The festival is running October 6th through 8th for weekend one and October 13th through 15th for weekend two.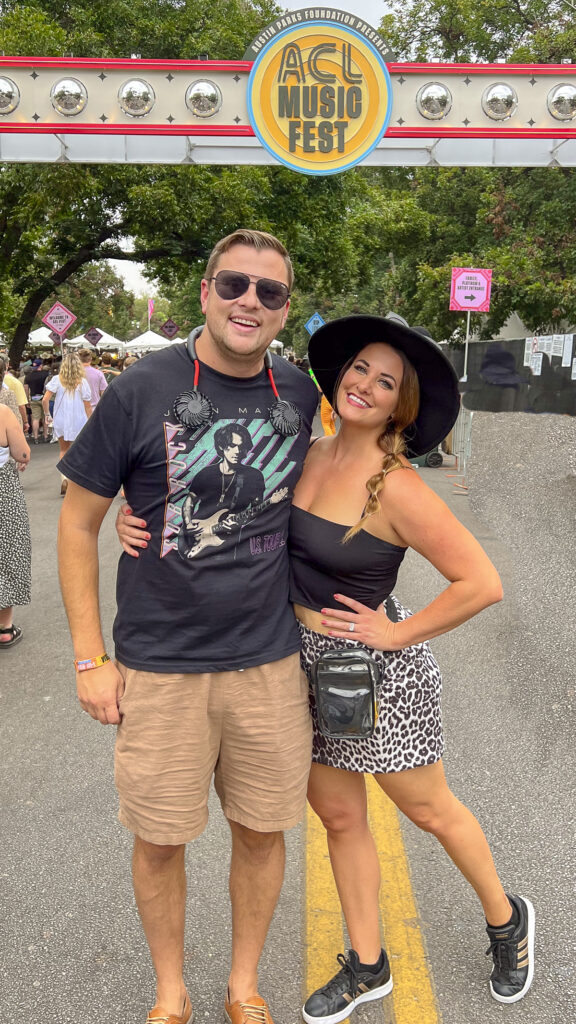 We're most excited to see Hozier and Alantis Morissette, two musicians we've loved for years. Newcomer Declan McKenna is also an act we're excited to see.
In between those sets were looking forward to noshing our way through all the tasty bites from ACL Eats!
Get 2023 ACL Tickets
Be sure to access the Austin City Limits Music Festival page to purchase ACL tickets.
Changes to the 2023 ACL lineup of Food Vendors:
There were a few big shakeups with food vendors at the 2023 Austin City Limits music festival.
The biggest change is the absence of the Mighty Cone, which raged to popularity from ACL in years part.
Their iconic deep fried batter that encased chicken, shrimp, and avocado all wrapped up in a tortilla cone was quintessential, perfectly-portable ACL food.
We're not sure that ACL will be the same without a late-night Might Cone.
It seems like every year there are big changeups in taco vendors at ACL.
Last year we saw Austin taco icons Torchy's Tacos as well as Tacodeli left the ACL Eats lineup, this year De Nada Catina is no longer serving food at ACL
A few of the vendors who were new in 2022 also made the decision not to return.
Bao's Up appears to no longer be renewing their booth at ACL, as well as Hoover's Cooking and Voodoo Donuts.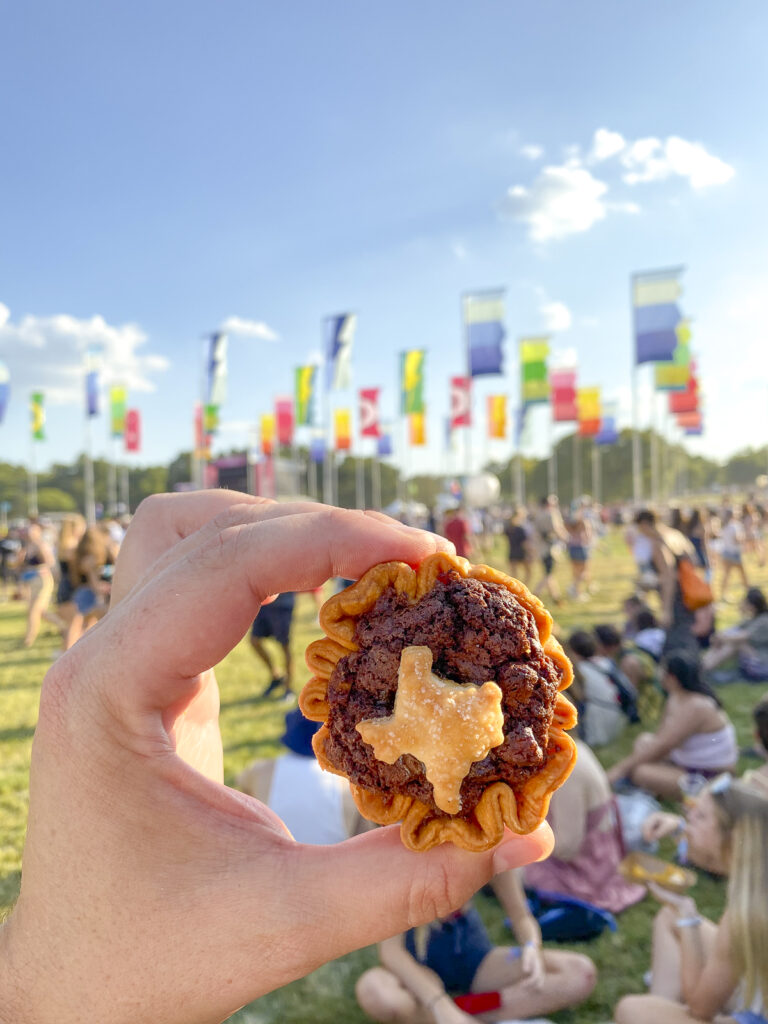 ACL Sweets
If you're a music fan with a sweet tooth, don't miss ACL Sweets!
Some of the sweet ACL vendors that you know and love will return such as Tiny Pies (adorable sweet and savory mini pies), Tiff's Treats (warm cookies), Sno Beach (Snow Cones), GoodPop (better-for-you popsicles) , Bananarchy (dipped frozen bananas), Amy's Ice Creams (famous Austin ice cream).
Some new vendors making their way to the new ACL Sweets activation are Picole (Brazilian Paletas) Mister Softee (soft serve ice cream), JP's Pancake Company (pancakes with wild toppings), Candy Cloud World (outrageously fun cotton candy art), Holla Mode (Thai-style rolled ice cream).
Even though we're not huge cotton candy fans, we have a feeling that we won't be able to resist the creations from Candy Cloud World.
New foods at Austin City Limits Music Festival This Year:
There are 15 new food vendors at the 2023 Austin City Limits Music Festival.
When it comes to new vendors at ACL Sweets, you'll find Picole, Mister Softee, JP's Pancake Company, Candy Cloud World, and Holla Mode.
On the savory side, a new Korean-American restaurant and wine bar, Underdog, will be making their ACL debut (we hope they're cooking up their amazing shrimp burger)!
Other new vendors that we've tasted before are Steamies Dumplings, Redfin Seafood Kitchen, Shake Shack, Huckleberry, and neapolitan-style pizzamaker Show Me Pizza. Which are all solid options.
Without a doubt, we will be getting our latin fix at Cuantas Tacos, they're one of our favorite taco spots in town.
The new vendor we were most excited about is Salt & Time. This Austin restaurant is part butcher, part restaurant and serves up one of the best burgers in ATX.
Other new spots that we have not tasted in the past are Hawk's Hot Chicken, which appears to come from Waco, TX and their brick and mortar is currently closed, as well as Brotherton's Barbecue, a Pflugerville restaurant that got a nod as a top BBQ restaurant in 2021 from Texas Monthly's Best BBQ List.
Cocktails at Austin City Limits Festival
Cocktails are coming to GA at ACL in 2023! Cocktails can be found at bars around the ACL grounds and there will be some alcohol-specific activations.
Tropical cocktails and poke bowls can be found at the new Barton Beach Club Tiki Bar from local spot, Poke-Poke, where you can even take home a tiki mug.
El Patioville will be serving signature margaritas alongside nachos chips and dips from restaurant El Patio.
There are also mocktails and non-alcoholics that will be served at new spot Bar None.
Top Austin City Limits Food Items to Stay Cool:
This past summer in Austin was one of the hottest on record.
Even though ACL Music Festival technically takes place in the fall, it is usually still beyond sweltering in Austin, Texas!
Here are some of our favorite food vendors to help you stay cool: Amy's Ice Creams, Blenders and Bowls, Bananarchy, Juiceland, Goodpop, Sno Beach, and Come and Take It Fresh Lemonade.
Vegan dining options at Austin City Limits:
If you are going to ACL and have specific dietary needs, it's no stress.
Austin City Limits' ACL Eats offers plenty of options, including many food spots with vegan and vegetarian options.
In fact, 22 of the food booths offer some sort of Vegan option.
Head to Amy's Ice Creams, Bananarchy, Blenders and Bowls, Come and Take It Lemonade, East Side King, Flyright Chicken, Four Brothers Venezuelan Kitchen, GoodPop, Happy Chicks, Juiceland, Lambas Indian Kitchen, Mmmpanadas, Skull and Cakebones, Sno Beach Sno Cones, JP's Pancake Company, Underdog, Steamie's Dumplings, Shawarma Point Nacho Dady & Tenders, Pelon's Tex Mex, Cuantas Tacos, Burro Grilled Cheese, and Wholly Cow Burgers.
2023 Full ACL Food Lineup Vendor List:
Here's the full list of restaurants at the 2023 Austin City Limits Music Festival.
We've highlighted our favorite food options in bold.
Amy's Ice Creams
Austin's Pizza
Bananarchy
Blenders and Bowls
Burro Grilled Cheese
Chi'lantro BBQ
Come and Take it Fresh Lemonade
East Side King
Flyright Chicken
Four Brother Venezuelan Kitchen
Goodpop
Happy Chicks
Home Fries
Juiceland
Kababeque
KOKO's Bavarian Kitchen
Lambas Indian Kitchen
Lonesome Dove Western Bistro
Mama Fried
Micklethwait Barbecue
Mmmmpanadas
Nacho Daddy & Tenders
Nervous Charlies
Pelons Tex Mex
Shawarma Point
Skull and Cakebones
Snobeach SnoCones
Southside Flying Pizza
Taco Bronco
The Cavalier Party and Tots
The Original Blacks Barbecue
Tiff's Treats
Tiny Pies
Wholly Cow Burgers
Picole – NEW VENDOR
Mister Softee – NEW VENDOR
JP's Pancake Company – NEW VENDOR
Candy Cloud World -NEW VENDOR
Holla Mode -NEW VENDOR
Underdog – NEW VENDOR
Steamies Dumplings – NEW VENDOR
Show Me Pizza – NEW VENDOR
Redfin Seafood Kitchen – NEW VENDOR
Shake Shack – NEW VENDOR
Salt & Time – NEW VENDOR
Huckleberry – NEW VENDOR
Hawk's Hot Chicken – NEW VENDOR
Cuantas Tacos – NEW VENDOR
Brotherton's Barbecue – NEW VENDOR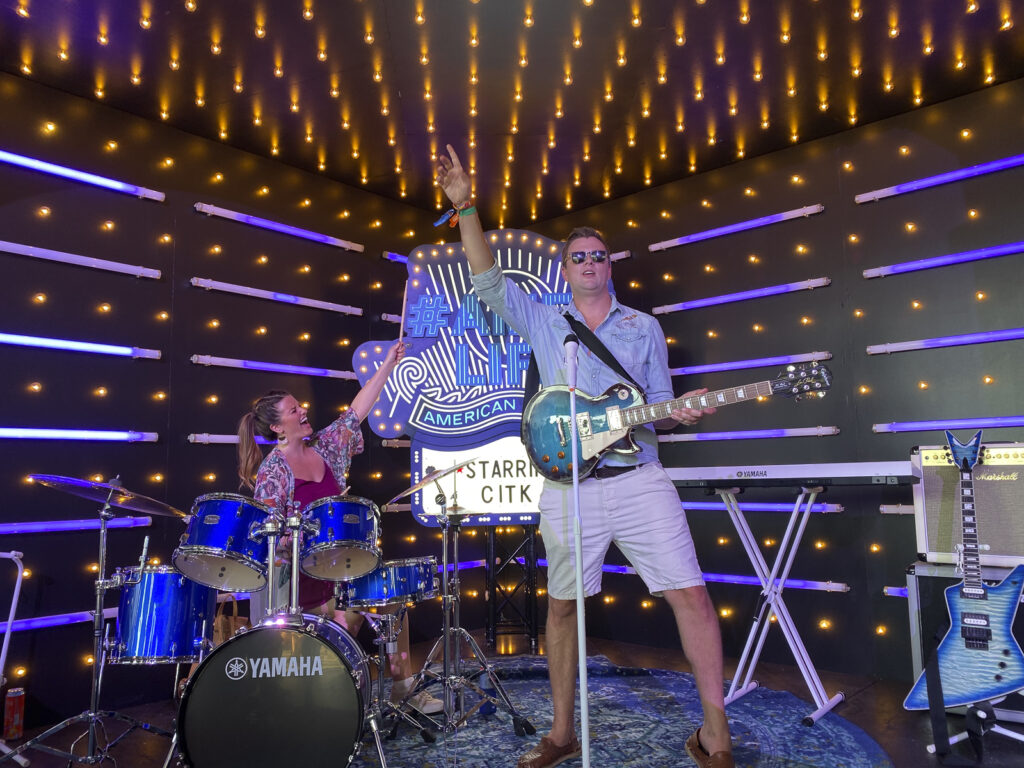 You'll find us at ACL 2023 during weekend one, noshing on these local ATX eateries as we wander from stage to stage.
Visiting Texas for ACL? Check out These Other Great Things to See:
Be sure to follow along on our instagram stories, where we will share ACL updates in real time.
Hope to see ya there!