Make your holiday even more stress-free by whipping up one of these easy no cook thanksgiving appetizers.
No cook appetizers are a great way to feed a big crowd when you are short on oven space.
Thanksgiving day can be a difficult time to juggle getting so many turkey day dishes done in a small kitchen space.
More often than not, we need to plan out a specific schedule of which dishes need to use the oven at certain times.
We also lean on additional appliances like slow cookers, instant pots, a sous vide, and smart ovens to find other ways to cook dishes when the oven is in use.
We've gathered some of the best thanksgiving appetizers to feed your hungry guests.
All of these tasty appetizers are no cook recipes to add to your Thanksgiving menu, which will make your meal preparation even easier.
Click each link to get the full recipe.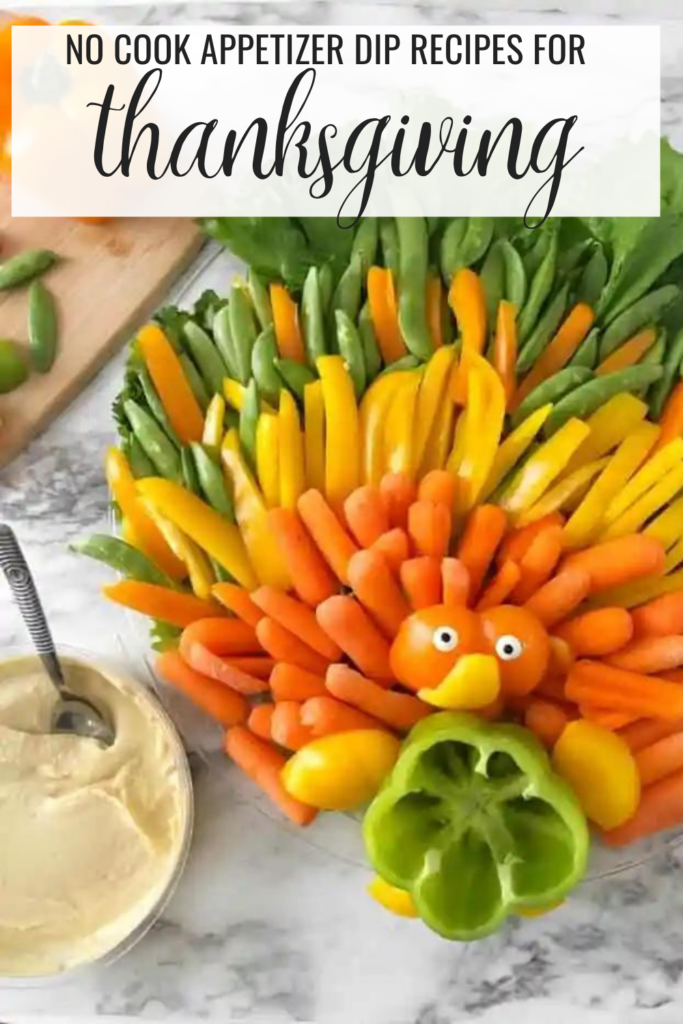 Easy Dips for Before Thanksgiving Dinner:
Thanksgiving dips are the best way to add extra veggies to your spread.
A healthy appetizer is a good idea to offset heavier dishes, we think it's exactly what a large group needs before a big meal!
Pairing a dip with seasonal apple slices, pieces of pear, and sliced red peppers all offer a great way to add in a pop of color to your spread.
Or even save time by just buying a store bought veggie tray and pair it with a minimal effort homemade dip.
These flavorful dips can also be served with tortilla chips, pita bread, or toasted crostinis.
From easy hummus to topped cream cheese spreads, dips are an easy appetizer that can be prepared the day ahead of time.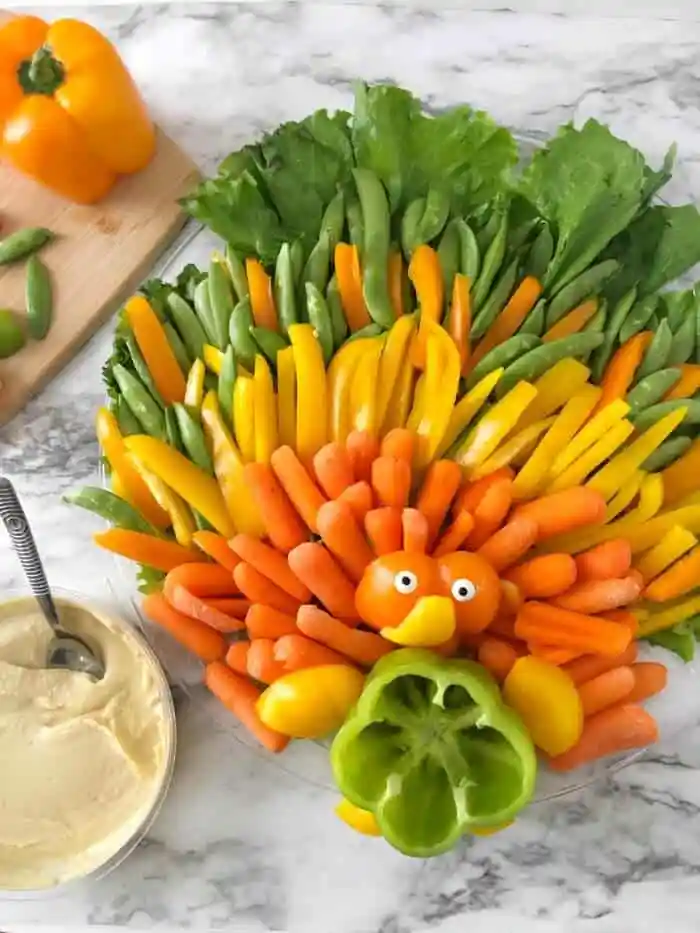 Turkey Veggie Tray
Start with a festive spread to hold your dips! This Turkey Veggie Tray is an easy and fun platter to bring to any Thanksgiving or Friendsgiving party. The kids will love this fun turkey and you'll have all your appetizer snacking ready to go as your Thanksgiving day feast cooks. This turkey vegetable platter is perfect for a crowd, especially if you have guests who are vegetarian, vegan or have food allergies.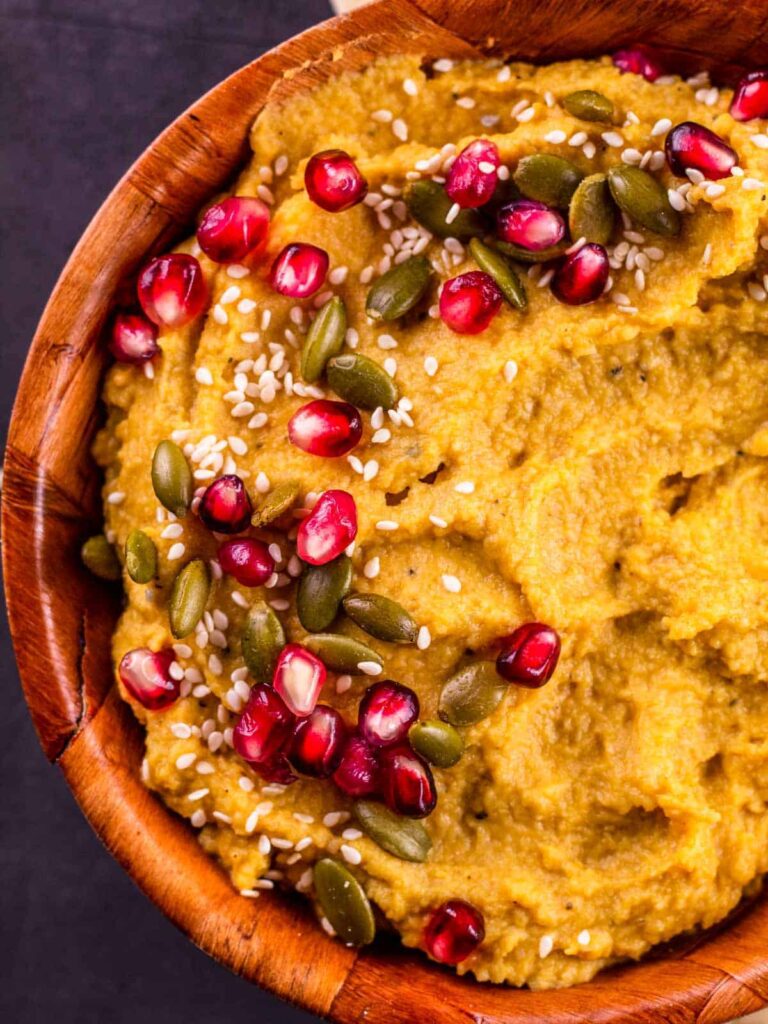 Easy Roasted Pumpkin Hummus
This Easy Roasted Pumpkin Hummus is made with a few simple ingredients, including chickpeas, tahini and freshly roasted pumpkin puree. Slightly sweetened with maple syrup, this delicious pumpkin flavored hummus is great with pita, vegetables or your favorite crackers!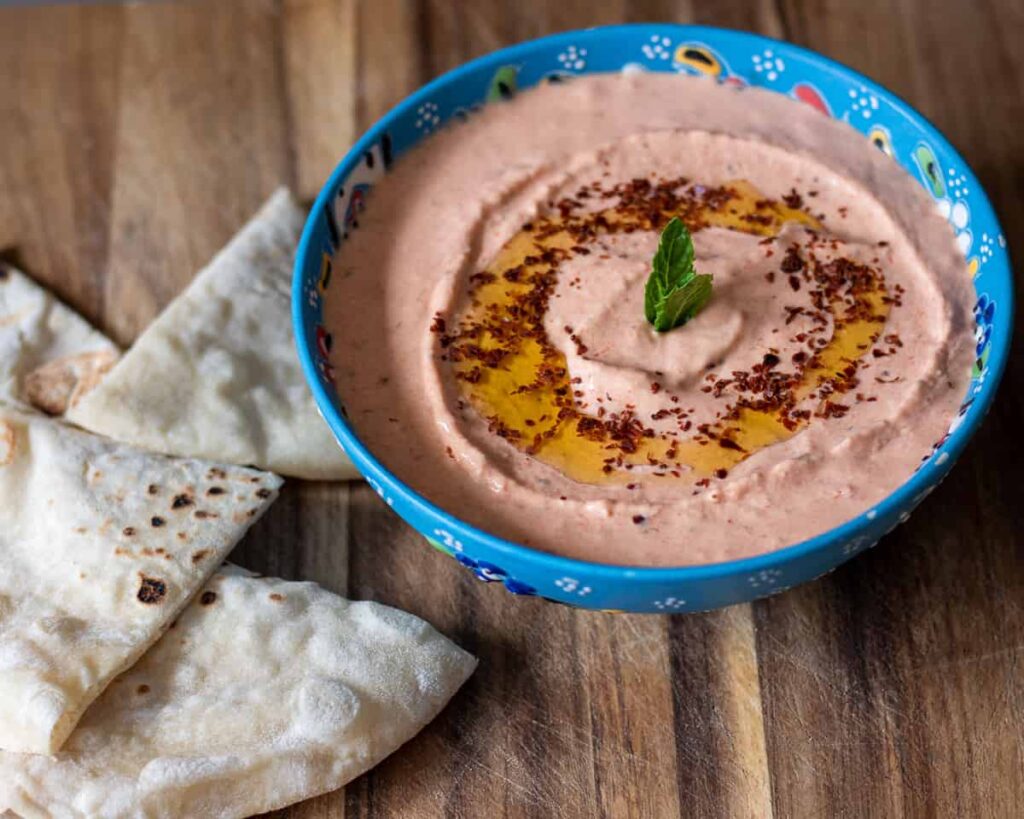 Spicy Whipped Feta Dip
Tirokafteri is a spicy, salty and tangy Whipped Feta Dip. It is made with a handful of ingredients including roasted red peppers, feta cheese, vinegar, and olive oil. It is ready in 15 minutes and is commonly served with warm freshly made Greek Pita Bread, or as part of a Mediterranean mezze platter.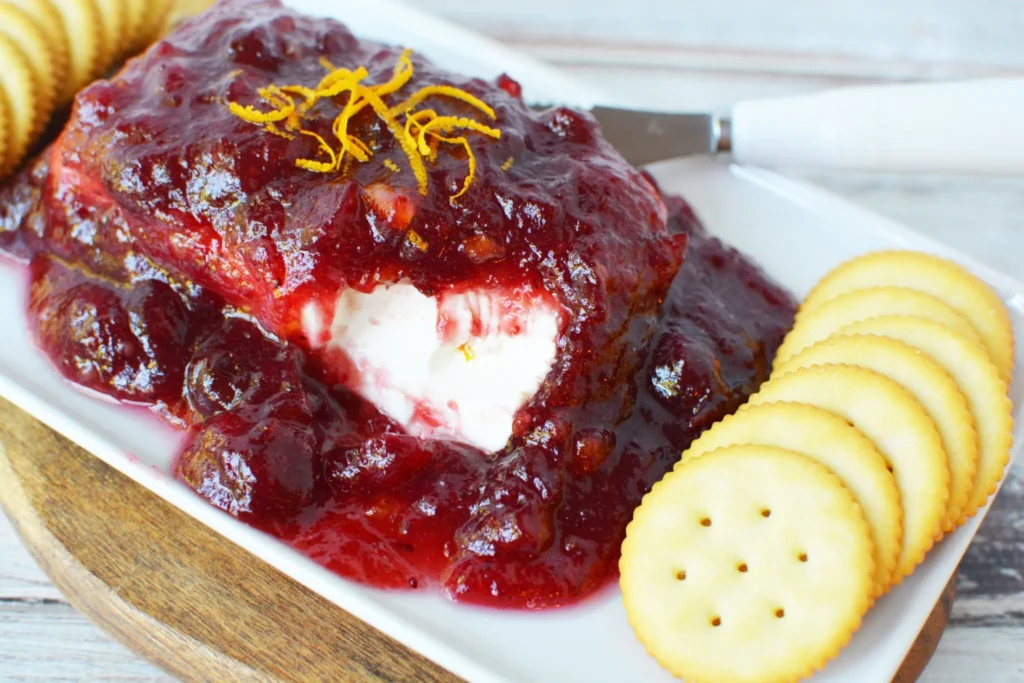 Cranberry Cream Cheese Dip
This Cranberry Cream Cheese Spread is the perfect no cook appetizer and can be prepped ahead of time. It's full of citrus and tart cranberry flavor. Just add some crackers and it's ready to go!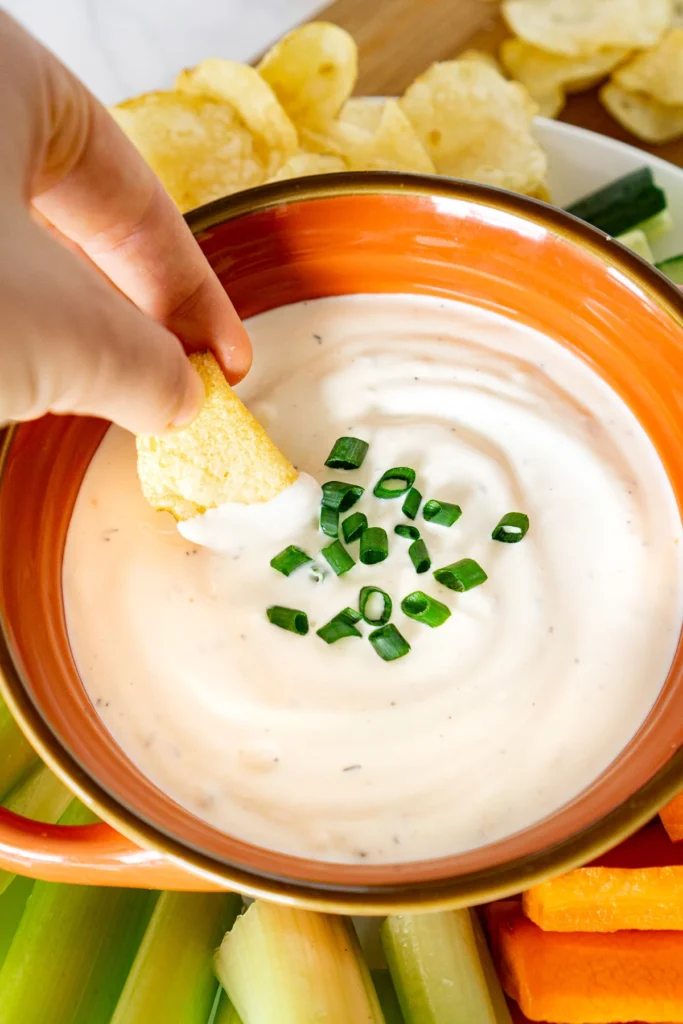 Roasted Garlic Dip
A flavorful Roasted Garlic Dip is a great 5 minute no-cook appetizer recipe that uses a secret ingredient to get that authentic roasted garlic flavor that does not require you to actually roast garlic! What a time saver.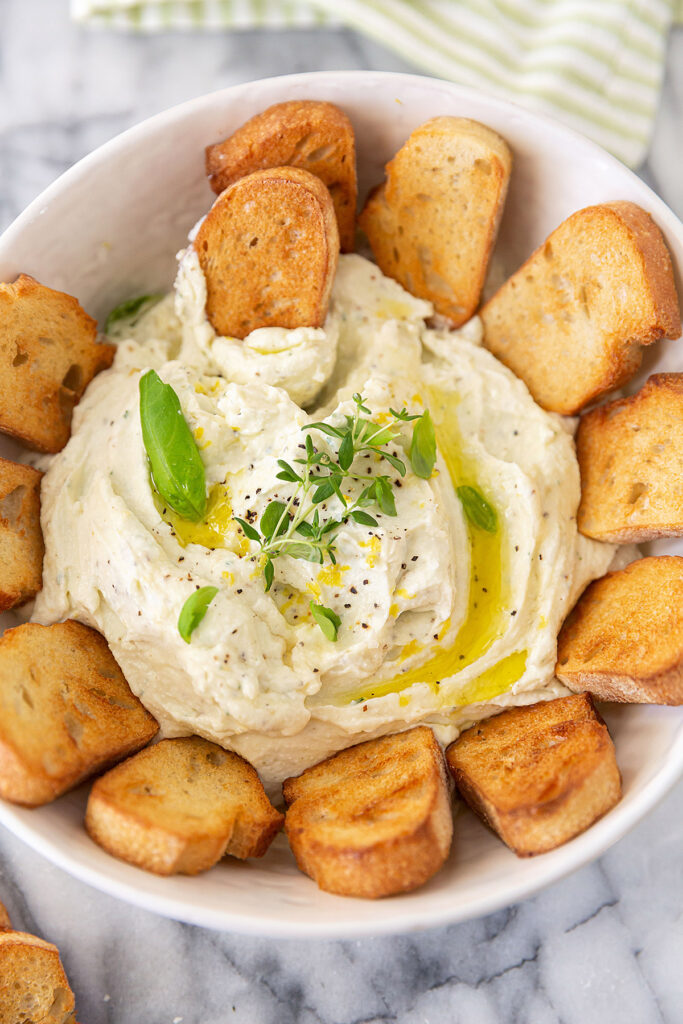 Whipped Ricotta Dip
Whip up the easiest no bake app to enjoy while prepping Thanksgiving dinner! Whipped ricotta dip is full of flavor from honey, garlic and thyme. It's slightly sweeter yet flavorful.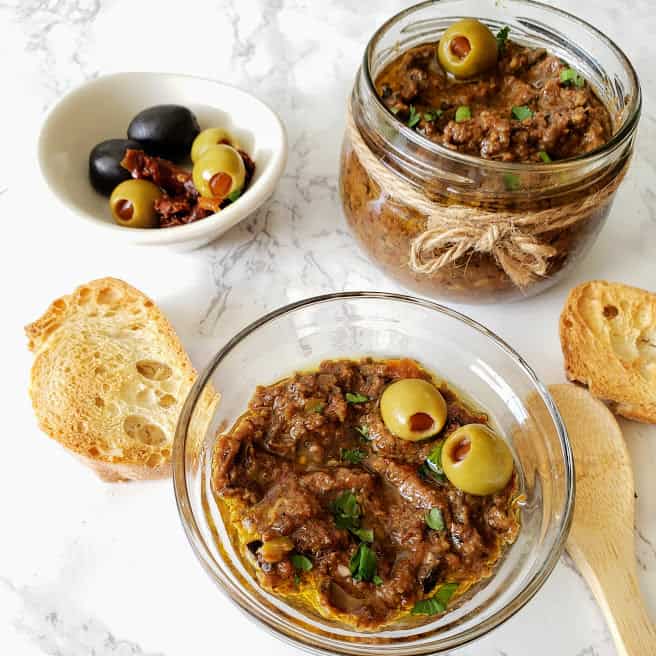 Olive Tapenade Dip
This make ahead, 5 minute, no-cook Olive Tapenade Dip tastes amazing and feels fancy. It is a surefire crowd pleaser that can be served with bread, crackers, or veggies.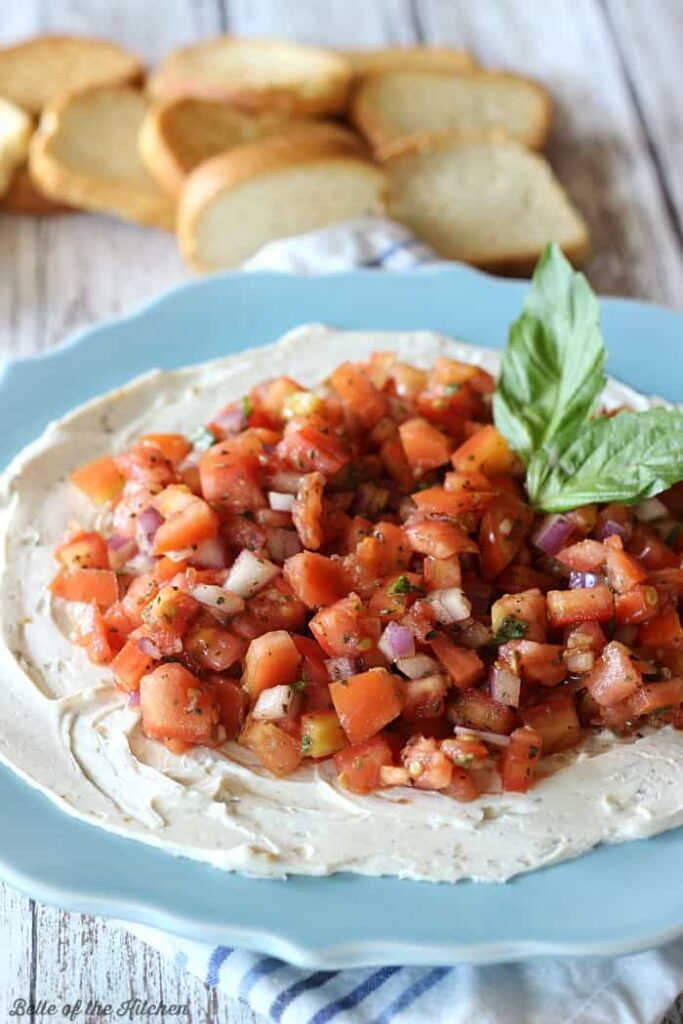 Creamy Bruschetta Dip
This Creamy Bruschetta Dip starts with a layer of roasted garlic and herb cream cheese, followed by the BEST fresh bruschetta. Serve with crackers, mini toasts, or crusty bread for the perfect appetizer. You don't even have to spend time building crostinis since it is served in dip form!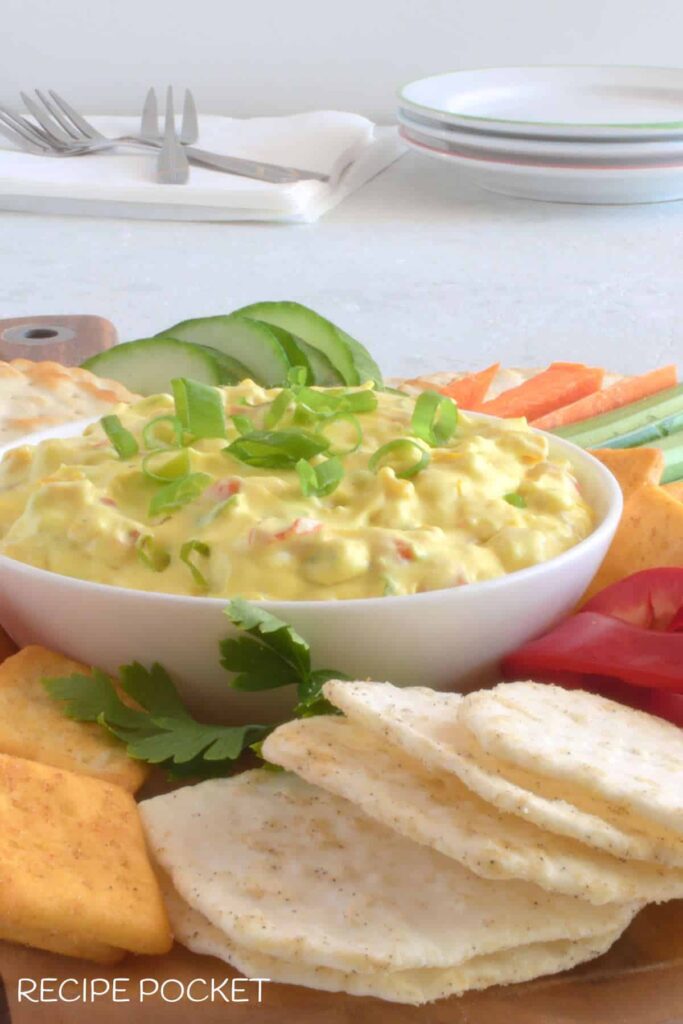 Corn Relish Dip
Corn is always a Thanksgiving staple, so way not feature it as an appetizer? This homemade Corn Relish Dip is delicious and easy to make. It is delicious with platters of chips, crackers, and veggies.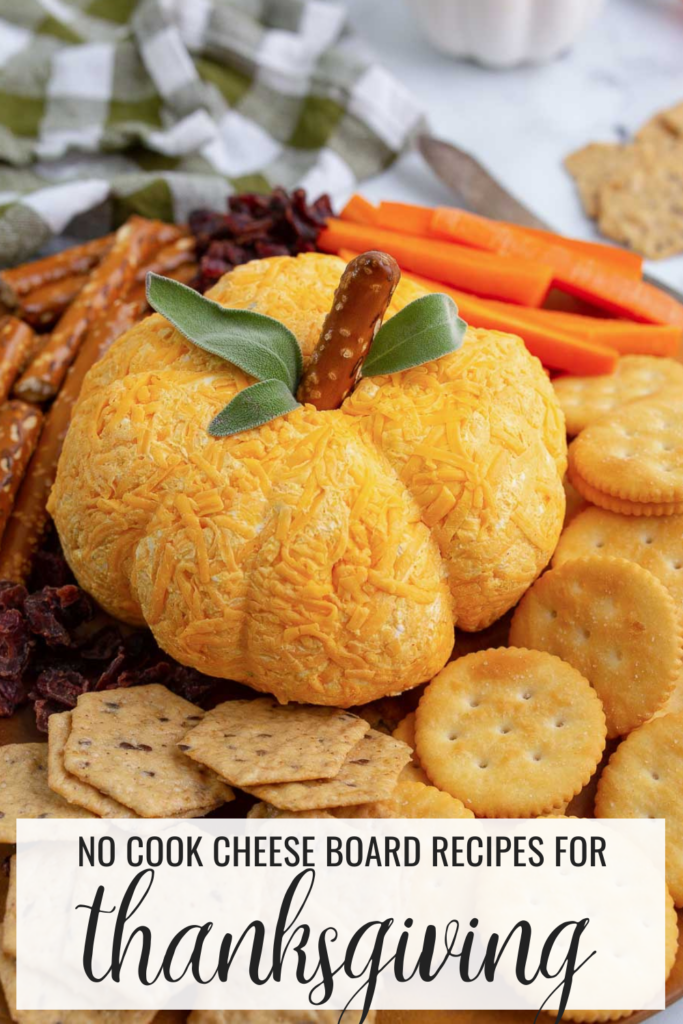 Cheese Ball & Charcuterie Thanksgiving Appetizers:
Charcuterie spreads are always a staple at our dinner parties, so why would Thanksgiving be any different?
A sharp, aged cheddar cheese, funky blue cheese, or a nice chunk of parmesan cheese are all fall-inspired cheeses that are perfect for the Autumn season.
Add them to grazing boards on the dining table or create an appetizer section next to a welcome cocktail.
All of these recipes are great as a standalone cheese appetizer or can be integrated into your charcuterie board. If you're feeling extra adventurous, check out our tips on How to Build a Grazing Table.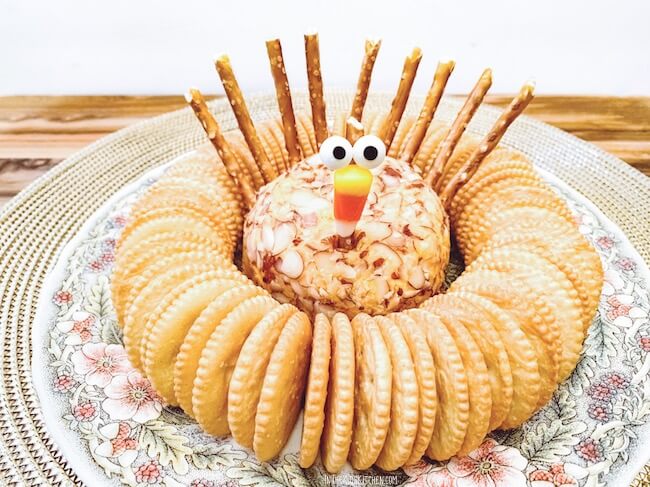 Adorable Turkey Cheese Ball
This Turkey Cheese Ball is a super cute Thanksgiving appetizer that takes just minutes to assemble with a shortcut recipe! Add in your favorite cheeses and it is a real crowd pleaser. It might even be too cute to eat!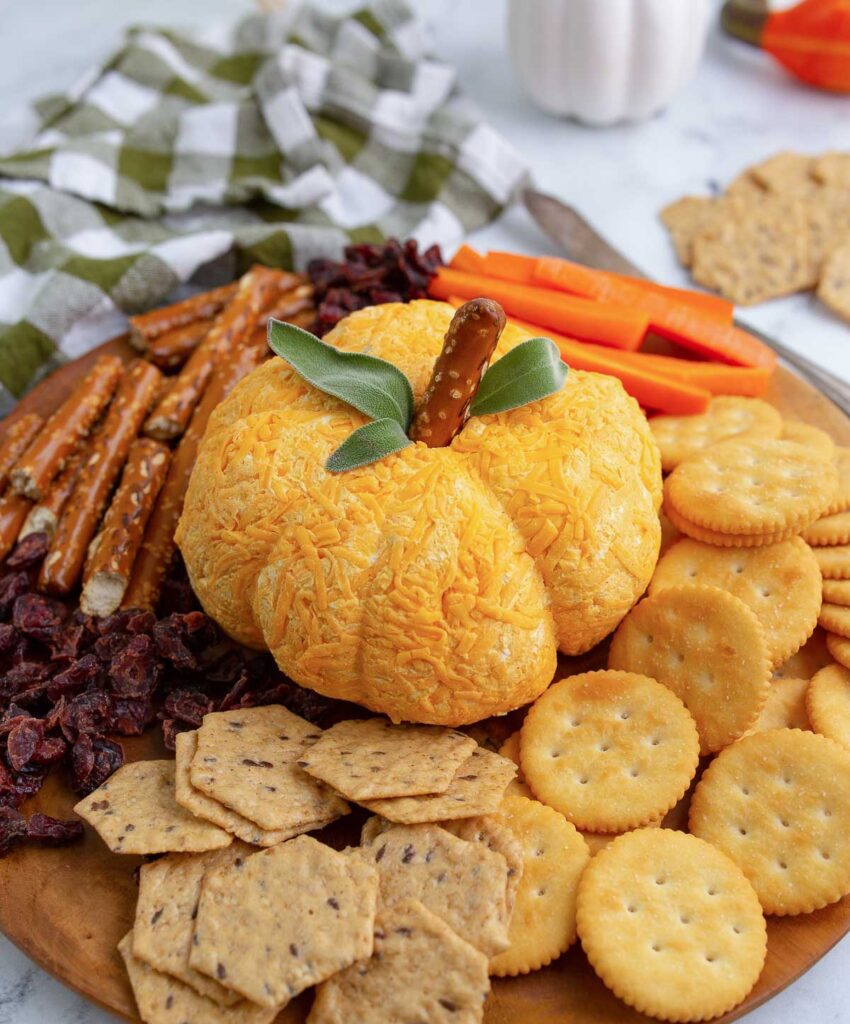 Pumpkin Shaped Cheese Ball
This savory Pumpkin Shaped Cheese Ball is loaded with cheese, packed with warm spices, and incorporates real pumpkin puree! It's much easier than it looks. Your guests will think it took you hours to prepare, but it's really an impressively easy no cook Thanksgiving appetizer.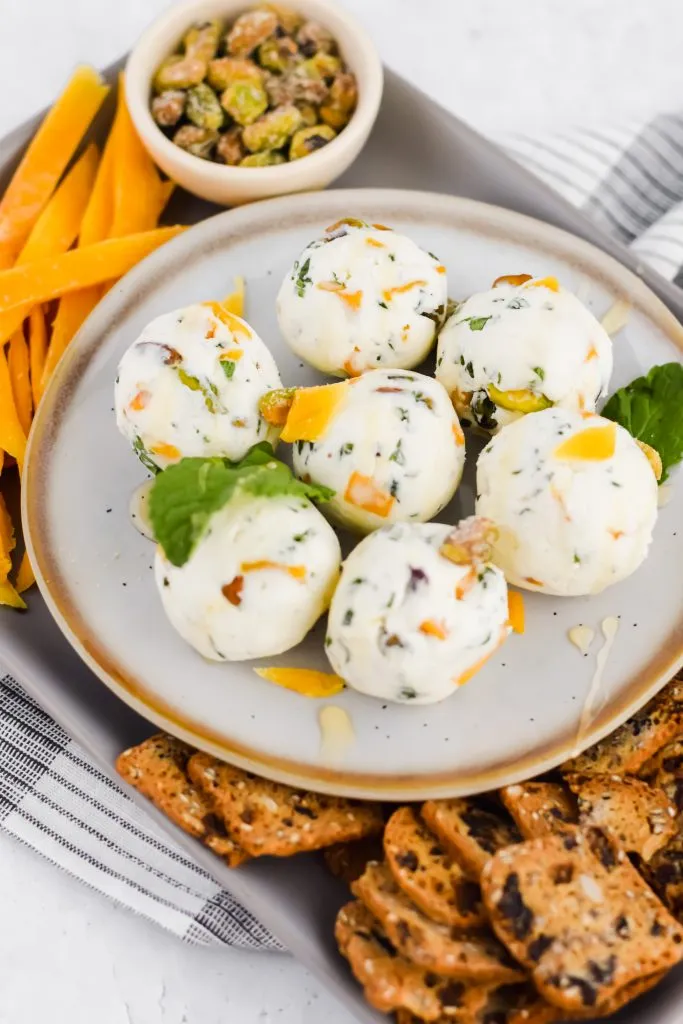 Sweet and Savory Goat Cheese Balls
This Sweet and Savory Goat Cheese Balls Appetizer is made with many go-to cheese board ingredients: smooth, creamy cheese, sweet fruit, crunchy nuts, and fresh herbs. And they're all rolled together into a bite-sized snack!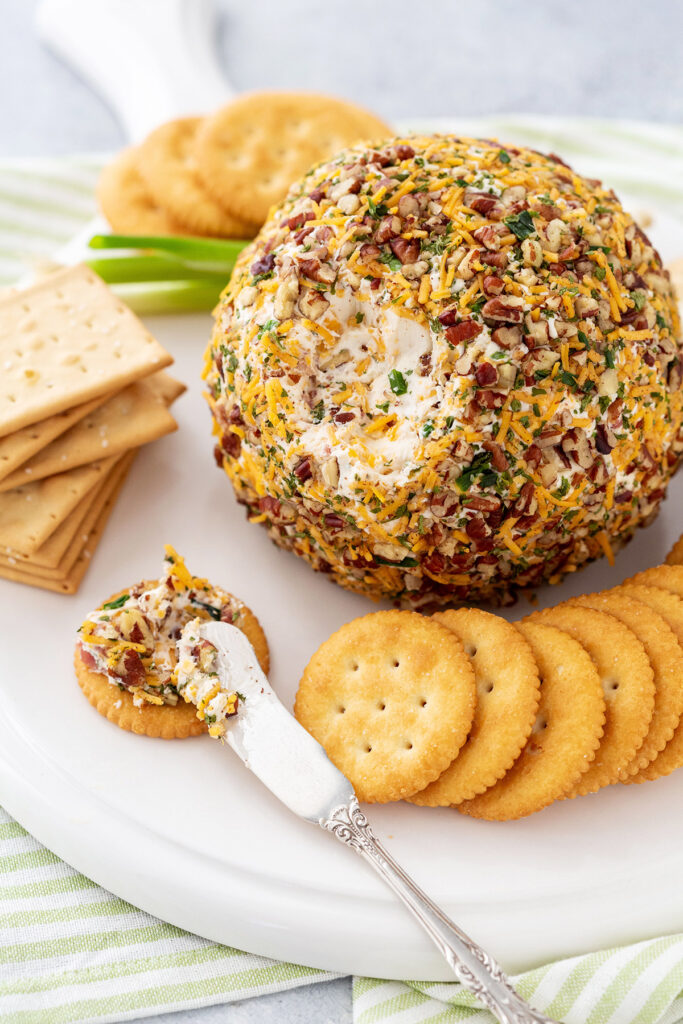 Bacon Cheddar Ranch Cheese Ball
Ranch, cheddar cheese, green onion and bacon make this dynamite cheese ball! This Bacon Cheddar Ranch Cheese Ball is an easy snack or appetizer for enjoying during the holidays or even for game day!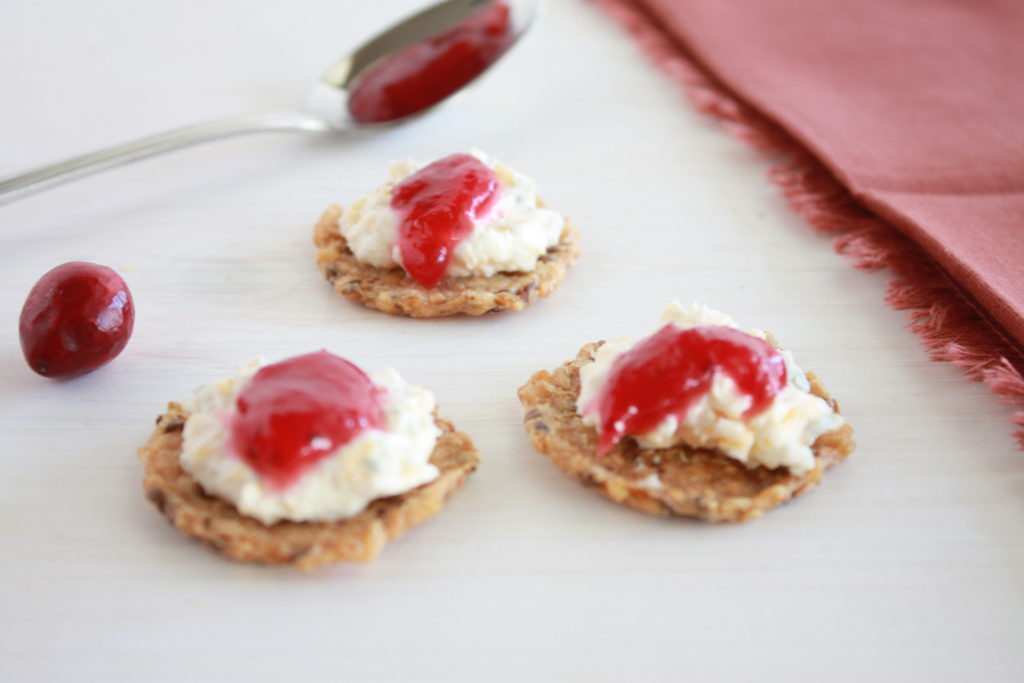 Holiday Cranberry Cream Cheese Spread
The sweet, tart, creamy, & savory combination in this Holiday Cranberry Cream Cheese Spread is simply amazing. It's the perfect make-ahead appetizer for your Thanksgiving meal and goes great on a larger charcuterie board.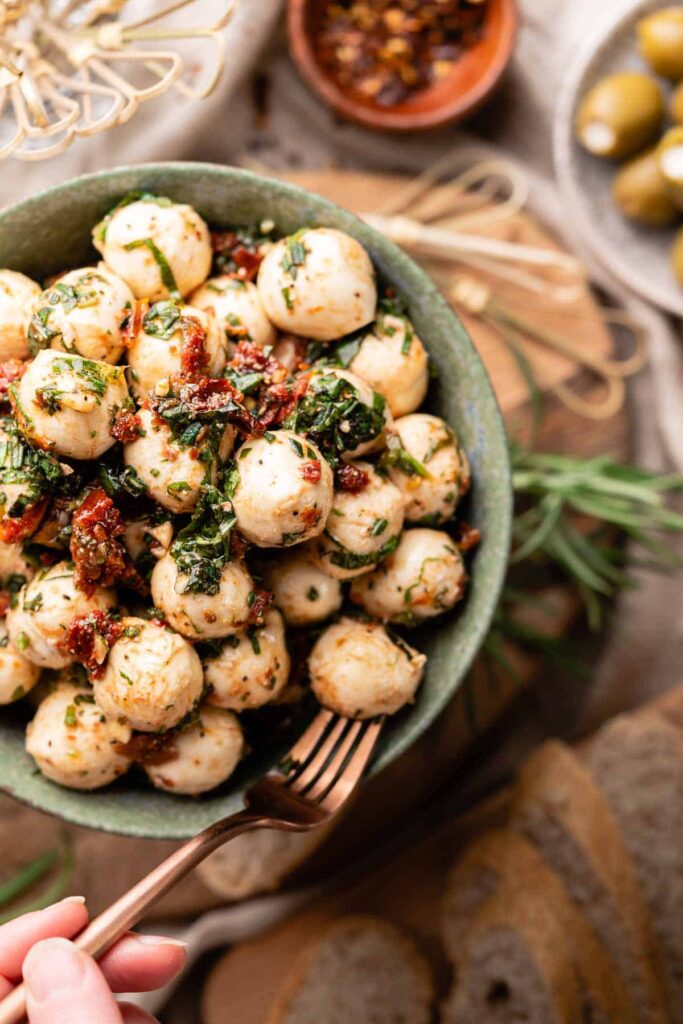 Marinated Mozzarella Cheese
Marinated mozzarella balls are easy to make, with only 10 minutes prep time! They are so full of flavor from garlic, sun-dried tomatoes, and fresh herbs. They add a lot of appeal to a grazing board as a no cook Thanksgiving appetizer.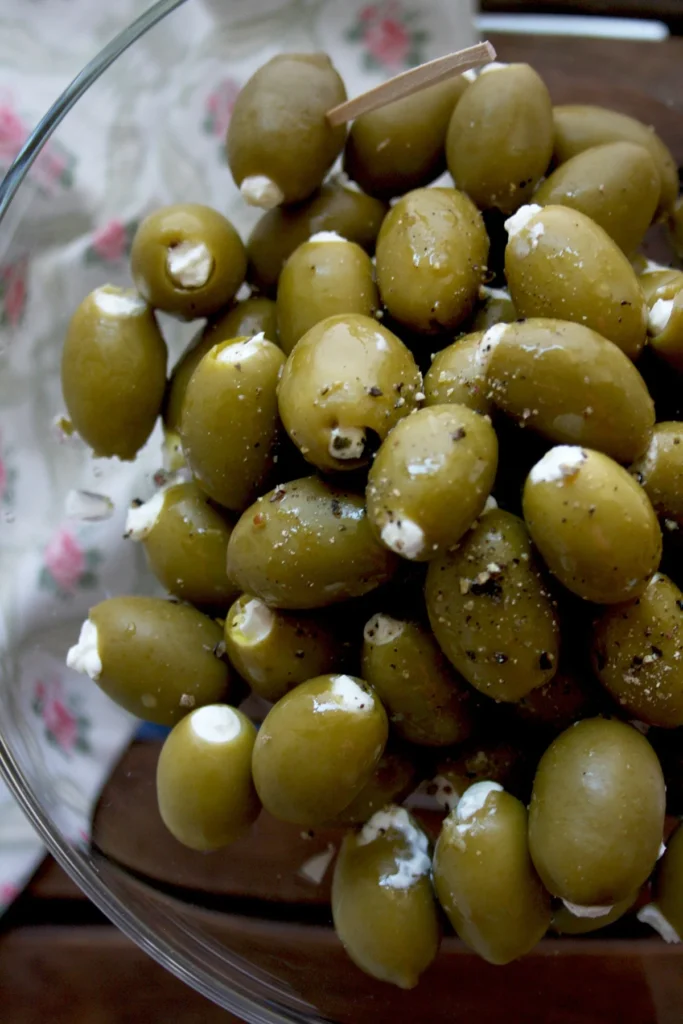 Cream Cheese Stuffed Olives
Cream Cheese Stuffed Olives Marinated in Lemon-Infused Olive Oil, talk about yum! This impressive and easy 10-minute appetizer is made with only 4 ingredients and looks great on a snack board.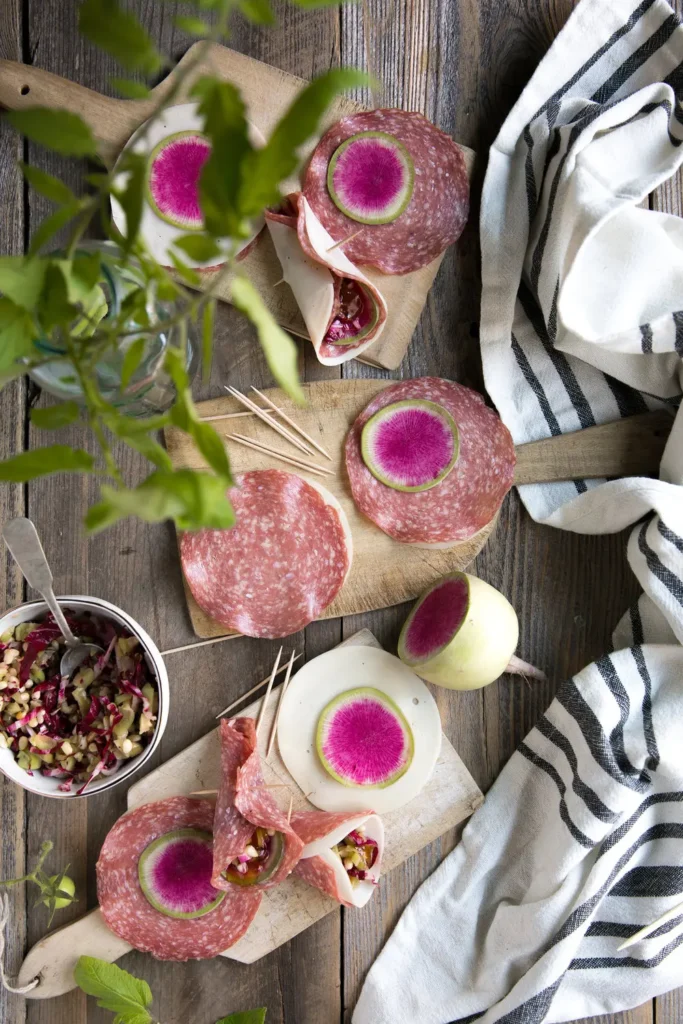 Soppressata Provolone Cones
Soppressata Provolone Cones are a fun and delicious holiday snack or appetizer made with provolone cheese, soppressata, thinly sliced radish, pepperoncini, and pine nuts. Easily customizable and ready in under 15 minutes, everyone will love these delicious little provolone cones on your charcuterie tray.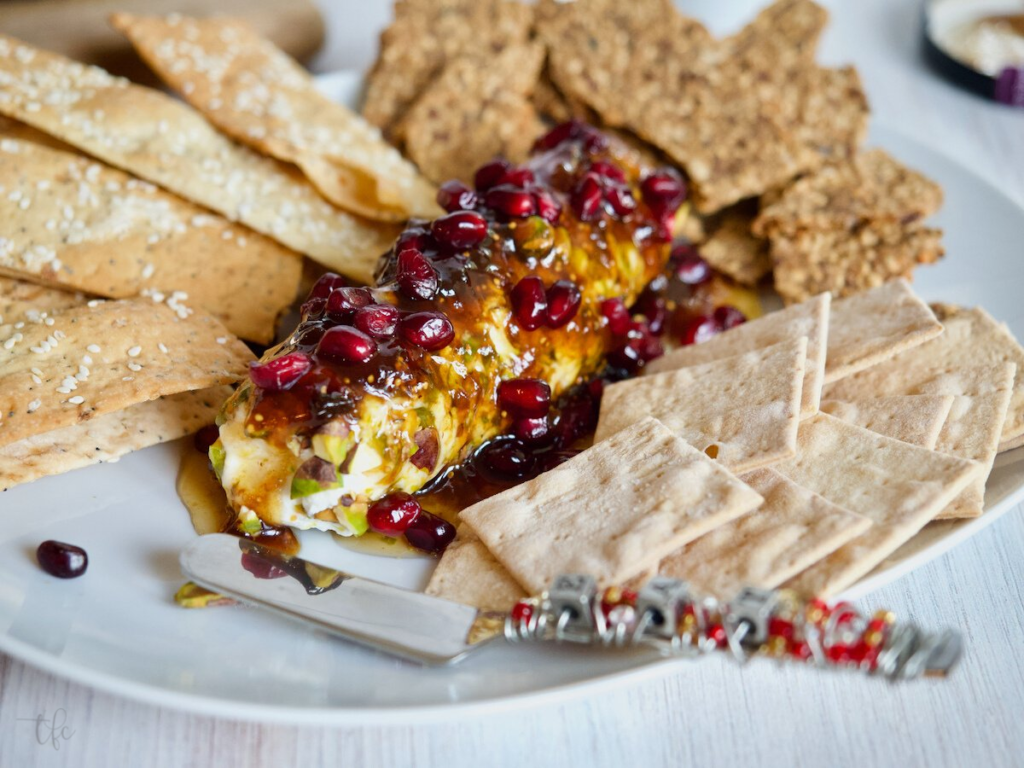 Goat Cheese Log with Honey and Fig Jam
Everyone loves an easy to whip up appetizer to serve during the holidays and this Goat Cheese log with hot honey and fig jam is perfect! It takes only minutes to prepare and can sit out for people to enjoy while you finish the meal!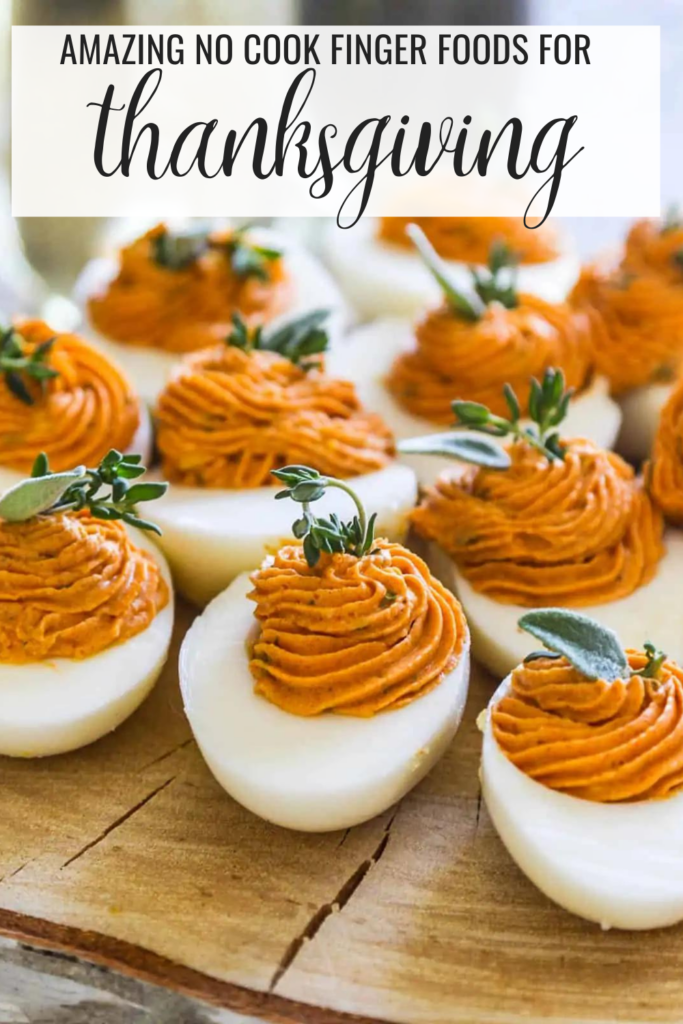 Finger Foods for the Holiday Season:
We love finger foods because they are a more elegant appetizer for your party guests.
These easy thanksgiving appetizers can be elevated by passing them on trays during cocktail hour before your Thanksgiving feast.
Enjoy these no cook Thanksgiving appetizers that make perfect finger foods.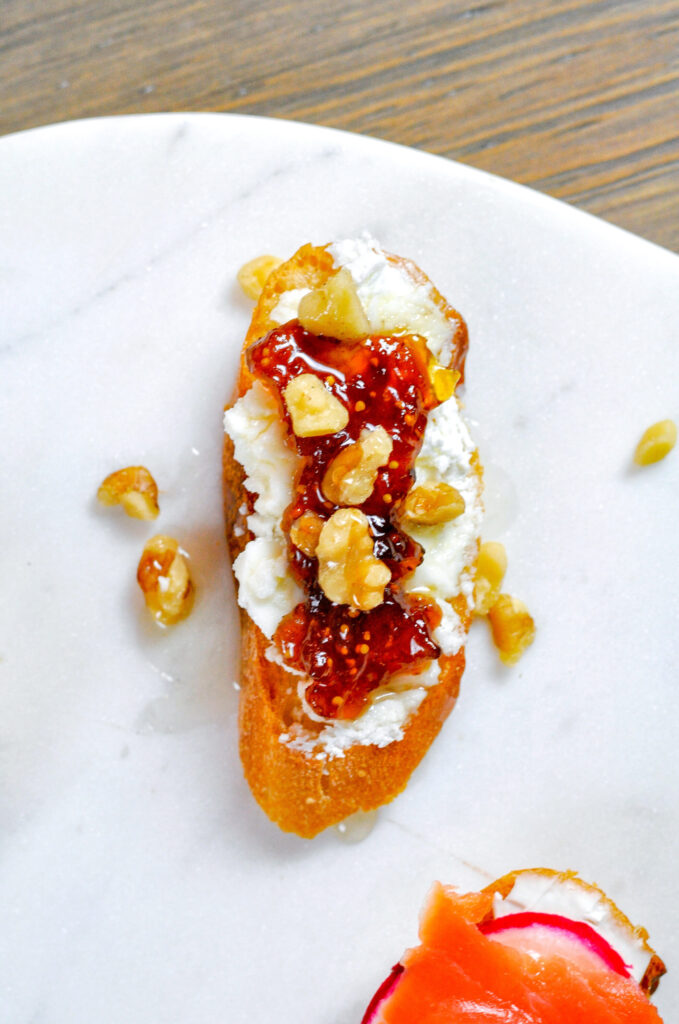 Goat Cheese Crostini with Fig, Honey, and Walnuts
Whip up this sweet and savory crostini appetizer in mere minutes! This recipe for Goat Cheese Crostini with Fig, Honey, and Walnuts are the perfect tasty bites with a kiss of sweet. You can use store bought crostinis or even make your own homemade crostinis in no time at all.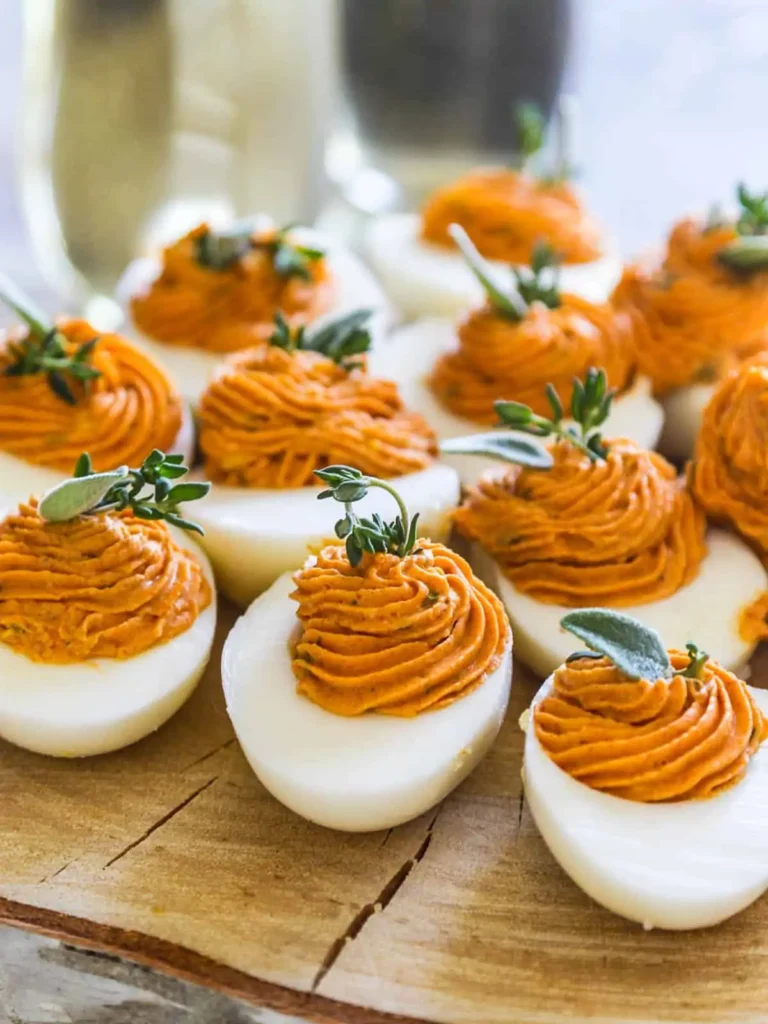 Adorable Thanksgiving Deviled Eggs
Thanksgiving Deviled Eggs are an easy appetizer party food idea. Gorgeous Fall color, garnished with sage and thyme to celebrate the season. Serve them on a rustic board or tray, and watch them vanish…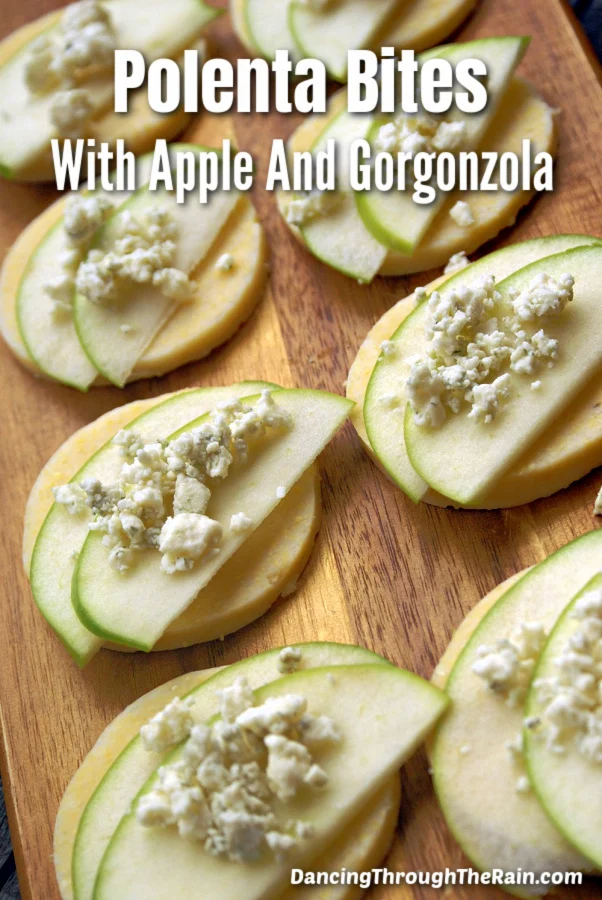 Polenta Bites with Apple and Gorgonzola
These Polenta Bites With Apple And Gorgonzola are a fantastic appetizer recipe for when you want to make something fancy-looking and need it to be easy! A tart and savory finger food that you'll keep coming back to.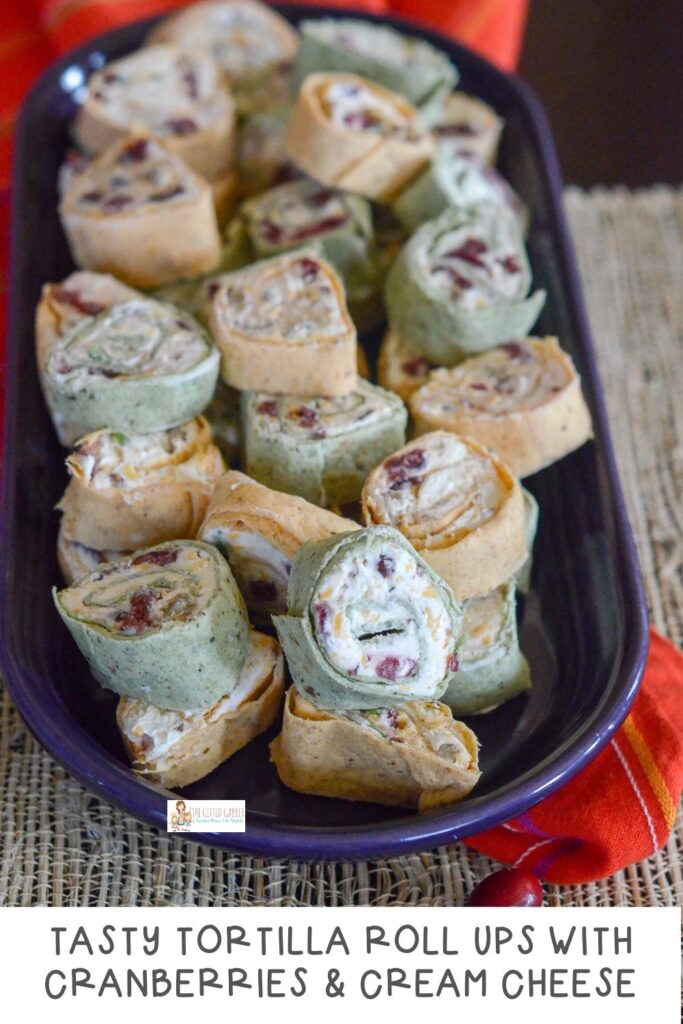 Cranberry Cream Cheese Pinwheels
These Cranberry Cream Cheese Pinwheels are perfect for fall and winter holidays. They take a common finger food appetizer and give it a seasonal twist. The best part is this no cook Thanksgiving appetizer can be made in advance and simply sliced up before serving.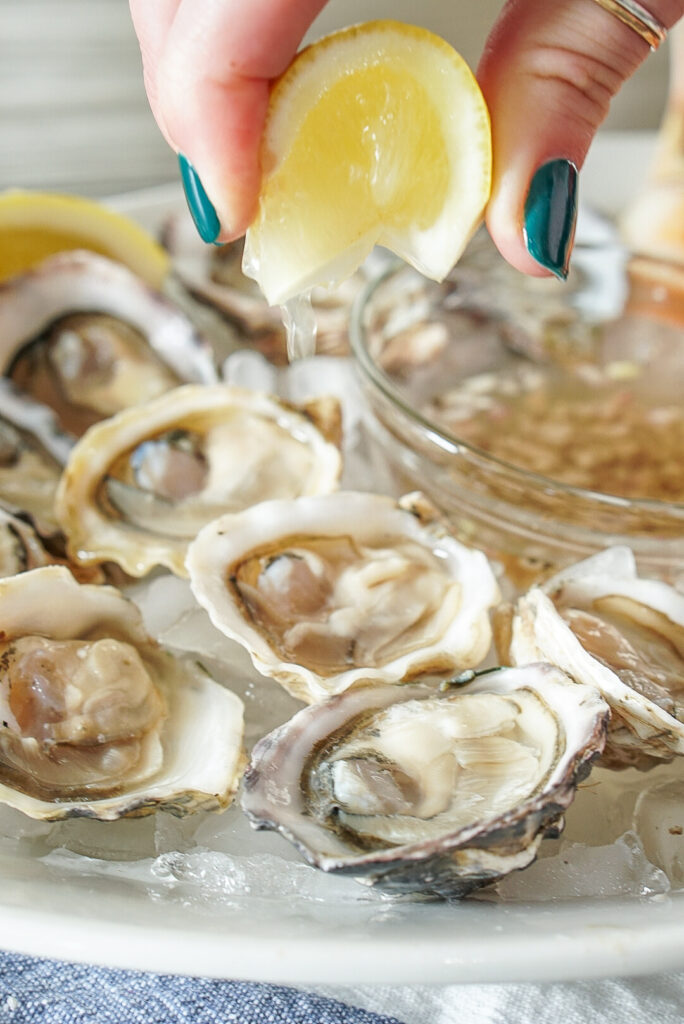 Fresh Oysters with Homemade Mignonette
Maybe your co-host doesn't know how to cook… then get them shucking instead! Nothing is as fancy and elegant as a glass of champagne with fresh shucked oysters. You can buy fresh oysters at most supermarkets, and they are a sliver of the cost of buying them at a restaurant. Learn how to Store, Shuck, and Serve Oysters and make the included mignonette sauce to wow you guests!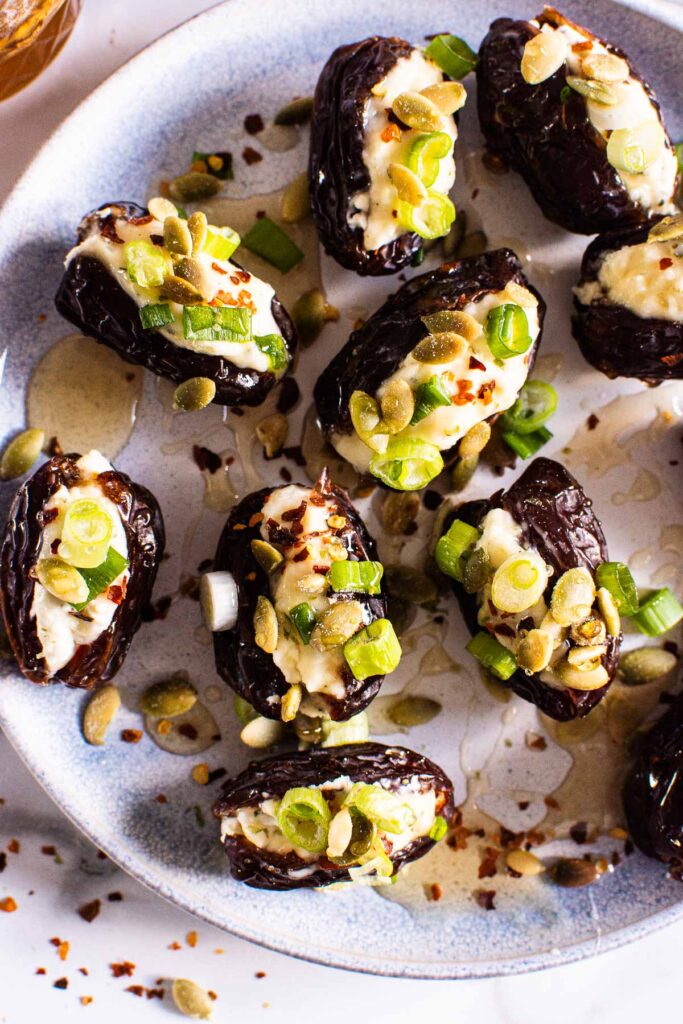 Easy Stuffed Dates
Stuffed Dates are a healthy appetizer made with fresh Medjool dates, a touch of honey, and creamy Boursin cheese. Sweet, chewy, and savory, these look impressive but take only 10 minutes to make!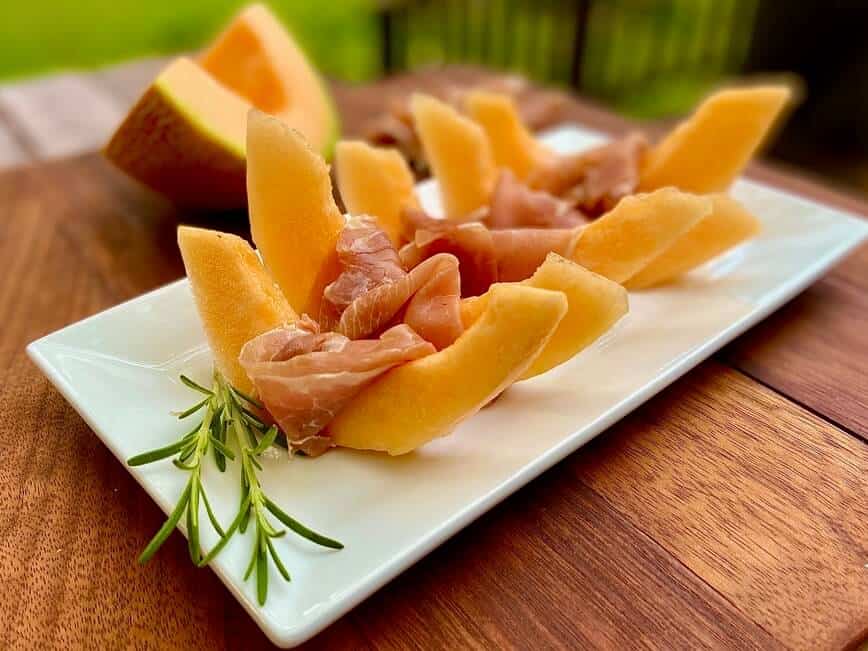 Prosciutto and Melon
Prosciutto and melon is a classic antipasto, and with good reason. The combination of savory and salty cured Italian ham together with a sweet, juicy cantaloupe complement each other so well, it's a match made in heaven.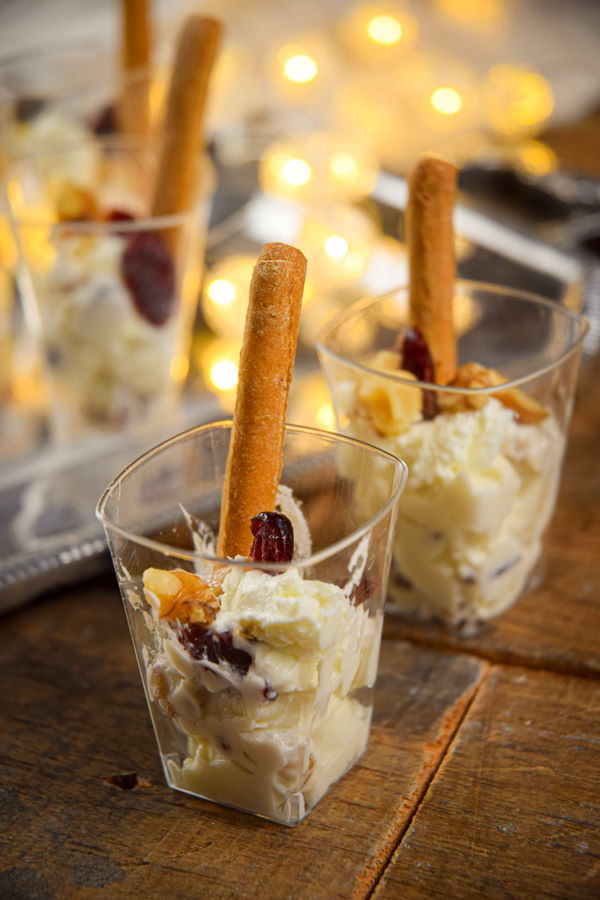 Cranberry Goat Cheese Shots
These cheesy, cranberry goat cheese shots are a fun and quick appetizer that you can easily whip together. You can serve them with breadsticks to scoop up the nutty, goat cheese and cranberry mixture.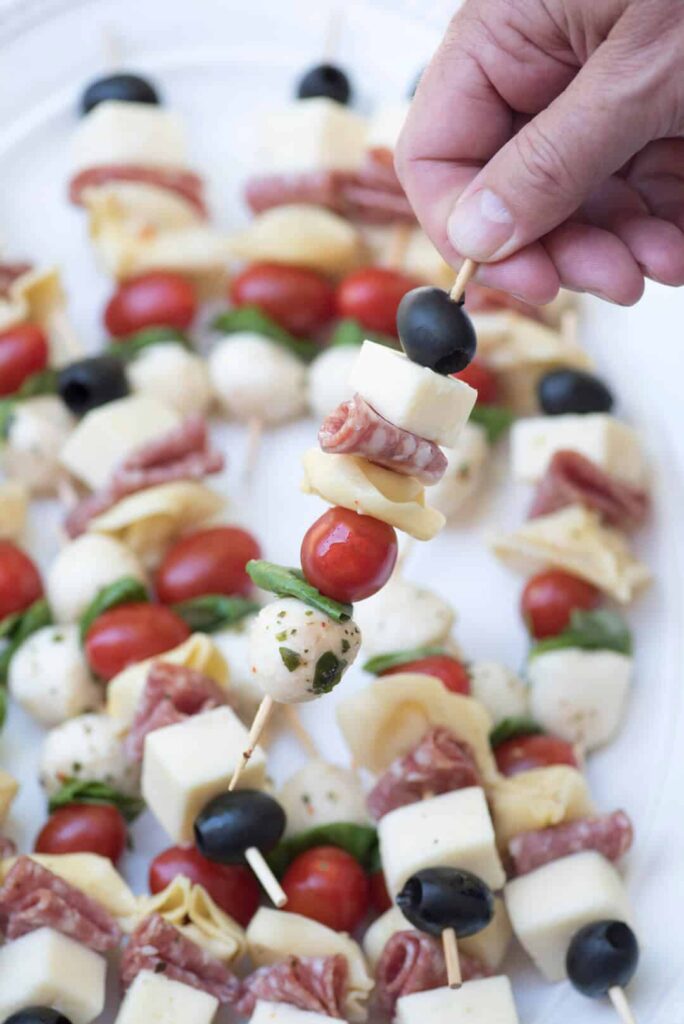 Antipasto Skewers
Delicious ingredients all together in one little appetizer skewer. These Antipasto Skewers are a super easy, make-ahead, grab-and-go party snack! Not only are they an easy no cook Thanksgiving appetizer but they're also totally portable.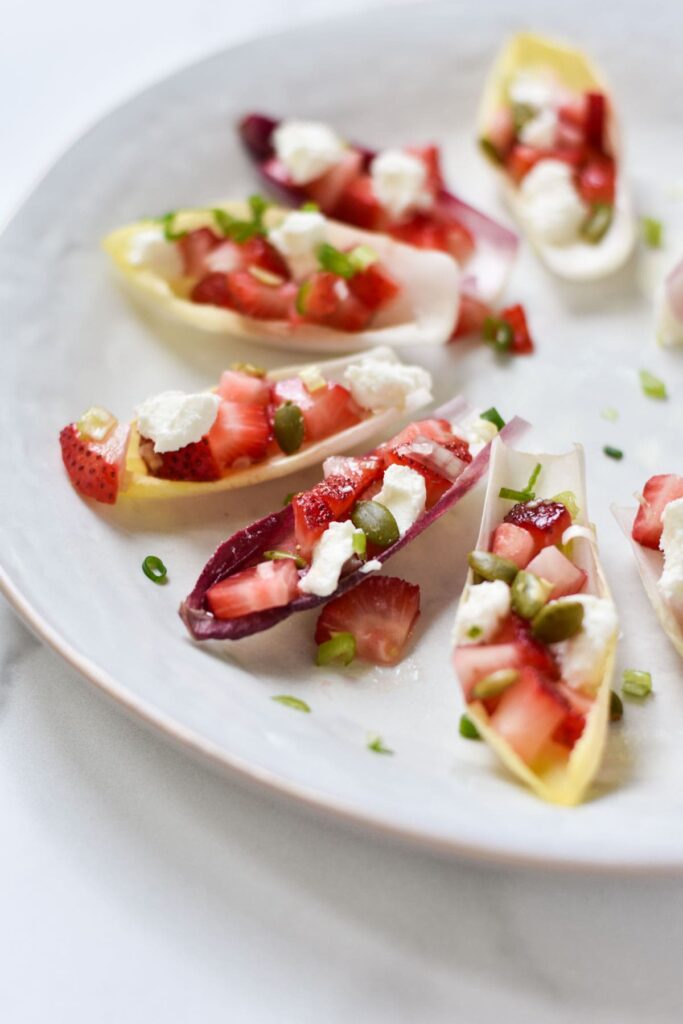 Strawberry Goat Cheese Endives
Endive appetizers are perfect as a light starter for a big meal – like Thanksgiving! This goat cheese and fresh strawberry Endive Appetizer is crispy and easy to make.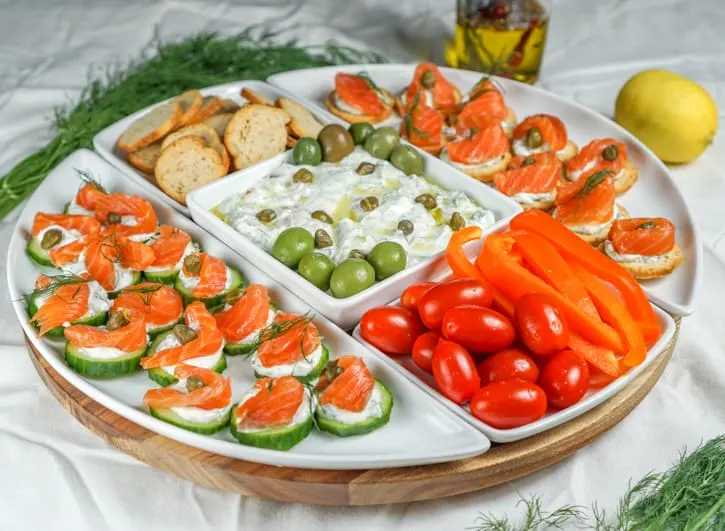 Lox Appetizer Platter
This Lox Appetizer Platter is such an impressive looking appetizer, but it's so easy to make with just a few ingredients. No cooking required! Let your guests graze and build the perfect bite.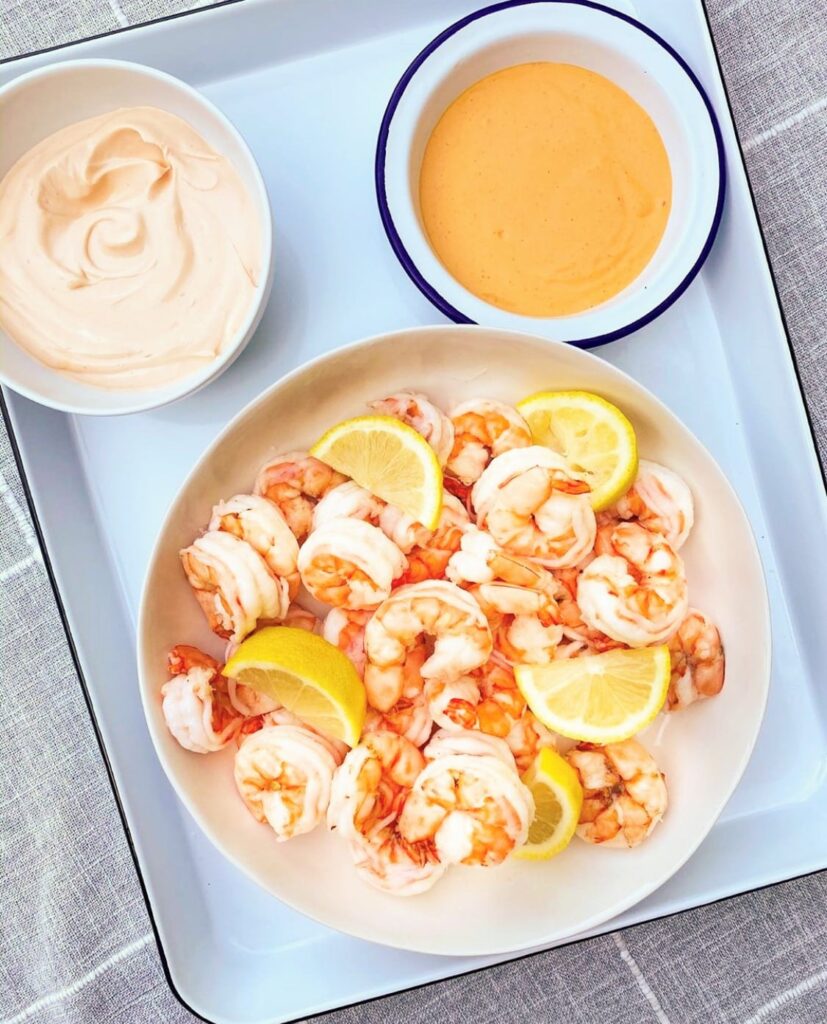 Cocktail Shrimp with Dips
This delicious and decadent Easy Shrimp Appetizer comes with two creamy dipping sauces – spicy sriracha mayo and sweeter and more mellow Marie Rose sauce. A real crowd pleaser, it's the perfect dish for relaxed entertaining when it comes to no cook Thanksgiving appetizers.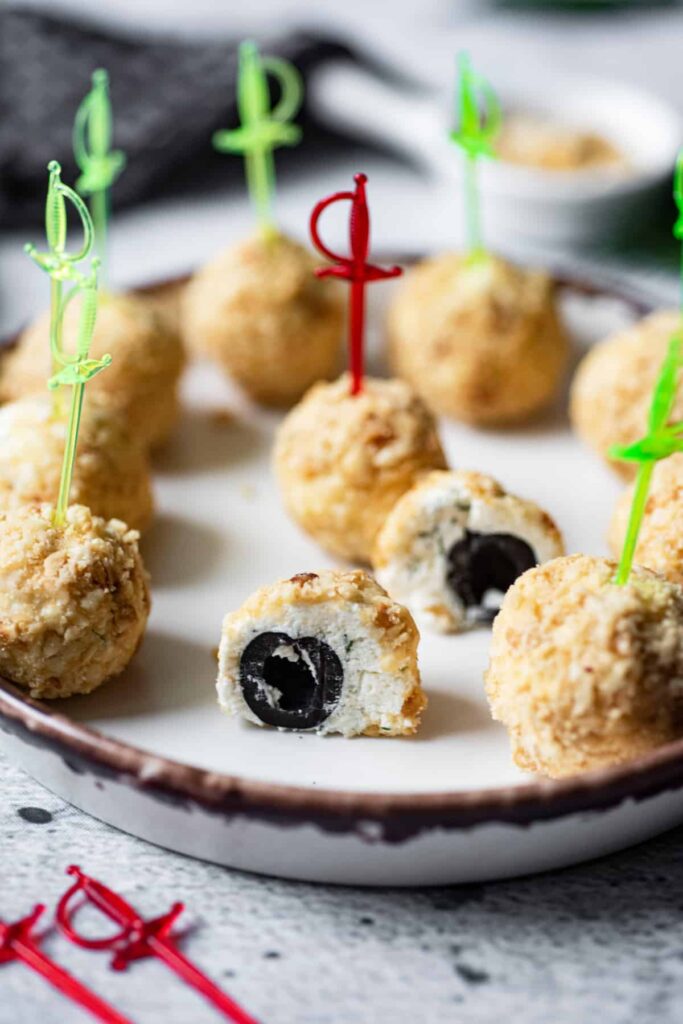 Feta Cheese Covered Olives
These feta cheese covered olives are a super easy and delicious appetizer to make! Are you tired of having sweet treats for snacks all the time? Are you craving something salty and savory? If yes, then you should try this Feta Cheese-Covered Olive Recipe! It's quick, it's delicious, and it's everything you want for a cheesy snack.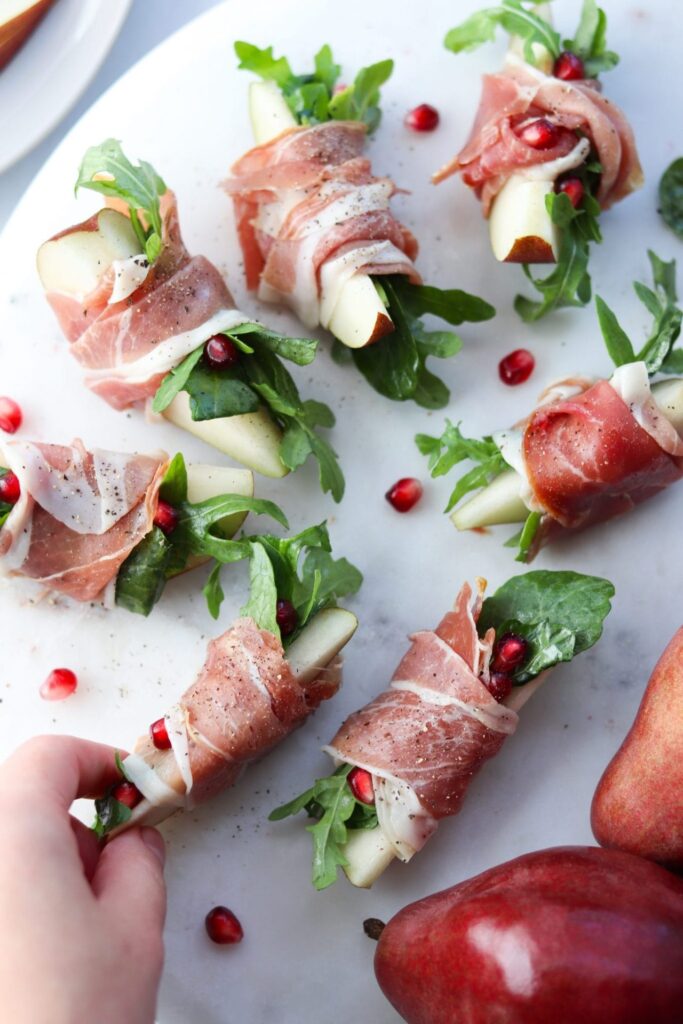 Prosciutto Pears with Arugula Salad
This is the perfect no-cook appetizer for your next holiday party or get-together! Prosciutto Pears with Arugula Salad are deliciously sweet AND savory – plus they're Whole30, Paleo & Gluten Free!
Whether you make a no cook Thanksgiving finger food, a cheese ball, dips or even a combination of these recipes, you'll make life easier on Thanksgiving!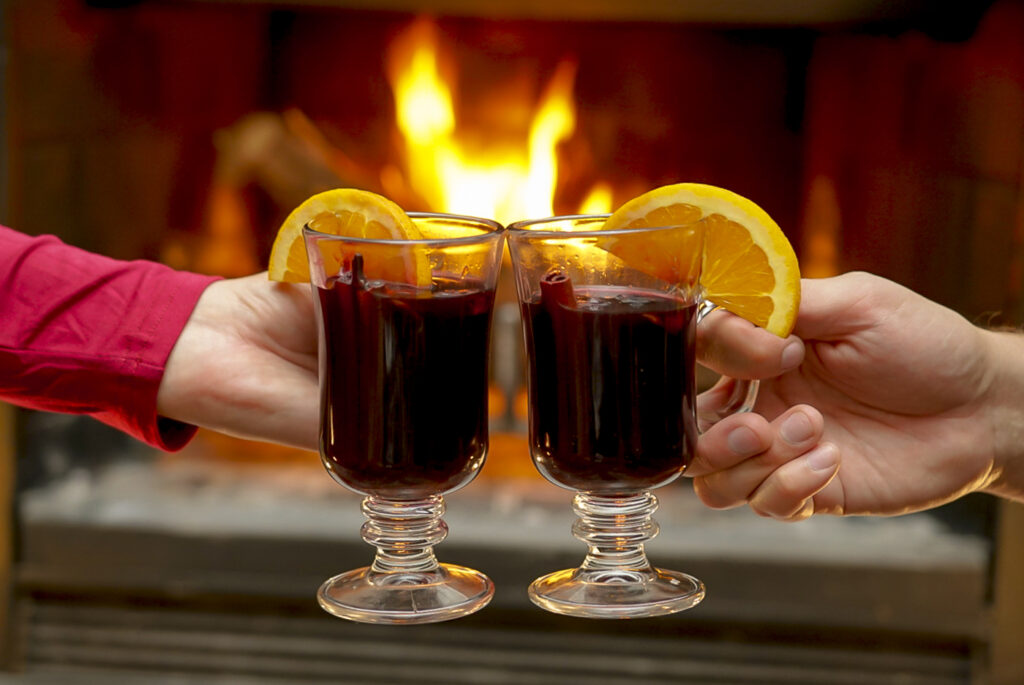 Cocktails to Serve with No Cook Thanksgiving Appetizers:
Looking for an easy welcome cocktail to serve with all of these delicious Thanksgiving appetizers?! Here are a few ideas: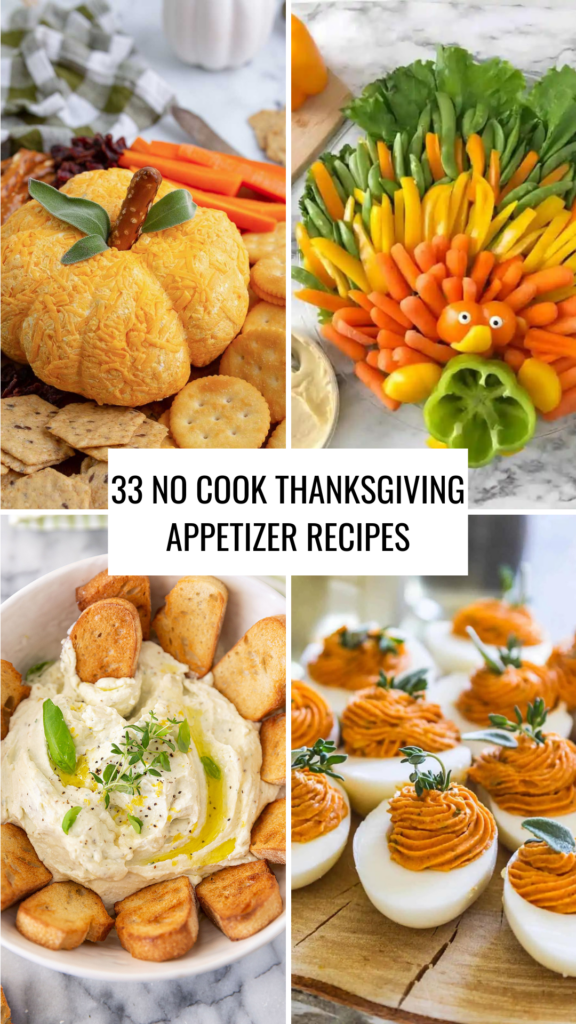 Click this link to save this list of no cook Thanksgiving appetizers on Pinterest.
Also, don't forget to follow us on instagram and facebook for more recipes and foodie recommendations.
If you'd like to automatically receive our posts in your email, register here.
Did you whip up one of our recipes? Be sure to tag us on social media as @coupleinthekitchen and we'll share it with our foodie followers!