We've written the Super Bowl of all roundups so you'll never have to look anywhere else for the best Super Bowl appetizers.
When throwing a Super Bowl party the number one thing needed for a successful event is a tasty variety of delicious food to keep everyone happy whether their team is winning or losing, and to make it even better most of these are easy appetizers.
Get ready to go to the grocery store, because we promise after trying a few of these Super Bowl appetizers for your upcoming Super Bowl celebration, you're going to be saving this for future Super Bowl Sunday's for years to come.
Super Bowl Appetizers: Dips and Spreads
Dips and spreads are an official food group when watching football. Get bags of chips ready, because the delicious recipes will be a crowd favorite.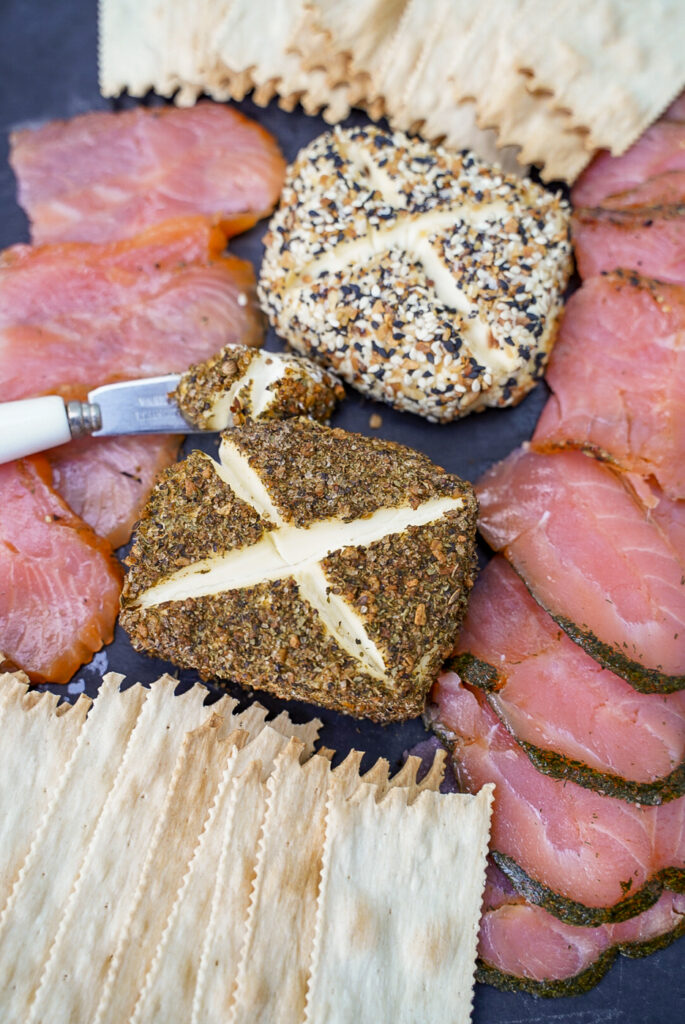 Smoked Cream Cheese
This Smoked Cream Cheese Recipe is a Super Bowl appetizer banger, and other than our queso recipe it's our favorite of all cheesy dips!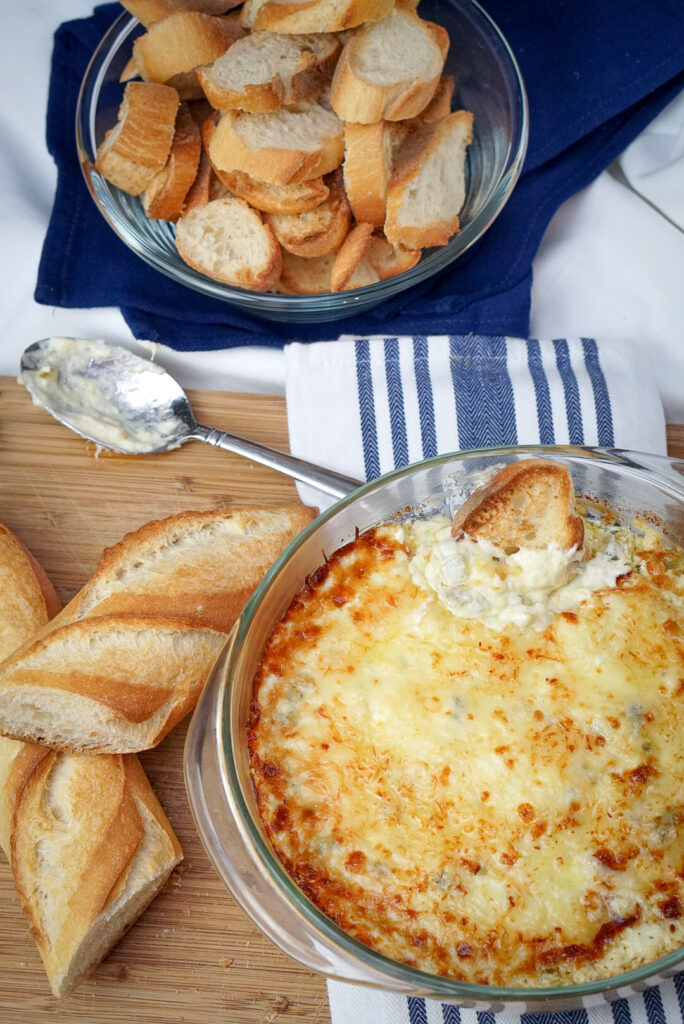 Jalapeno Popper Dip
Of all of our dip recipes our Jalapeno Popper Dip may be the one that our family and friends request the most for any gathering or party. It's the perfect balance between, cheesy, and our favorite dip.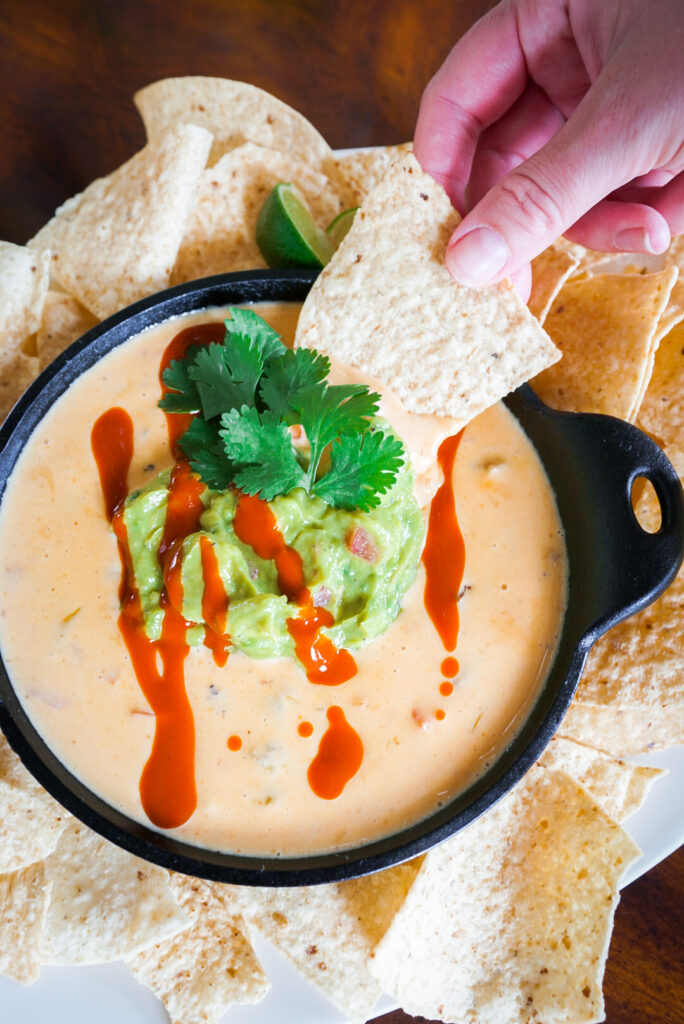 Steak Queso Dip Recipe
In Texas any great party always has a homemade queso, and our Steak Queso Dip Recipe is a Super Bowl winner.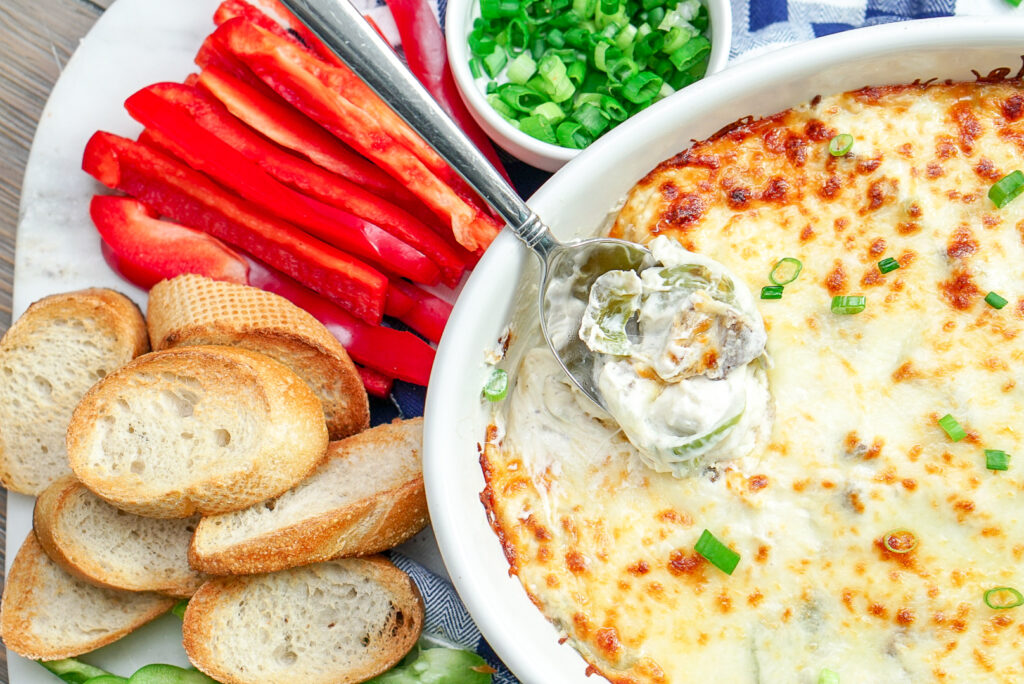 Philly Cheesesteak Dip
Our Philly Cheesesteak Dip is a huge hit as a Super Bowl appetizer even if the Philadelphia Eagles aren't in the Super Bowl.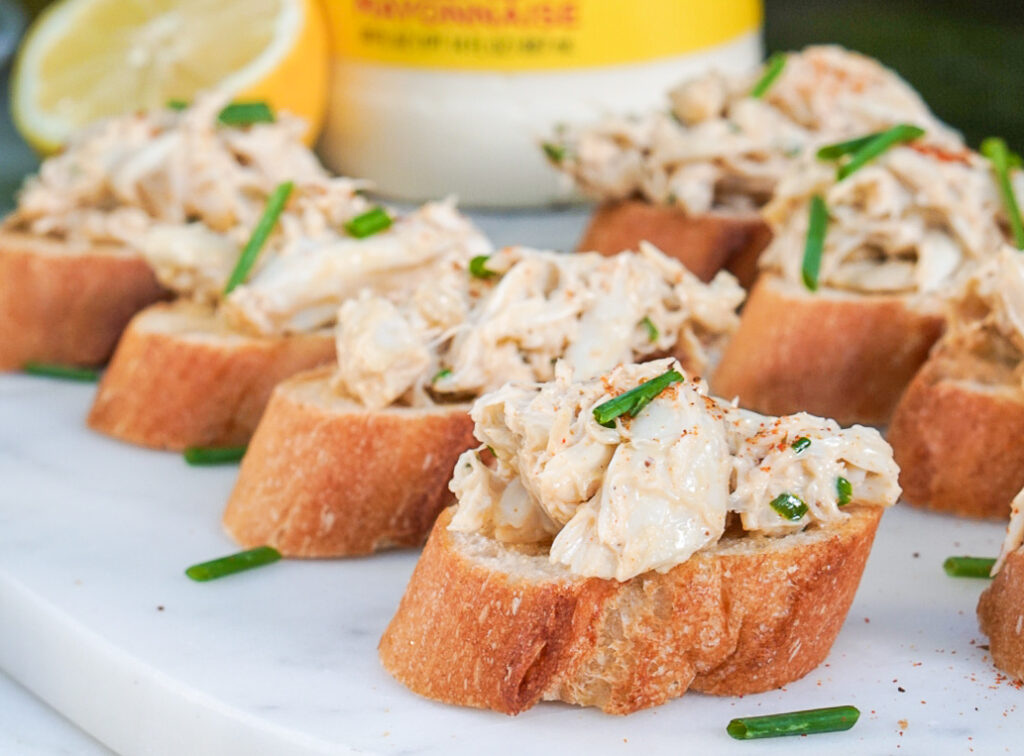 Crab Dip Recipe
If you have some shellfish lovers in the house our Crab Dip Recipe will definitely please them!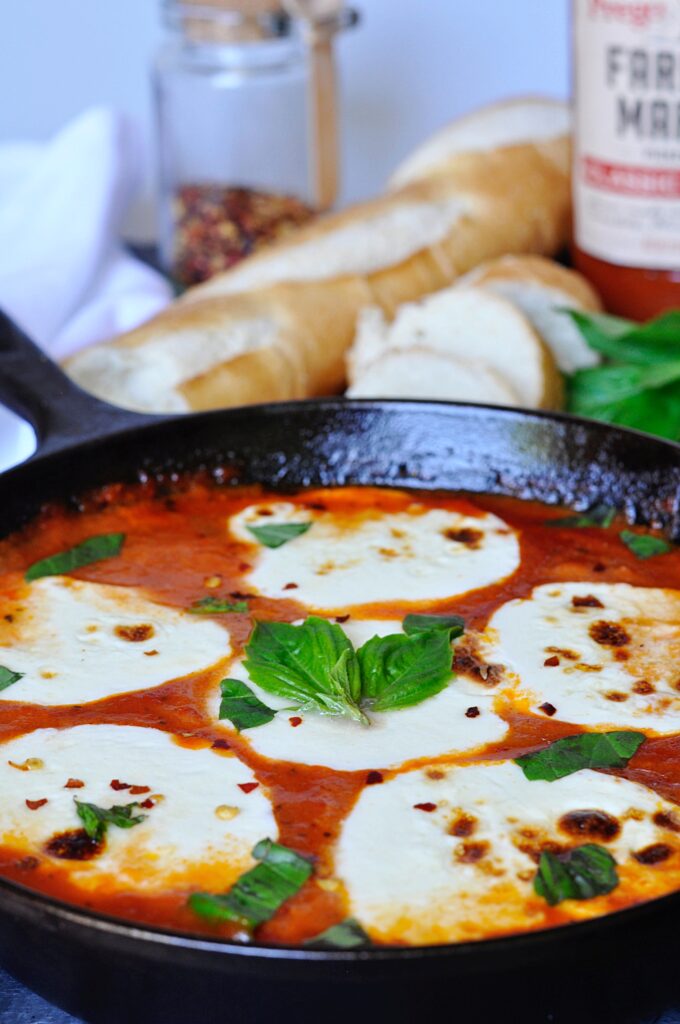 Quick and Easy Pizza Dip Recipe
You can make our Pizza Dip Recipe aka pizza without the crust in a cast iron or baking pan super quick as your Super Bowl party is going on.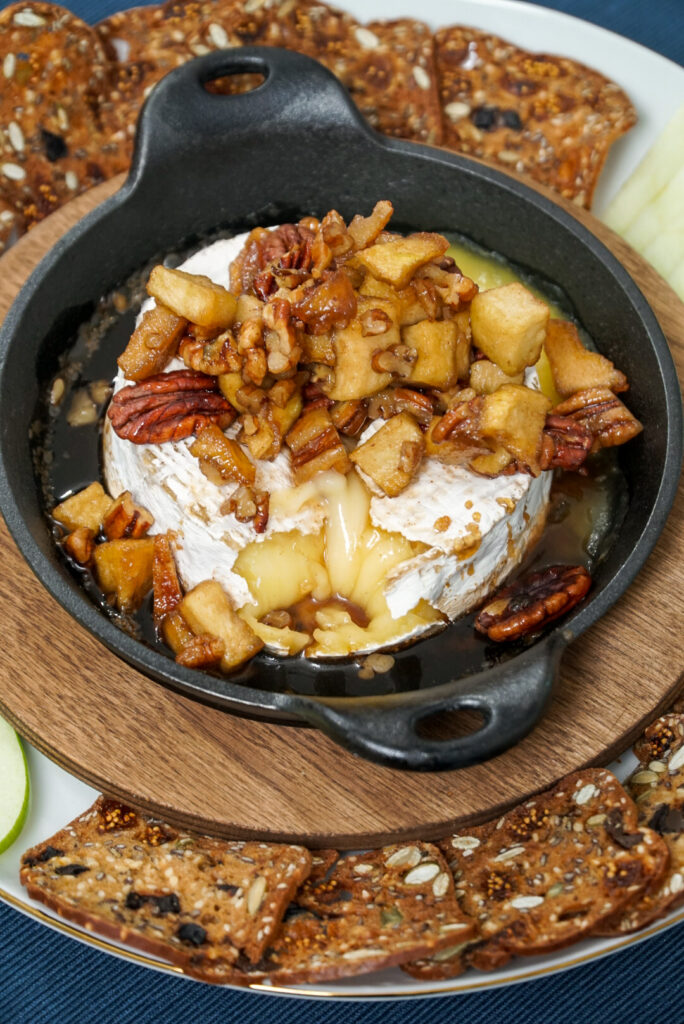 Baked Brie with Apples and Pecans
When one queso dip or spread isn't enough, grab a circle of brie, bake it, and top it with your favorite complimentary sweets, savories, and textures. For our recipe we did a Baked Brie with Apples and Pecans.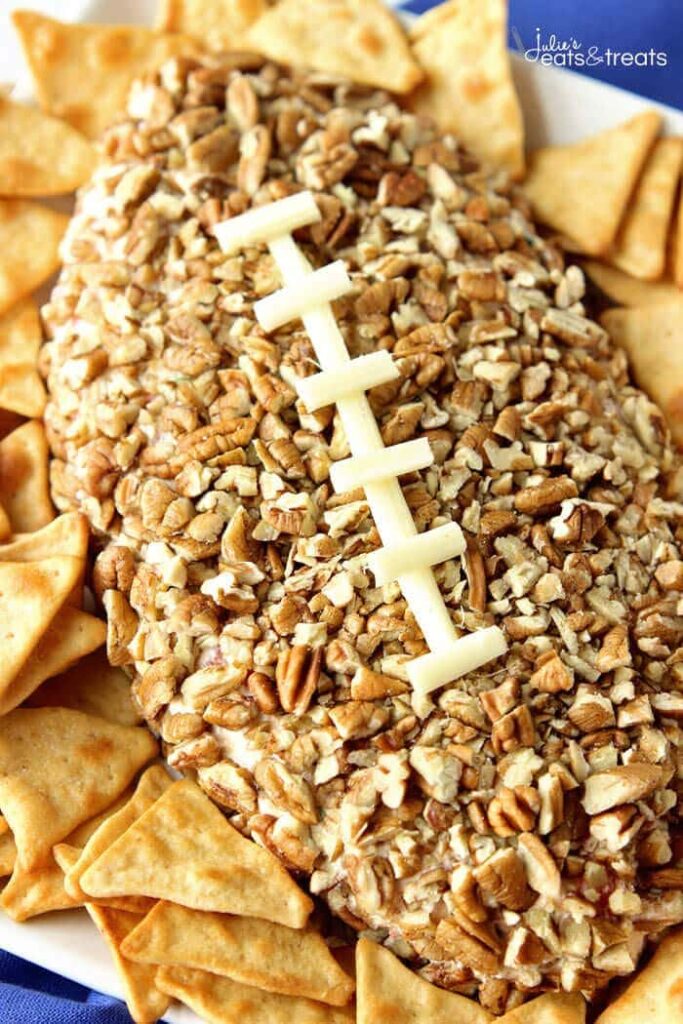 Football Shaped Cheese Ball
Potato chips won't stand a chance with this fun, easy appetizer football shaped cheese ball recipe that is super easy and perfect for game day snacking! Perfect appetizer for the Super Bowl or College Football Championship.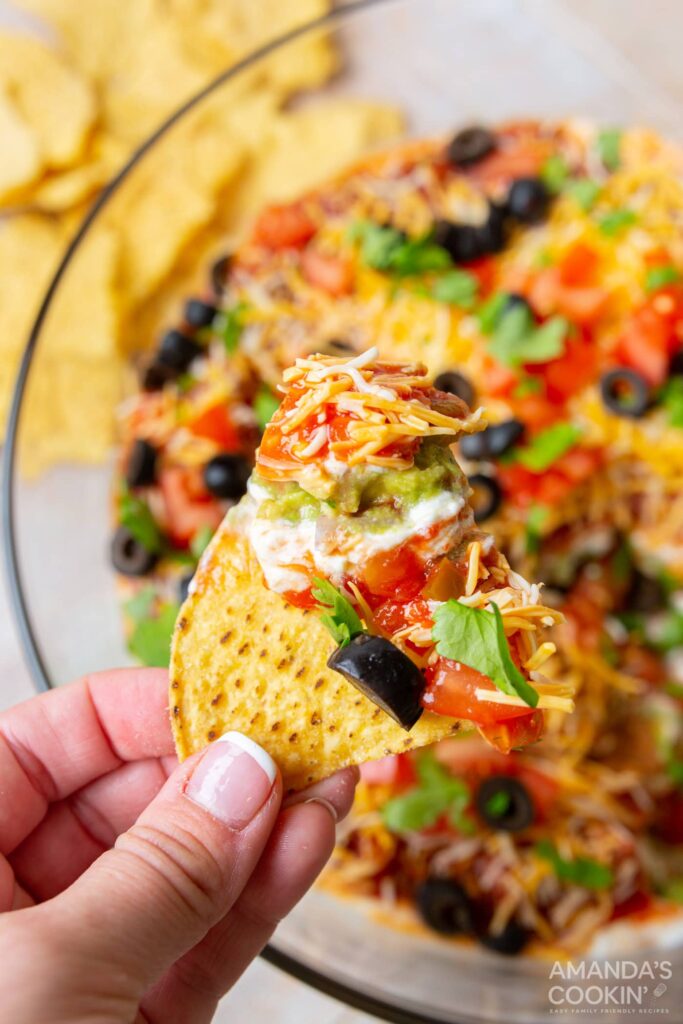 7 Layer Taco Dip
Taco seasoned refried beans, guacamole, sour cream, salsa, Mexican cheese, tomatoes, olives, and a topping of chopped cilantro bump this dish right into one of our favorite appetizer categories. 7 layer taco dip is a classic dip we've eaten since we were kids, and your guests are going to need a ton of tortilla chips.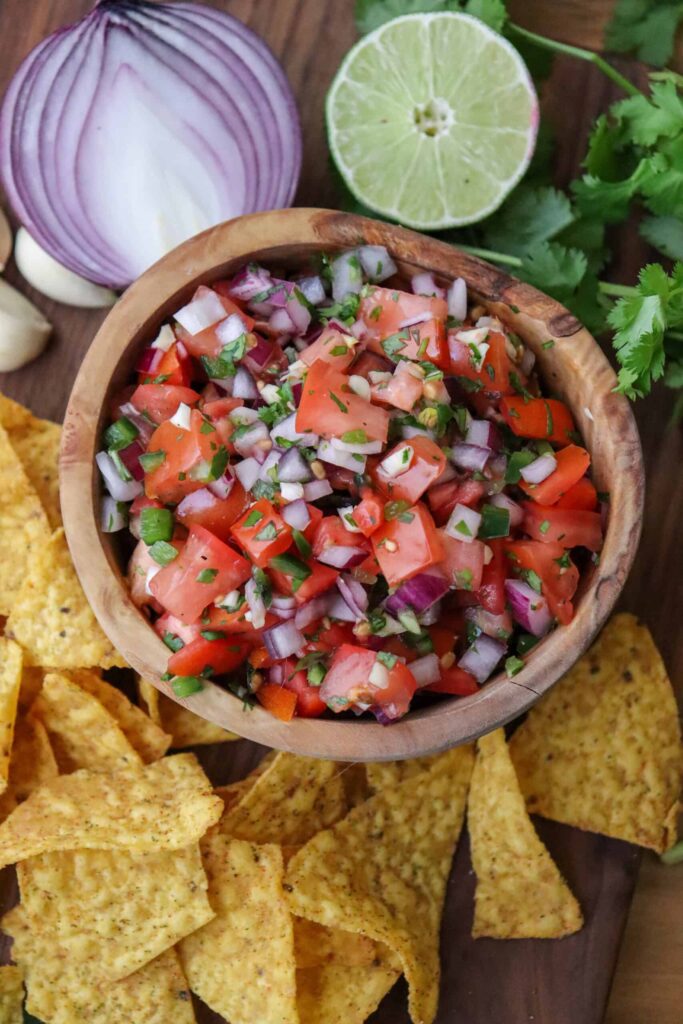 Pico De Gallo
Pico de gallo is a must for any party! This is the perfect chopped salsa for any get together.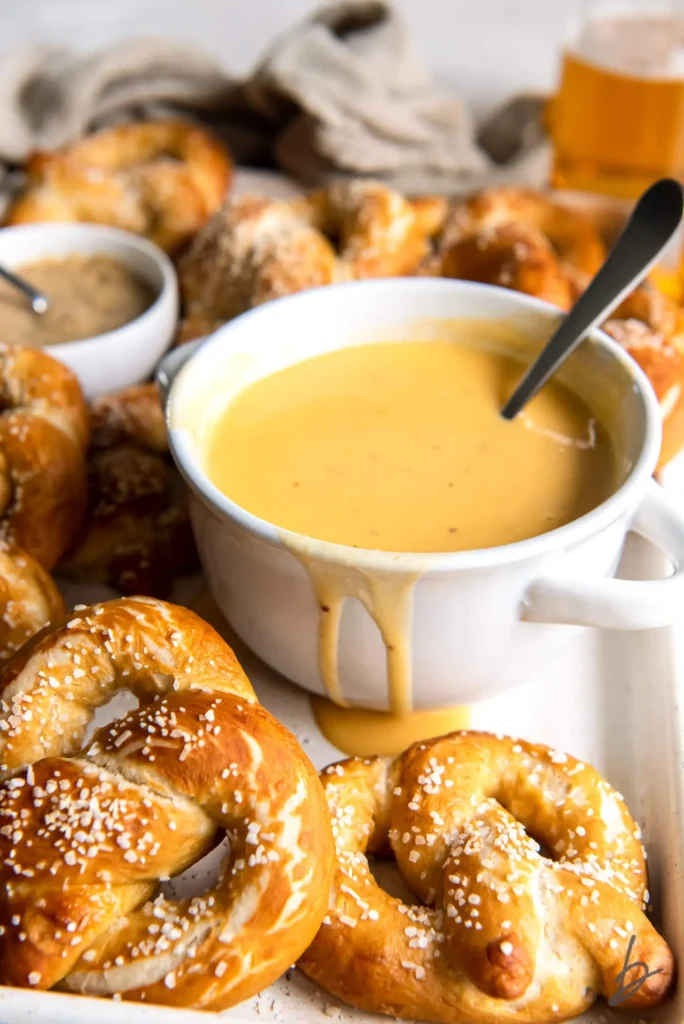 Beer Cheese Dip
We love creamy dips, and this Beer cheese dip is quick and easy to make in a saucepan on the stove. This flavorful dip can be served with pretzels, chips, crostini or veggies.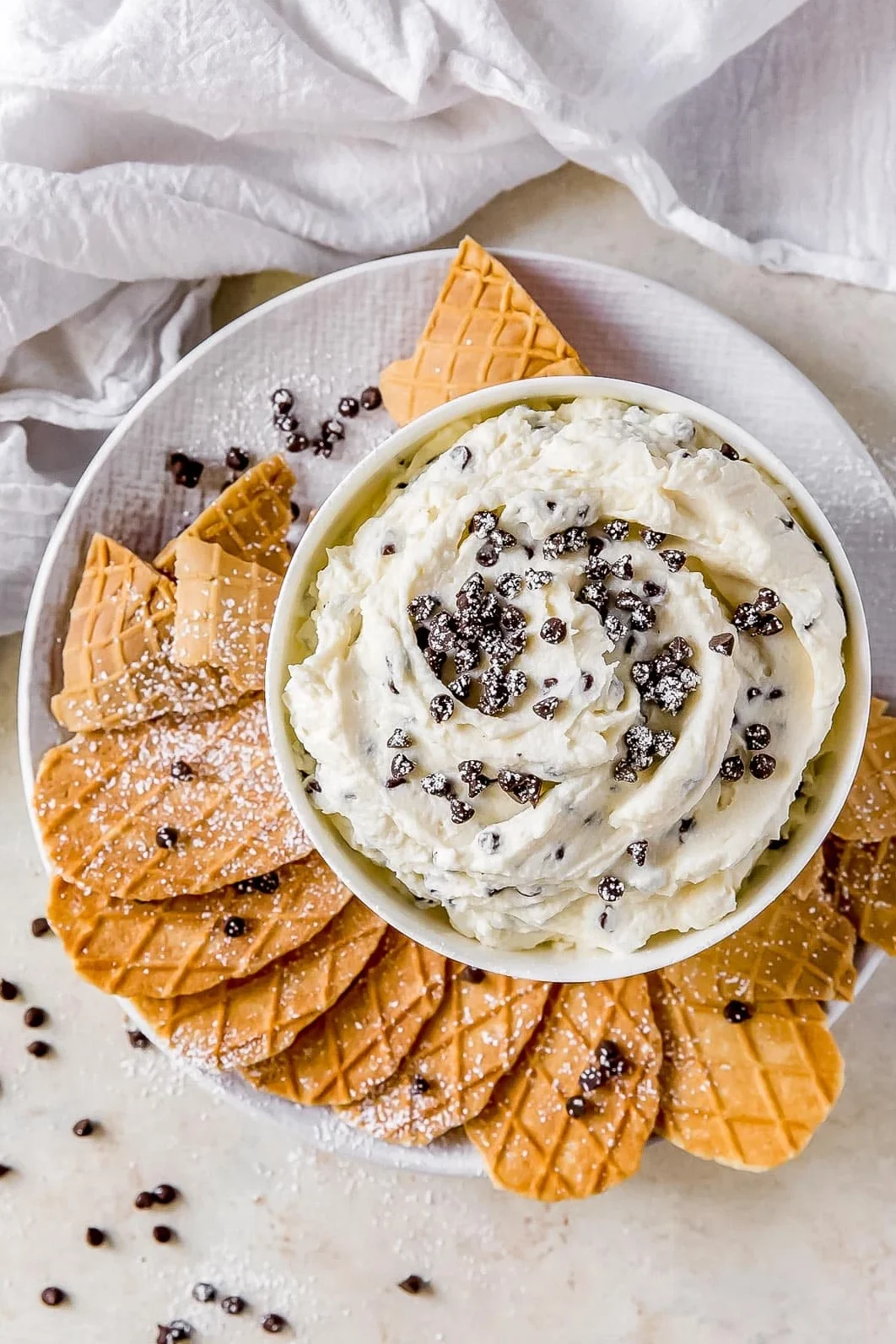 Cannoli Dip
Whip together a delicious dessert dip in just 15 minutes. This five-ingredient homemade cannoli dip recipe is easy to make and can be stored in the fridge up to two days before serving.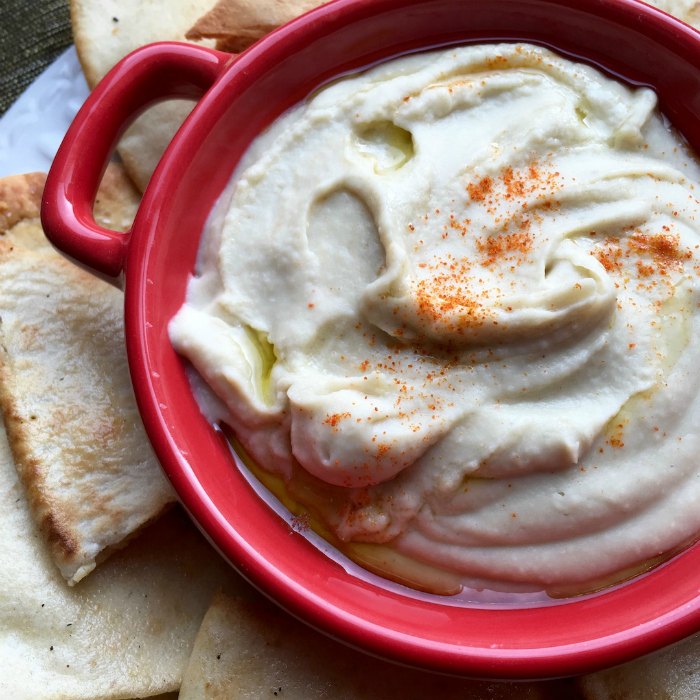 White Bean Dip Recipe
Forget a black bean dip, this delicious White Bean Dip Recipe offers the subtle balance of flavors packed into each bite.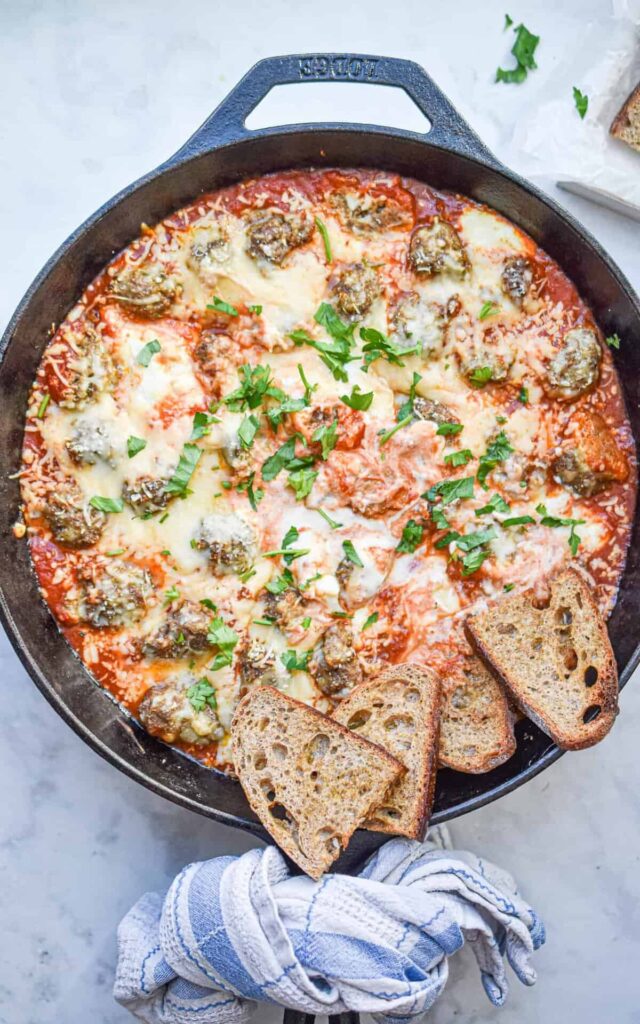 Italian Meatball Dip
Homemade Italian mini meatballs are surrounded by a ricotta and rich tomato sauce in this cheesy meatball sub dip. A fun twist on a classic meatball sub, this dip is easy to make and perfect for the big game!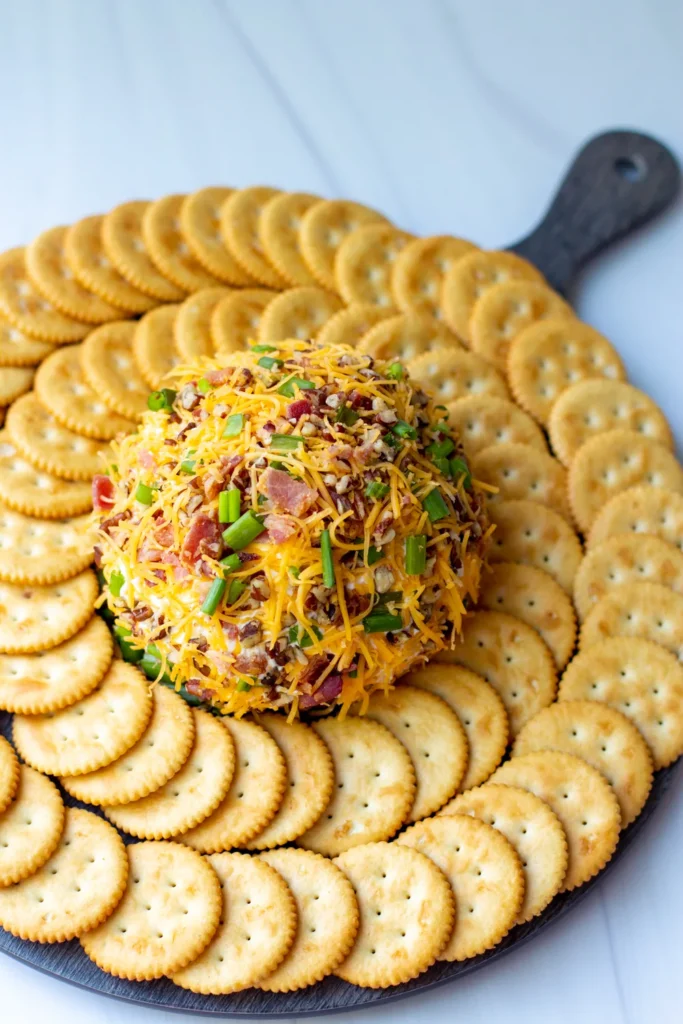 Bacon Ranch Cheese Ball
Need an easy cheese ball recipe? This is it! Loaded with ranch flavor, cheese, green onions, bacon and nuts, it's the perfect party appetizer that's always a real crowd pleaser!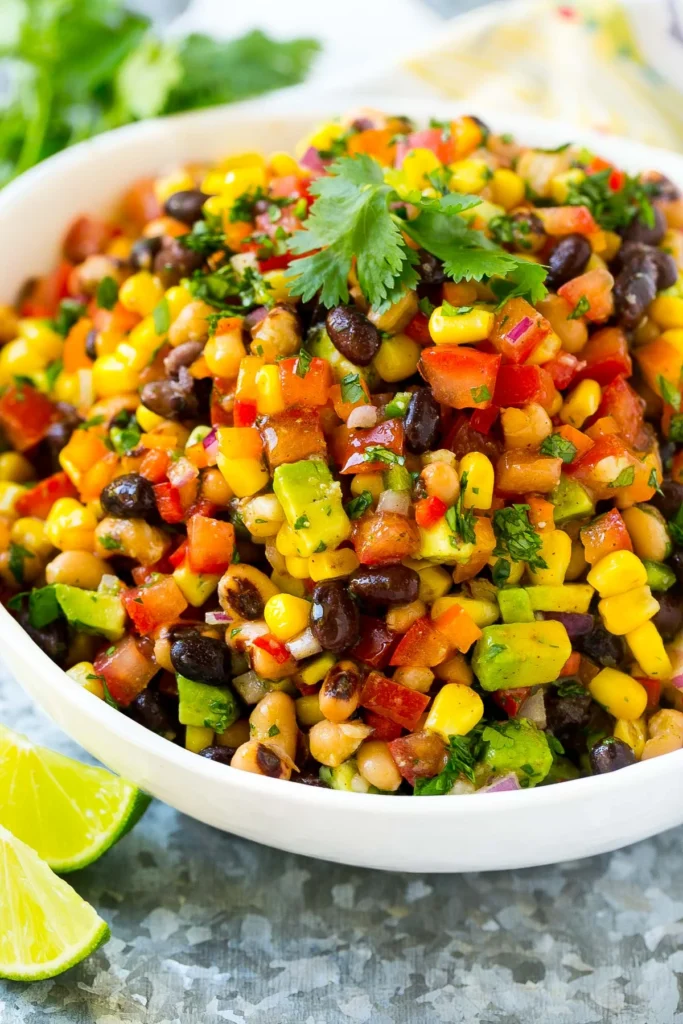 Cowboy Caviar
This cowboy caviar is a colorful and hearty dip that's loaded with beans, black eyed peas, avocado and veggies, all tossed in a zesty homemade dressing.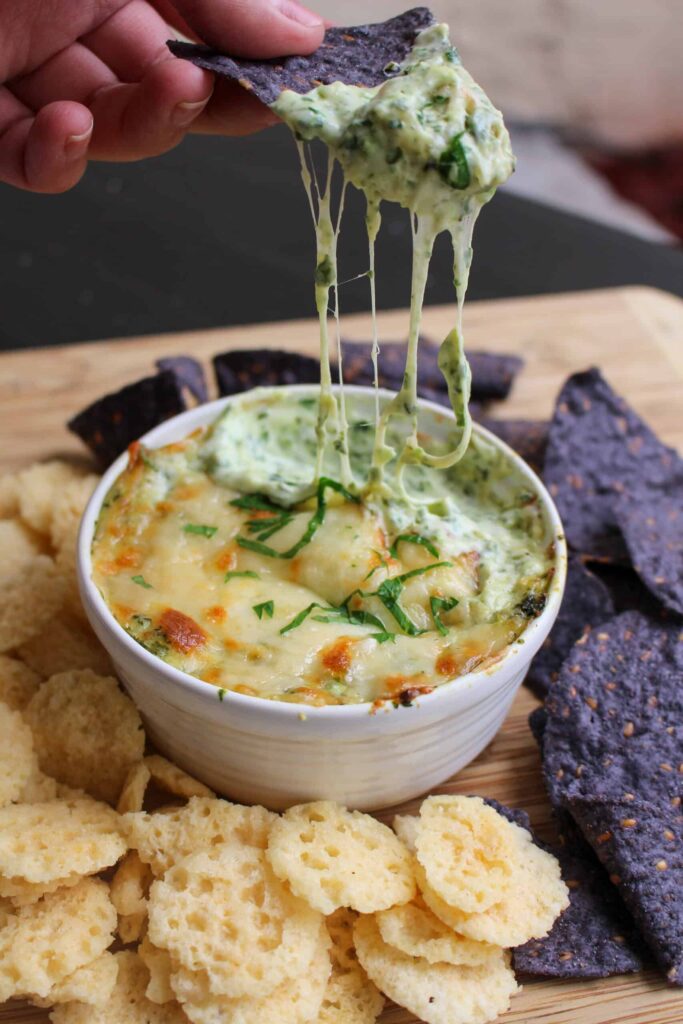 Spinach Artichoke Dip
What's a party without spinach and artichoke dip?! This dip is low in carbs, keto friendly and extra cheesy!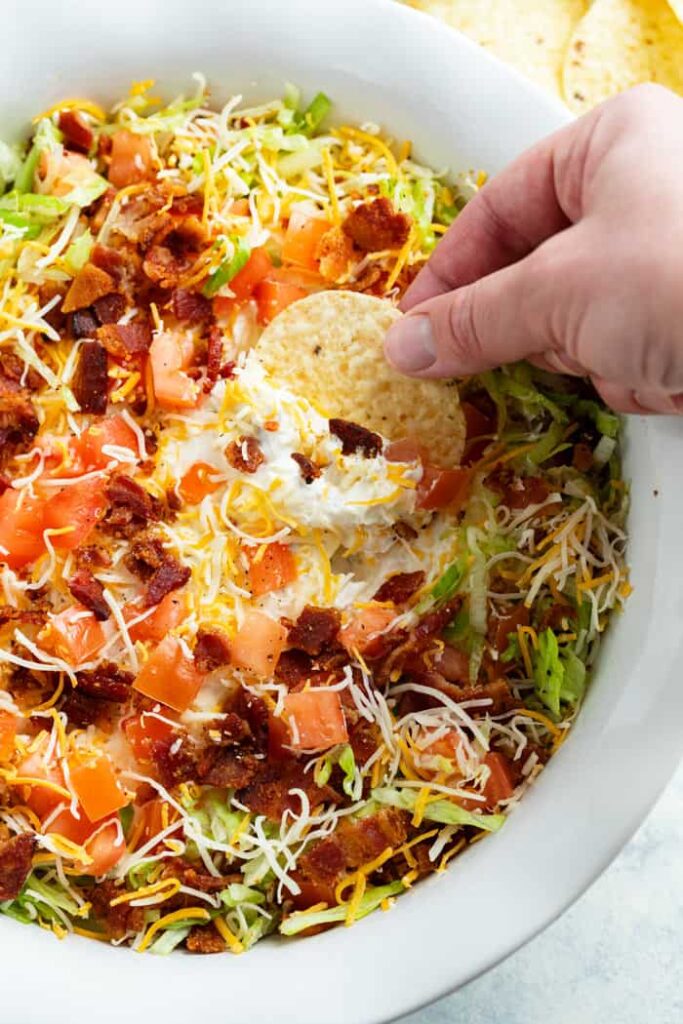 BLT Dip
This EASY BLT Dip starts with a cream cheese and sour cream mixture with ranch seasoning. It's served cold and topped with layers of crispy bacon, lettuce, tomatoes, and cheese. BONUS: You can add green onions, chives, or avocados to the mix as well!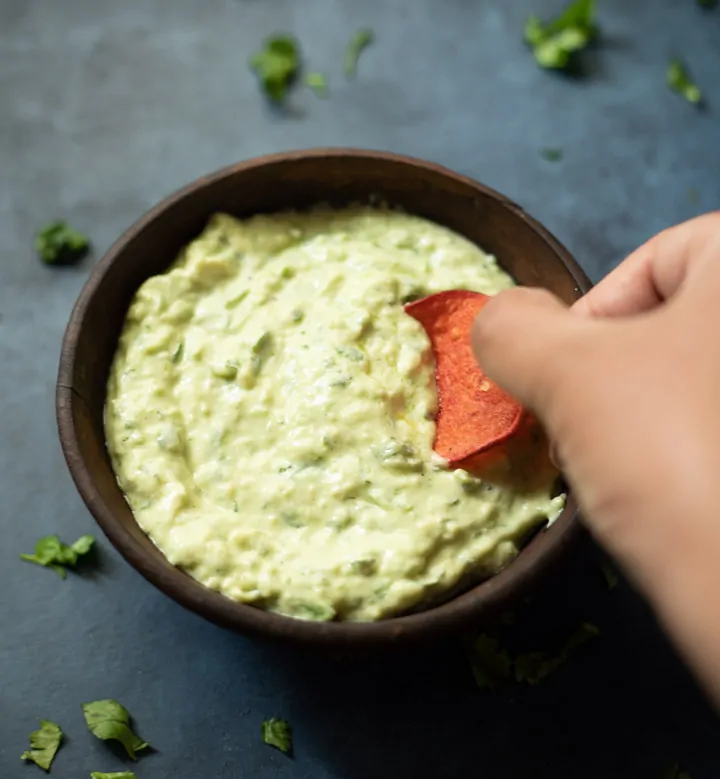 Creamy Avocado Cilantro Dip
This magical Creamy Avocado Cilantro Dip is finger licking delicious. It takes just 5 minutes to make in a blender and is perfect on and Super Bowl appetizer like tacos, burgers, salads, or just as a side with chips and vegetables.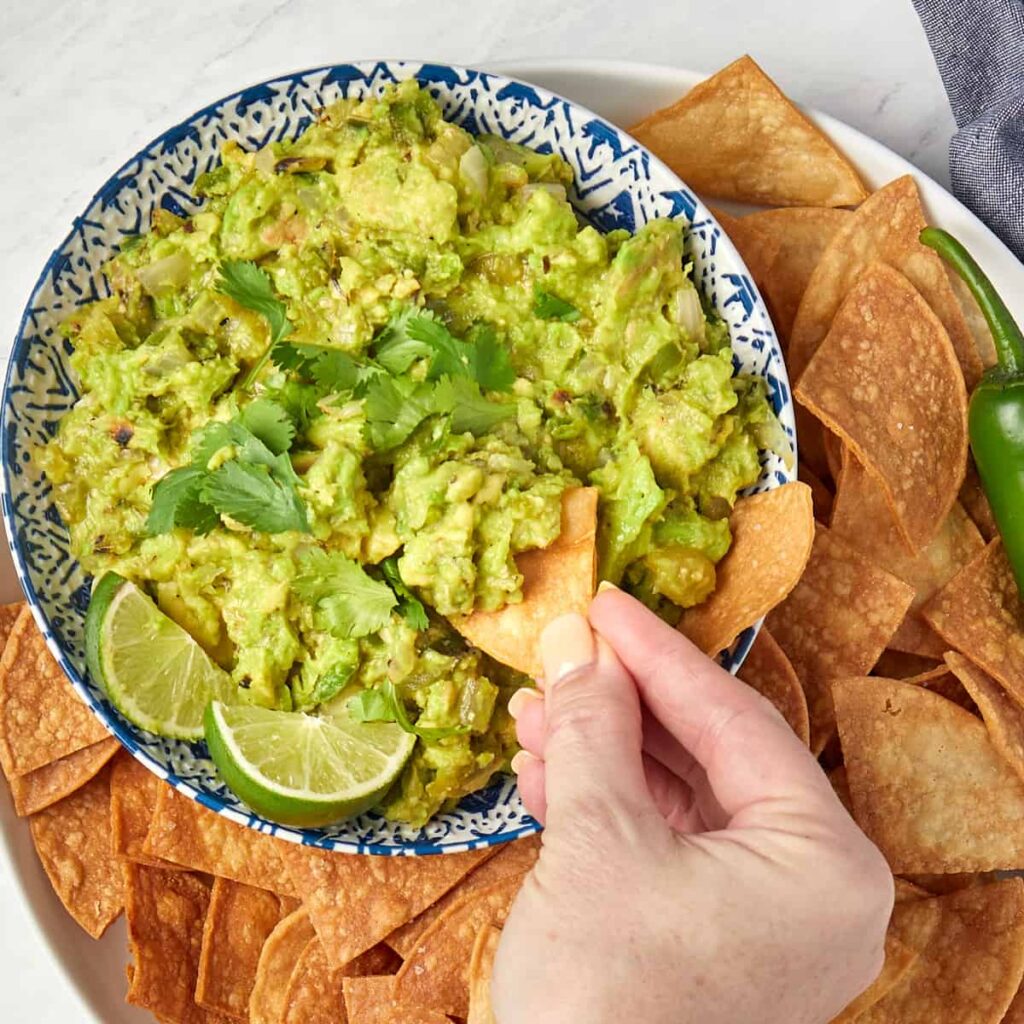 Grilled Avocado Guacamole
This Grilled Avocado Guacamole recipe is smokey, creamy, and full of flavor.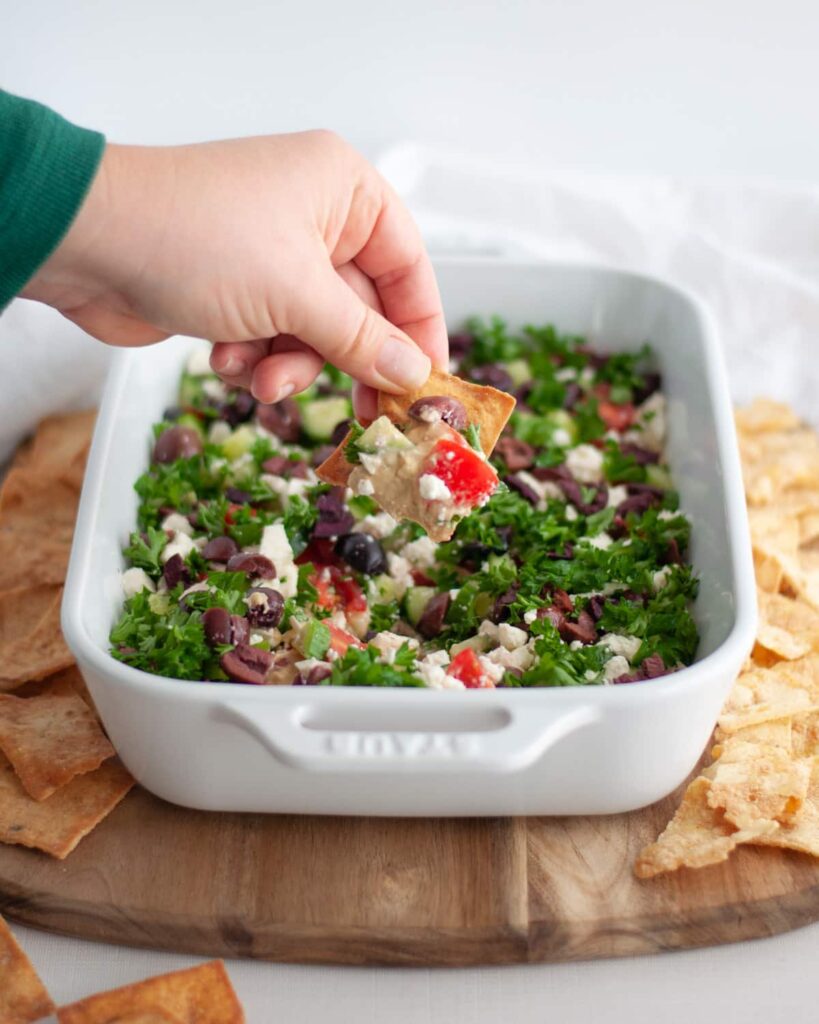 Greek Dip
Layered Greek dip is a healthy and delicious dip recipe that is packed with flavor and great textures. This easy to assemble dip is a light, colorful, and fresh addition to any party spread.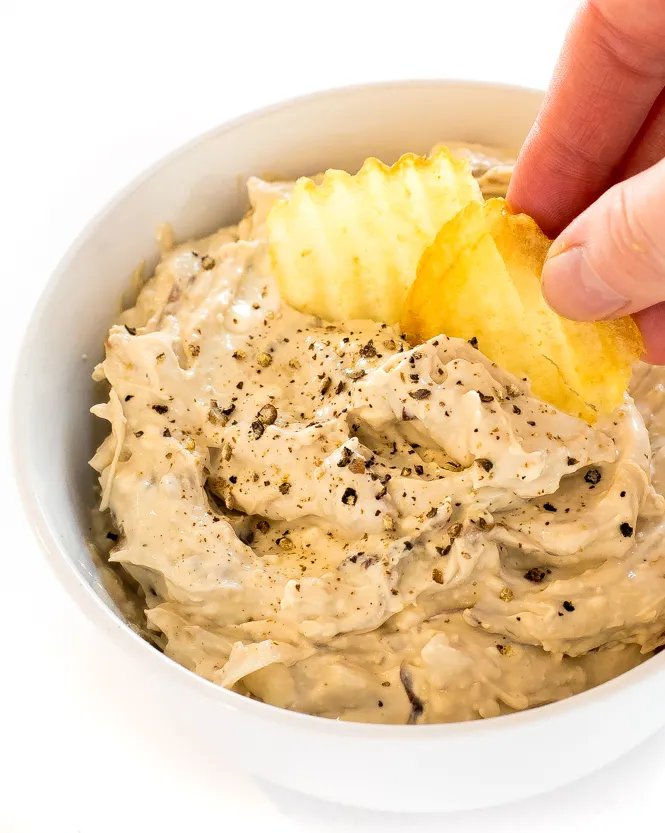 Caramelized Onion Dip
This delicious and easy caramelized onion dip is the perfect Super Bowl dip! It's packed with savory and sweet caramelized onions, sour cream, cream cheese and balsamic vinegar.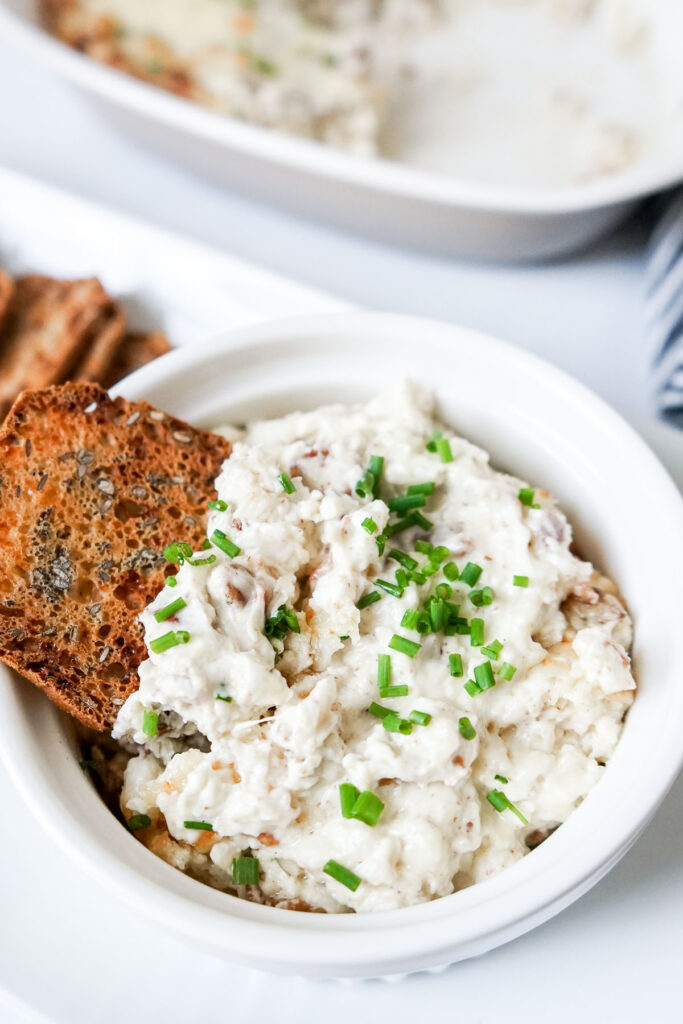 Swiss and Bacon Dip
Rachael Ray's Swiss and Bacon Dip gets a spicy little spin on it with some horseradish to make a delicious dip with a kick!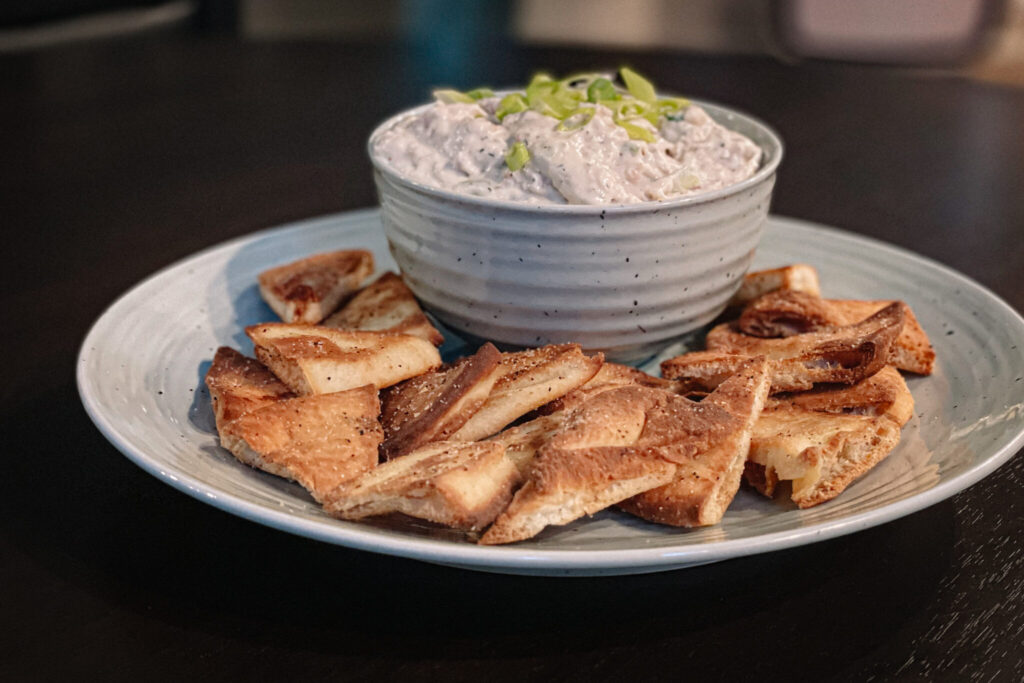 Smoked Trout Dip
We're blown away by how delicious this smoked trout dip recipe is. It's hard to believe that something so simple could be so good.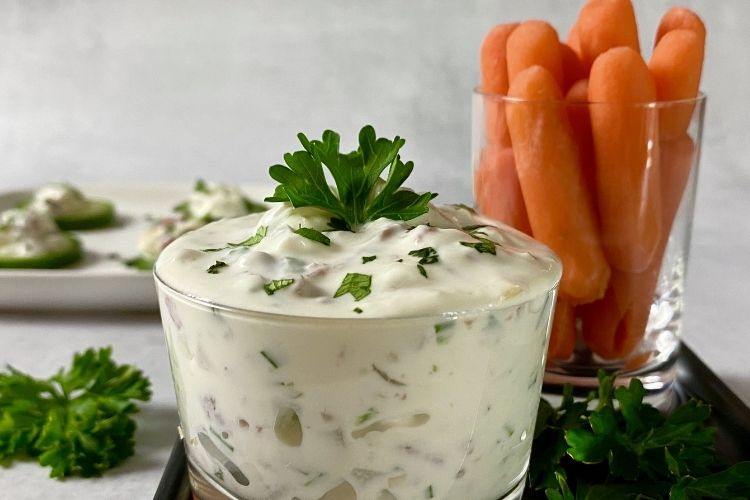 Greek Yogurt Bacon and Chive Dip
This mayo free greek yogurt bacon packed dip will have your Super Bowl party thinking they're eating fatty, when they're eating yogurt.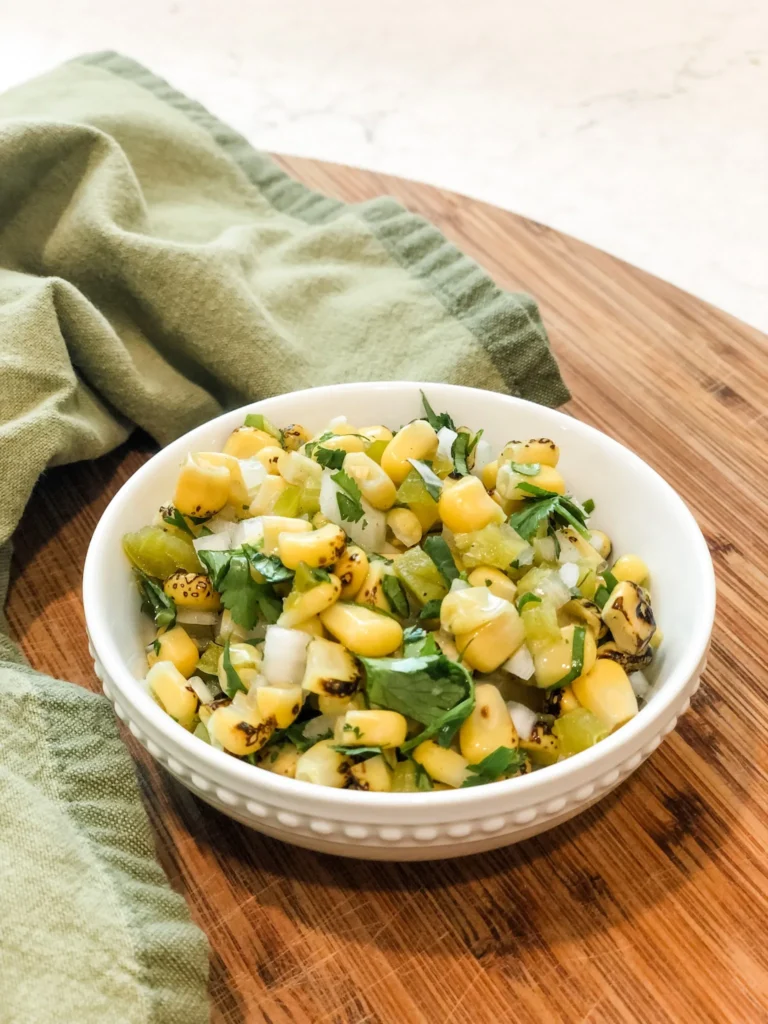 Fire-Roasted Corn Salsa
Delicious gluten-free and vegan corn salsa comes together using frozen corn in only a few minutes without even turning on any heat.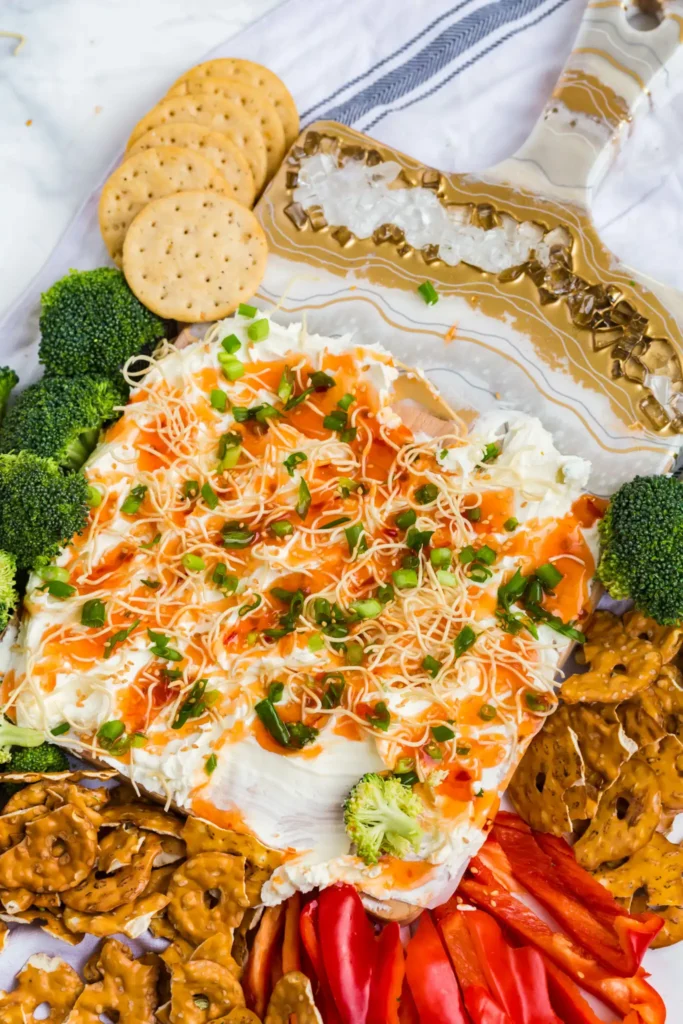 Thai Chili Cream Cheese
This Thai chili cream cheese dip is full of flavor. It's easy to make and is served beautifully as an appetizer, spread, or dip.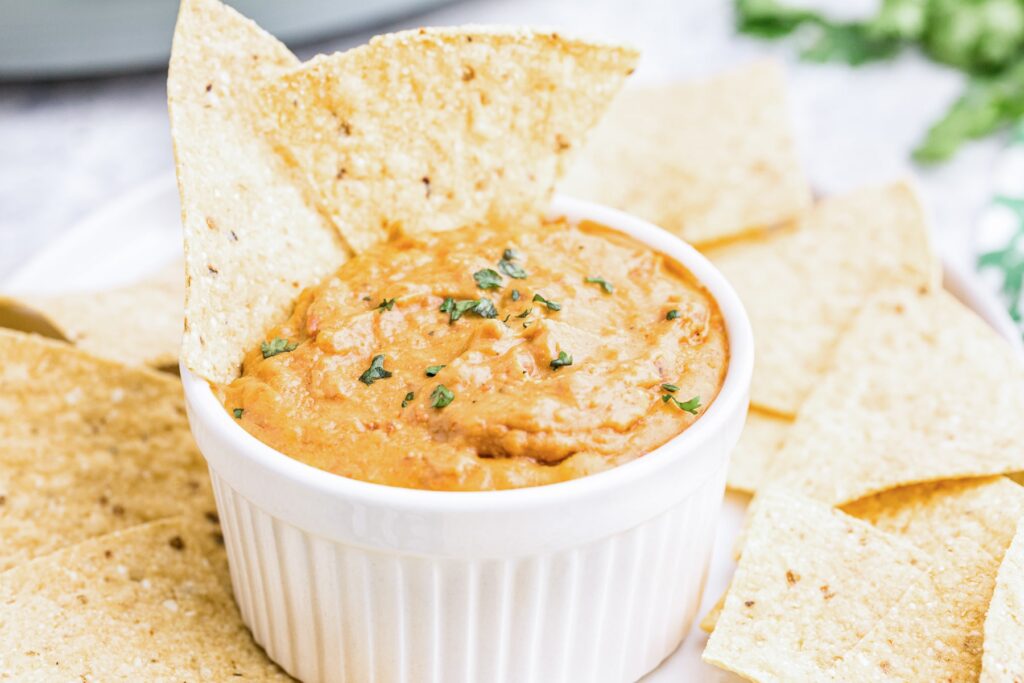 Slow Cooker Velveeta Bean Dip
Slow Cooker Velveeta Bean Dip is the perfect game day recipe. Refried beans mixed with melted Velveeta cheese and combined with the flavors of taco seasoning, fire-roasted green chiles, and salsa is sure to be enjoyed by all!
Super Bowl Appetizer Finger Foods
From pizza to chicken tenders there's so many finger foods to crave any picky eater needs.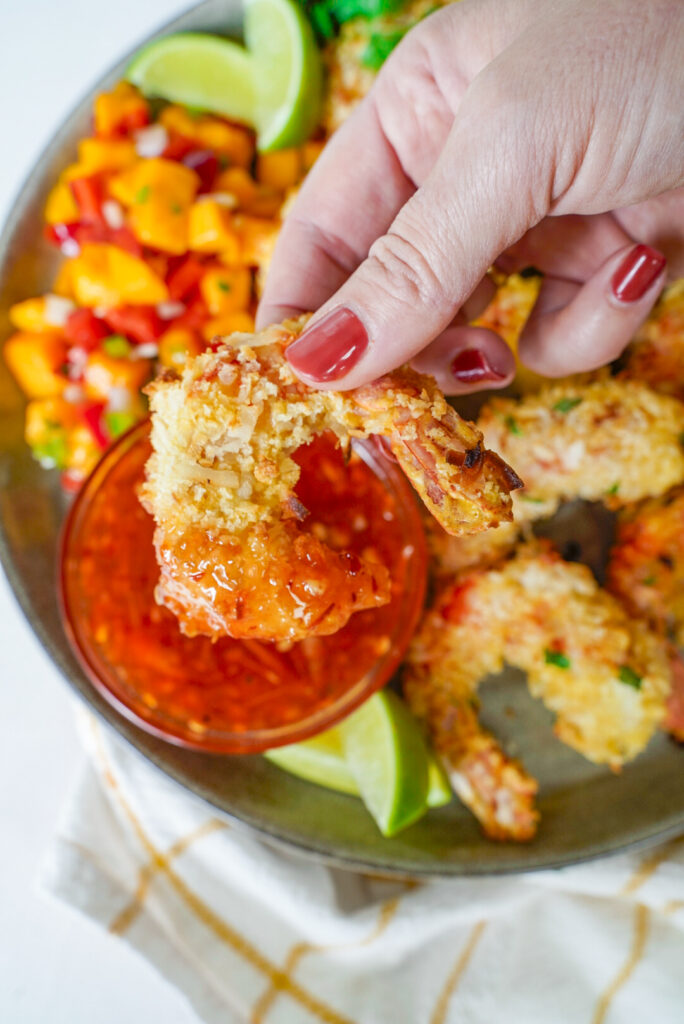 Air Fryer Coconut Shrimp
You luckily don't have to be on a beach watching football to eat our light Air Fryer Coconut Shrimp. This is a great recipe that your guests won't expect, but it may be their favorite thing at the party.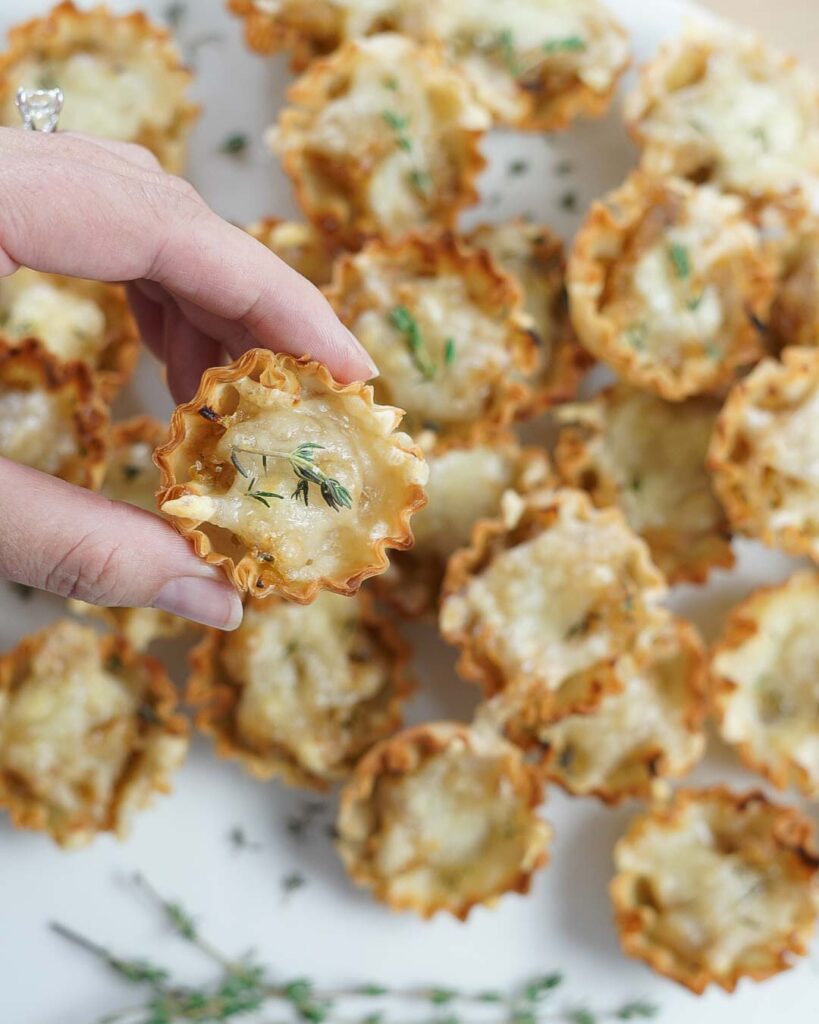 French Onion Tarts in Phyllo Shells
Soup isn't a finger food, but our French Onion Tarts in Phyllo Shells are the closest you can get to turning French onion soup into a party dish. Your guests will also prefer this to a traditional French onion dip.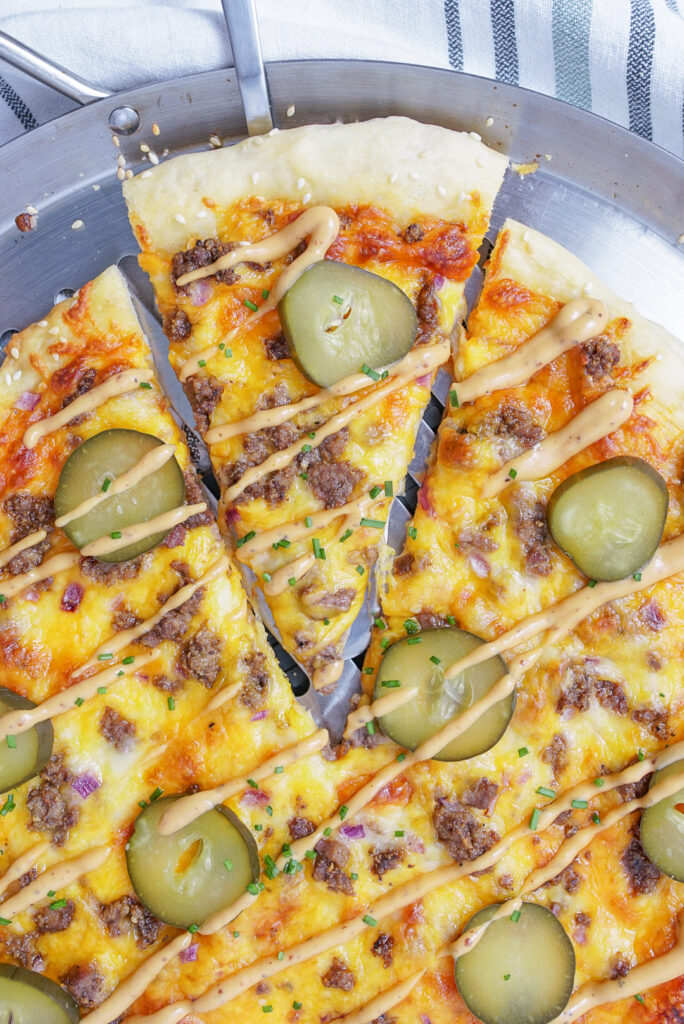 Cheeseburger Pizza
Is there more of a perfect football food over a cheeseburger pizza? When it comes to watching football, pizza and burgers are our first choice, and we put them together in a tasty pizza.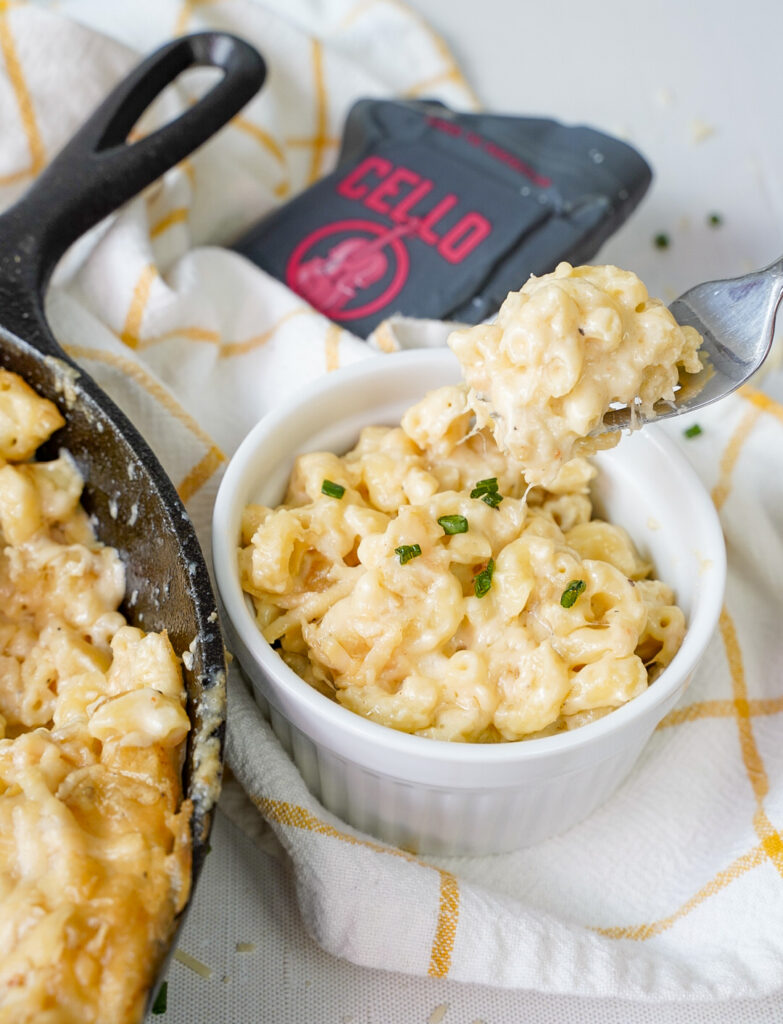 Smoked Mac and Cheese
The Super Bowl is the event of the year, and at this event basic mac and cheese isn't enough. Throw your mac and cheese onto your smoker or Traeger, and make our Smoked Mac and Cheese.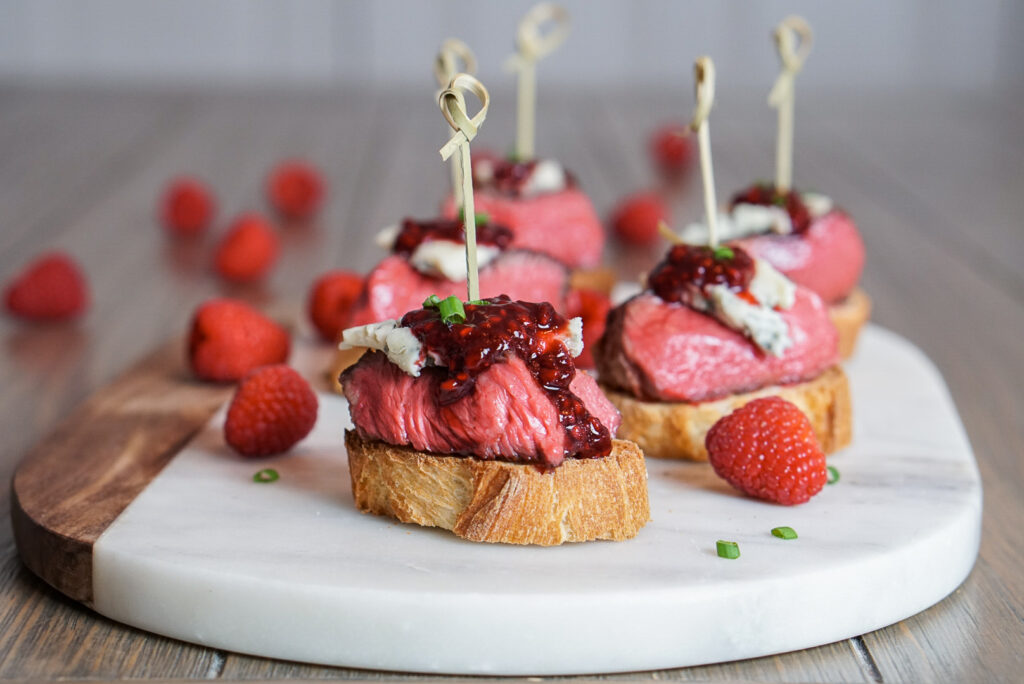 Steak Bites with Blue Cheese and a Raspberry Balsamic Sauce
Steak doesn't always have to be a main dish when it comes to our Steak Bites with Blue Cheese and a Raspberry Balsamic Sauce.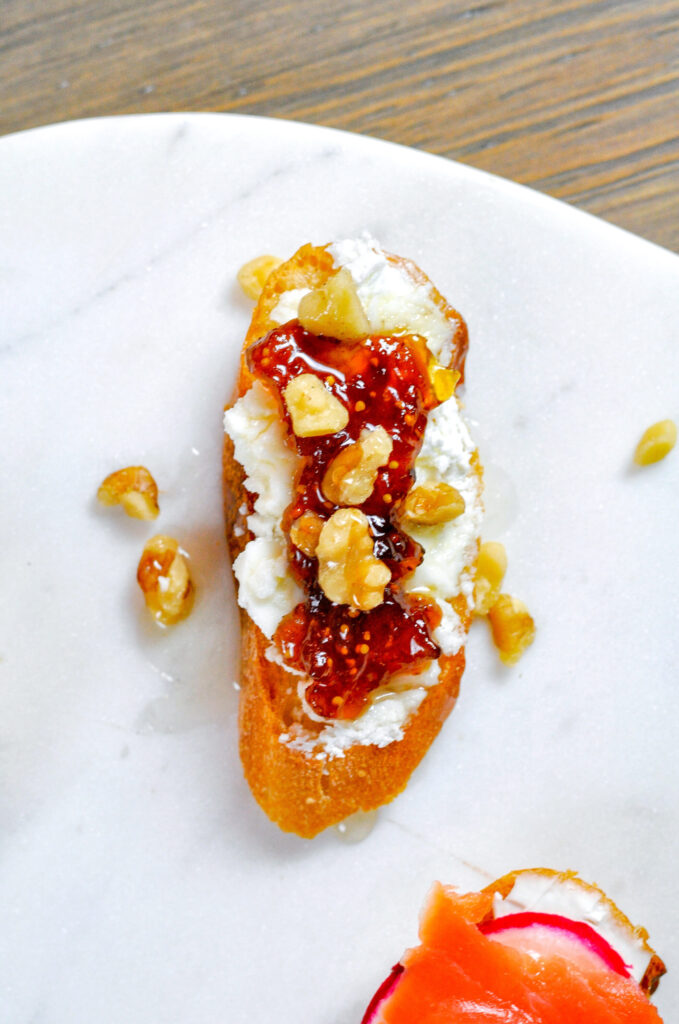 Goat Cheese Crostini with Fig, Honey, and Walnuts
Making or buying a bunch of toasted crostinis are great for a party because they can be used in so many ways from dips to toppings. Our Goat Cheese Crostini with Fig, Honey, and Walnuts has so many flavors and textures that work so well together, it's like a grazing board on a crostini.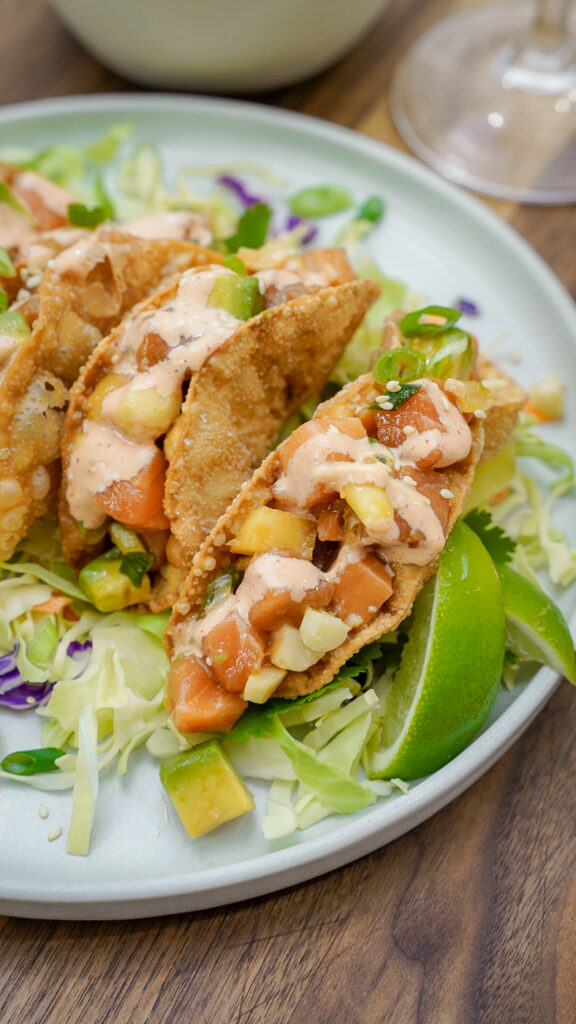 Wonton Poke Tacos
Wonton tacos are like Asian inspired mini street tacos. We love filling them with salmon poke, but you can add in any filling with this tasty crispy wonton taco shell.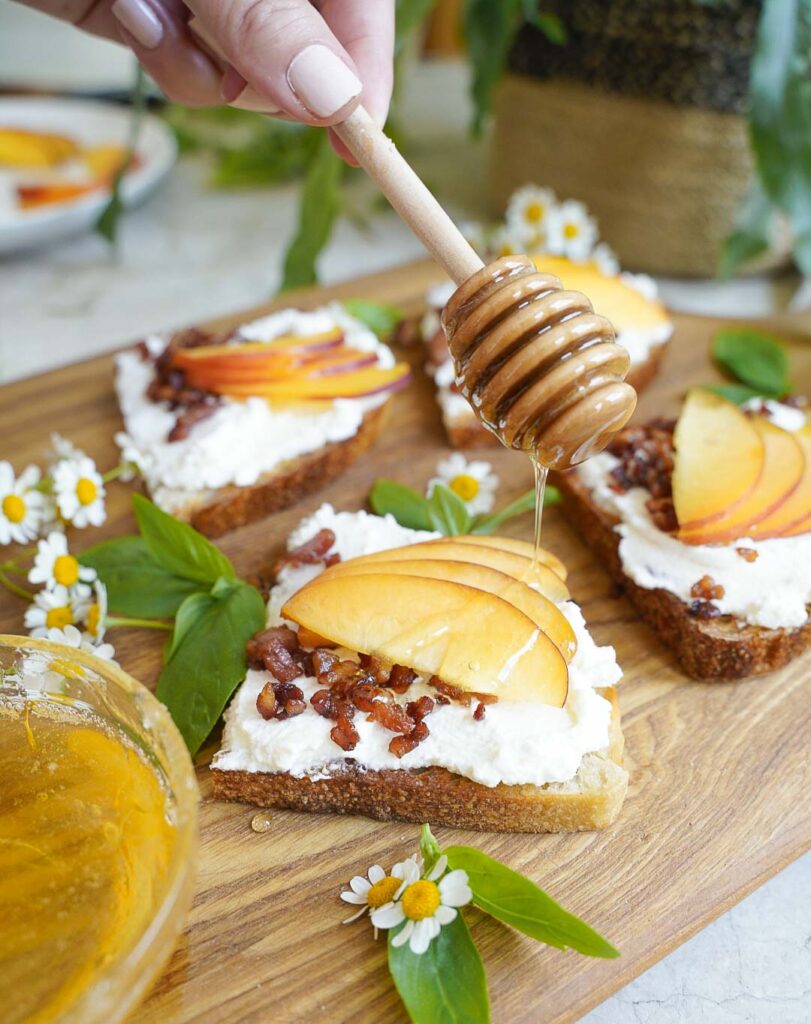 Ricotta Toast with Pancetta and Peaches
If you can get peaches, you have to make our Ricotta Toast with Pancetta and Peaches! Sweet, salty, and everything nice.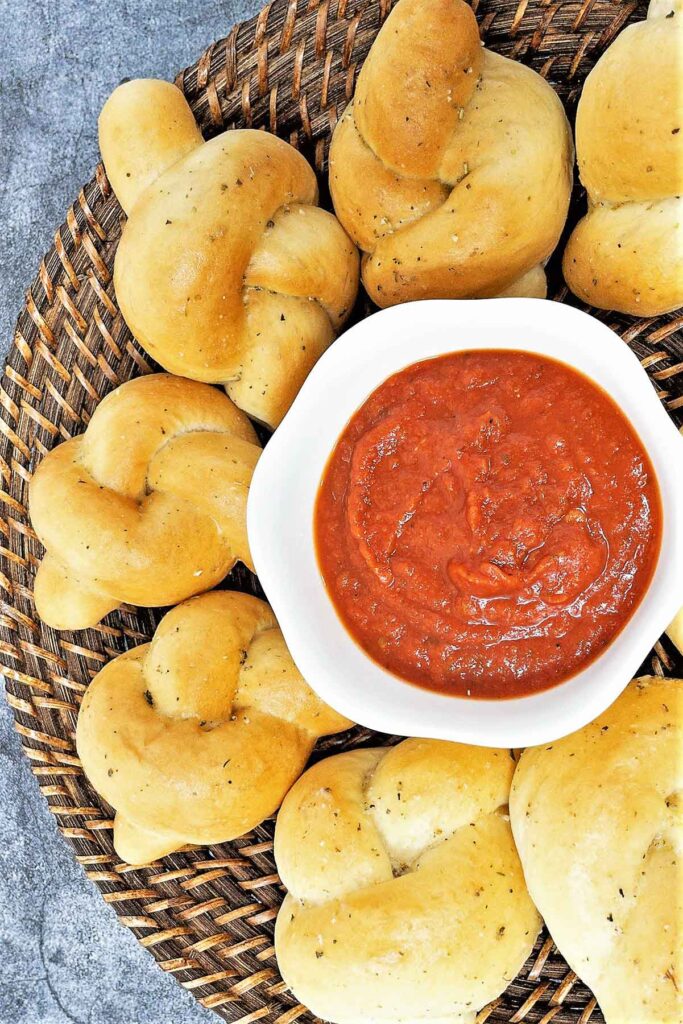 Air Fryer Garlic Knots
Garlic knots are the perfect appetizer for the Super Bowl. They are soft, delicious and easy to make.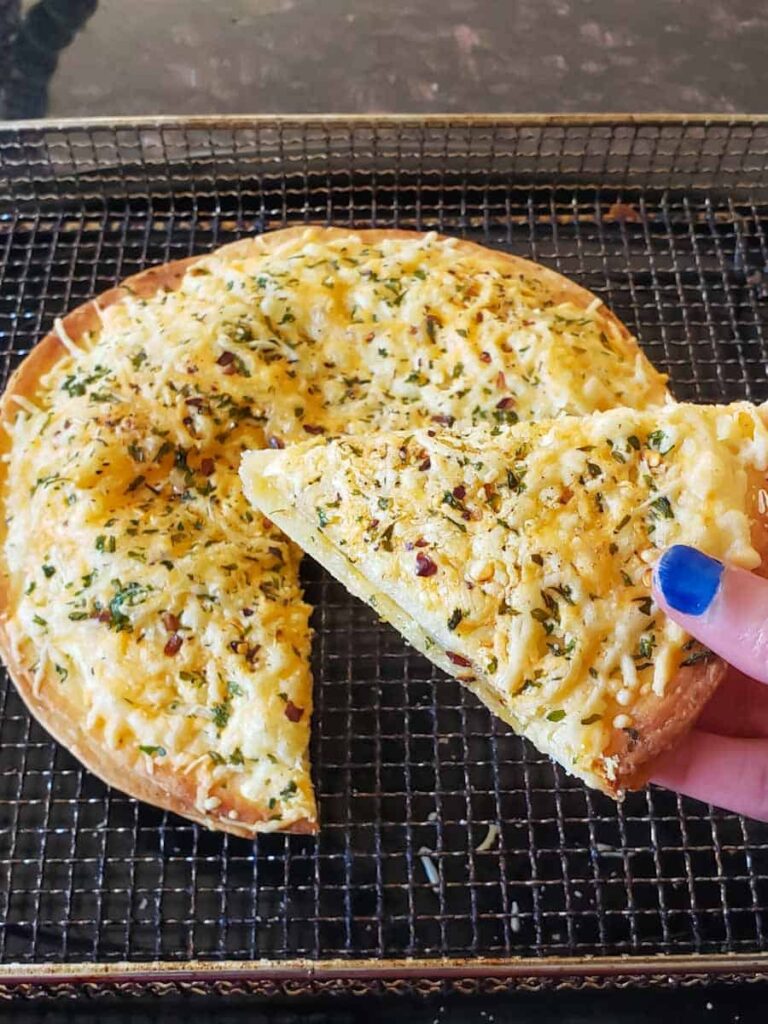 Pizzadilla
Air Fryer Pizzadilla recipe makes scrumptious food with just 3 ingredients in only 10 minutes. Use flour tortillas or corn tortillas to make this homemade cheesy deliciousness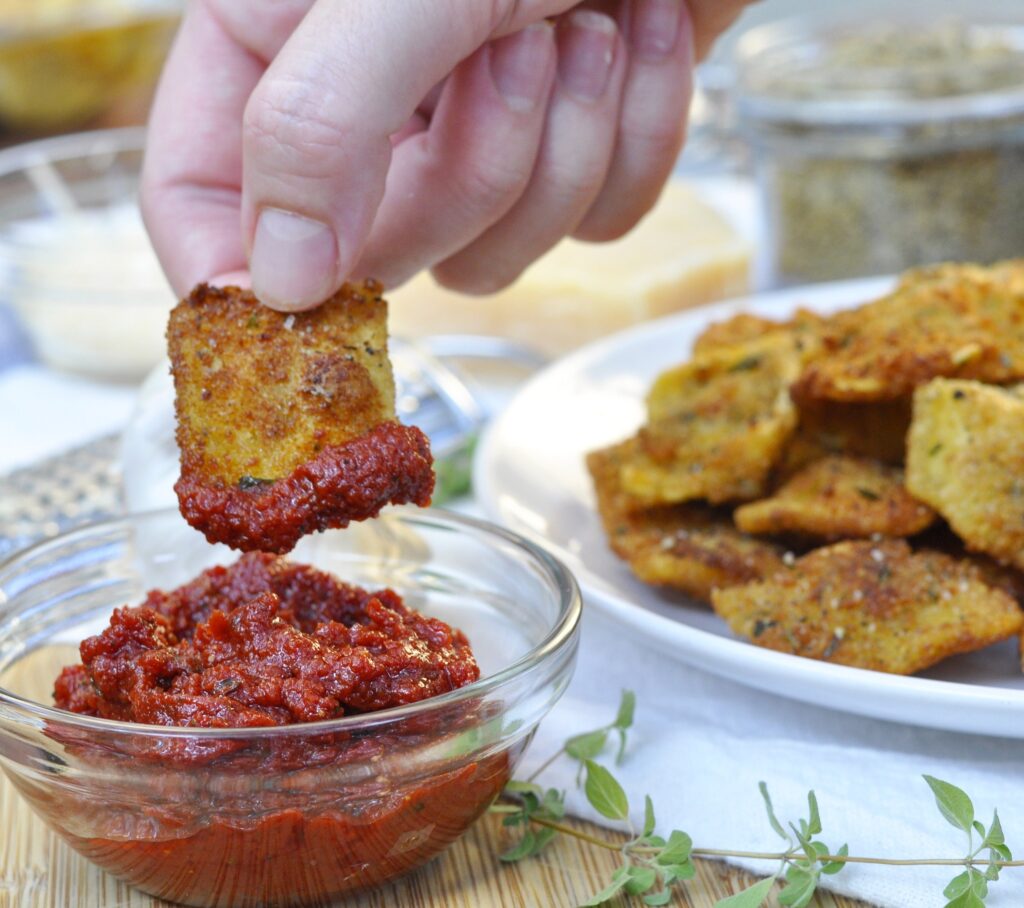 Fried Ravioli Recipe
Our Fried Ravioli Recipe will give your party an Italian Super Bowl appetizer twist no one saw coming, but boy will they love these easy crunchy raviolis.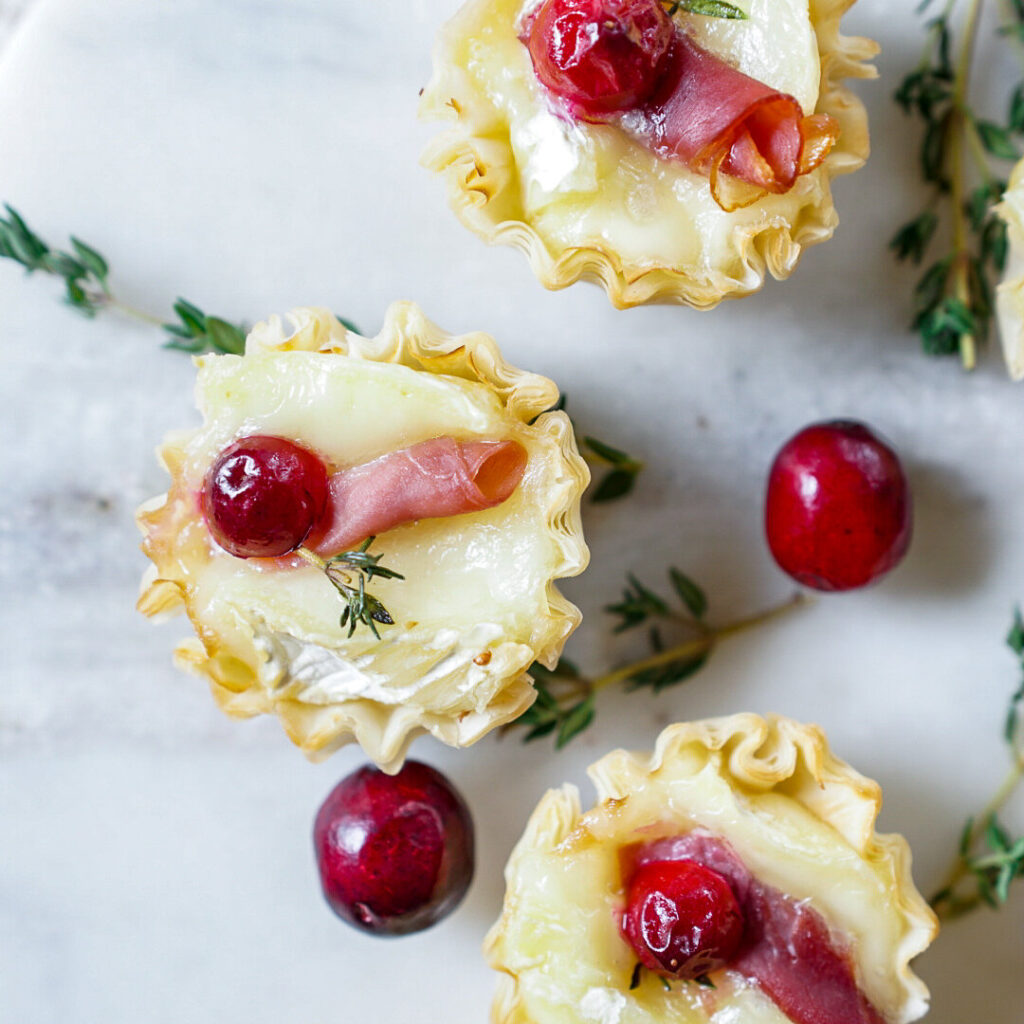 Phyllo Baked Brie Bites with Cranberry and Prosciutto
Our Phyllo Baked Brie Bites with Prosciutto are practically impossible to mess-up. Add your favorite fresh berry or jam to add a sweet balance to the salty and creamy notes in the bite.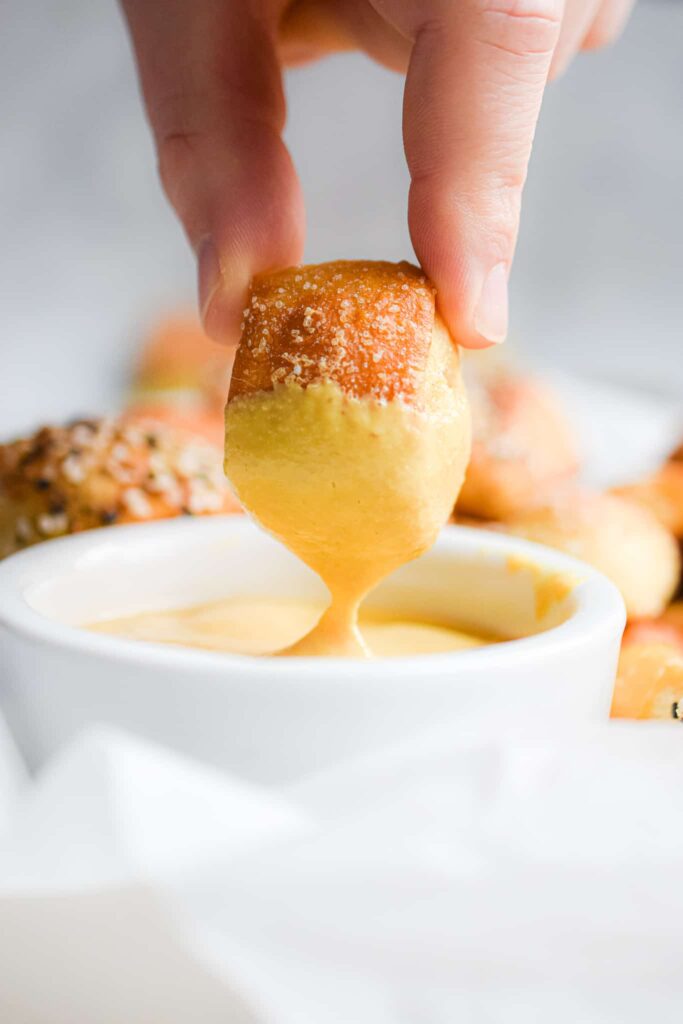 Sourdough Pretzel Bites
Chewy, and salty, these Sourdough Pretzel Bites are a perfect game day treat! These soft pretzel bites have no yeast, so it's a great way to use up some sourdough starter!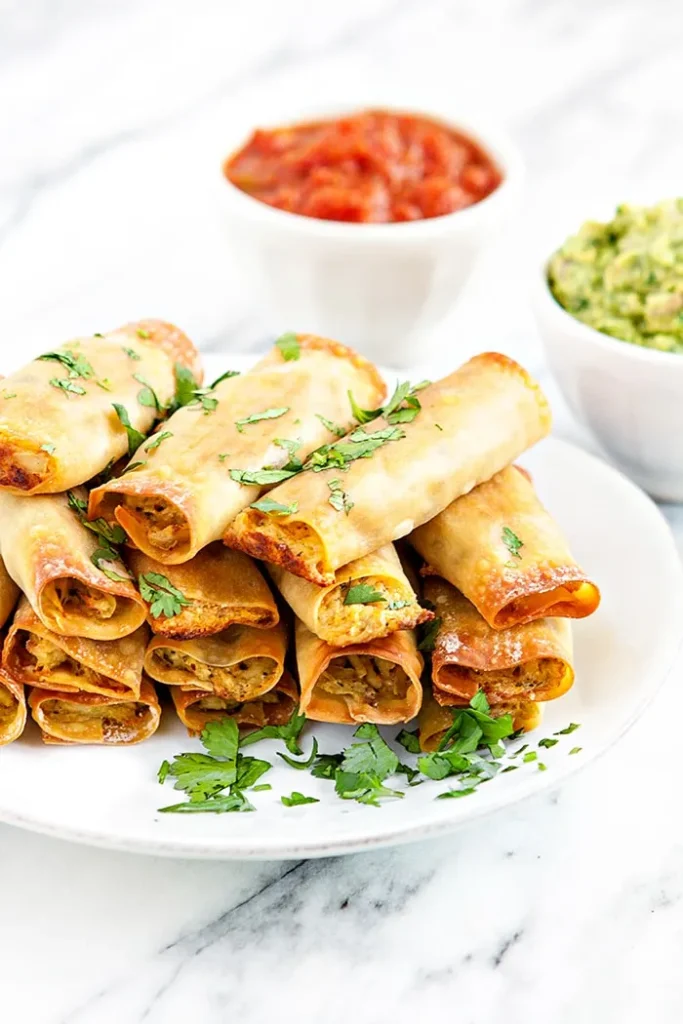 Baked Wonton Chicken Taquitos
These Baked Wonton Chicken Taquitos are so easy to prepare, you'll be amazed. Wonton wrappers are stuffed with chicken, cream cheese, and salsa verde. They make a great addition to your next football viewing party as a great appetizer and they freeze well, so you can assemble them ahead of time!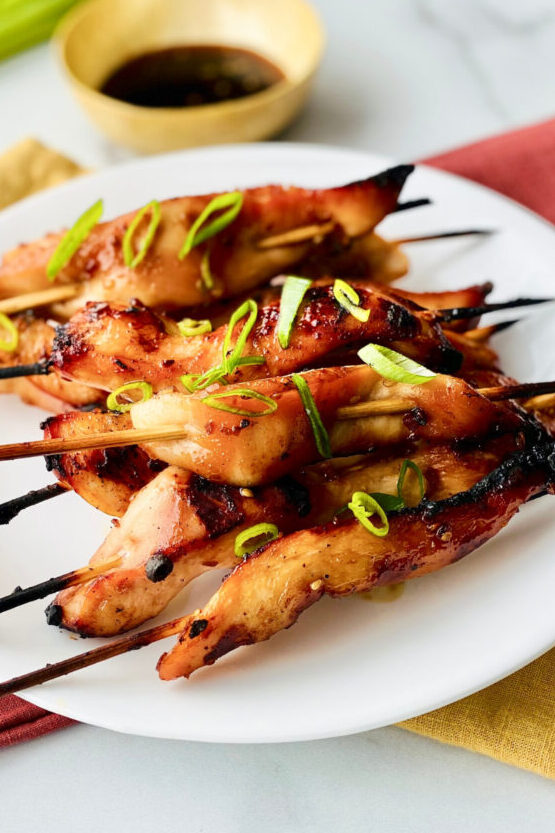 Teriyaki Chicken on a Stick
Everything tastes better when it's on a stick, including chicken teriyaki. These skewers are sweet, salty, & sensation for any game day.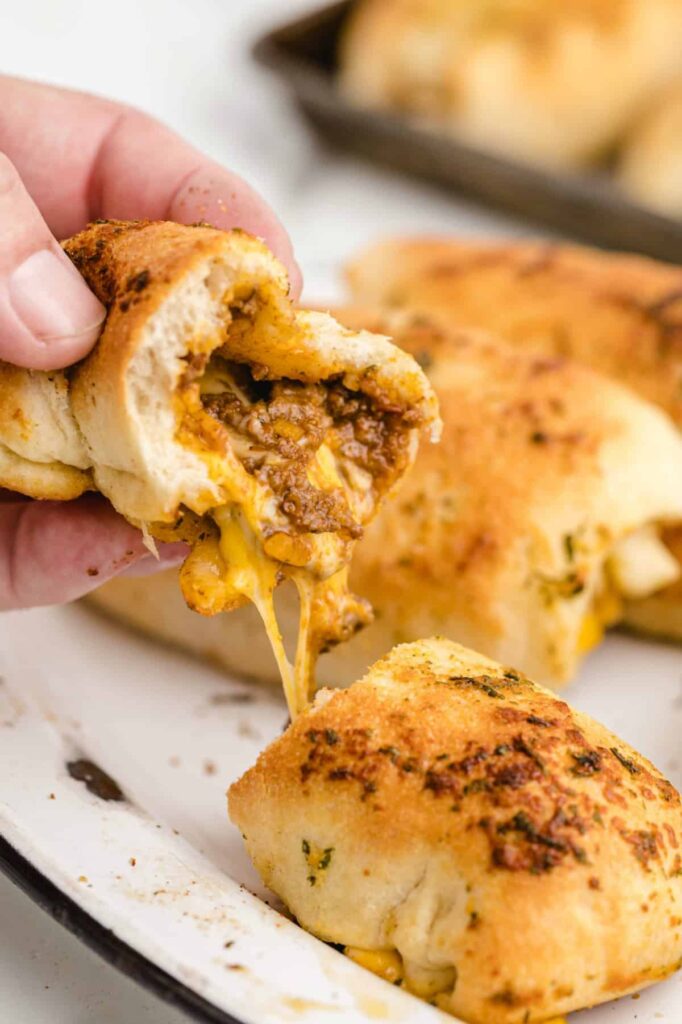 Cheesy Taco Sticks
Perfectly seasoned ground beef and gooey cheese are baked, after being wrapped up in pizza dough. It creates a puffy taco stick that is so delicious for all football games!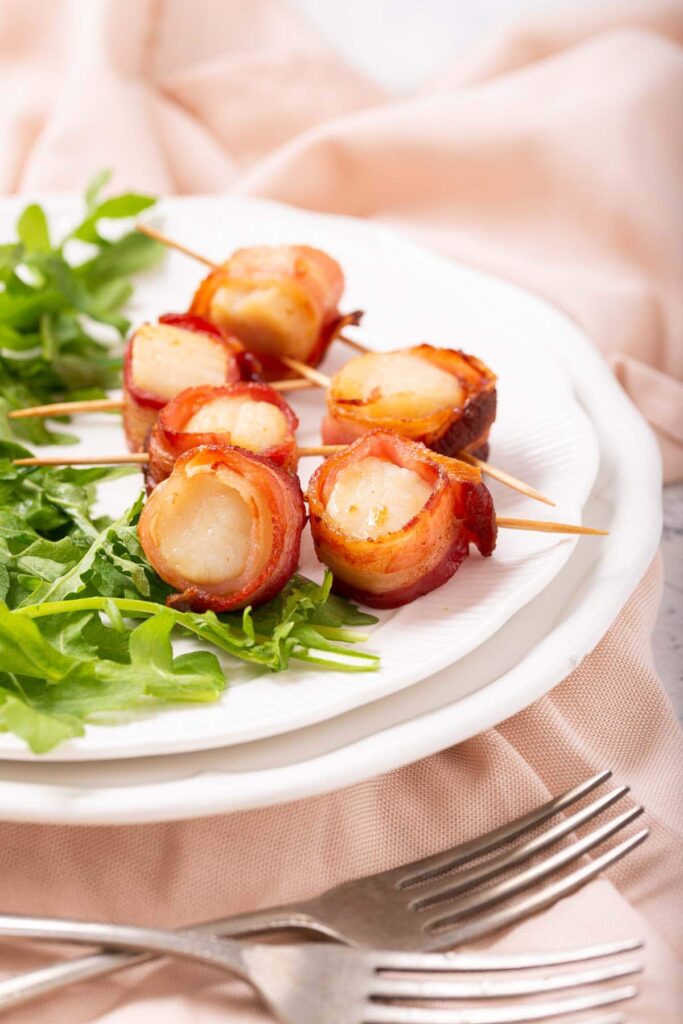 Air Fryer Bacon Wrapped Scallops
Air Fryer Bacon Wrapped Scallops are a simple but delicious keto, paleo appetizer. Buttery scallops wrapped in smoky bacon and air-fried to perfection.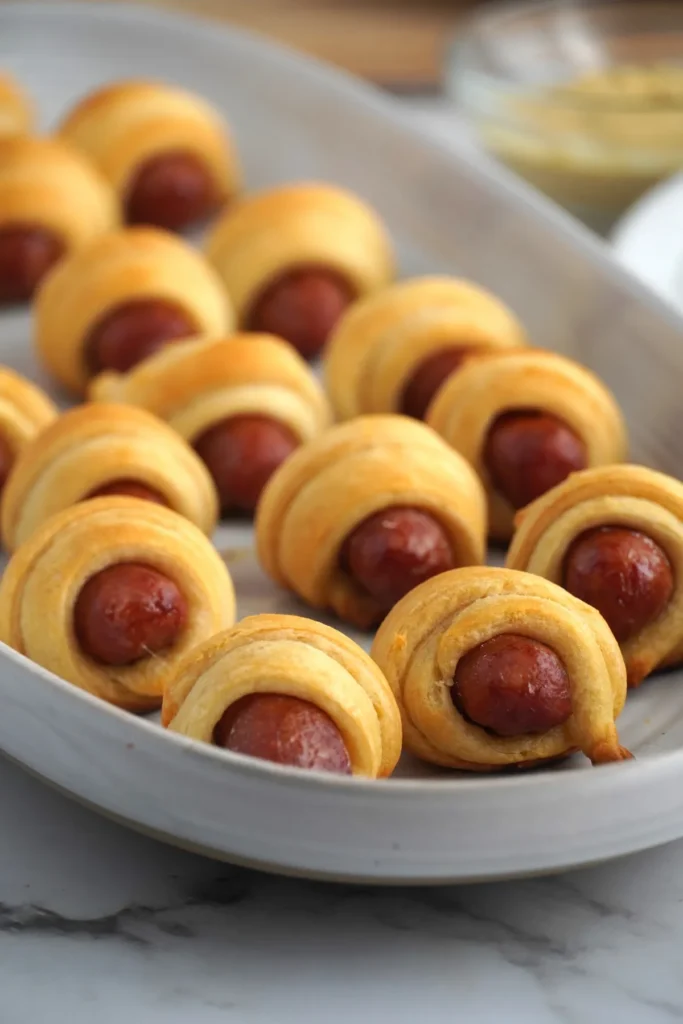 Pigs in a Blanket
This pigs in a blanket recipe is a classic appetizer that features a savory combination of sausage and crescent rolls served with toppings and delicious dipping sauces. This is the perfect app to serve for game day, holiday parties, and get-togethers of any kind.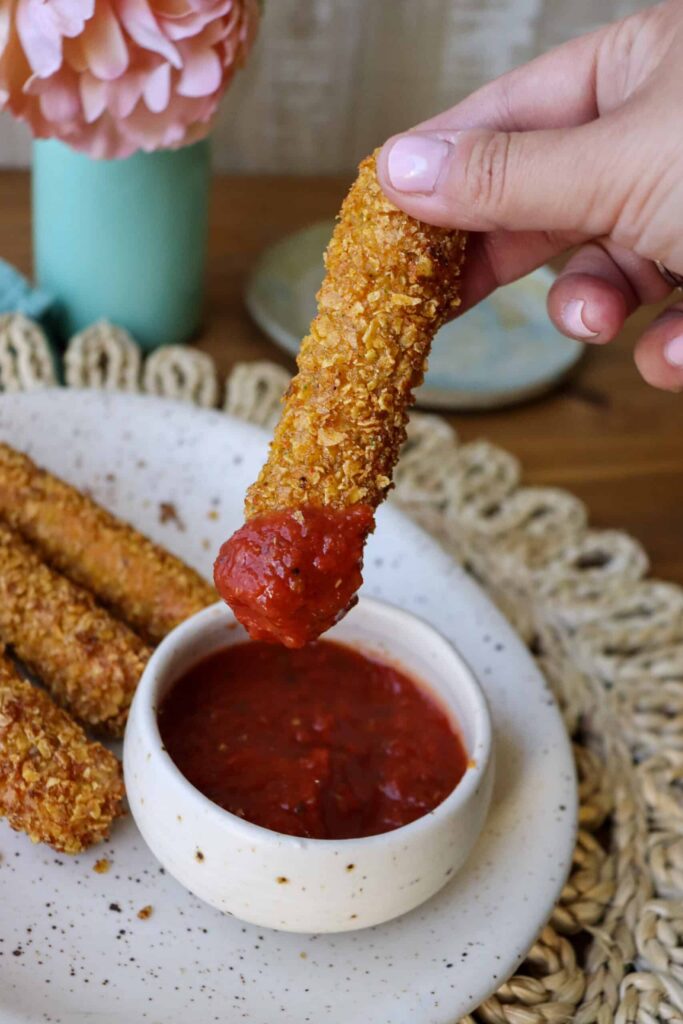 Doritos Crusted Mozzarella Sticks
Two hall of famers of snacks in one with these, Mozzarella sticks crusted in Doritos! Perfect for a crowd and kid friendly.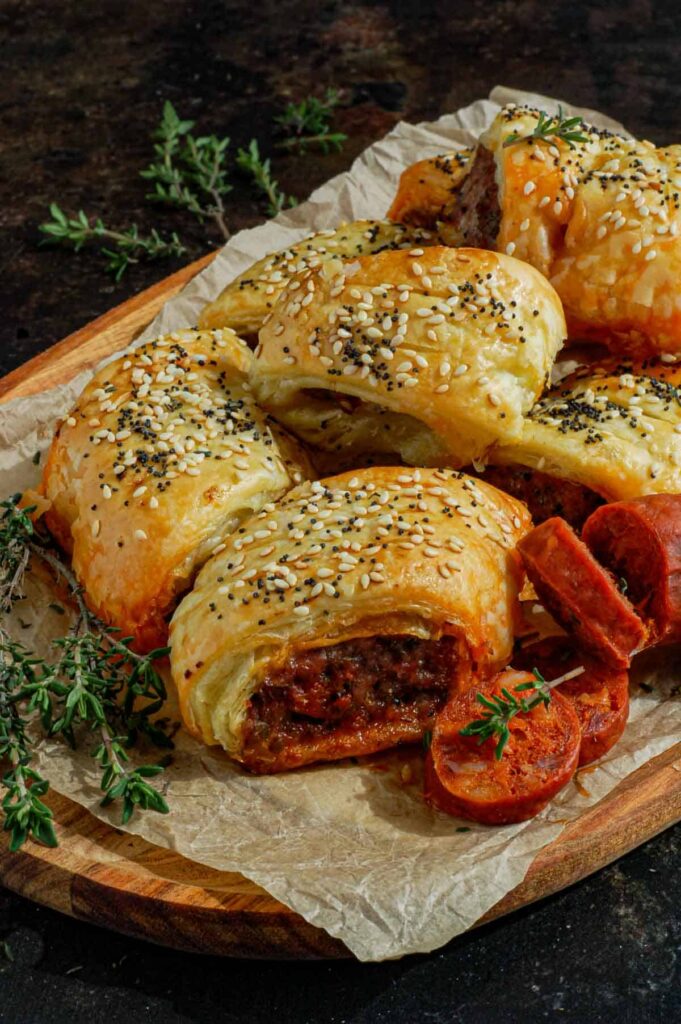 Chorizo and Pork Sausage Rolls
Sausage rolls are huge in the UK and Australia, and this "international" finger food will be a quick hit for any Super Bowl party food.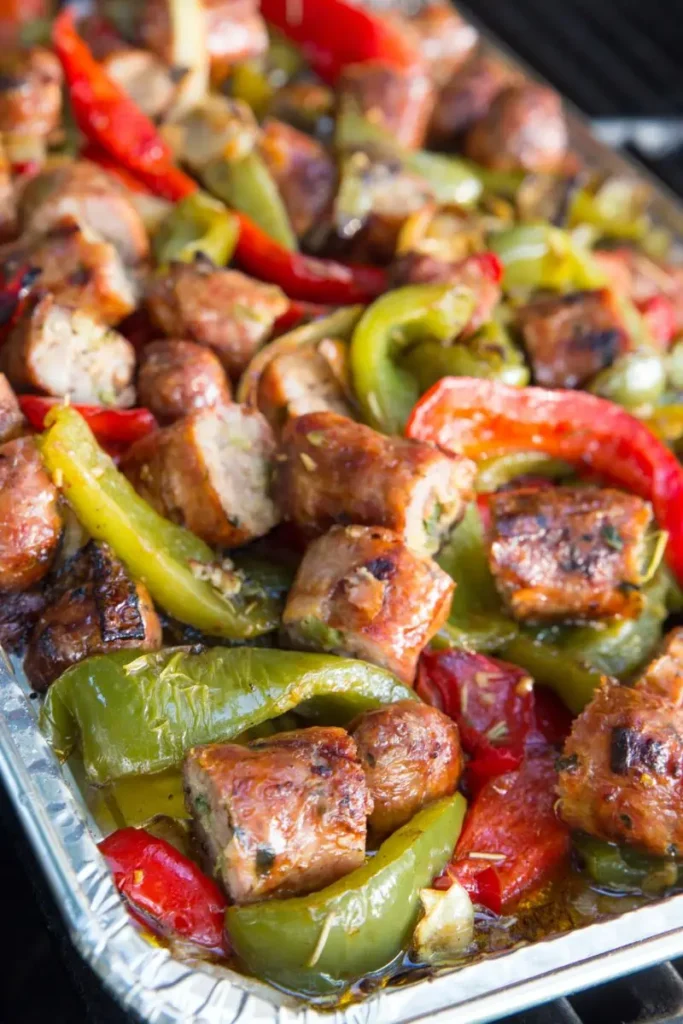 Italian Sausage Onions and Peppers
Delicious Peppers, Onion, and Sausage is a delicious and easy recipe that is a crowd pleaser for parties and holiday get togethers. Makes for a pot-luck dish that everyone will enjoy!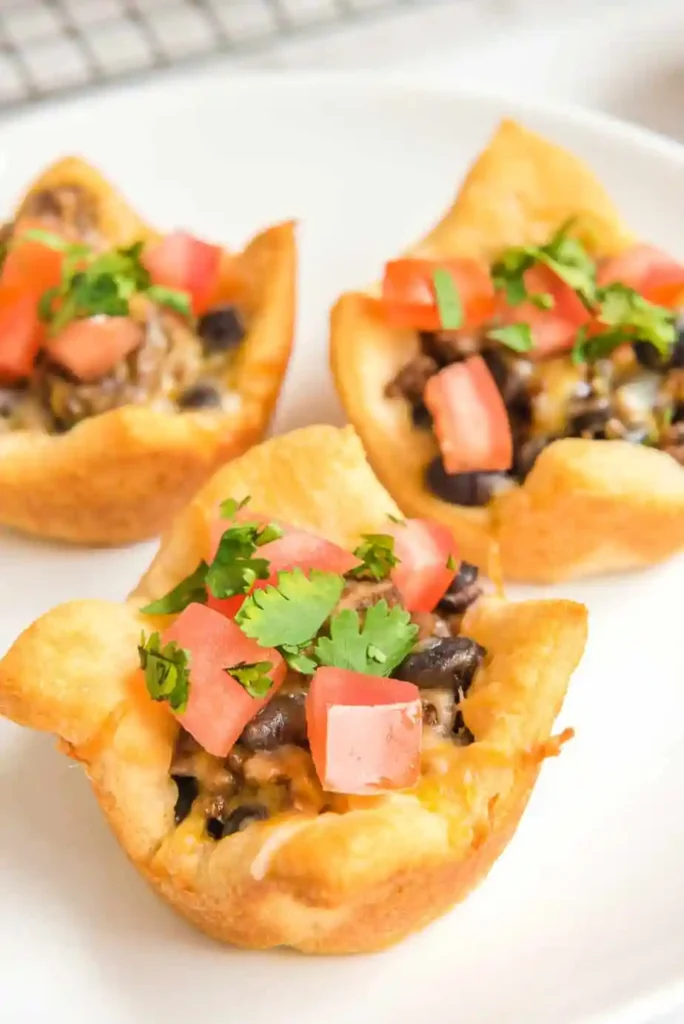 Baked Taco Cups
Baked taco cups are crispy, warm cups of dough full of savory seasoned lean ground beef and beans, then topped with cheese and tomatoes for your favorite toppings for a delicious gooey bite. This quick and easy taco bite is perfect as a fun appetizer or for a great time.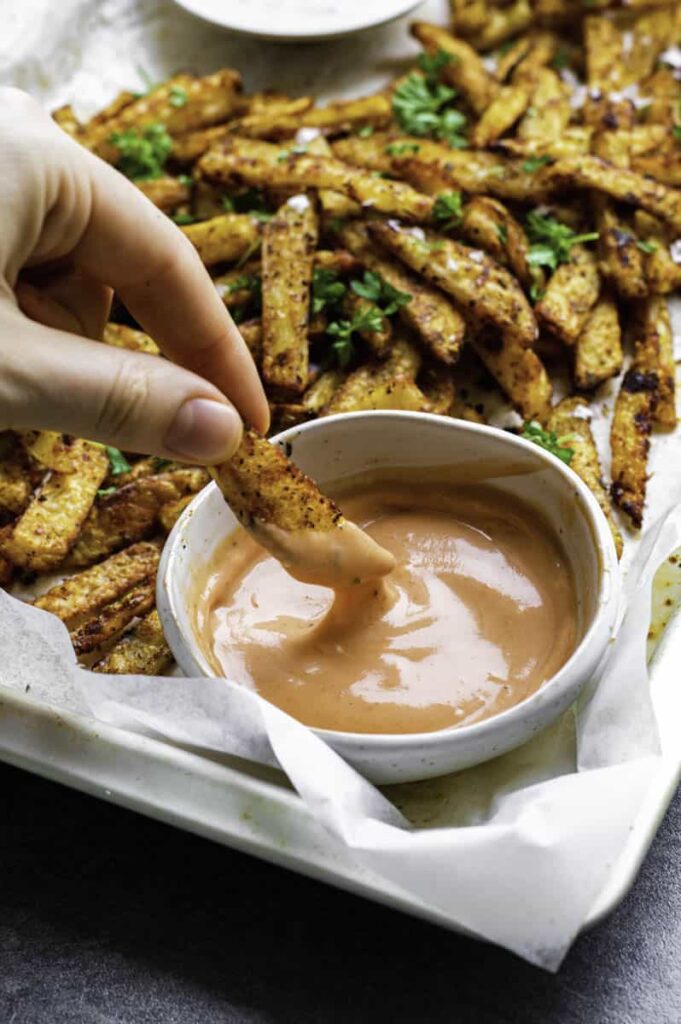 Cajun Fries
This Copycat Five Guys Cajun Fries Recipe is crispy, spicy, and perfectly flavored with our cajun seasoning blend. It's a healthier version that can be made both in the oven and air fryer.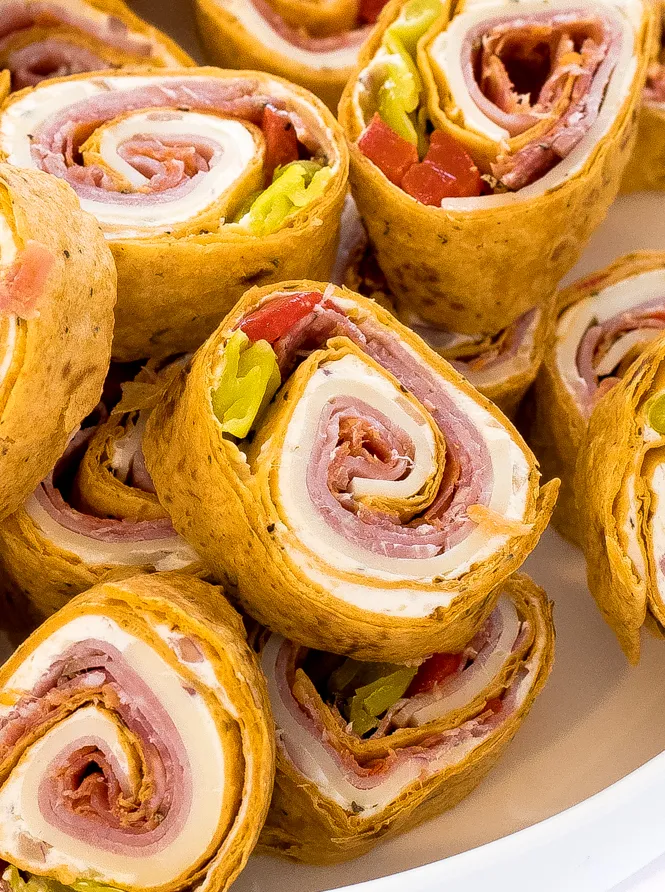 Italian Pinwheels
A colorful, delicious, crowd-pleasing appetizer, stop searching! You've found it in these Italian pinwheels. They're packed with your favorite Italian lunch meats, provolone cheese and peppers!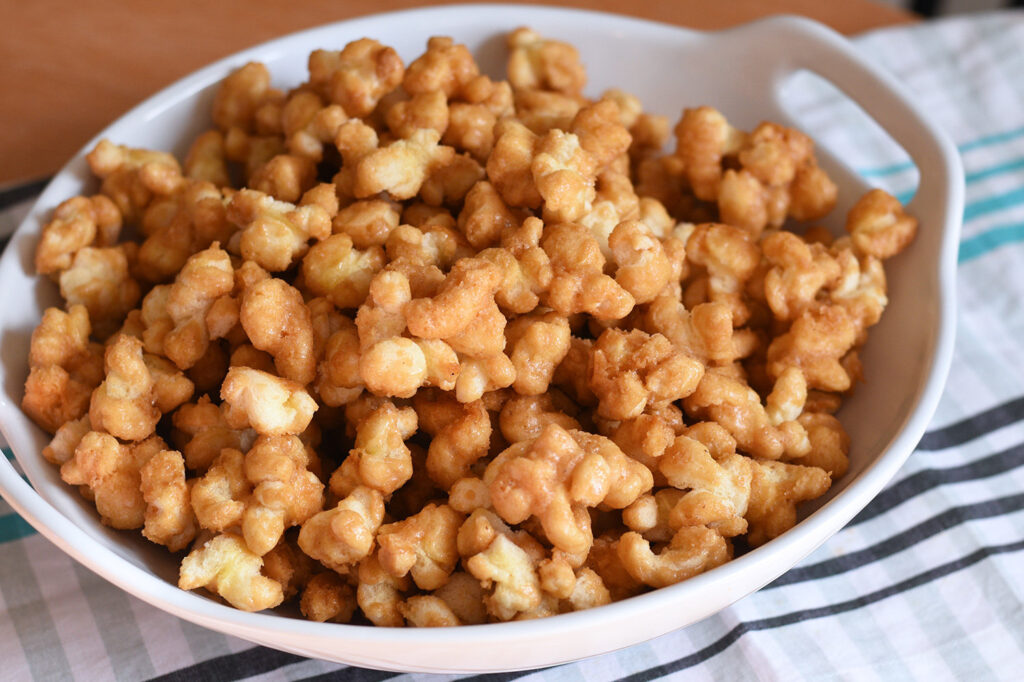 Caramel Corn Puffs
Fresh, homemade, caramel corn puffs are a quick, sweet treat to prepare, but always go down well.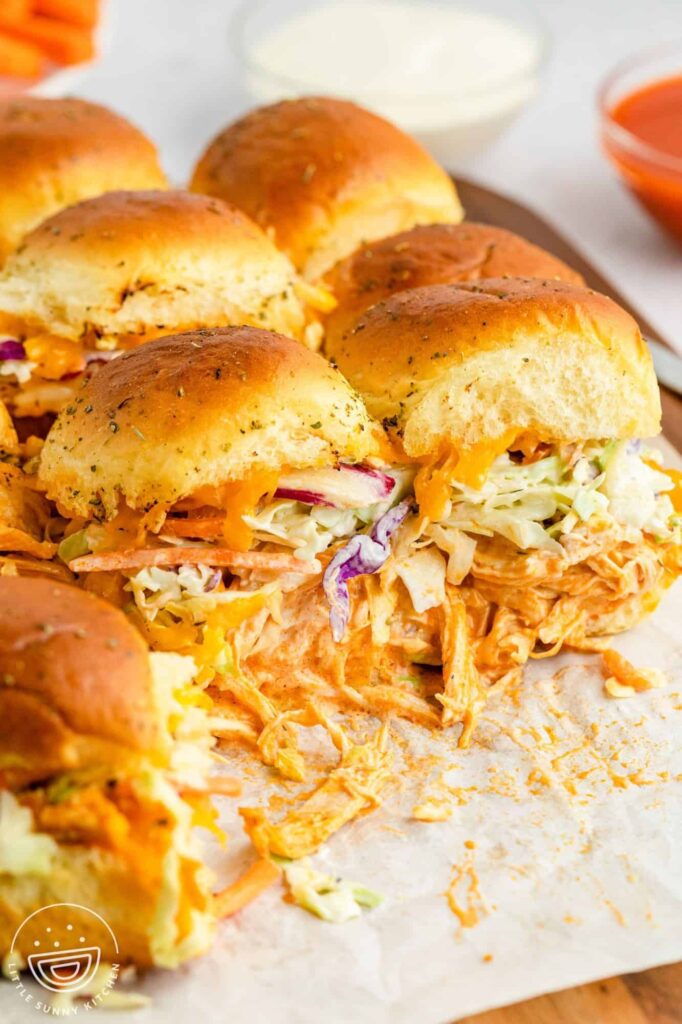 Buffalo Chicken Sliders
Creamy, cheesy, spicy shredded chicken is the star of these delicious little buffalo chicken sliders on Hawaiian Rolls. An easy coleslaw topping makes chicken sliders with buffalo sauce absolutely perfect!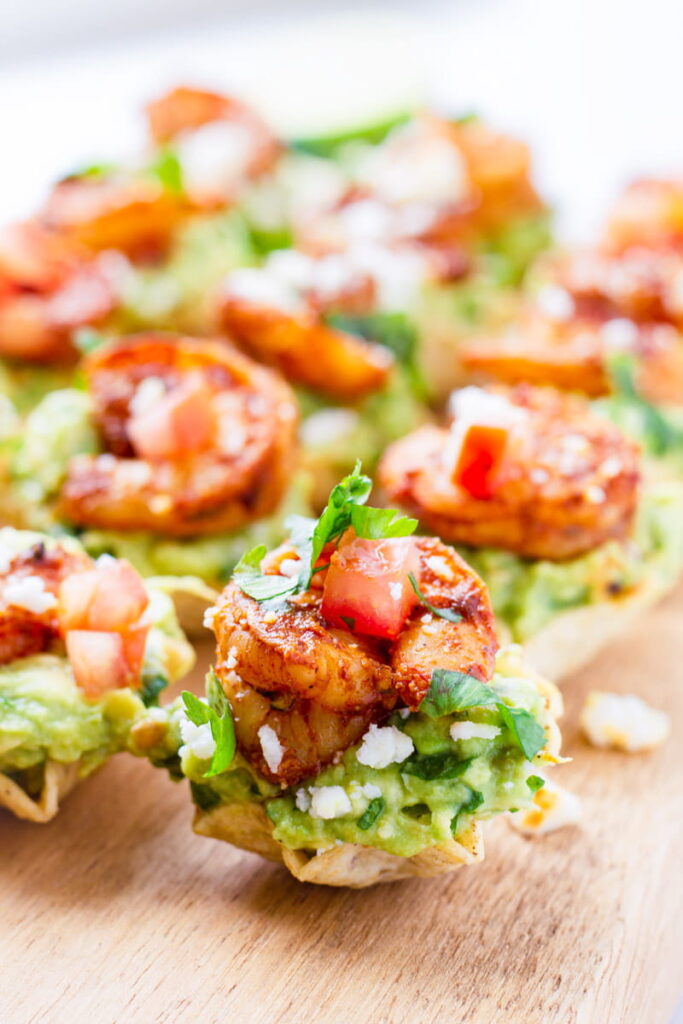 Chili Lime Shrimp Cups
These cute Chili Lime Shrimp Cups are made with guacamole topped with seasoned seared shrimp, and served on tortilla cups.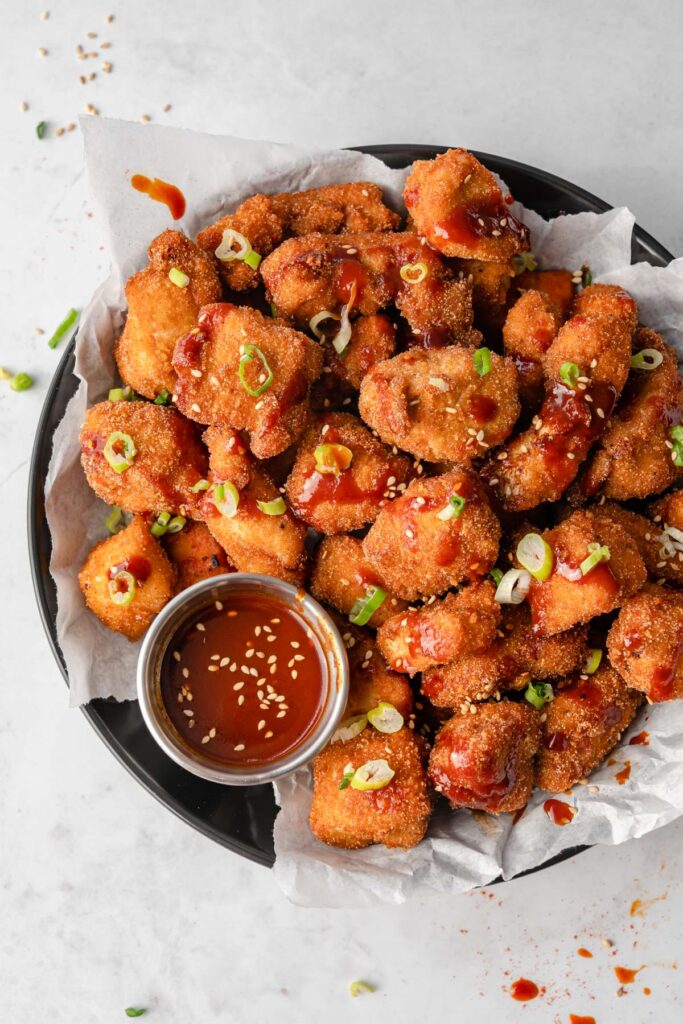 Korean Popcorn Chicken
This homemade Korean Popcorn Chicken is everyone's favorite comfort food that they didn't know they needed! It has juicy breast meat with a light crisp coating that's great for parties, game day, or an easy dinner. Sauce it up with a sweet and spicy gochujang sauce or enjoy it on its own!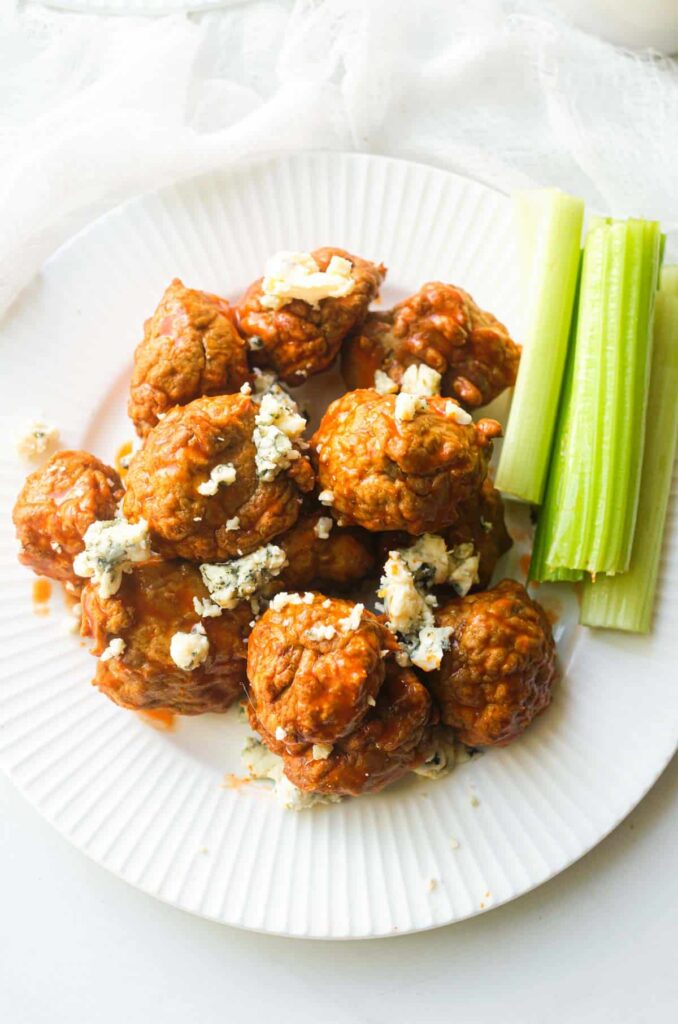 Buffalo Chicken Meatballs
Love Buffalo wings? These Buffalo Chicken Meatballs deliver the buffalo sauce flavor you crave, but in delicious meatball form. This easy to make, flavorful dish does double-duty; serve it up as a tasty main for weeknight dinners, or as an easy appetizer for parties and game day.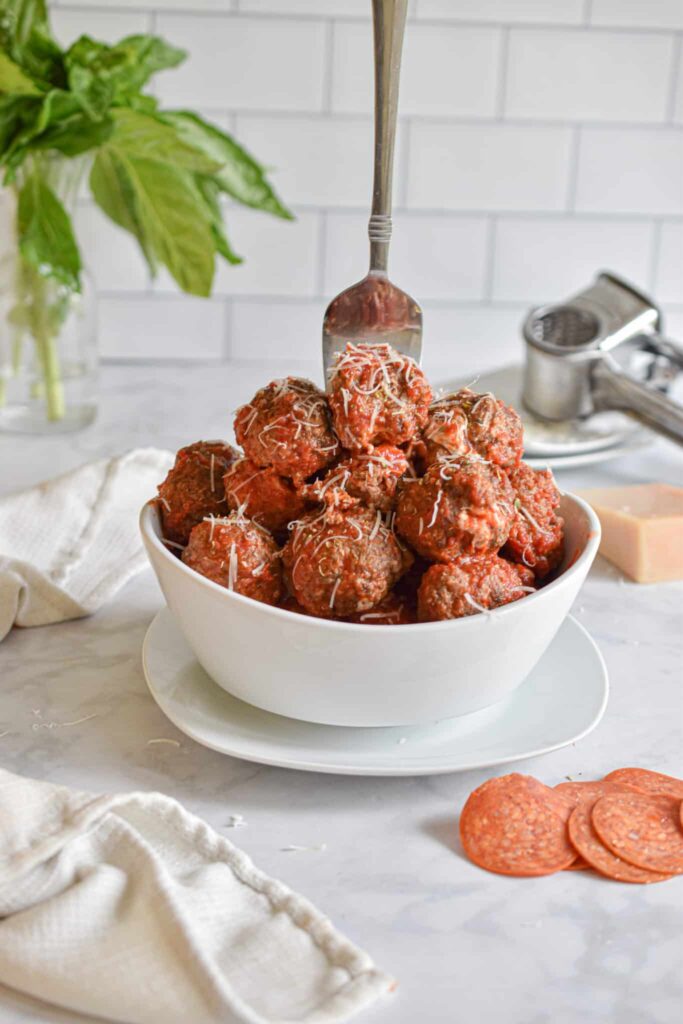 Pepperoni Pizza Meatballs
Full of cheese and pepperoni, these easy Pepperoni Pizza Meatballs are a fun way to change up your normal meatball recipe. Serve them with pasta, on a bulky roll, or just eat them alone!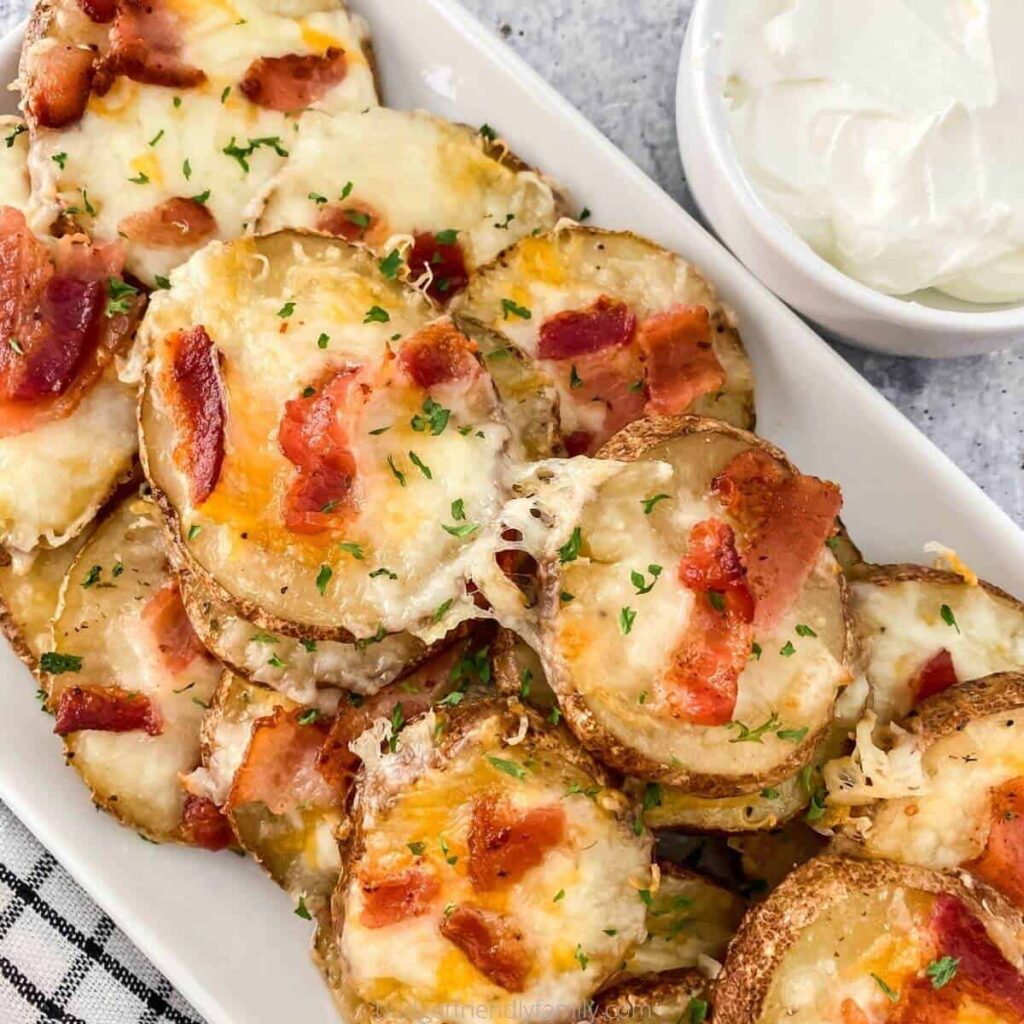 Baked Potato Slices
A delicious and easy appetizer, these baked potato slices recipes (aka mini potato bites with ranch and cheese) will be a hit at your next game time party!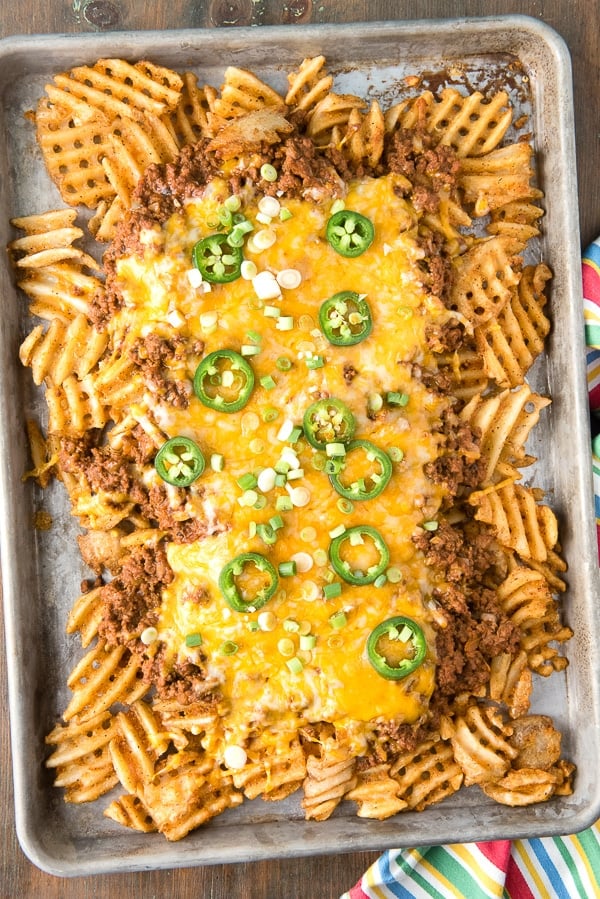 Chili Cheese Waffle Fries
Chili Cheese Waffle Fries for a crowd these are packed with big flavor!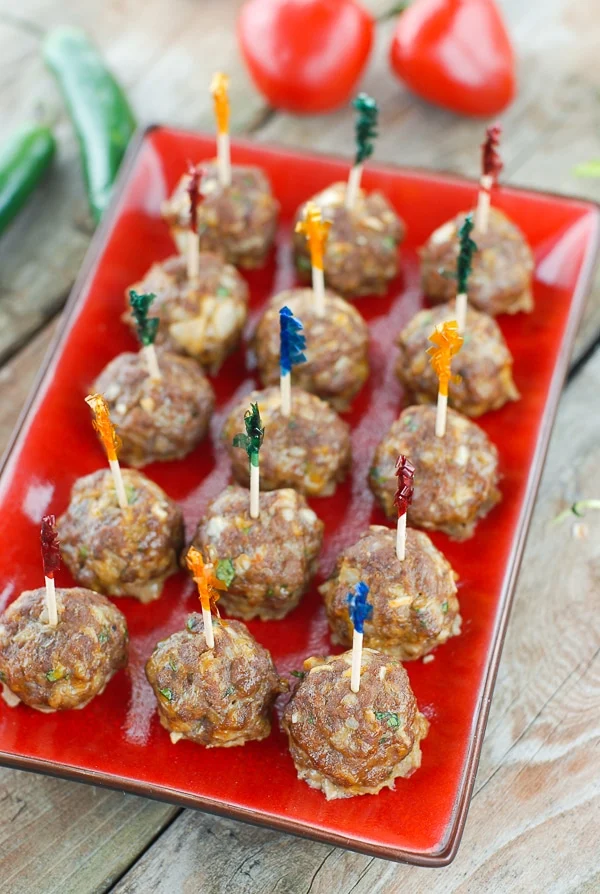 Mini Taco Meatballs
These quick, easy appetizer-size taco meatballs are done in less than 30 minutes and are full of taco flavor. Perfect for gatherings or incorporating into other dishes, they have no fillers and are naturally gluten-free.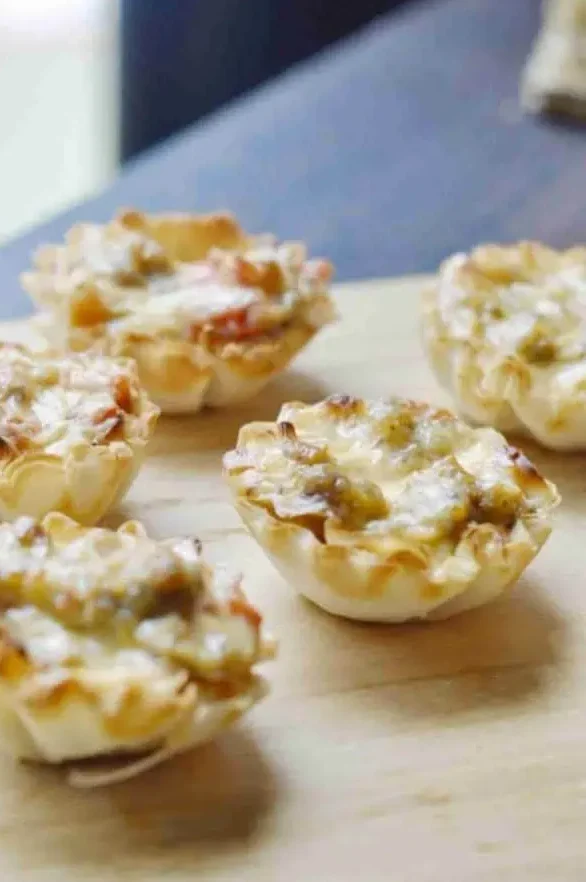 Sausage Rotel Cups
You will absolutely love this appetizer recipe for sausage rotel cups – combining the flavors of Rotel tomatoes, Monterey Jack cheese, and Velveeta in a crispy phyllo cup for lots of texture and spicy flavor!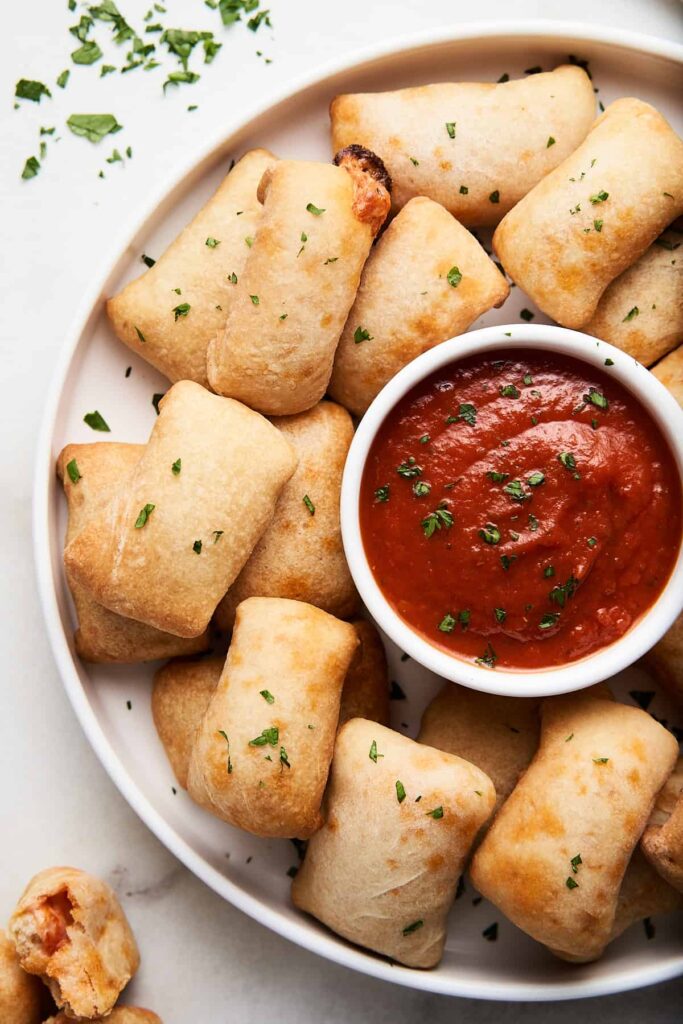 Air Fryer Pizza Rolls
Air fryer pizza rolls are an ooey-gooey, cheesy, and downright addicting snack. Try making them from scratch for the ultimate appetizer. Don't have time? They also show you how to cook these pizza roll ups from frozen too!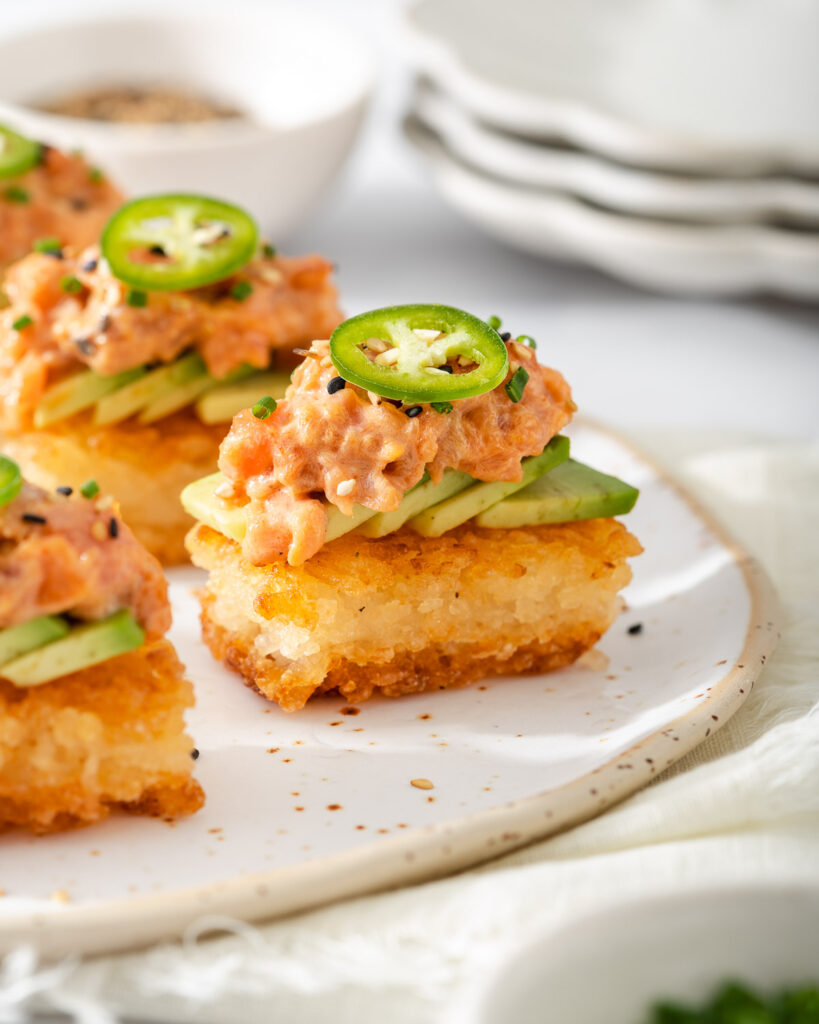 Spicy Tuna Crispy Rice
A sushi bar favorite that you could totally make at home, these crispy rice spicy tuna bites are a great Japanese inspired dish to add to a party.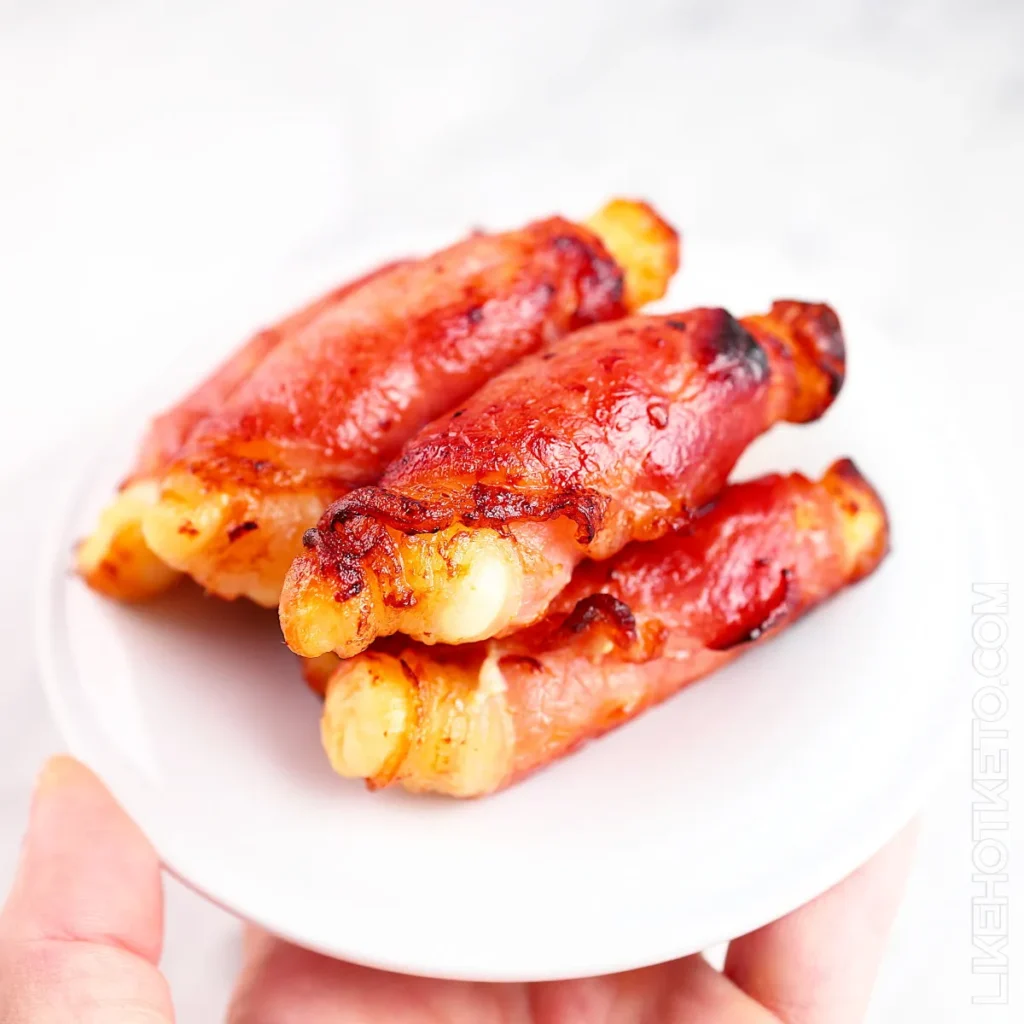 Bacon Wrapped Halloumi Cheese
Cheese wrapped in crispy bacon: is there a better combination? This deliciously easy and fast 2-ingredient air fryer appetizer combines crunchy smoky bacon and hot halloumi cheese into a small finger snack of epic proportions!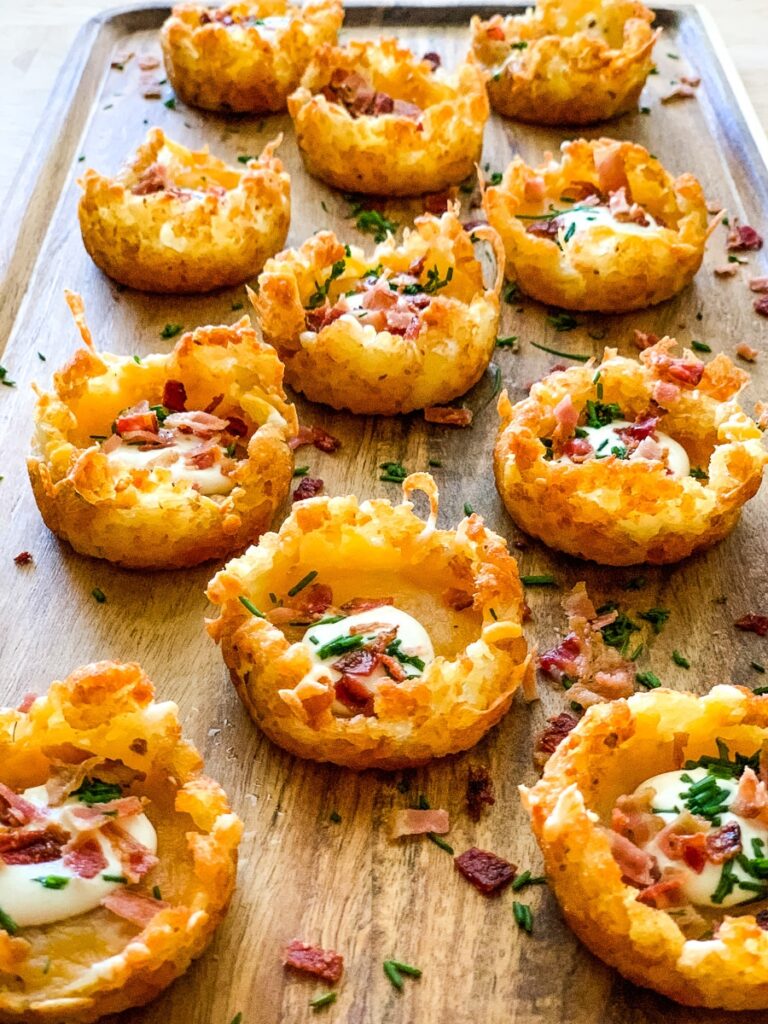 Loaded Tater Tot Cups
Smashed tater tots can be transformed into mini cups of flavor goodness. Crush them, and then load them up with sour cream, bacon, cheese, and any of your other favorite toppings. After eating these, people won't be making potato skins anymore.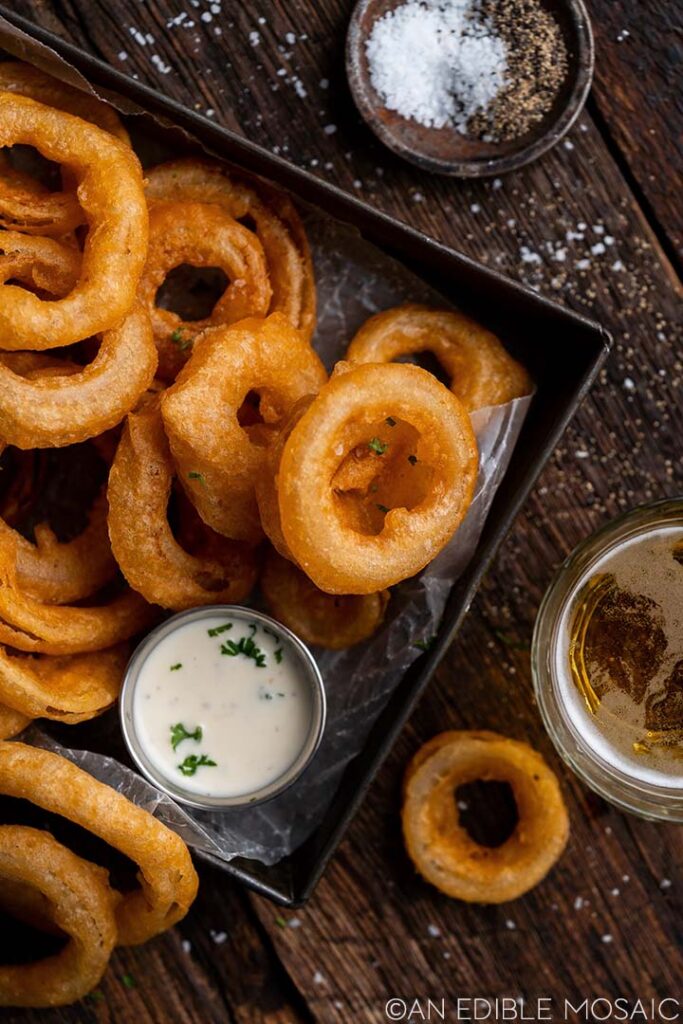 Beer Batter Onion Rings
Crispy, flavorful Beer Batter Onion Rings pack a ton of crunch with a savory batter that complements the natural sweetness of onion. These are so easy to make, and you can use the batter for frying other things, such as zucchini, mushrooms, green beans, cauliflower, fish, etc.!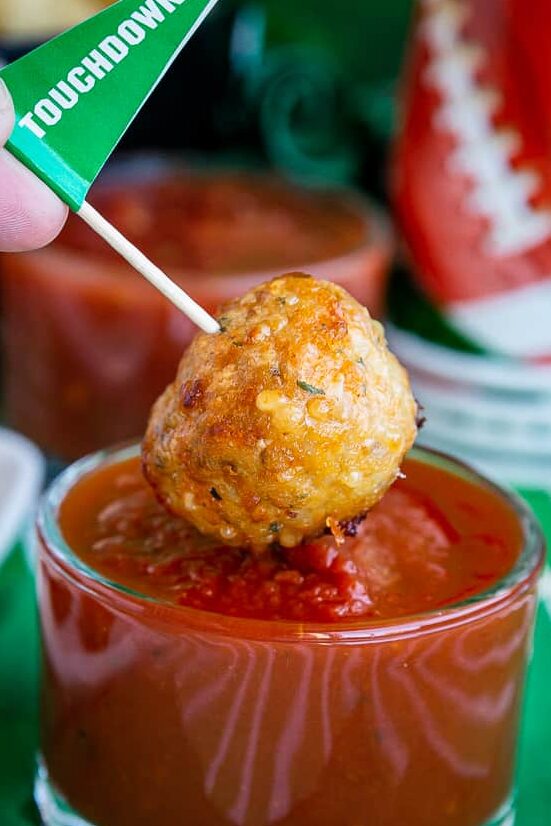 Chicken Parmesan Meatballs
These Chicken Parmesan Meatballs are the perfect appetizers for your next Super Bowl event! Packed with flavor and great with almost any dipping sauce, your crowd will love these! We also love the football toothpick touch for any Super Bowl appetizer finger food needs.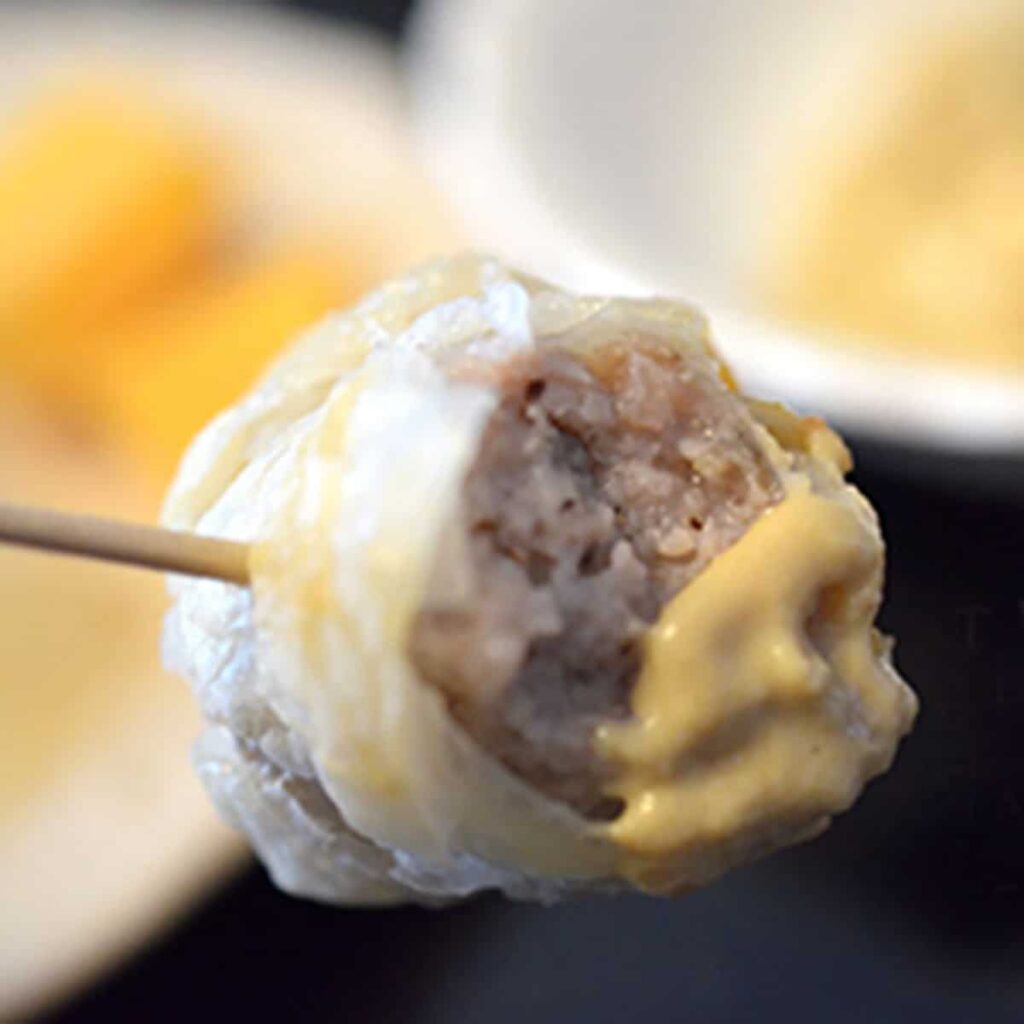 Brat Bites
Brat Bites come from the state of Wisconsin, where the first Super Bowl was played. it doesn't get any more football than that!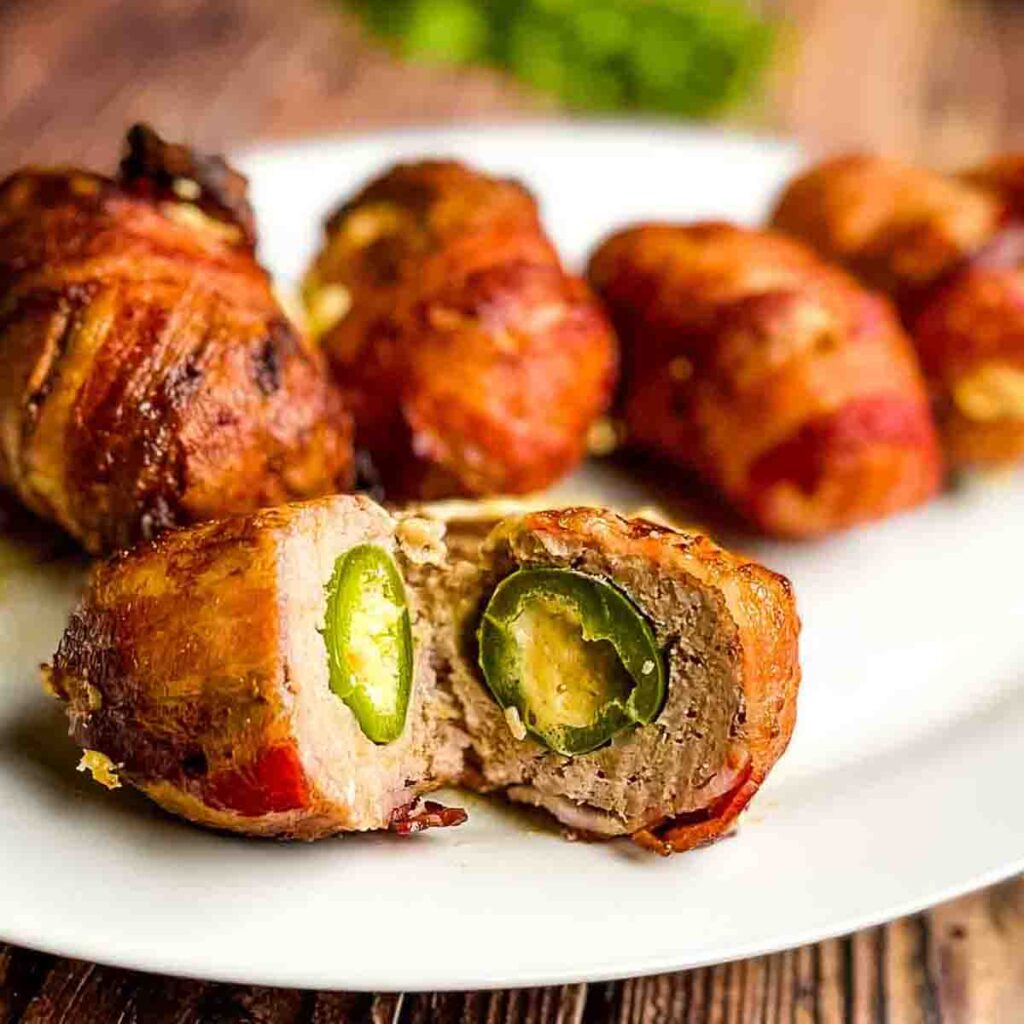 Air Fryer Armadillo Eggs
These easy Air Fryer Armadillo Eggs are such a fun and delicious low-carb appetizer! Jalapeno peppers are stuffed with a cream cheese mixture, covered in seasoned sausage meat, and wrapped in bacon. Then, they are cooked to crispy perfection in your air fryer.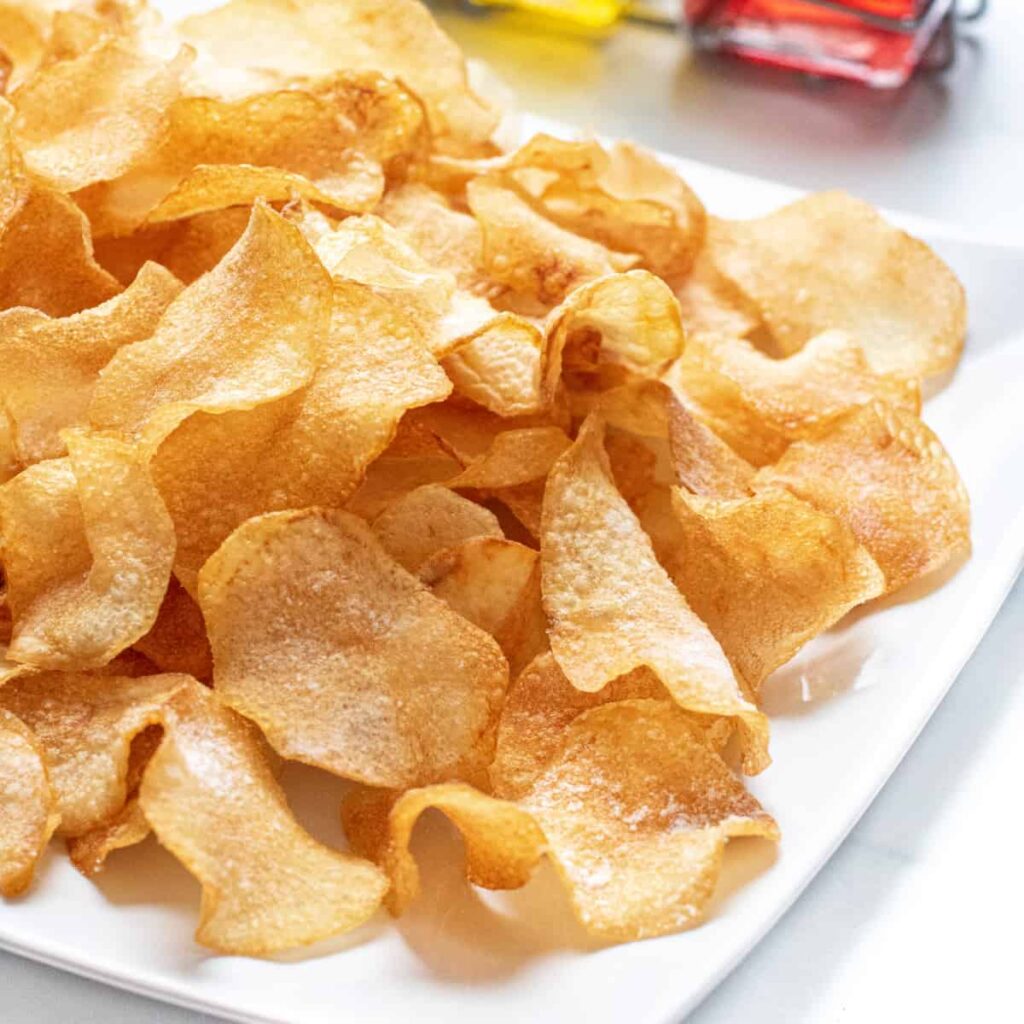 Homemade Salt and Vinegar Chips
Take your made from scratch chips to the next level by making them with the addictive acidic and salty flavors of these Homemade Salt and Vinegar Chips! Everything you love about these classic chips, but made at home and sure to impress anyone who tries them!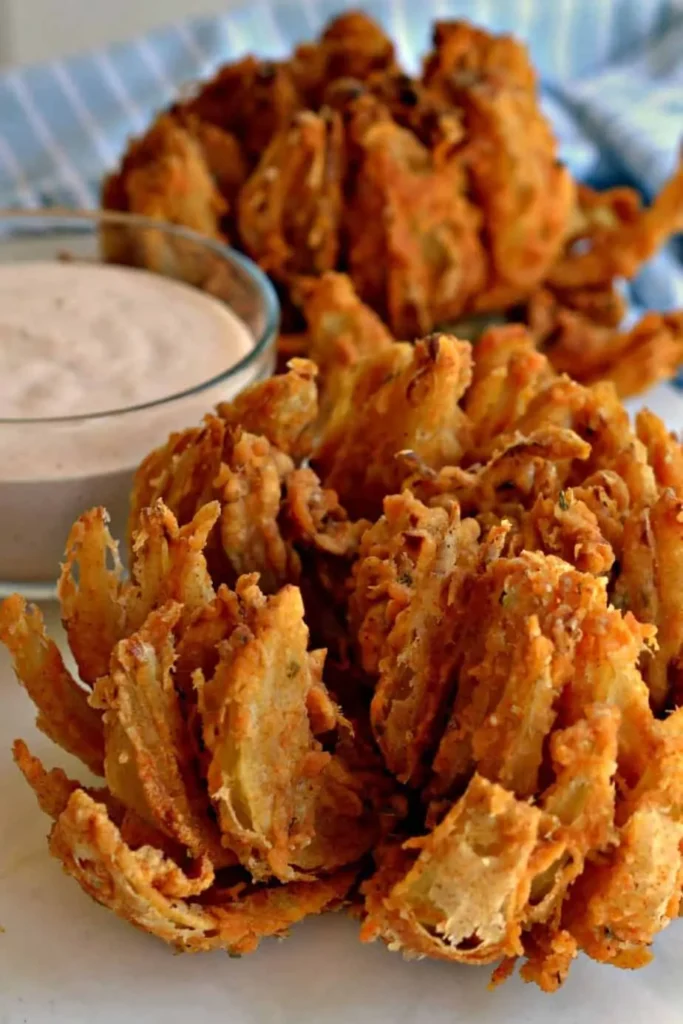 Blooming Onion
These easy Blooming Onions are double coated with a slightly spicy breading and deep fried to golden perfection. They are better than Outbacks and super simple to make.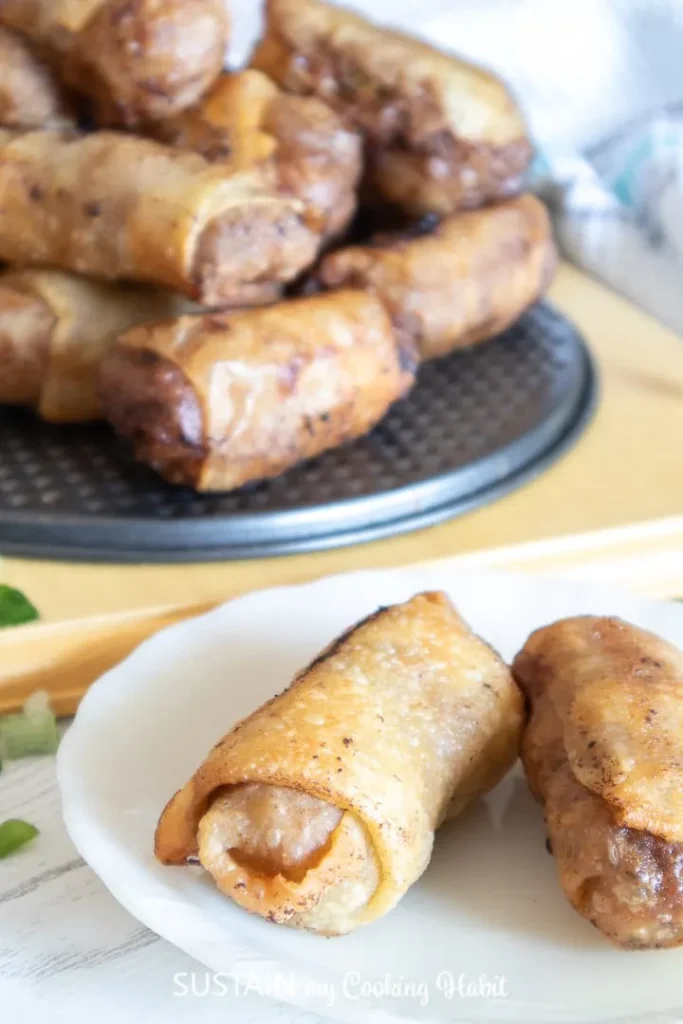 Pork Party Spring Rolls
Served as a main dish or as a hearty appetizer, this pork spring rolls recipe is a guaranteed crowd pleaser.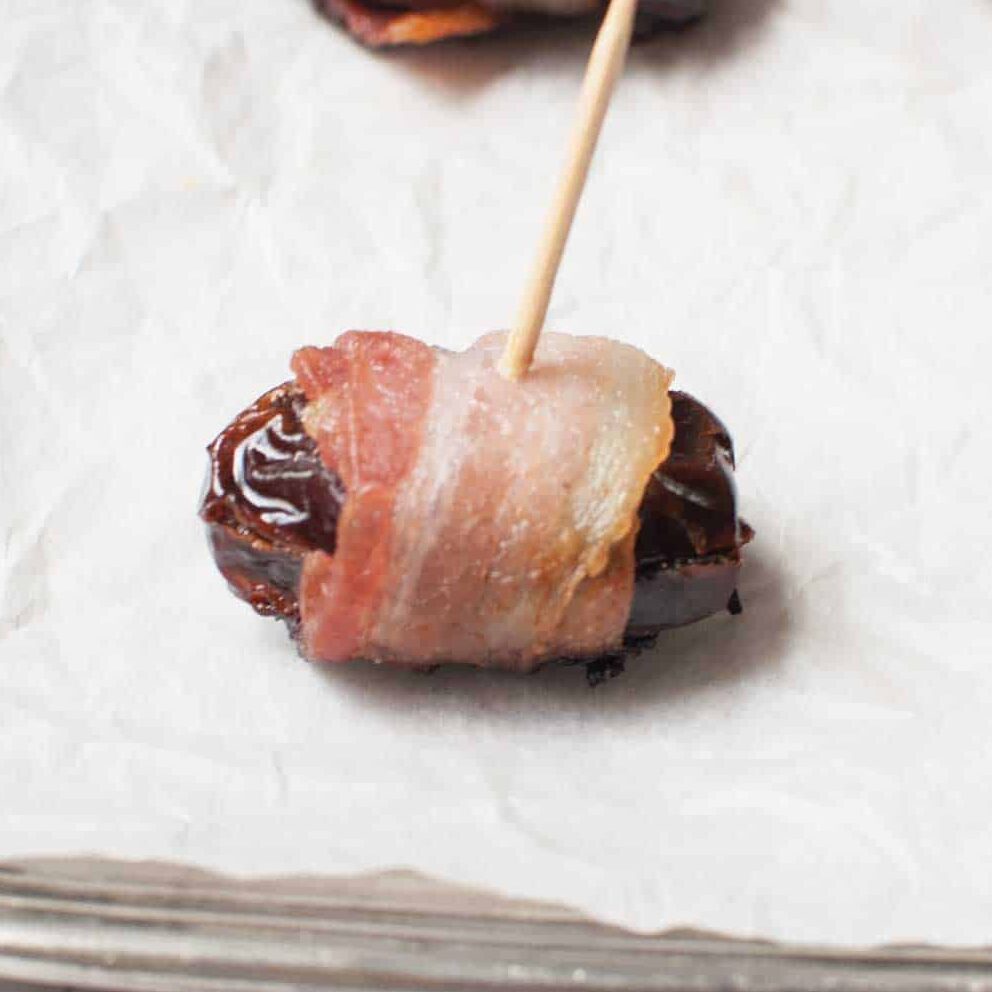 Bacon Wrapped Dates
It doesn't get easier than this 3 ingredient recipe for bacon wrapped dates with cream cheese! They are sure to impress guests.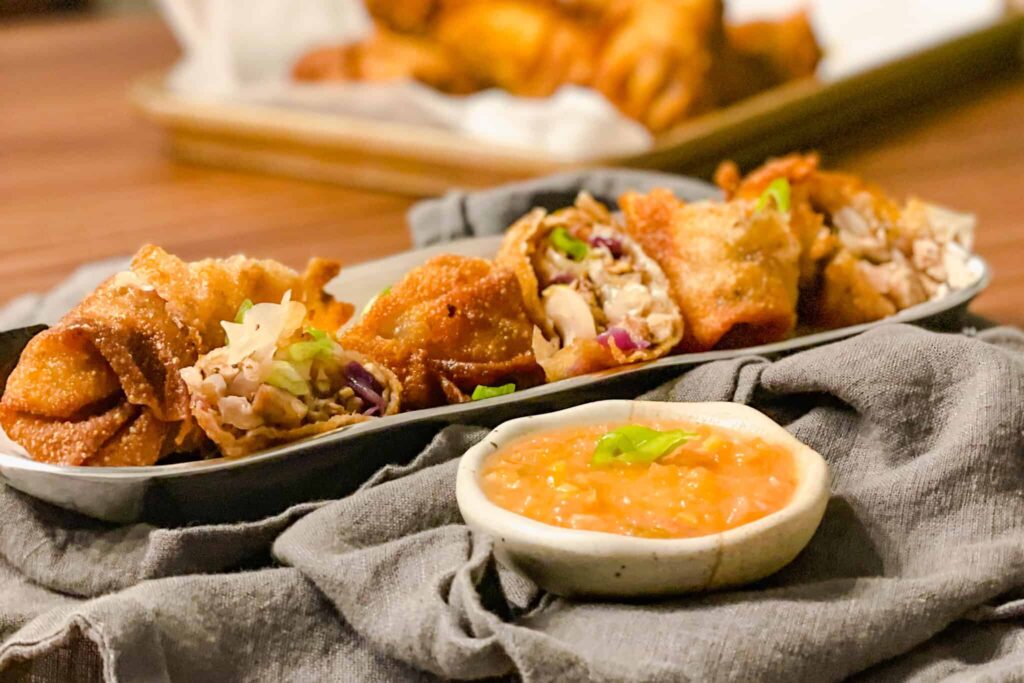 Jerk Chicken Egg Rolls
If you've ever made jerk chicken, you know that it can be a bit of a feast. There are usually plenty of leftovers, which is great because you can use them to make these delicious jerk chicken egg rolls! They're perfect for an appetizer or main course, and they're especially good when served with our delicious spicy mango pineapple dipping sauce.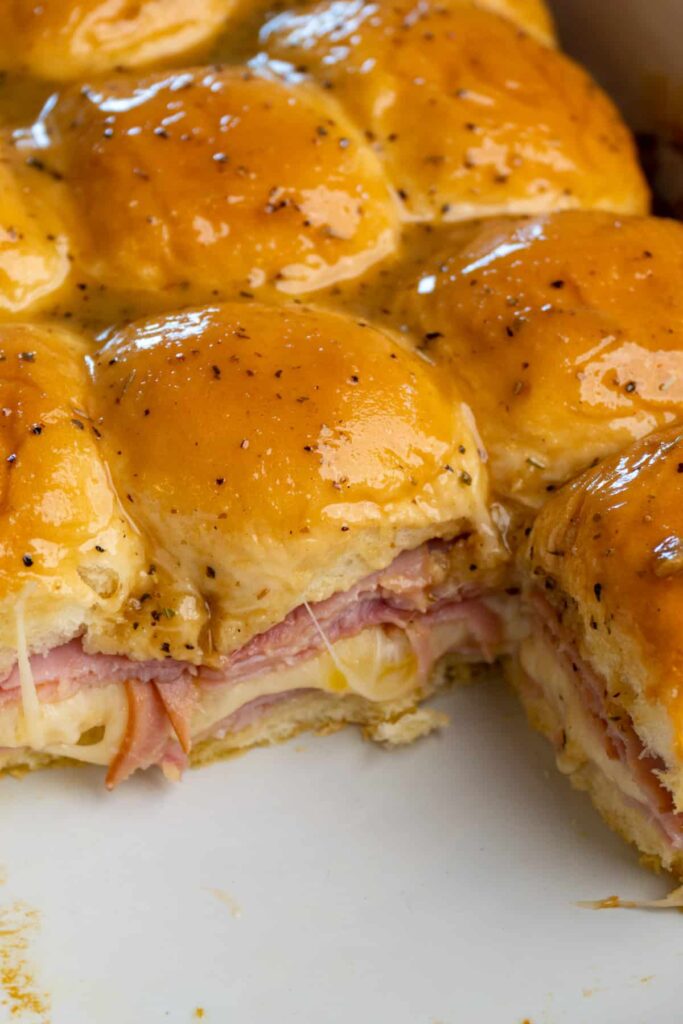 Ham and Cheese Sliders
This recipe for Crock Pot Ham and Cheese Sliders is so simple to follow, and the results are delicious! Make this easy appetizer with the help of your slow cooker to serve for any occasion, from game day parties to potlucks and more!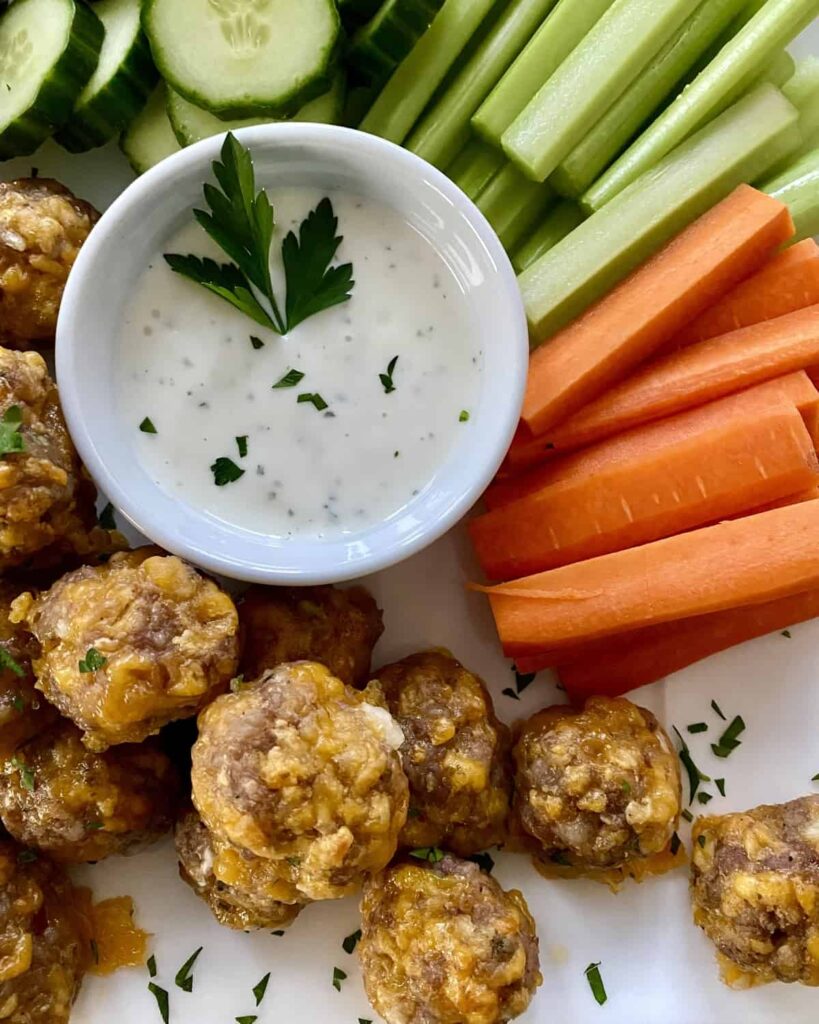 Grandma's Sausage and Cheddar Cheese Balls
With just a few ingredients, these tasty sausage and cheddar meatballs are an easy to make and delicious appetizer. Combine pork sausage, cheddar cheese, Bisquick, onions and parsley for an irresistible snack for your next party, tailgate, or anytime you are craving a savory nibble.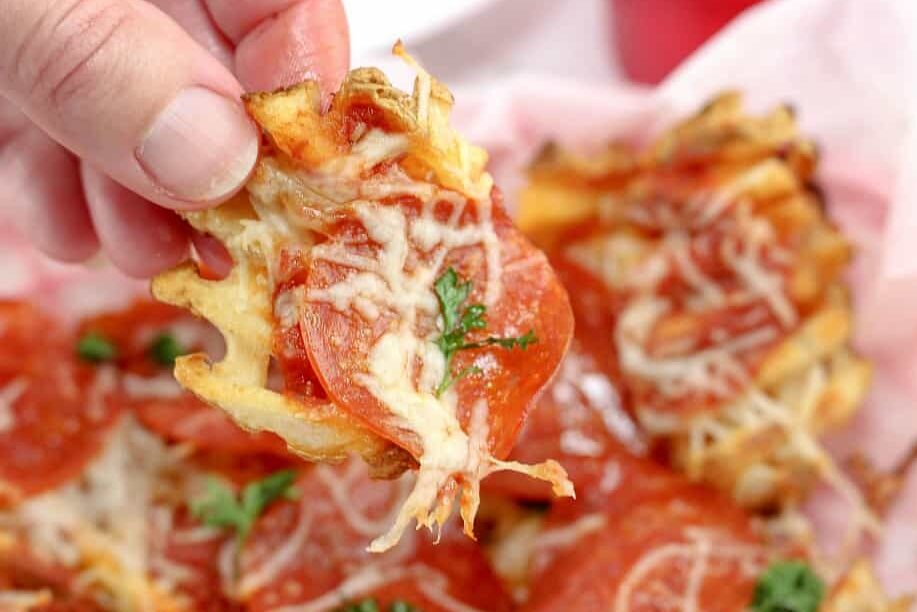 Pizza Waffle Fries
These Pizza Waffle Fries are the perfect appetizer for the Super Bowl! A tasty finger food that anyone can make using a few simple ingredients!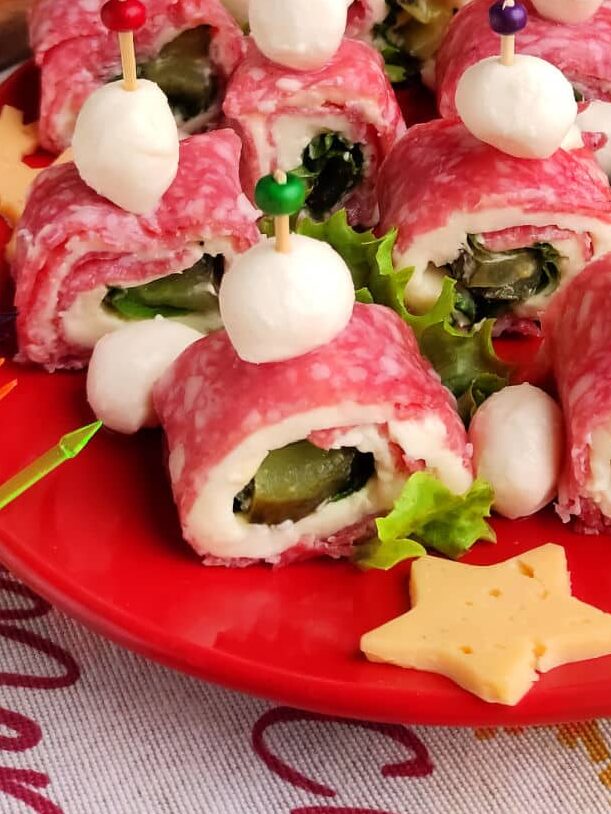 Pickle Roll-Ups
Salami dill pickle roll ups are a great appetizer made with a layer of cream cheese and mozzarella balls. Pretty finger foods everyone loves.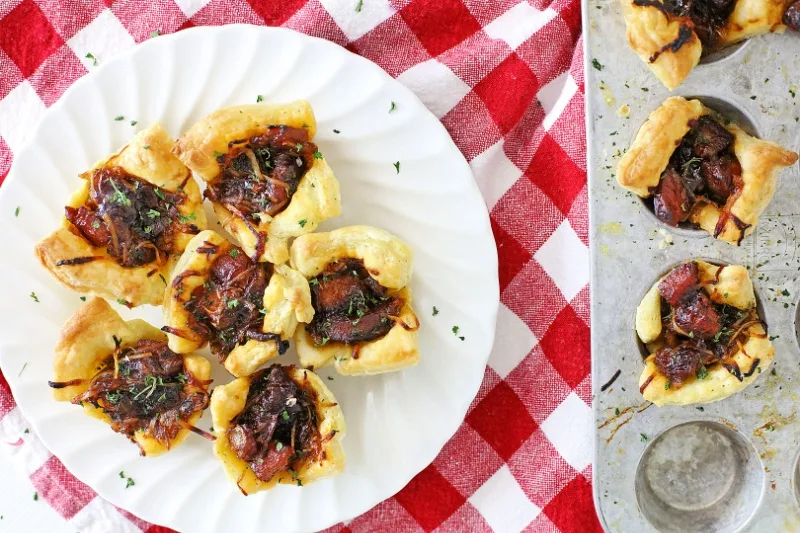 Kielbasa Bacon Bites Recipe
Kielbasa pieces and bacon are tossed in bbq sauce and wrapped in phyllo pastry make any party better.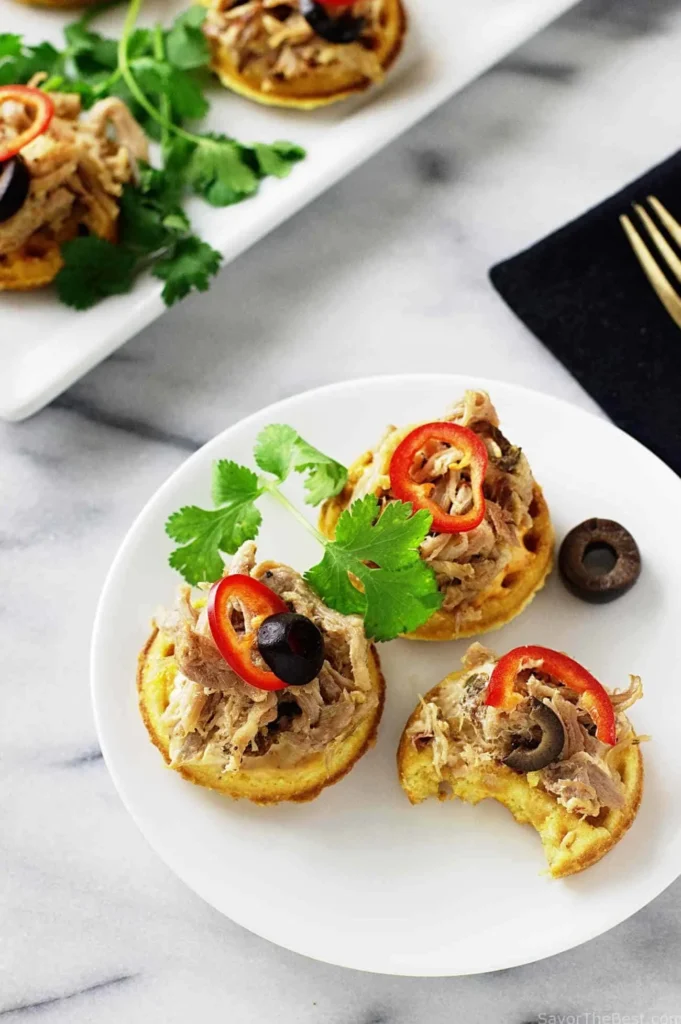 Pulled Pork Waffles
These crispy and crunchy mini corn waffles are topped off with chipotle pulled pork and homemade chipotle sauce.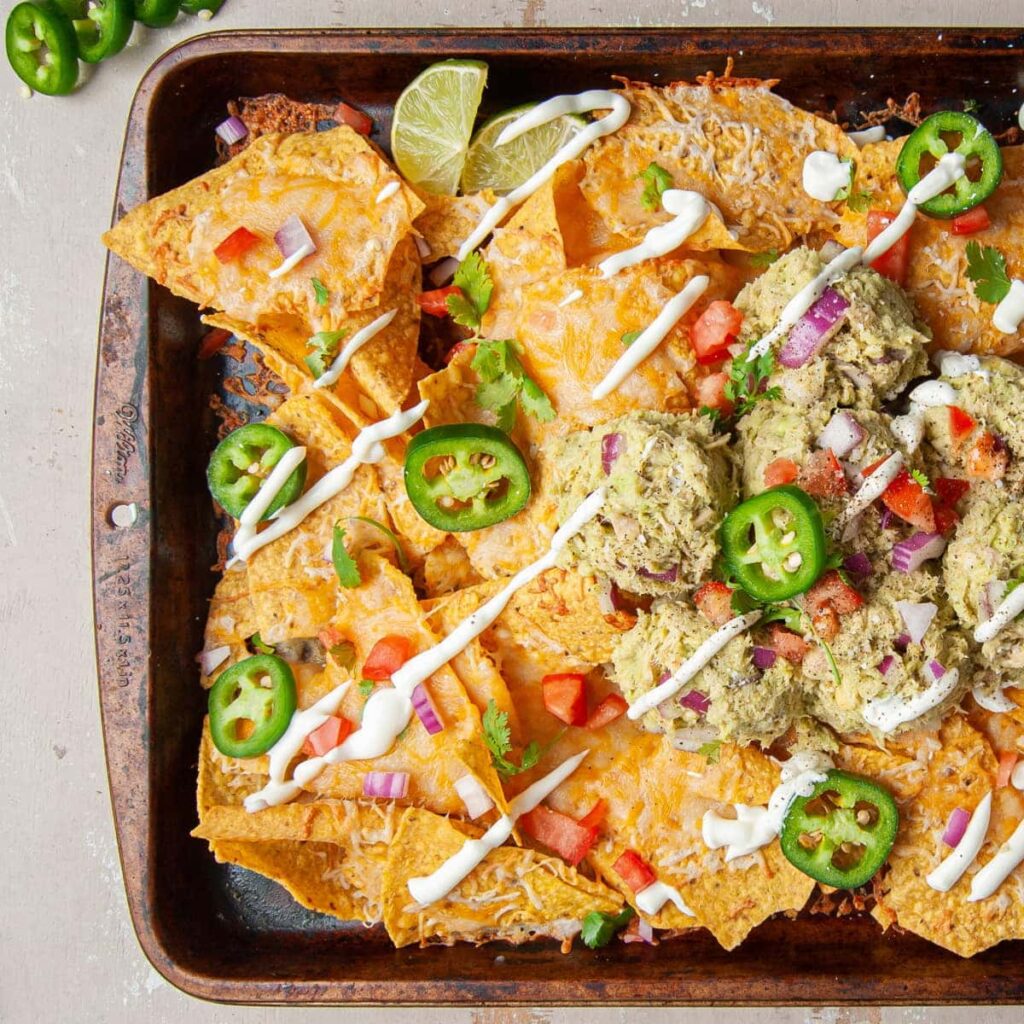 Canned Tuna Nachos
These quick, easy, and affordable Canned Tuna Nachos are uniquely delicious and come together in just 20 minutes! These sheet pan nachos give a unique twist to a classic.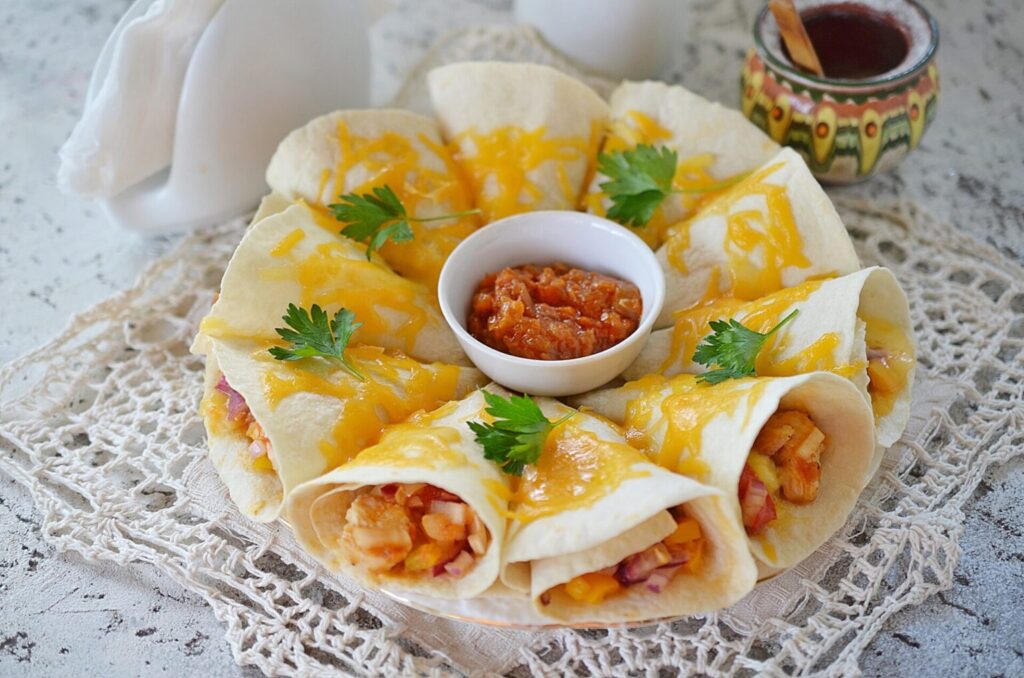 Blooming Quesadilla Ring
Stuffed with bold and savory ingredients, this hearty and fun quesadilla ring is a great handheld appetizer to serve for game day, at parties, or even as a main course.
Pair with dipping sauces and toppings and let your family and friends customize to their content.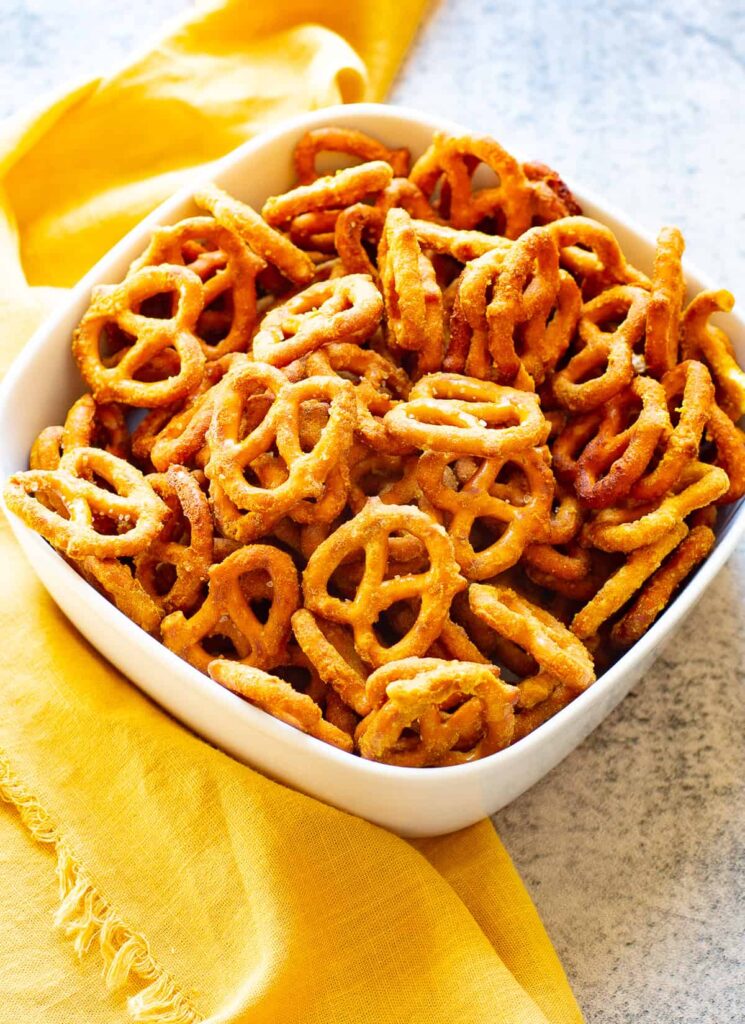 Mustard Pretzels
This copycat Gardetto Mustard pretzels recipe is a quick and easy snack that has a slight honey-sweet tangy coating. Honey mustard pretzels are great for parties, movie nights, a school snack, or while watching the big game. These taste best at room temperature.
Chicken Wings as Super Bowl Appetizers
Everyone loves chicken wings, but we absolutely LOVE chicken wings! Forget the half-time show, all of your guests are going to be doing a chicken wing eating contest if you make a few of these recipes.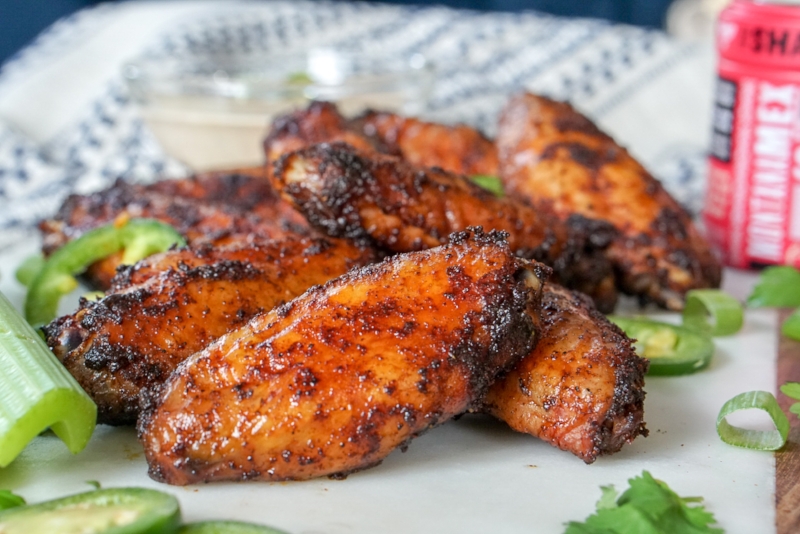 Smoked Chicken Wings Recipe
Our Smoked Chicken Wings Recipe is fantastic sauced up or just with its dry rub. The trick to our smoked wings is to cook them low and slow, but at the end getting your smoker or a grill really hot to crisp their skin.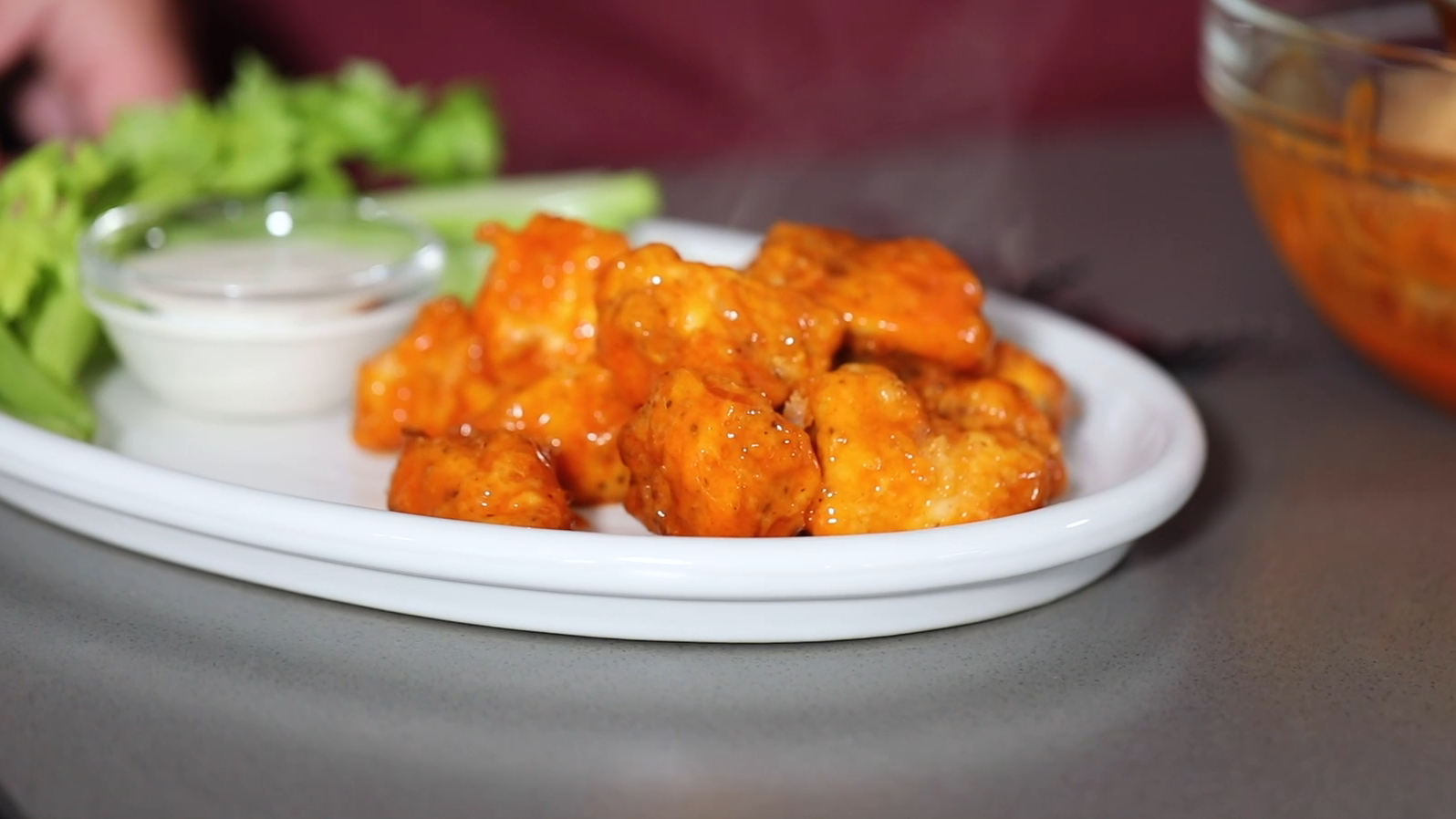 Air Fryer Boneless Wings
When you want chicken wings, but need to make them healthier, our Air Fryer Boneless Wings recipe is something we've been making for years.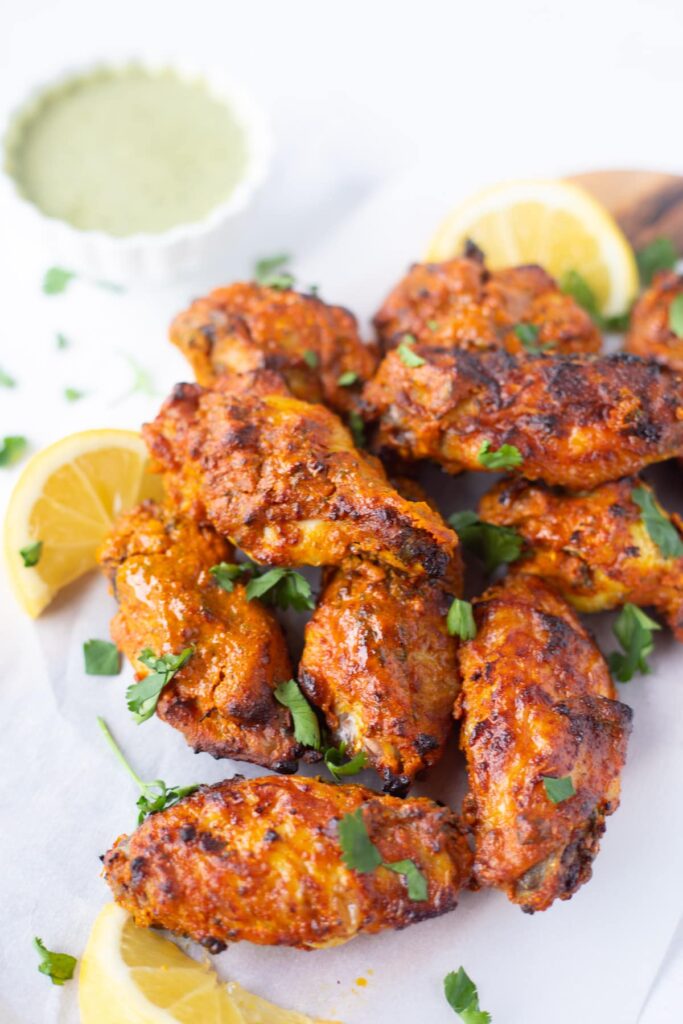 Tandoori Chicken Wings
These smoky tandoori chicken wings, marinated in Indian spices and yogurt and grilled to perfection, will blow your mind away! The wings are succulent and juicy on the interior and crispy on the outside.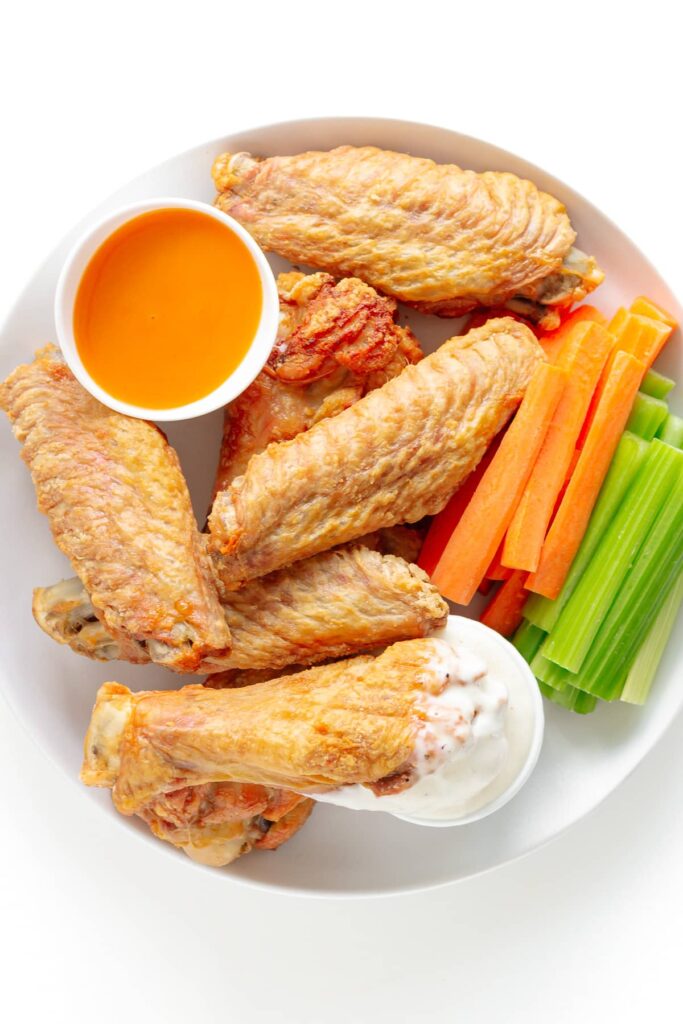 Crispy Baked Turkey Wings
Sure chicken wings are fun but giant turkey wings are something most people have never seen and super fun! Super crispy skin and easy to make in the oven or grill!
Sticky Teriyaki Chicken Wings
These sticky teriyaki chicken wings are perfectly cooked until crispy and golden brown then glazed with a sticky, sweet teriyaki sauce that's finger licking good!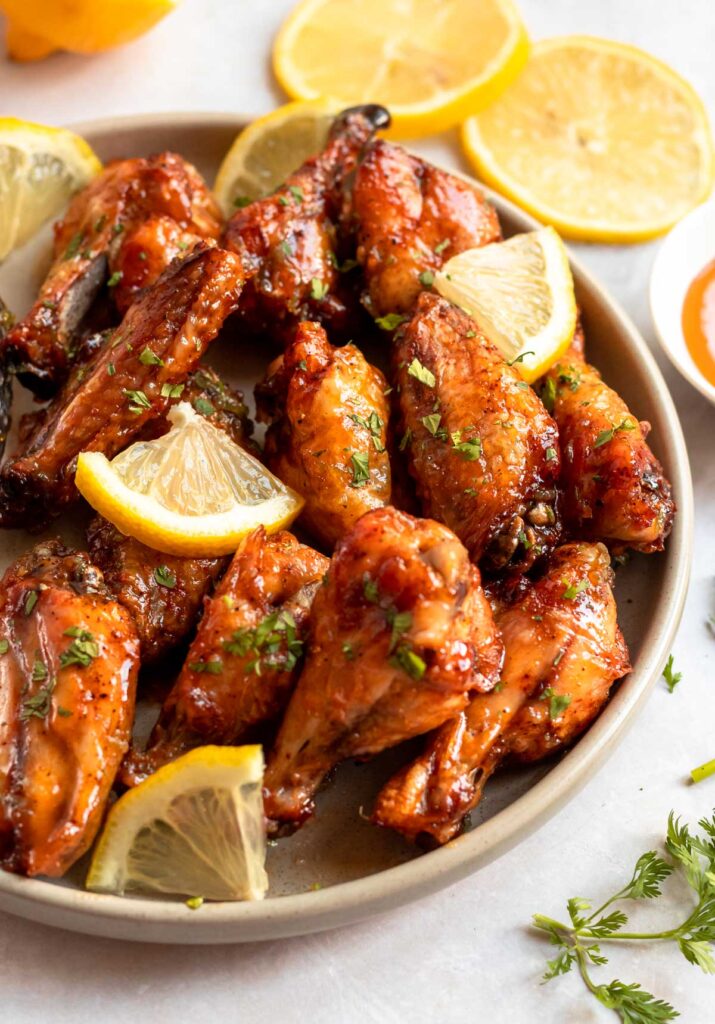 Honey Lemon Pepper Wings
These honey lemon pepper wings are made with a sweet and savory glaze, baked in the oven or in an air fryer, extra easy to make, and taste absolutely incredible.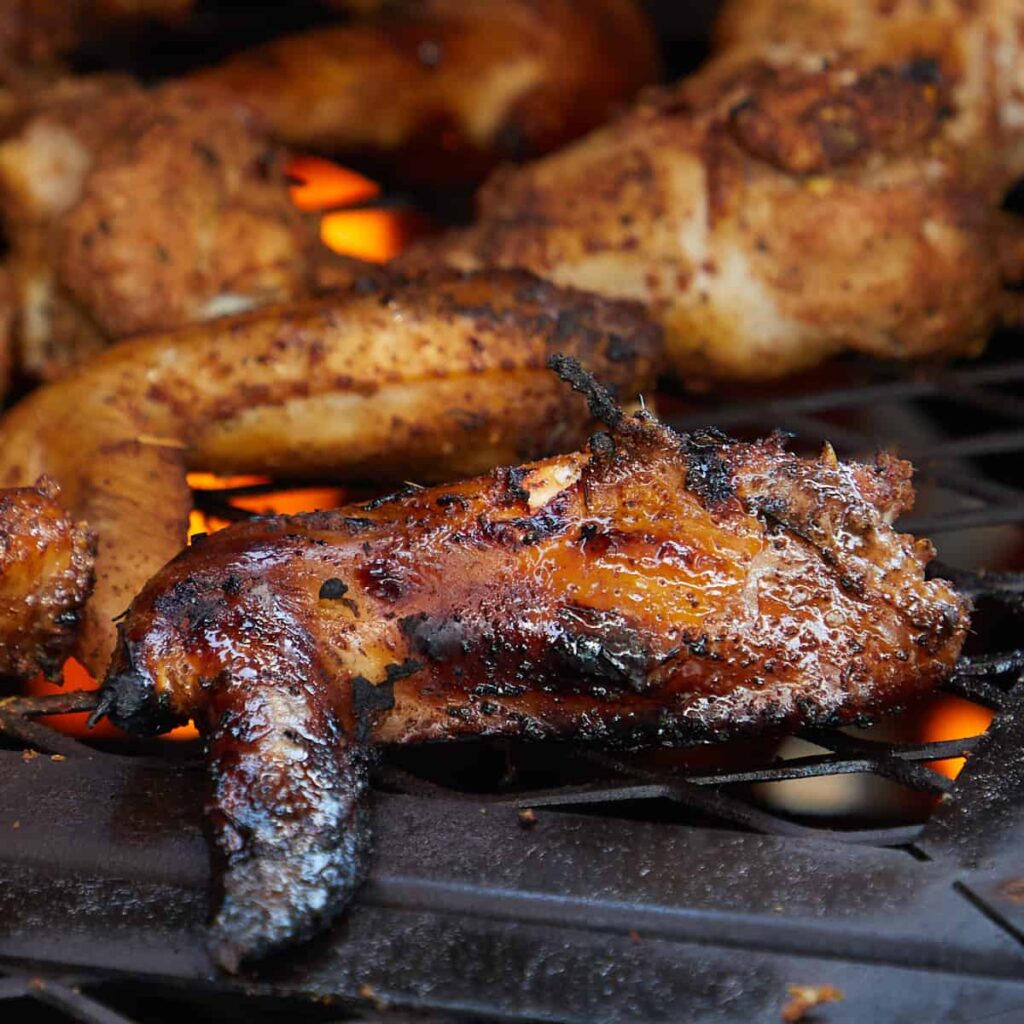 Jamaican Jerk Spiced Chicken Wings
These Jamaican Jerk Spiced Chicken Wings scream flavor. First coated with 15 herbs and spices for a spicy punch and then cooked on a wood fire grill for the perfect layer of smokiness.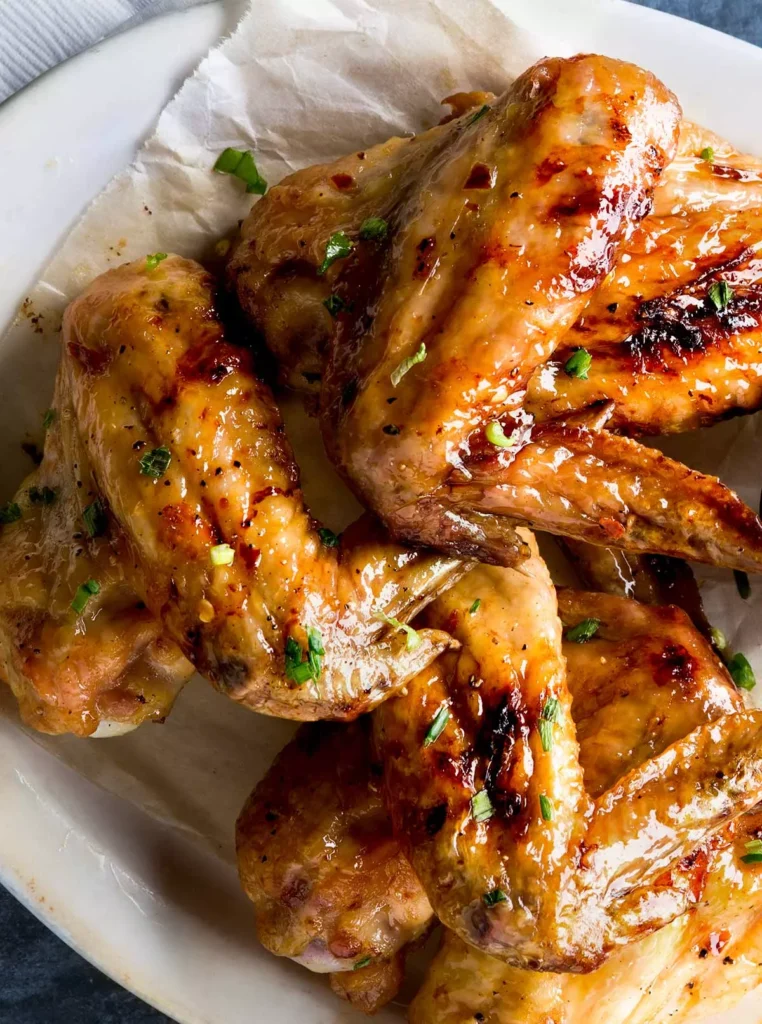 Orange Maple Glazed Wings
These crispy glazed chicken wings are brushed with a sticky orange maple glaze that's subtly spiced with clove and red pepper flakes.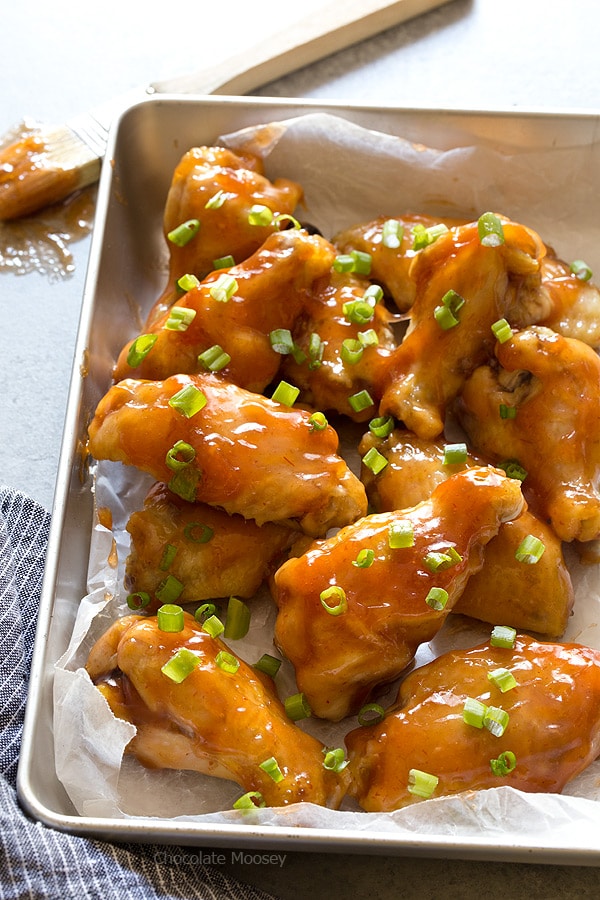 Sweet and Sour Chicken Wings
Crispy sweet and sour chicken wings made in the oven with a homemade sweet and sour sauce.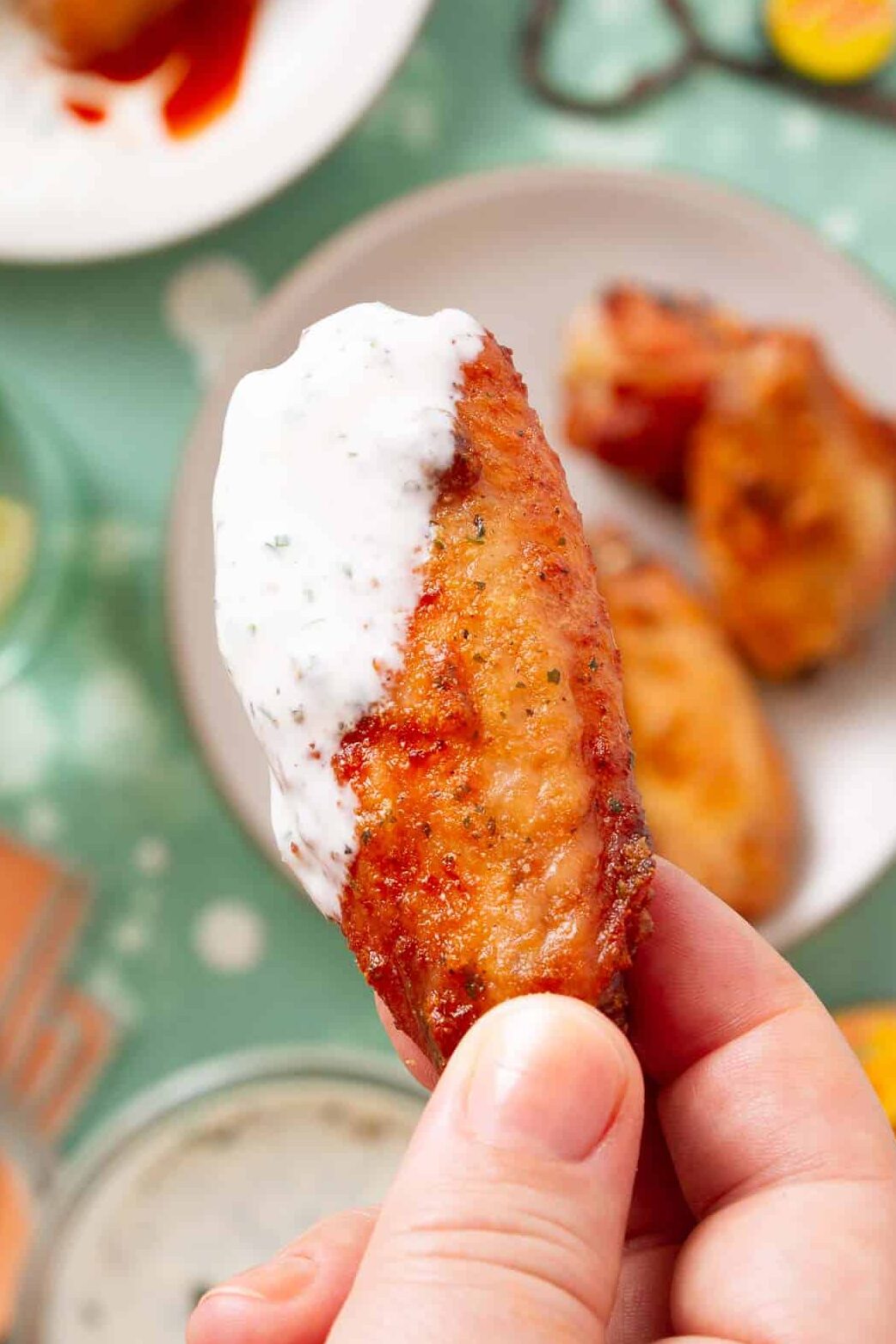 Dry Rub Ranch Chicken Wings
These baked Dry Rub Ranch Chicken Wings capture the tangy, herby, and savory flavors of a classic ranch dressing! They get nice and crispy in the oven while an easy dry rub packs in the flavor. It's the perfect game day recipe!
Healthy Super Bowl Appetizers
There's always a health nut at a party, so you might as well give everyone healthy options that taste great even if you're not dieting.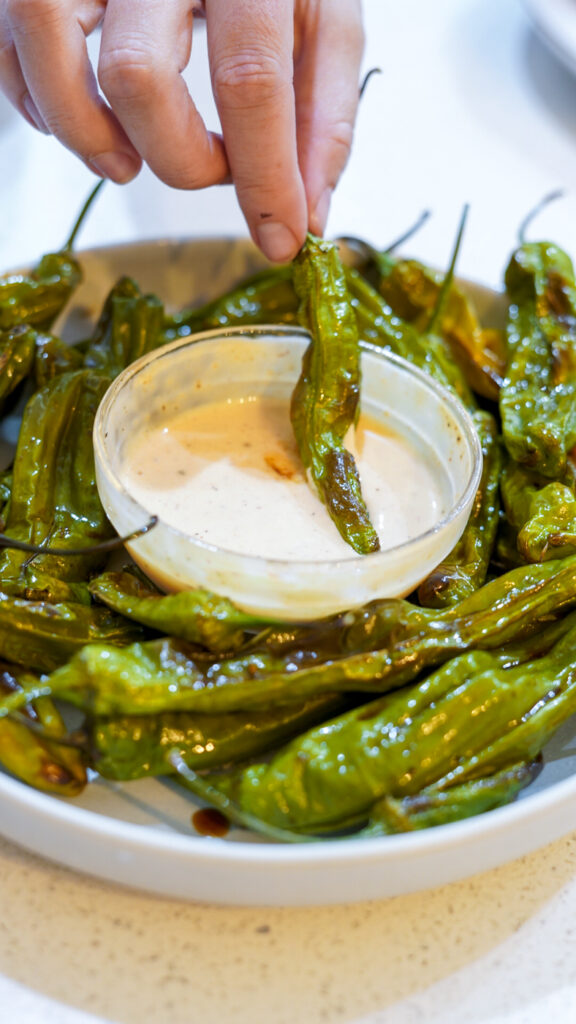 Air Fryer Shishito Peppers with Ginger Soy Glaze
Our Air Fryer Shishito Peppers with Ginger Soy Glaze sounds fancy, but they're so simple to make!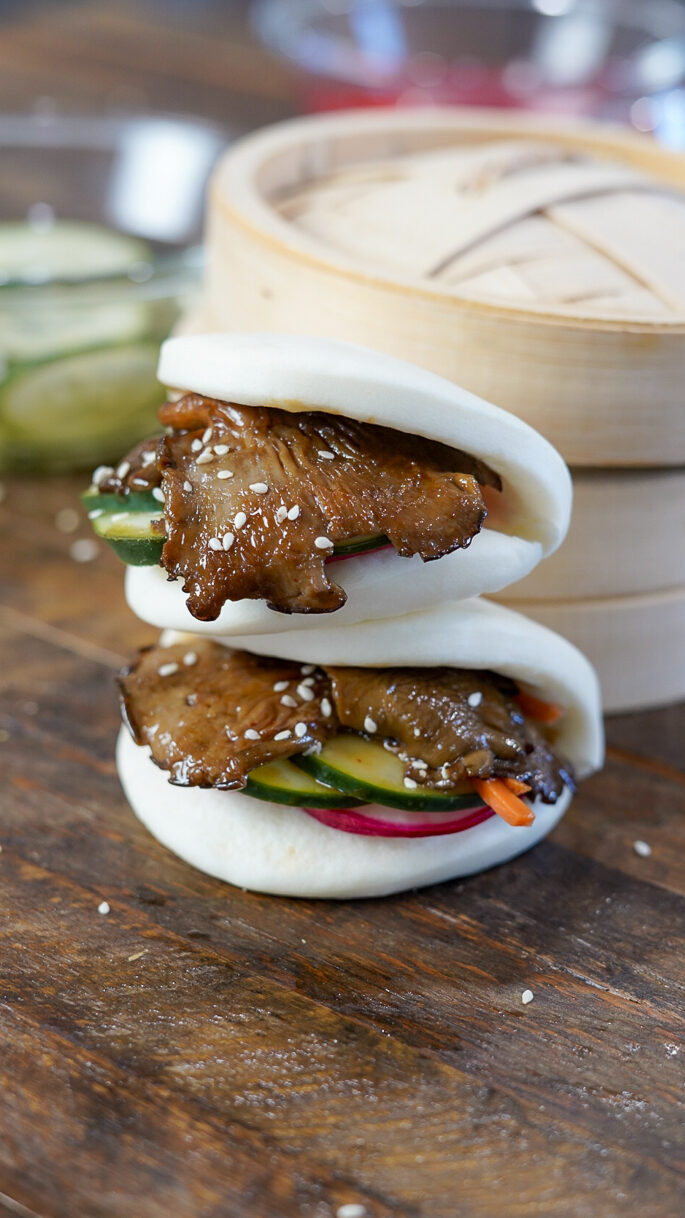 Blue Oyster Mushroom Bao Recipe
Bao's totally should be a football finger food, and our Blue Oyster Mushroom Bao Recipe is meaty without the meat and so tasty!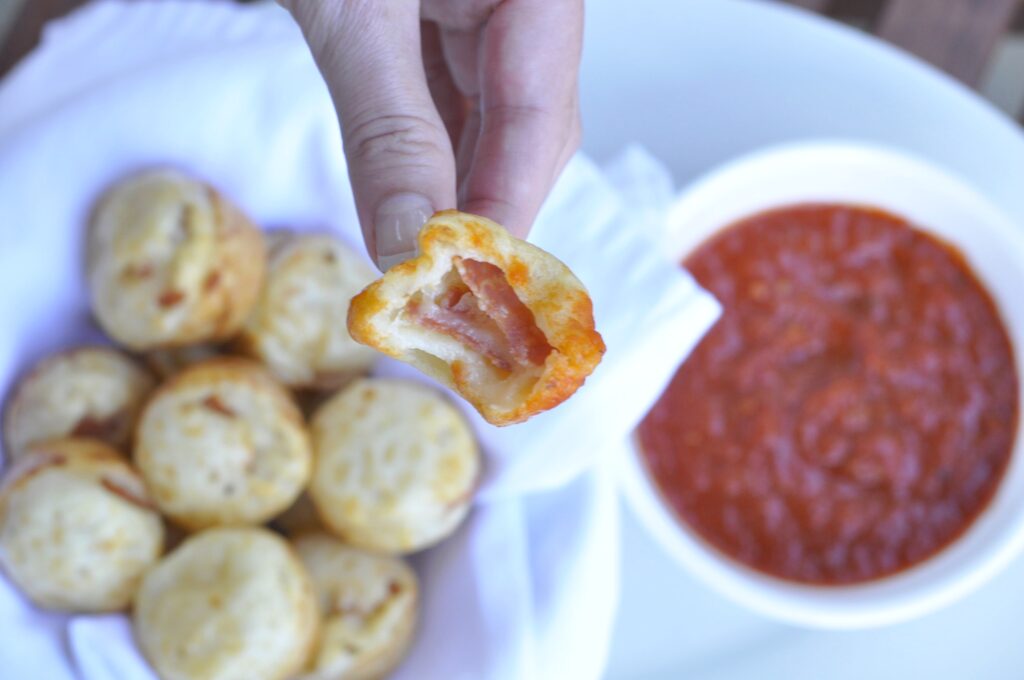 Gluten-Free Pizza Bites
Since we traveled to Brazil we fell in love with their gluten-free cheese bread called Pão de queijo, and we've been making it for years at home. To give it our own Super Bowl appetizer spin we place a pepperoni into them before baking, and have a marinara sauce dip to make these yummy Gluten-Free pizza bread recipe bites football worthy.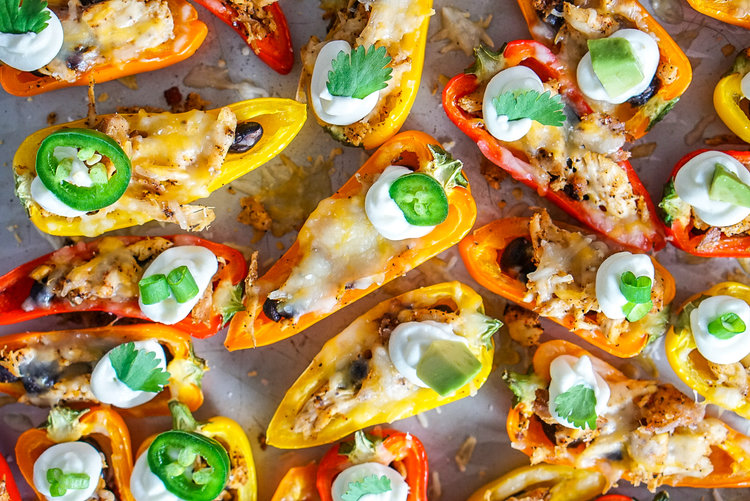 Lightened Up Veggie "Nachos"
Nacho's but without the carbs are possible with our Lightened Up Veggie "Nachos".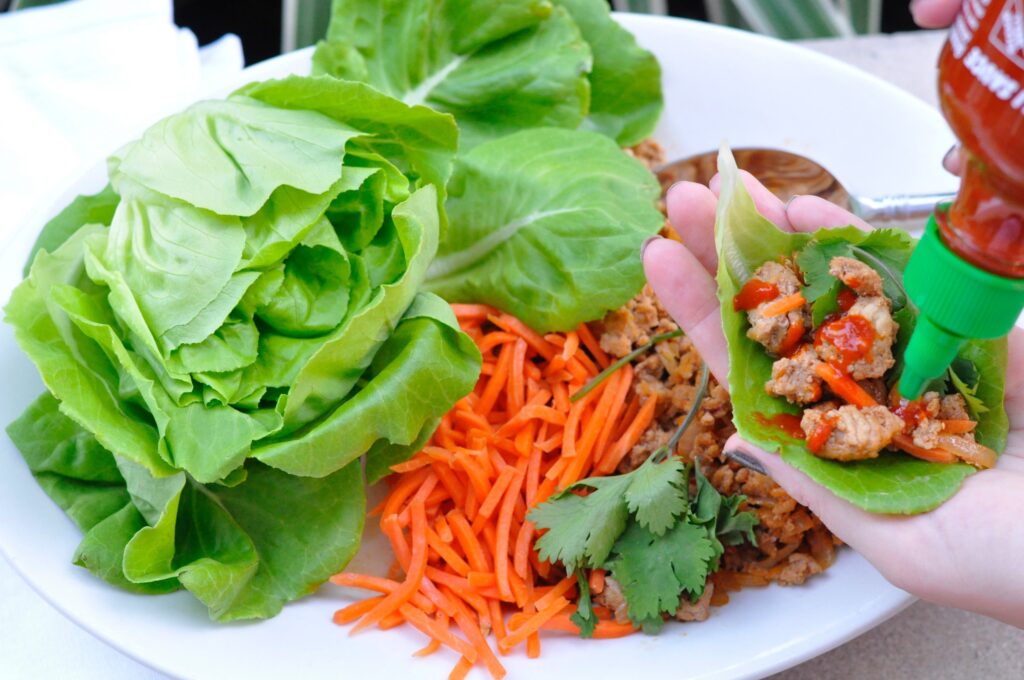 Better than P.F. Changs Lettuce Wraps
Made with ground turkey, these healthy versions of our favorite restaurant lettuce wraps are great for a party. Put the lettuce cups on a plate next to a bowl of the filling so guests can make their own.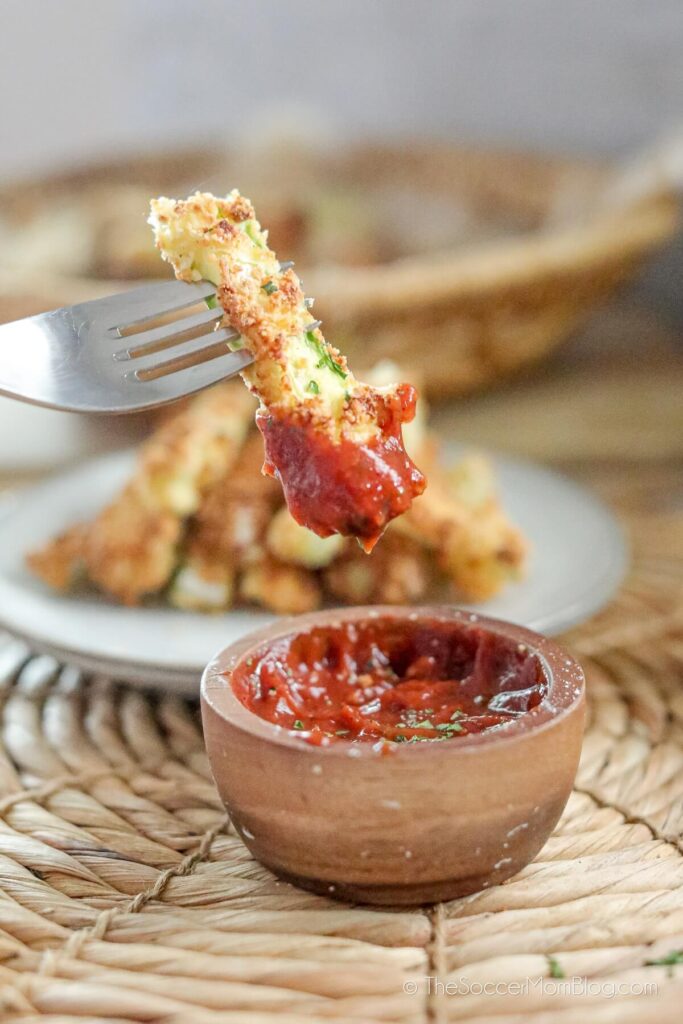 Air Fryer Zucchini Fries
These Air Fryer Zucchini Fries are so crispy and flavorful and a healthier alternative to French fries! An easy recipe with just 10 minutes of cooking time and only 6 ingredients!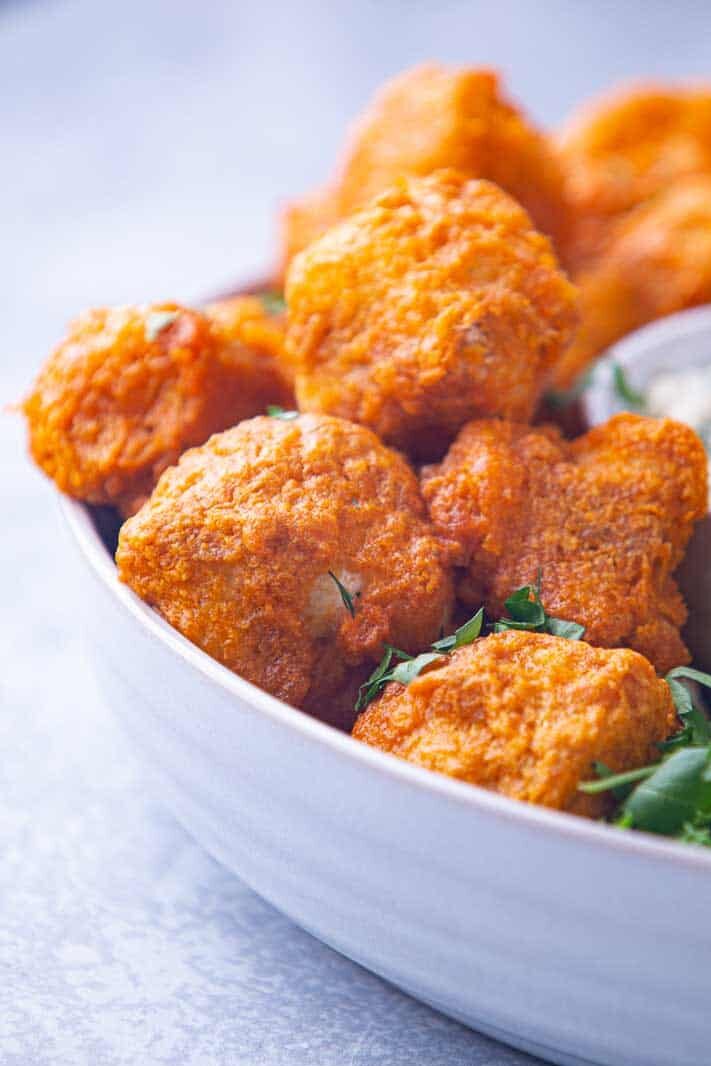 Buffalo Cauliflower Wings
Buffalo Cauliflower Wings are vegan friendly and will cater for all you guests. Cauliflower florets are breaded and baked until crispy in the oven and drenched in your favorite hot sauce.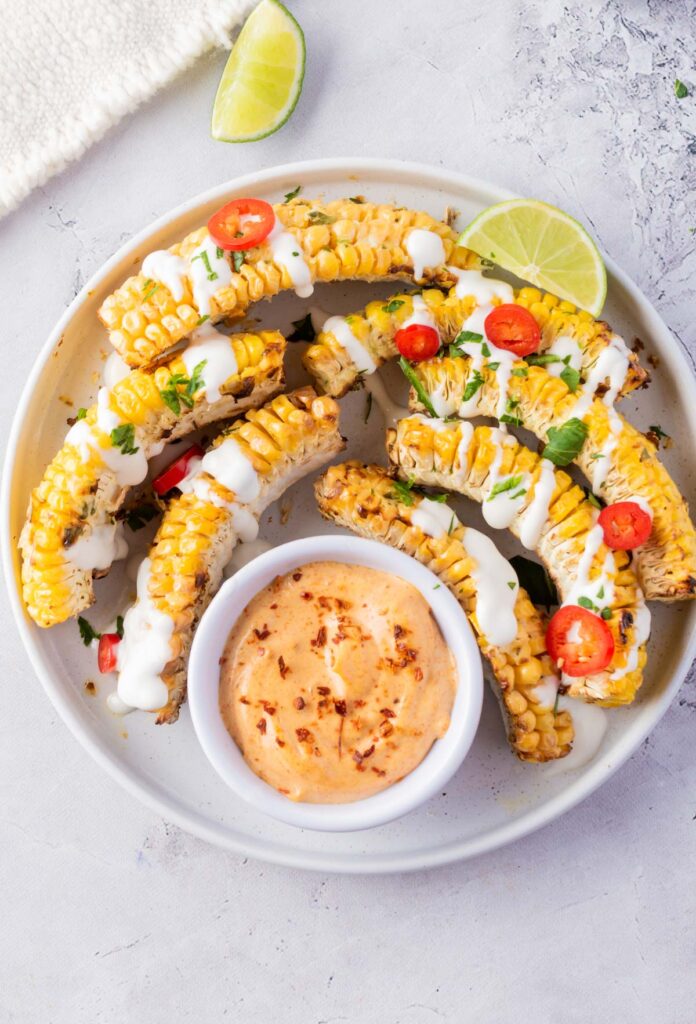 Air Fryer Corn Ribs
Making Corn Ribs Air Fryer style is a fun twist on traditional corn on the cob. This infamous corn ribs air fryer TikTok recipe really is the perfect appetizer, party food, snack, or side dish.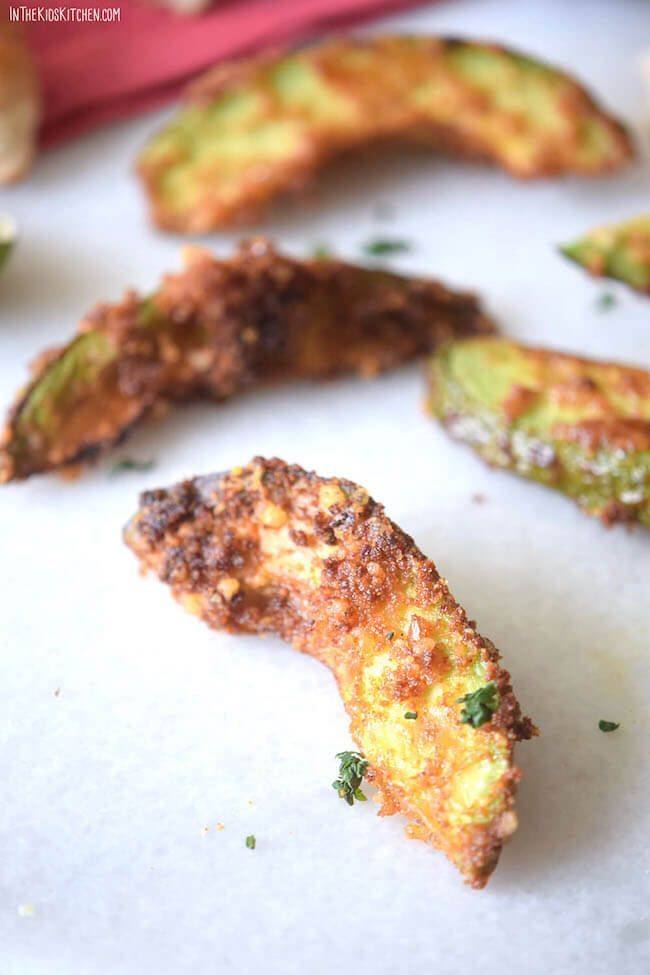 Baked Avocado Fries
We love these baked avocado fries as a more nutritious alternative to the potato junk food favorite!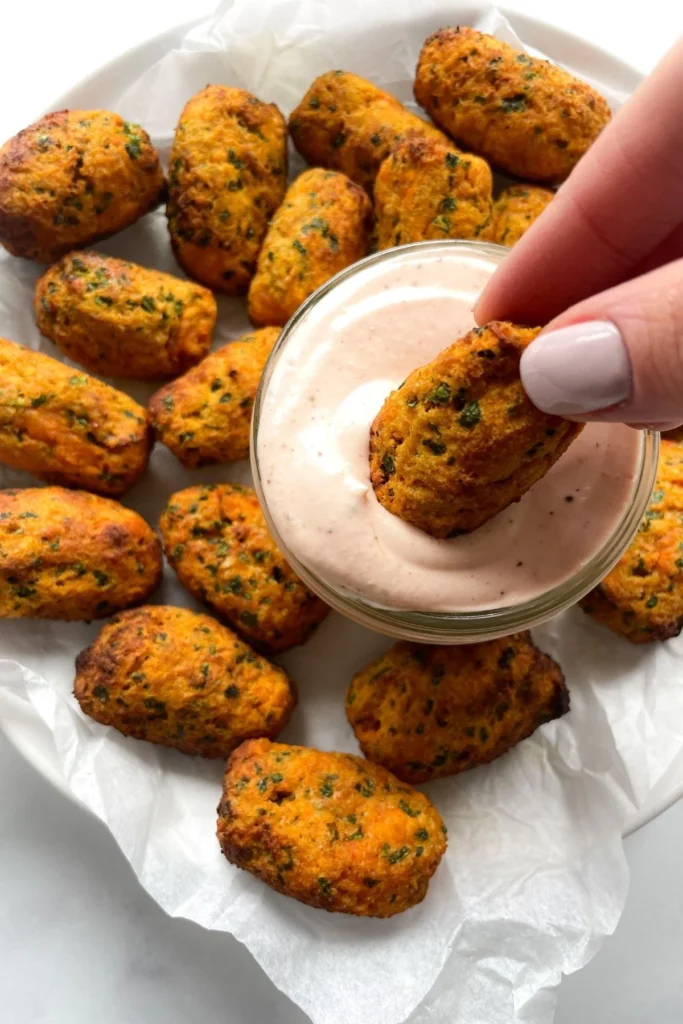 Air Fryer Veggie Tots
Air Fryer Veggie Tots are healthy, easy to make and absolutely delicious! All you need is sweet potato, kale, breadcrumbs and spices.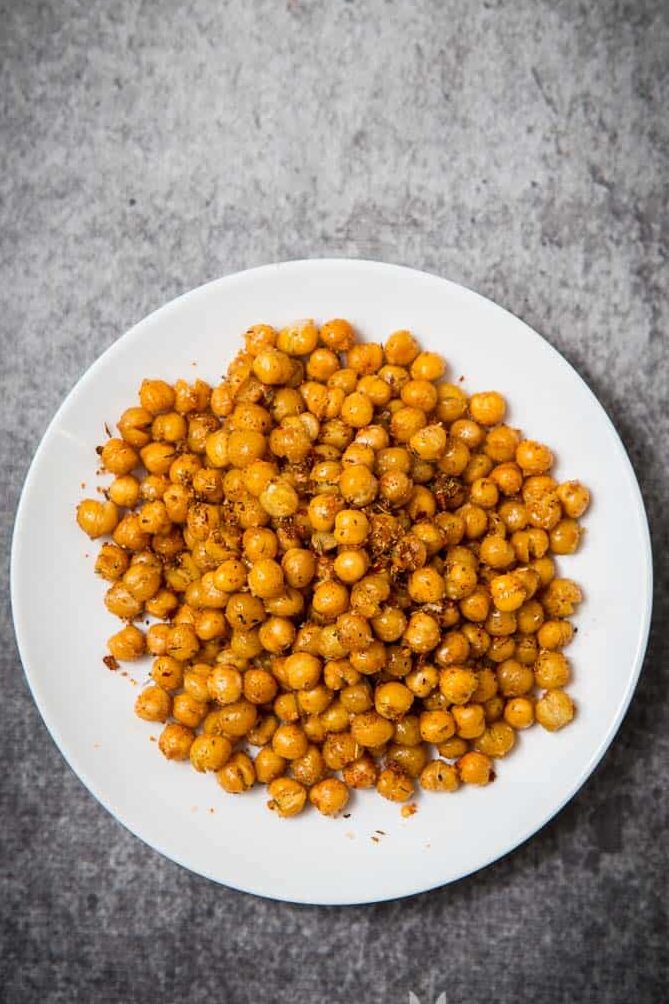 Roasted Chickpeas
Roasted Chickpeas are a healthy snack and easy to make. Let loose your creative side and spice them up how you like.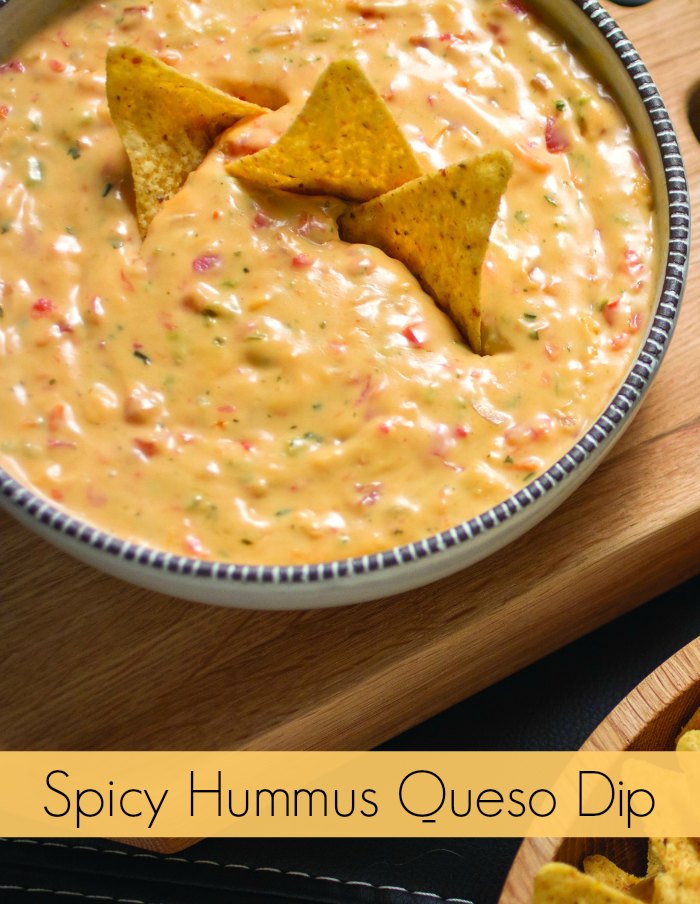 Spicy Queso Hummus Dip
Savory and ready fast, this Spicy Queso Hummus Dip Recipe combines creamy cheese with kick! Queso is always a great call for parties, and when turned into a hummus you get a touch of health.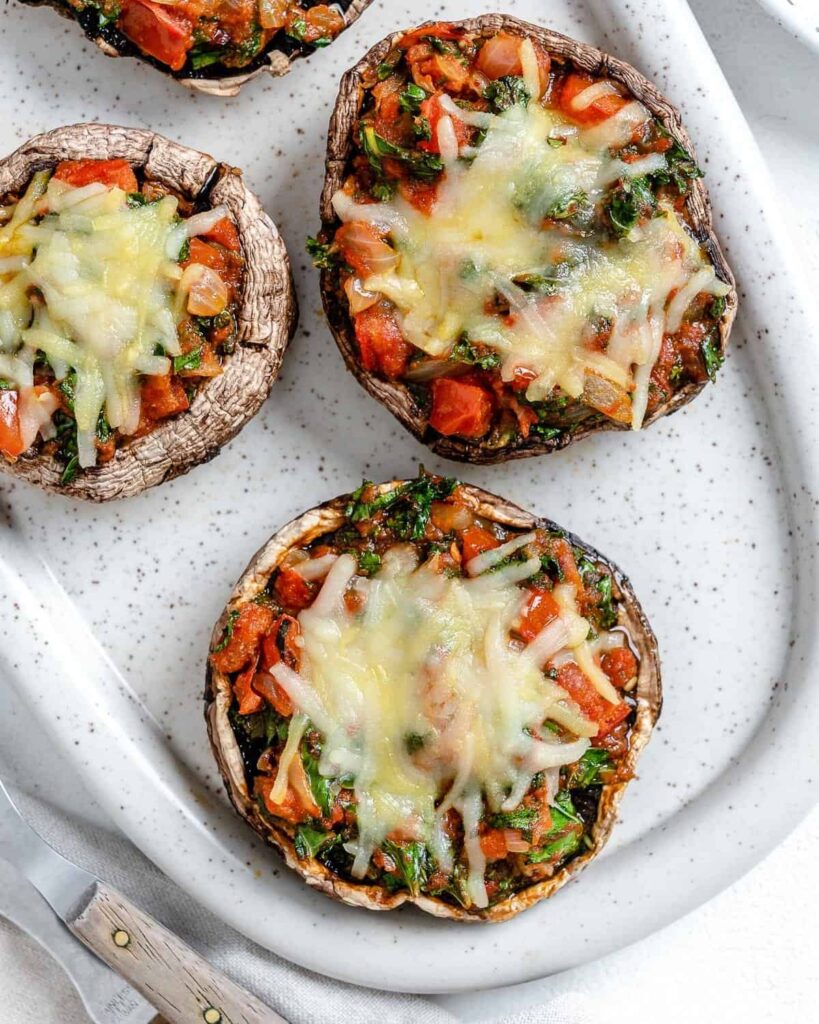 Portobello Mushroom Pizzas
These Portobello Mushroom Pizzas are low-carb, packed with flavor, have endlessly adaptable toppings, and are ready in just 25 minutes!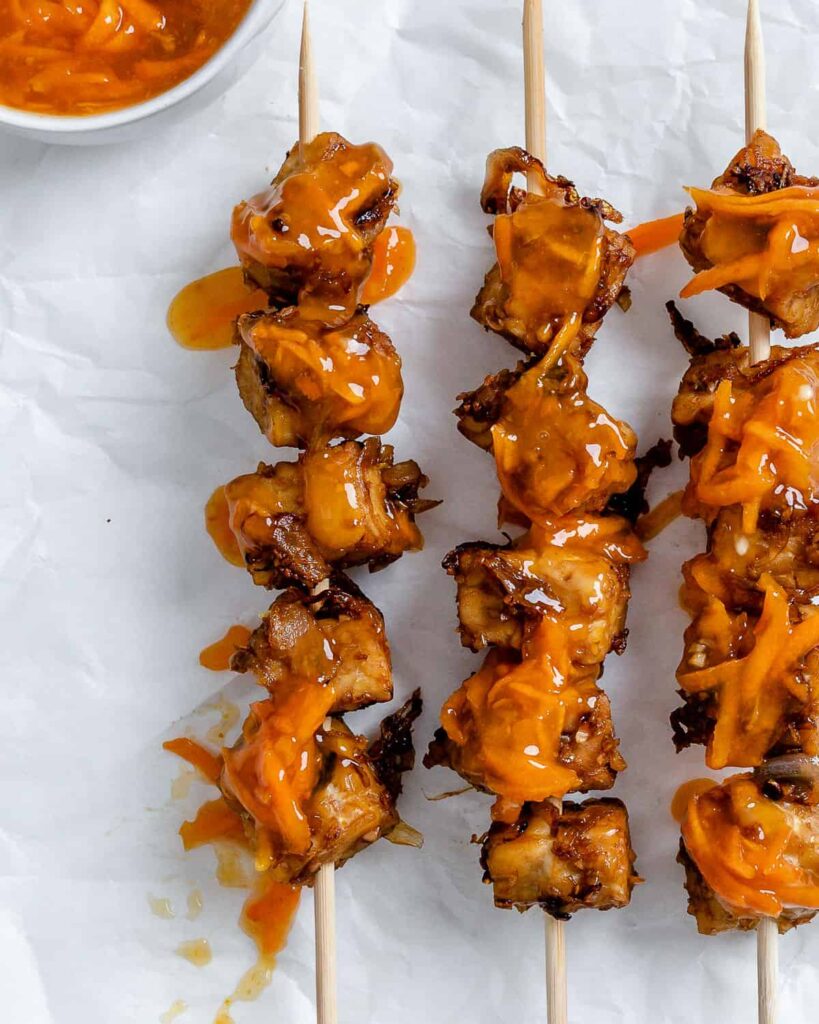 Vegan Kabobs with Marinated Tempeh
This vegan kabobs with marinated tempeh recipe packs a solid punch of orange goodness! This sweet and savory dish is sure to be a hit for your weeknight or weekend meals.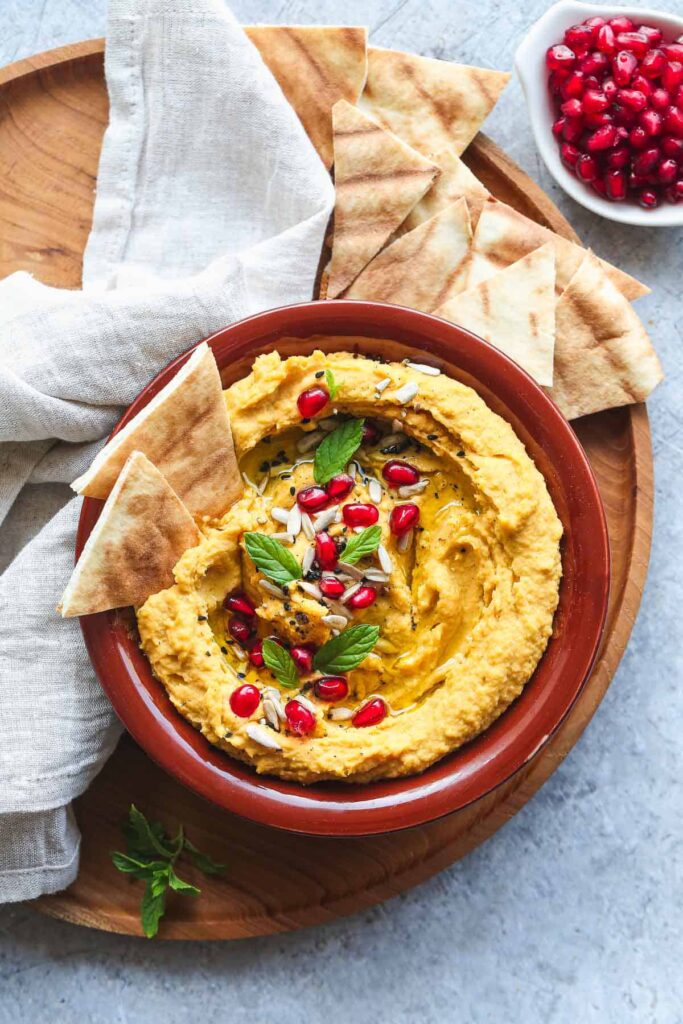 Roasted Sweet Potato Hummus
Roasted sweet potato hummus is easy and quick to make, requiring very simple ingredients. Serve it with toasted pita chips, crackers, or veggie sticks for a perfect super bowl appetizer!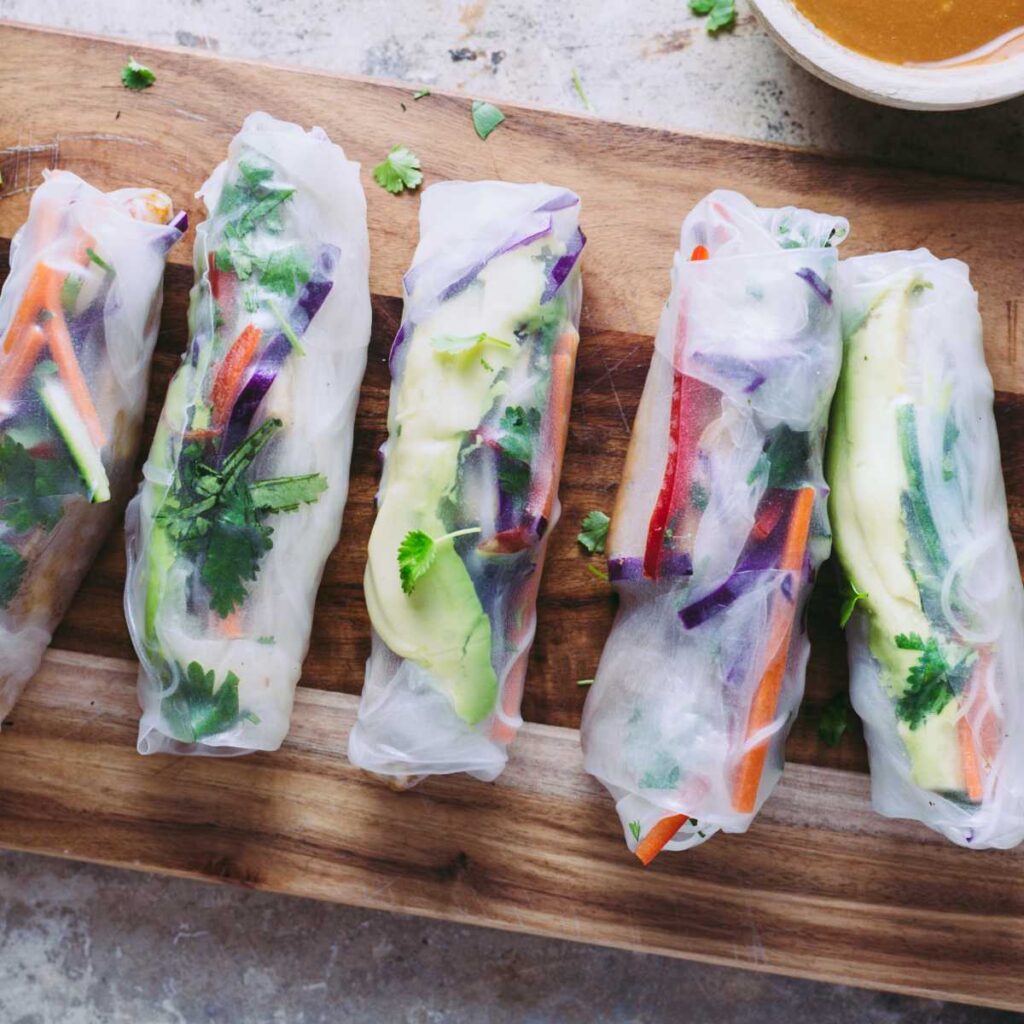 Fresh Tofu Summer Rolls
Make these delicious fresh tofu summer rolls for a fun appetizer! They are fairly easy to prepare, crunchy, flavorful, and a hit at any party.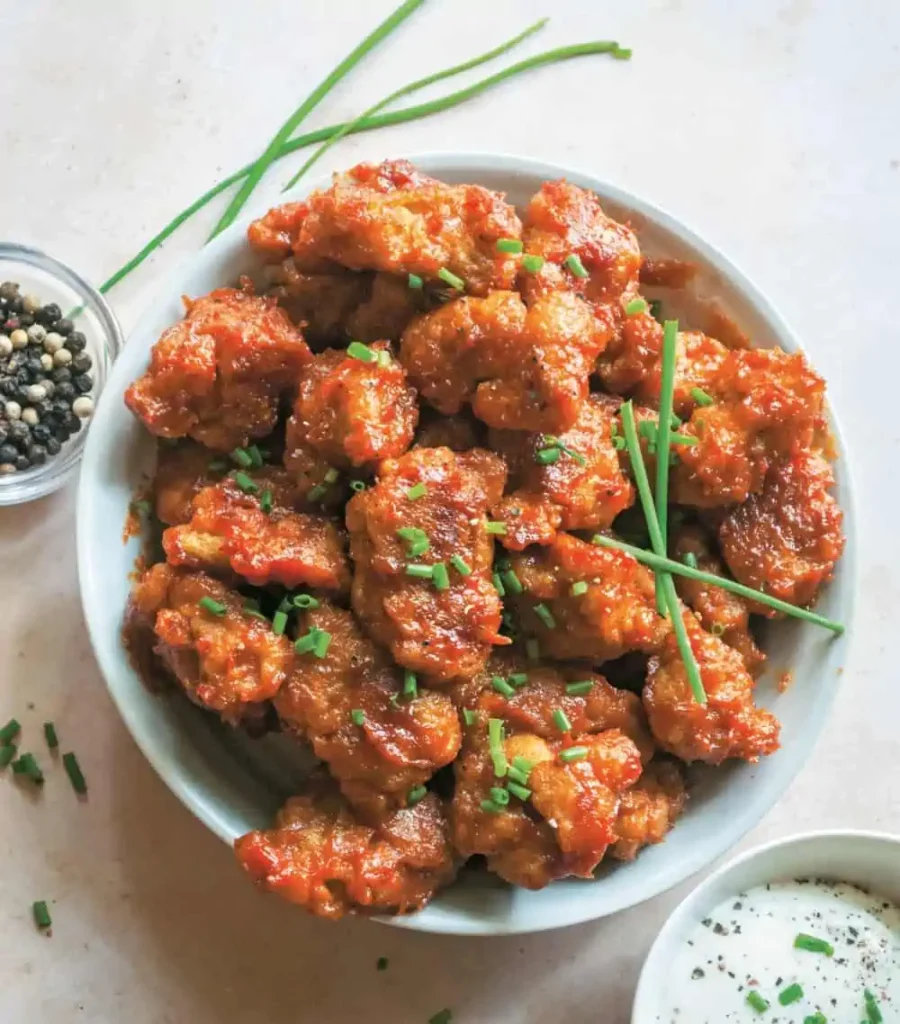 Barbecue Seitan Wings
These are the best vegan wings and this is the easiest seitan recipe ever. Tossed in a delicious, mustard-heavy barbecue sauce from South Carolina, these vegan barbecue seitan wings will be a hit at a Super Bowl party!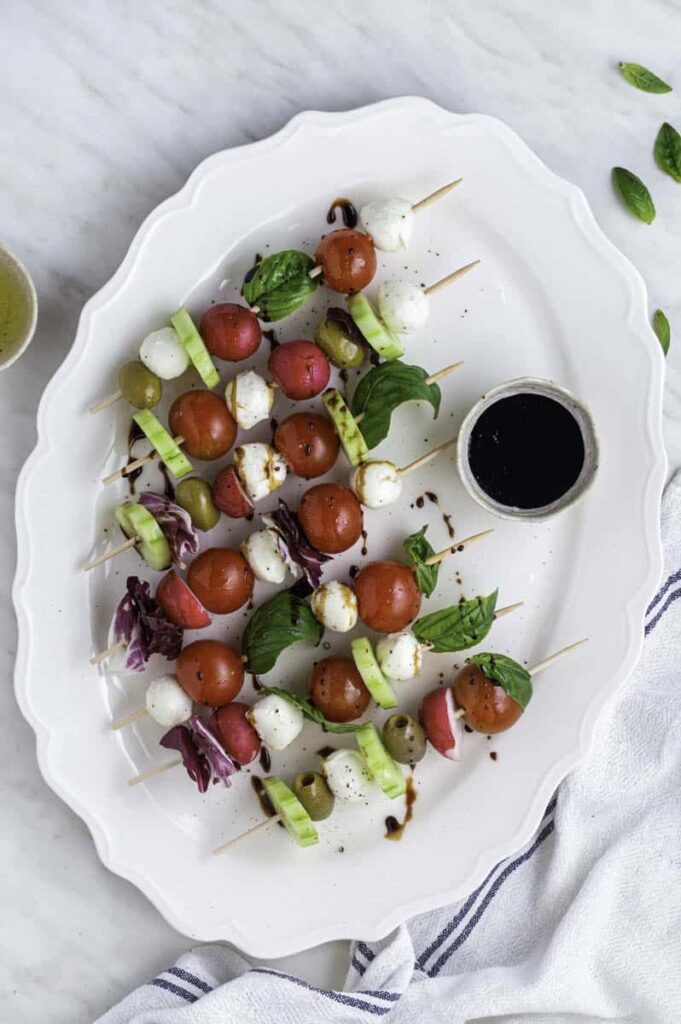 Salad Kabobs
Make these Salad Kabobs for your next dinner party or an upcoming holiday! They are quick and simple to make, and so fun to eat! Who ever said salad can't be a Super Bowl appetizer?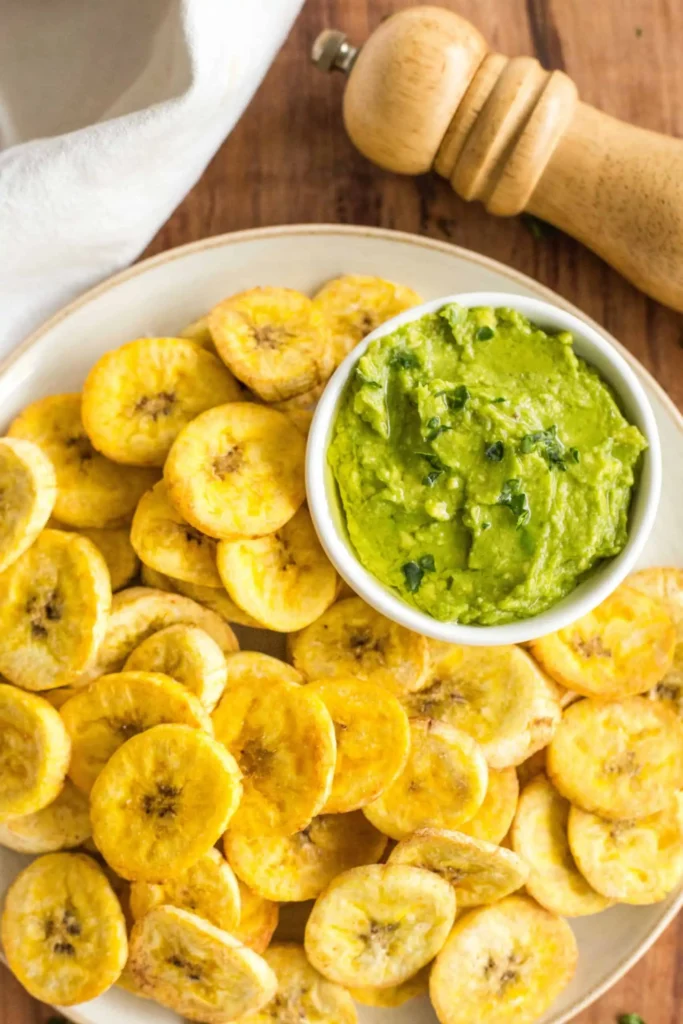 Air Fryer Plantain Chips
These crispy air fryer plantains are about to be your favorite snack and the most unique chip as a Super Bowl appetizer! Gluten-free, dairy-free, and vegan too.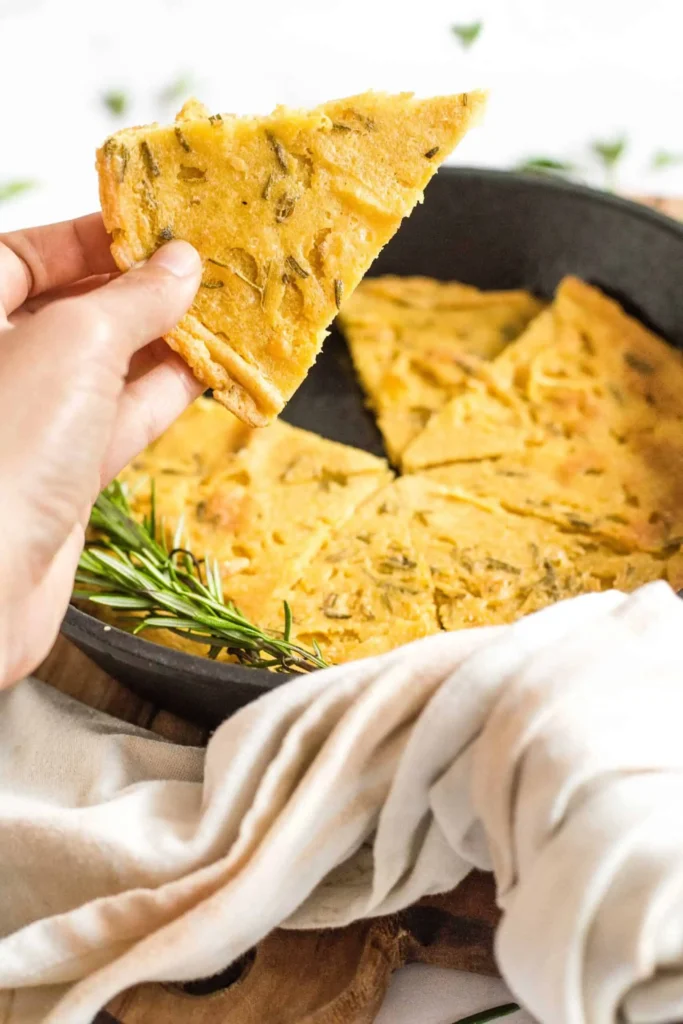 Farinata Chickpea Flatbread
Crispy outside with a creamy middle, this easy farinata recipe is a great appetizer, snack or side dish. Gluten-free, dairy-free, and vegan.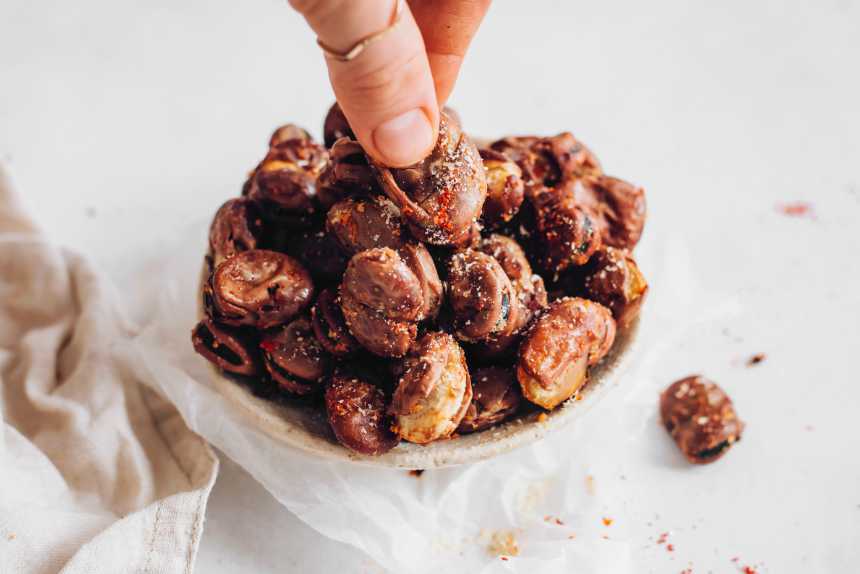 Cheesy Roasted Broad Beans
These roasted broad beans are so crowd-pleasing! Coated in delicious spices, they make for a cheesy snack you can serve during parties.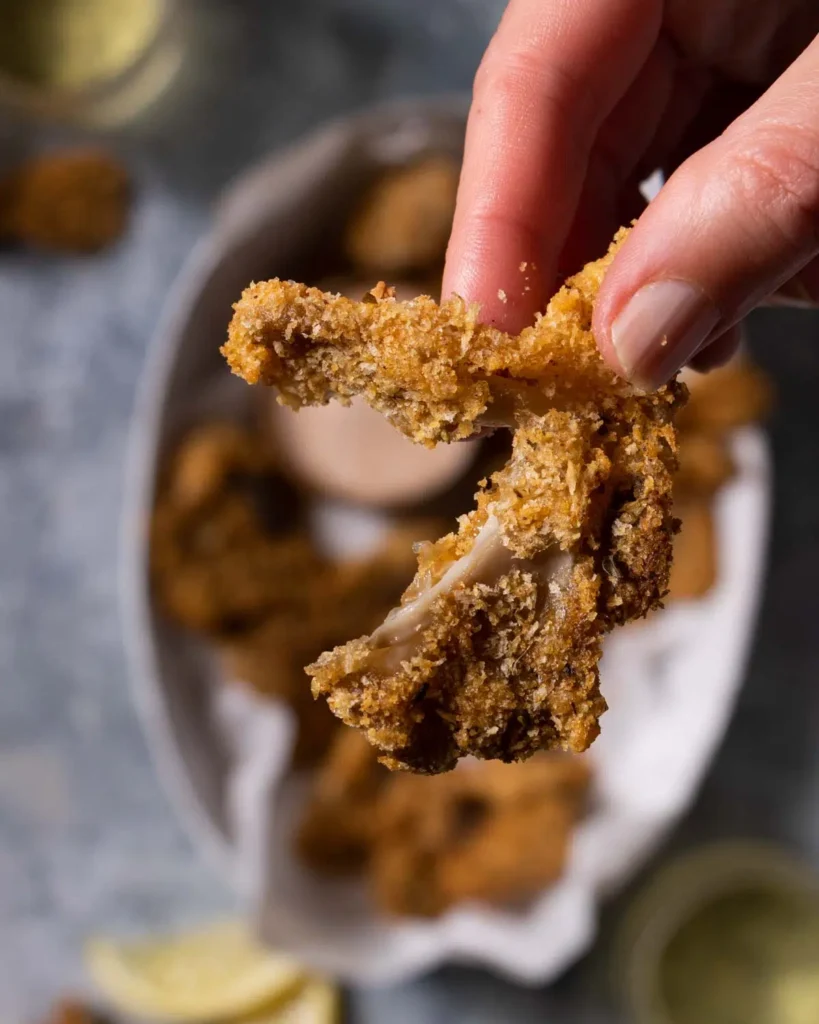 Air Fryer Oyster Mushrooms
Crispy, crunchy, and full of umami these air fryer oyster mushrooms will have guests asking why onion rings are even a thing.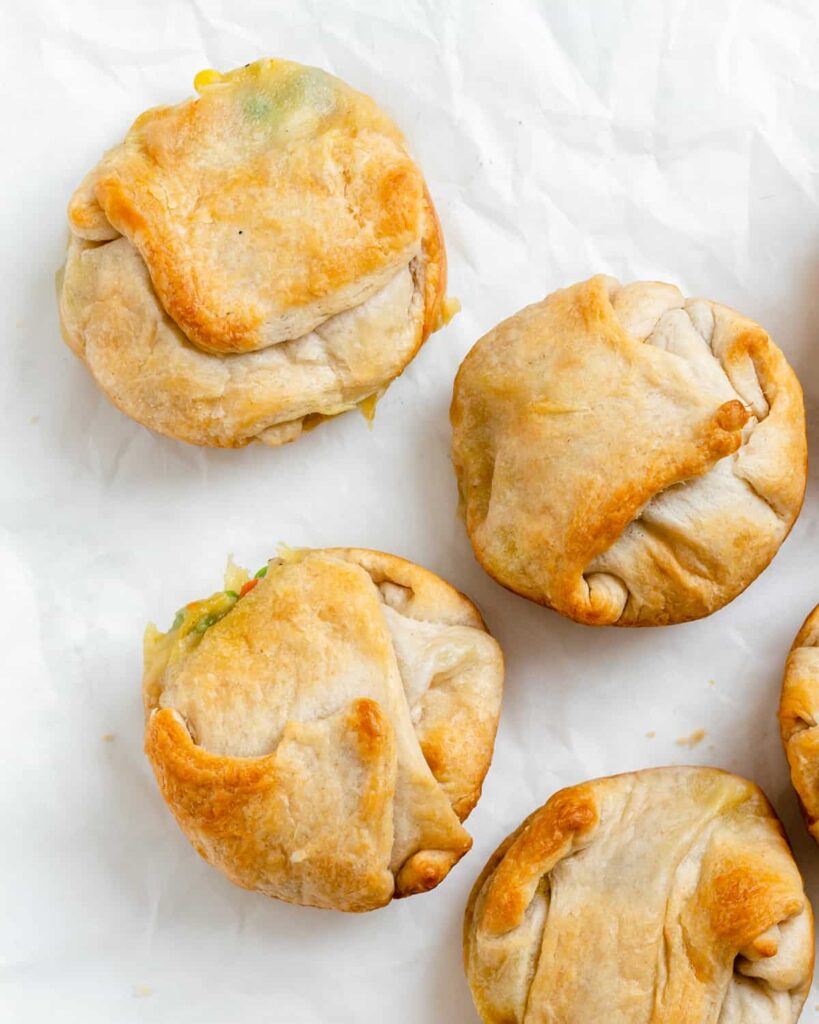 Mini Vegan Pot Pies
Utilize vegan crescent roll dough, versatile fresh/frozen veggies, optional tofu, and a simple 4-ingredient gravy to make these comforting hand-held, bite-sized mini vegan pot pies (ramekin & family-sized version also below). Perfect for potlucks, dinner parties, and as a Super Bowl appetizer and ready in just 30 minutes!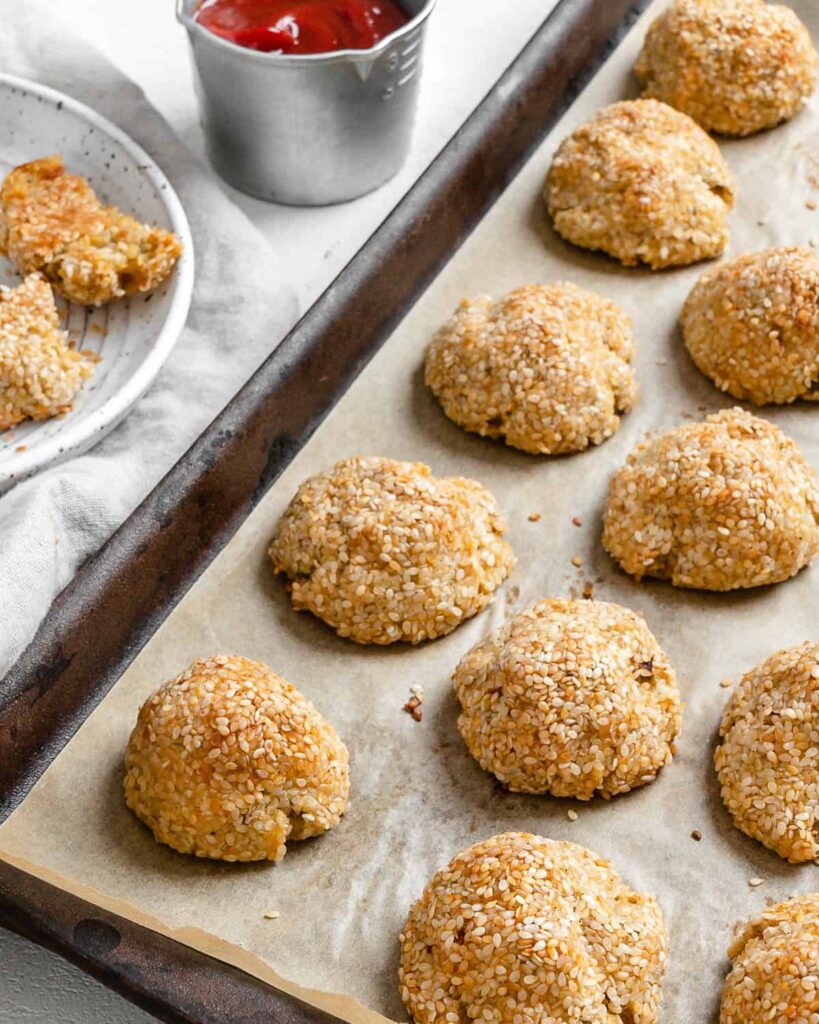 Sesame Potato Puffs
These potato puffs are the perfect party appetizer and snack. They're easy, affordable, and so snack-worthy. Reminiscent of tater tots, knishes, and bourekas, serve them up with a subtly spiced ketchup or your condiment of choice.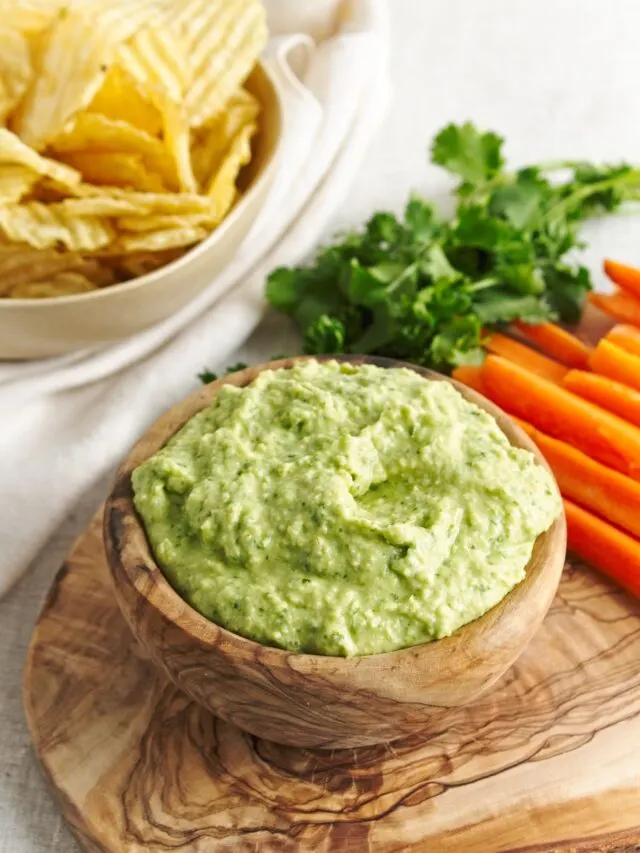 Green Goddess Hummus Dip
This green goddess dip is naturally so smooth and creamy while also being vegan, nut-free, and soy free. It will make you the VIP of your next event!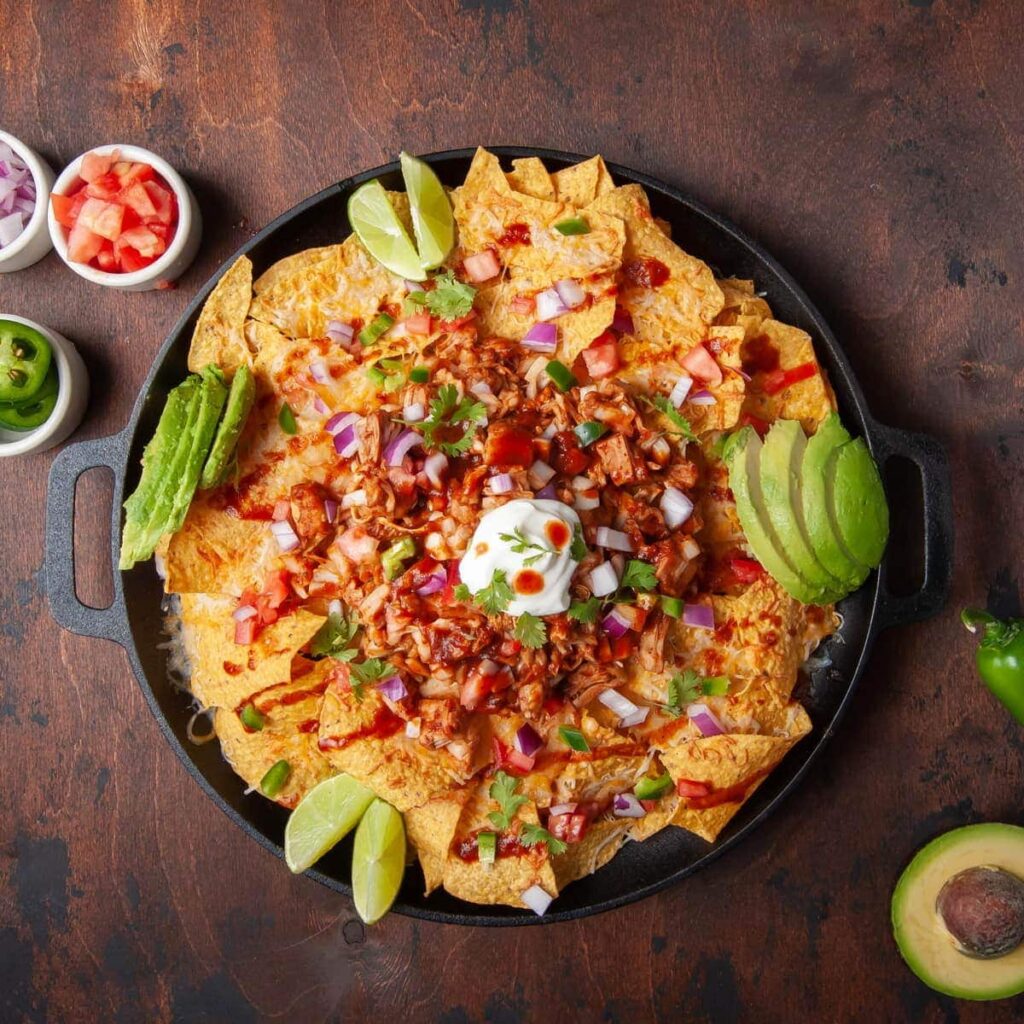 Loaded BBQ Pulled Jackfruit Nachos
These vegetarian BBQ Jackfruit Nachos (vegan option) are absolutely brimming with flavor between the cheese, pulled jackfruit, and endless topping options!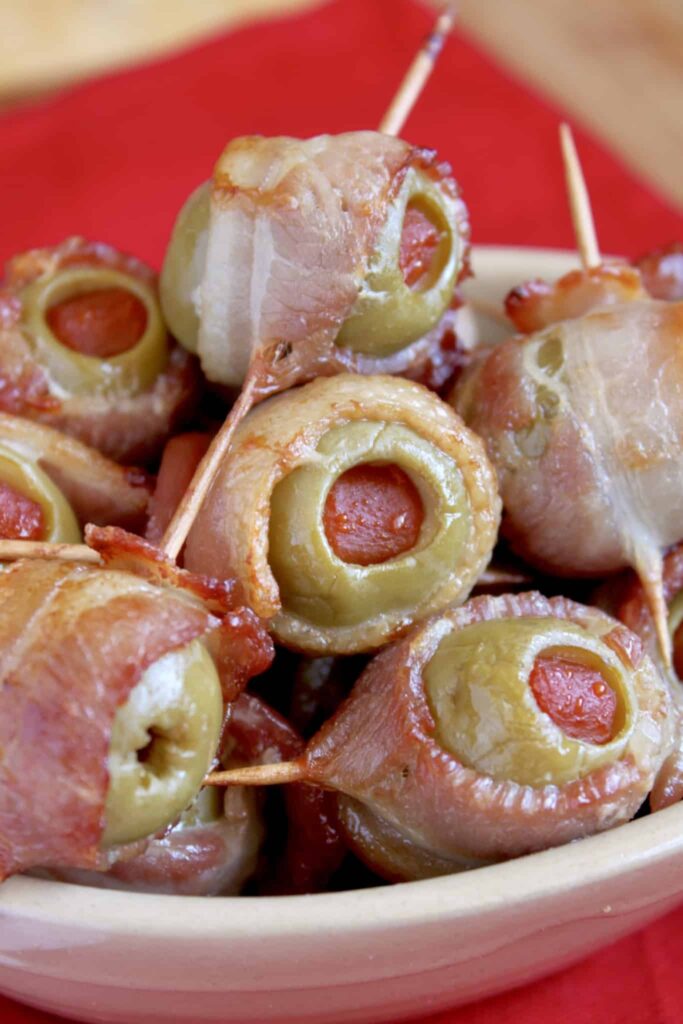 Bacon Wrapped Olives
One of the easiest Super Bowl appetizers possible, these bacon wrapped olives are just two ingredients and minimal effort for these addictive appetizers! They are perfect for games and entertaining!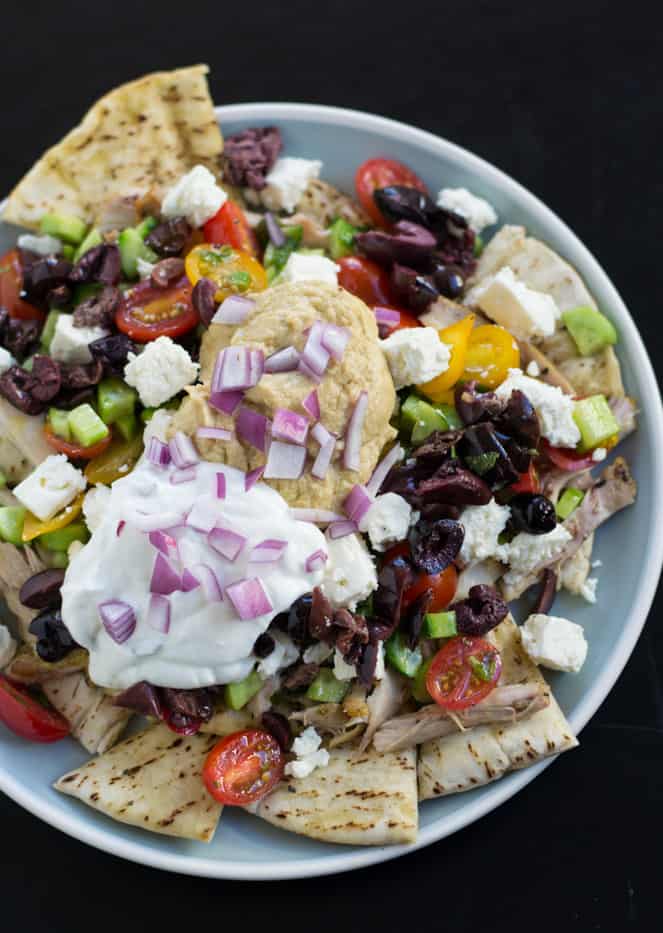 Mediterranean Nachos
Packed with gorgeous eye popping color, health, crunch, and layers of flavor this twist on a Mediterranean "nacho" will have people diving in.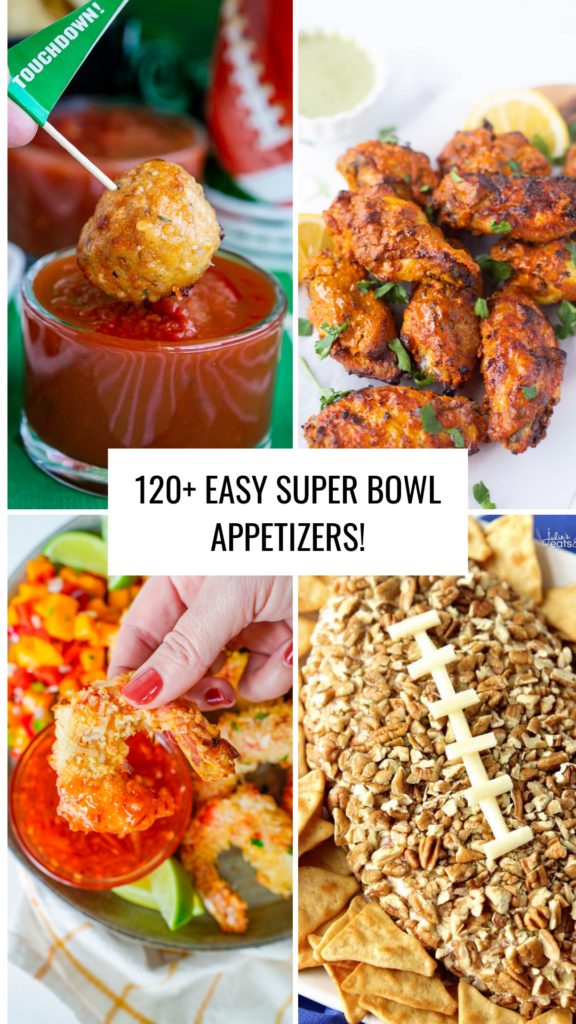 Click this link to pin this roundup of 120+ Easy Super Bowl Appetizer Recipes on Pinterest
Also, don't forget to follow us on Instagram and Facebook for more recipes and recommendations, we love to see when you make our recipes!
If you'd like to automatically receive our posts in your email, register here.